May 20/14 9:30 am - Product Launch - Norco Introduces New Threshold Cyclo-cross Bike

Posted by Editoress on 05/20/14

Norco Bicycles is thrilled to introduce the all-new 2015 Threshold, a fully redesigned cyclo-cross race platform. The new model features a sub-1000g carbon frame, full thru axle design, disc brakes, GIZMO cable routing system and a striking new paint job.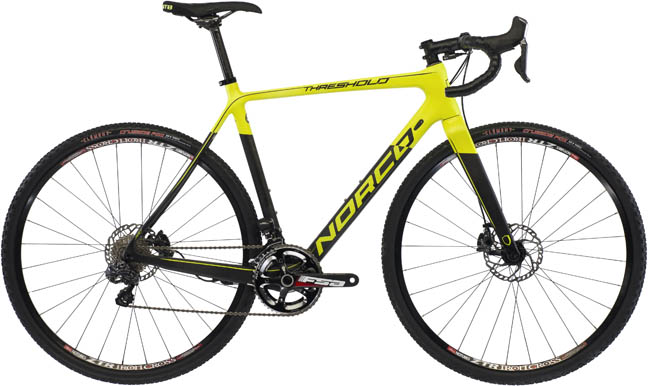 Norco's cyclo-cross race machine was designed and developed on Canada's Pacific Coast: a region characterized by rugged landscapes and abundant precipitation. The all-new Threshold is a product of that demanding environment and a symbol of Norco's distinctly Canadian take on the cyclo-cross tradition. Tested on the trails and proven on the racecourse, the 2015 Threshold is how Norco does cyclo-cross.

Norco has long been known as a leader in mountain bikes. When it comes to CX, Norco recognized years ago that many of the technologies and frame features that make mountain bikes exceptional could be carried over to the cyclo-cross program: lateral frame stiffness for explosive acceleration; thru axles for railing through rutted corners and holding lines; snappy, precise handling for maneuvering through variable terrain; disc brakes for the confidence to ride faster and push harder in all conditions.

Norco will offers five frame models over eight component groups, all with disc brakes:

• The all-carbon high modulus Threshold SL in Shimano Dura Ace Di2 and Ultegra Di2, plus mechanical Ultegra

• The mid-modulus carbon Threshold with Shimano 105

• The Threshold A1 with double butted alloy frame and full carbon fork in both men's and women's geometry with Shimano 105

• The Threshold A2 with double butted alloy frame and carbon blade fork, equipped with Shimano Tiagra

• The Threshold A3 with a double butted alloy frame, alloy fork and Shimano Sora components

Visit Norco threshold for more information.