May 22/14 17:57 pm - Nove Mesto World Cup Preview

Posted by Editoress on 05/22/14

After visiting South Africa and Australia, the UCI Mountain Bike World Cup presented by Shimano returns to Europe for Round Three of the Cross-country World Cup and Round Two of the Eliminator. Nove Mesto na Morave in the Czech Republic became an instant classic at its first edition in 2011, with huge and enthusiastic crowds, and tough, technical courses through the wooded hillsides.

The Eliminator course remains unchanged from last year, when a technical rock garden was added, which proved to be a critical section of the 1.07 kilometre circuit. The Nove Mesto Eliminator starts and finishes in front of a spectator stadium, which is always full of fans to cheer on the riders in their final sprint to the line.

The women's race will once again see the top competitors going head-to-head. World champion Alexandra Engen (Ghost Factory) won the first round over Swedish compatriot Jenny Rissveds (Scott-Odlo), with Jolanda Neff (Liv Pro XC) third. However, Rissveds won here last year, so the course definitely suits her. Other riders to watch include Eva Lechner (Colnago Sudtirol) and Kathrin Stirnemann (Sabine Spitz Haibike). Canada has Andreanne Pichette (Opus-OGC), Andreane Lanthier-Nadeau and Rachel Pageau all entered. Pichette in particular has had strong performances in the past at the Eliminator.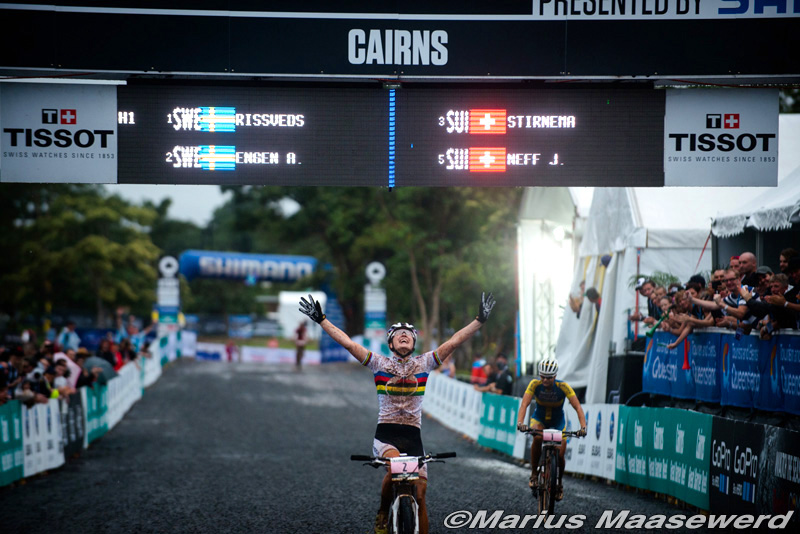 Alexandra Engen wins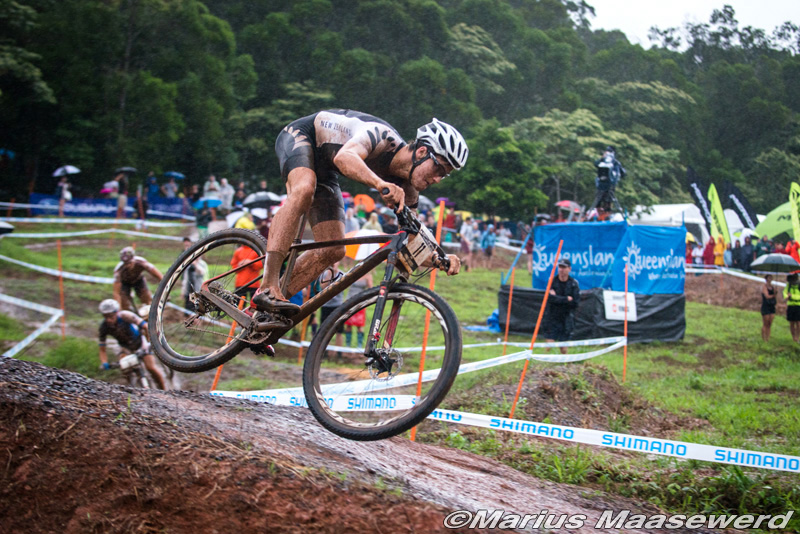 Sam Gaze on his way to winning
On the men's side, New Zealand's Sam Gaze took the first round victory in Cairns, Australia, ahead of defending champion Daniel Federspiel (Oetztal Scott), with world champion Paul van der Ploeg of Australia third. However, as with the women, this course favoured different riders last year, with Great Britain's Kenta Gallagher (Betch.nl Superior Brentjens) winning and Federspiel finishing fifth after not making the final. Others to watch include Fabrice Mels (Salcano Alanya) and Slovenia's Miha Halzer. Canada has three men entered - Leandre Bouchard, Sebastien Cadieux-Duval and Peter Disera.

The Cross-country at Nove Mesto has produced some fierce battles over the years, with the long, steady climbs and technical rock gardens and descents separating out the leaders quickly.

Round One winner Jolanda Neff leads the women's standings after two rounds, but is only 20 points in front of Round Two winner Eva Lechner, with Emily Batty (Trek Factory) a further 30 points in arrears. However, Nove Mesto is quite different from the first two courses, and some top riders did not attend the Australian round, including the legendary Gunn-Rita Dahle Flesjaa (Multivan Merida), second in the first round, and former winner Catharine Pendrel (Luna), returning to World Cup competition after an early season broken clavicle. Others to watch include last year's winner Tanja Zakelj (Unior Tools), Maja Wloszczowska (Liv Pro XC) and Sabine Spitz (Sabine Spitz Haibike).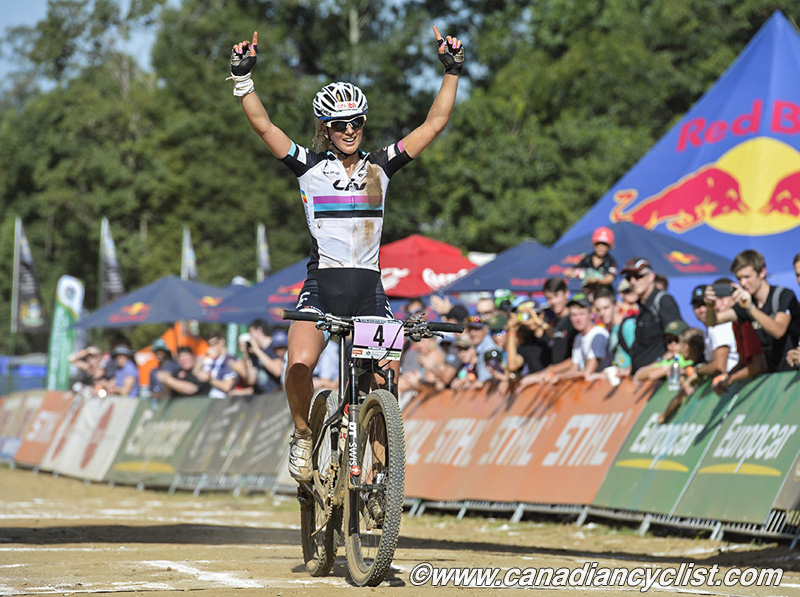 World Cup leader Jolanda Neff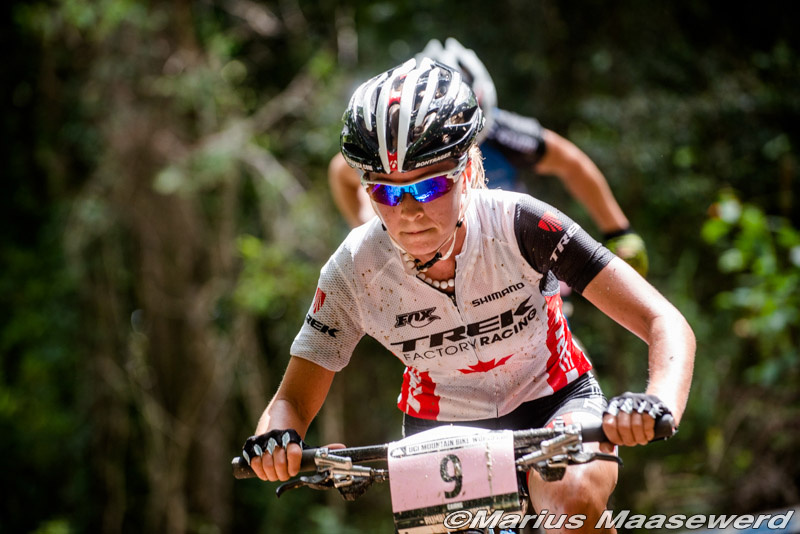 Emily Batty
Besides Batty and Pendrel, Canada also has Mikaela Kofman (Scott-3Rox) and Pichette in the Elite ranks, plus four Under-23 women - Laura Bietola, Lanthier-Nadeau, Pageau and Frederique Trudel. The national team project has also brought one Junior woman for the UCI race to be held prior to the World Cup - Marine Lewis.

On the men's side, we can expect a resumption of the ongoing battle between World Cup leader Julien Absalon (BMC) and world champion Nino Shurter (Scott-Odlo), who won at Nove Mesto last year. Absalon has a perfect World Cup record in 2014, but Schurter flatted in Round One while battling Absalon for the win, and the Swiss rider skipped Cairns to race on the road. Nove Mesto will see the rivalry resume.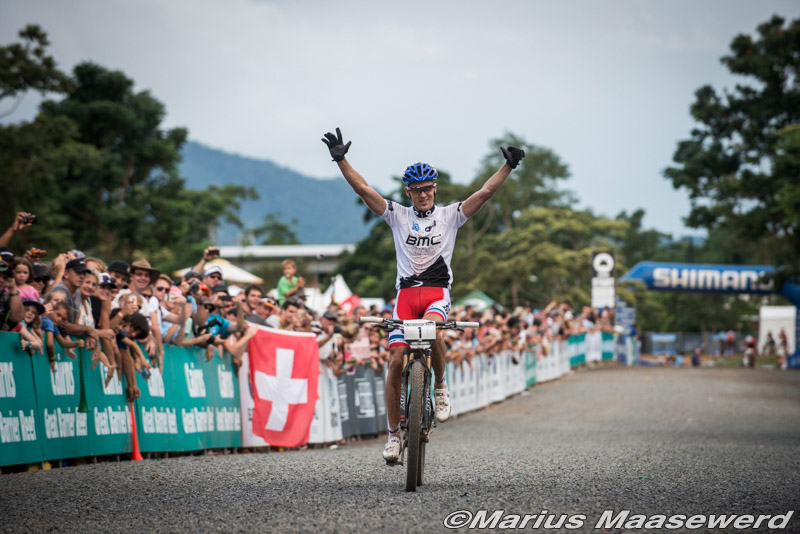 Julien Absalon winning in Cairns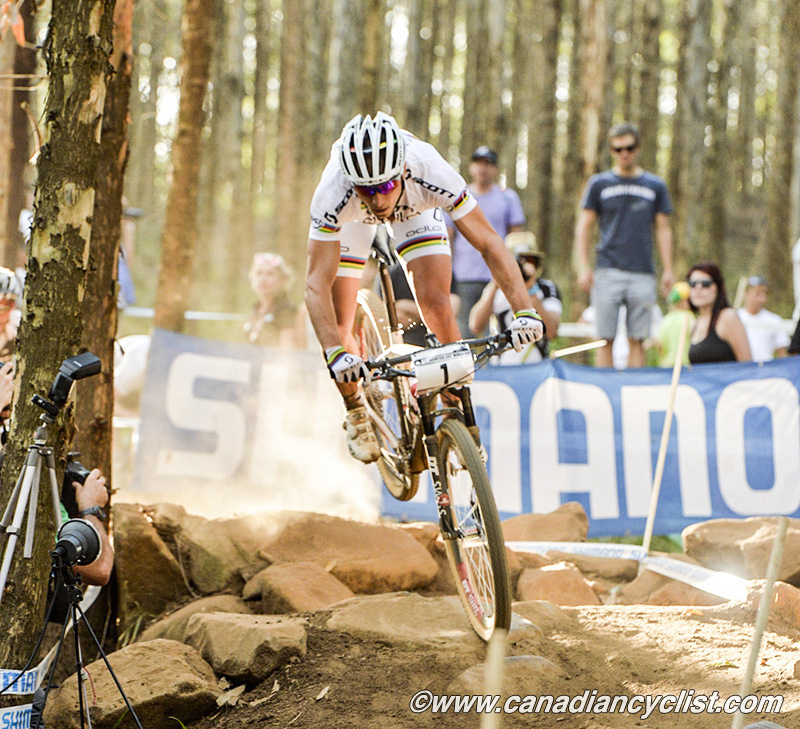 Nino Schurter
While Absalon and Schurter are the co-favourites, they are not the only podium possibilities. Czech stars Jaroslav Kulhavy (Specialized XC) and Ondrej Cink (Multivan Merida) always race well here before a home crowd, while Maxime Marotte (BH-Suntour-KMC), Mathias Fluckiger (Stockli) and Manuel Fumic (Cannondale Factory) all have top-3 results at the World Cup this season.

Canada has Max Plaxton (Cannondale Factory), Geoff Kabush and Derek Zandstra (both Scott-3Rox), Raphael Gagne and SébastienCadieux-Duval (both Canadian National) in the Elite ranks. For the Under-23 race, Bouchard, Antoine Caron, Disera, Jeremy Martin and Evan McNeely will all be on the start line, while Felix Belhumeur and Felix Burke will both compete in the Junior category.