May 23/14 20:12 pm - Nove Mesto World Cup: Eliminator report and photos

Posted by Editoress on 05/23/14

Lanthier-Nadeau Finishes 7th at World Cup Eliminator #2

Round Two of the Eliminator in the UCI Mountain Bike World Cup saw Alexandra Engen (Ghost Factory) go two-for-two in the women, while in the men's race Miha Halzer became the first Slovenian rider to win an Eliminator World Cup. Canada had four riders - three women and one man qualify for the top-32 that got to race on Friday evening, with Andreane Lanthier-Nadeau (Team Canada) making it to the final eight, and finishing third in the small final.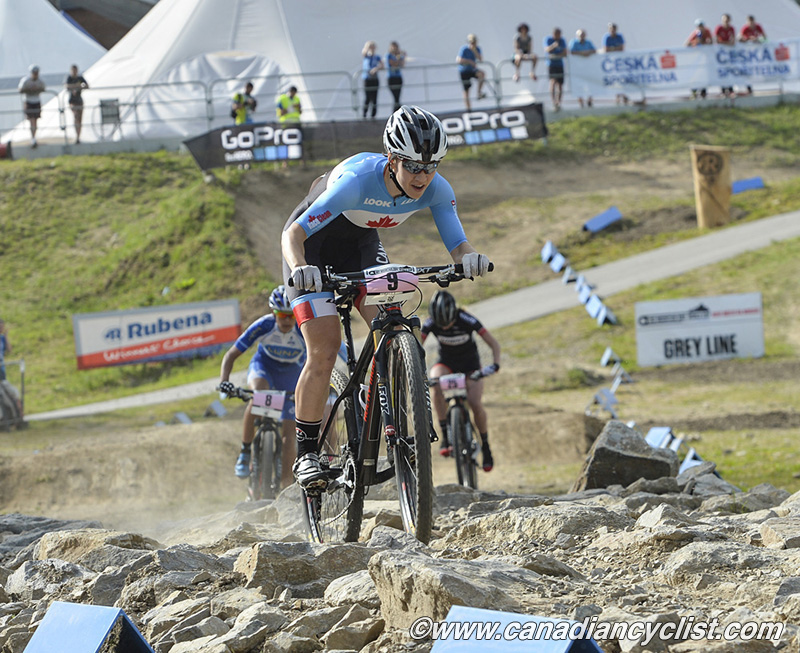 Andreane Lanthier-Nadeau
The race had a bit of everything, with beautiful sunny conditions for the start and torrential rain, thunder and lightning for the men's Final. The conditions were so bad that the podium was cancelled, to be held the next day.

Engen, the world champion in the discipline, was clearly in control in the women's event, qualifying first and then only working as hard as necessary to make it through each round on her way the Final. She was joined in the Final by the next fastest qualifiers: Kathrin Stirnemann (Sabine Spitz Haibike), Ingrid Boe Jacobsen (Sepura XC Superior) and Mullens.

Stirnemann took charge in the start of the Final, however, Engen was just biding her time, and swept by on the finishing straight to easily win.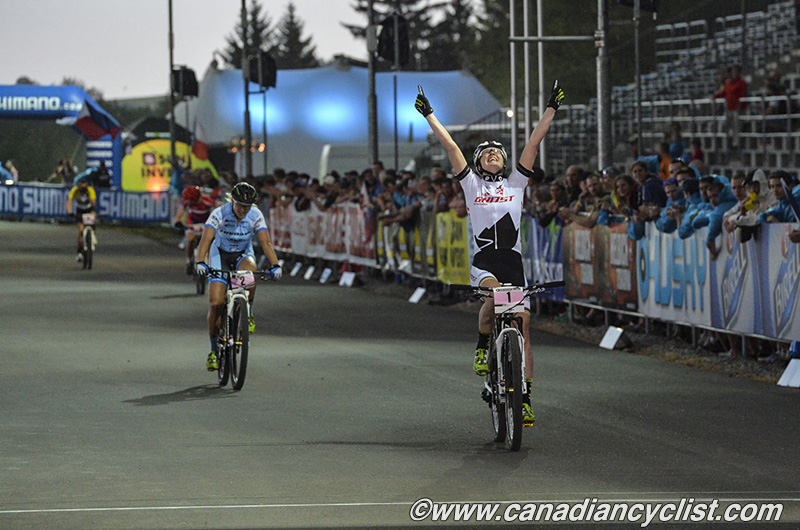 Alexandra Engen wins
"It was so crazy, so nice [to win],"Engen stated. "Kathrin [Stirnemann] did a marvelous race. I know she wanted to jump to the right side so I braked and wanted to hold her back and she jumped to the left side instead. Then she went full gas, which was more or less my tactic. When I caught her I thought it might last and it did."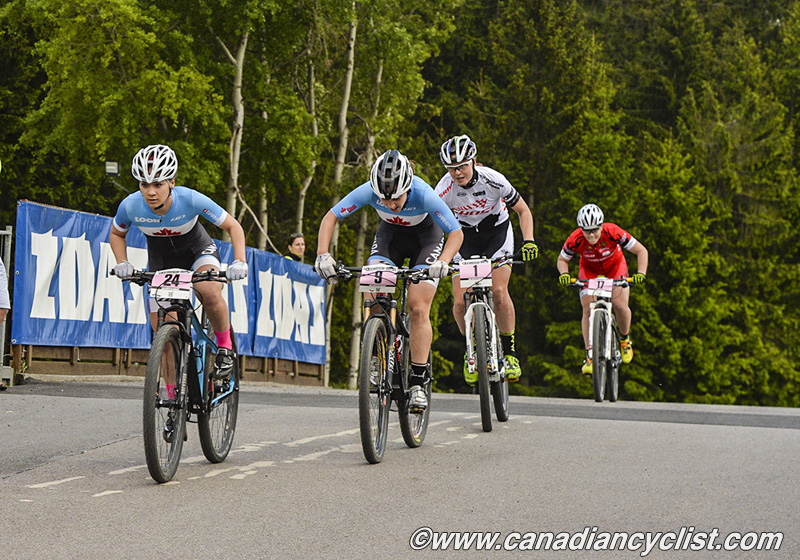 Pageau works to set up Lanthier-Nadeau
Lanthier-Nadeau qualified ninth, Andreanne Pichette (OGC-Opus) 18th and Rachel Pageau (Team Canada) 24th. In the eighth-final heat, Pageau and Lanthier-Nadeau worked together to finish 1-2 and move onto the quarterfinals. Up against Engen, Pageau provided a strong leadout to Lanthier-Nadeau, who won the heat to move onto the semi-finals, where she finished third to Engen and Mullens, for seventh overall. Pichette finished second to Stirnemann in her eighth-final, but came up against both Stirnemann and Jenny Rissveds (Scott-Odlo) in the quarterfinals and was knocked out. Pichette finished 11th and Pageau 12th in the final rankings.
"I used what I learnt from last year and played it more strategically during the heats," explained Lanthier-Nadeau. "It paid off really well, plus it was awesome to have Rachel with me during the first two heats; our teamwork made it easier for me to work my way into the finals. The support from the Canadian cycling crew was just perfect, we cannot ask for more. I am quite sick right now and didn't know if I would be able to compete this morning, but everyone's support made it possible for me today."

"Andréane rode very strategically throughout the qualification rounds and into the small final. She has shown that she has what it takes to eventually compete for a medal in this event at the World Championships," said Head Coach Dan Proulx.
Engen now has a perfect 120 points, with Stirnemann a distant second at 65 points and Rissveds at 60. Lanthier-Nadeau is tenth in the standings with 16 points, Pichette 16th with 8 points and Pageau 18th with 6 points.

Miha Halzer, the number one qualifier for the men, followed the same strategy as Engen - conserving his strength by finishing second in the first two rounds before winning his semi-final heat to make the Final. He was joined in the Final by defending World Cup champion Daniel Federspiel (Oetztal-Scott), Paul van der Ploeg and Fabrice Mels (Salcano Alanya). Missing was World Cup leader Samuel Gaze of New Zealand, who didn't make it past the quarterfinals after suffering a mechanical.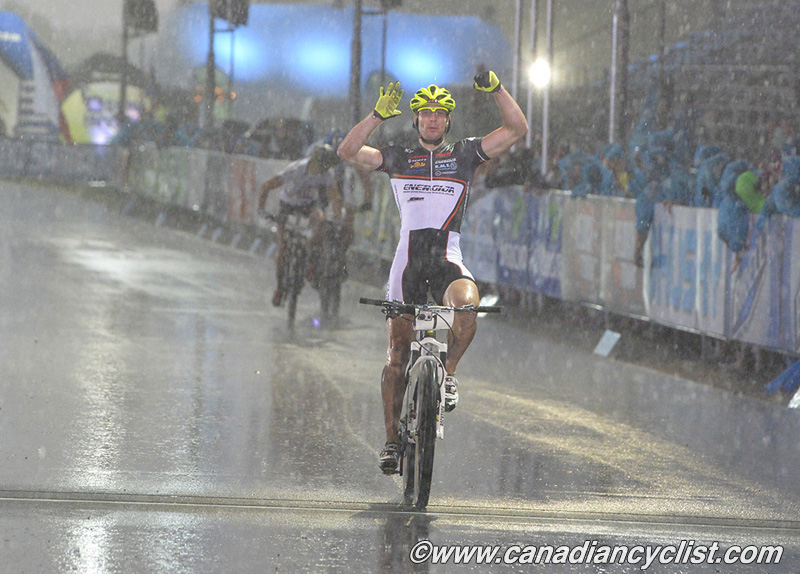 Miha Halzer wins in torrential rain
Stormclouds had been steadily gathering as the event progressed, but even for the women's Final the rain held off. Unfortunately for the men, the skies opened up a minute before they started, drenching everyone with cold rain. The riders were barely visible as they raced around the circuit, and Mels crashed out of contention in the newly slippery conditions. Halzer, on the other hand, seemed to thrive, and took the lead on the final straight to coast in for his first win. Federspiel outsprinted van der Ploeg for second.

"This is my first win," commented Halzer, "and I have been chasing it for a long time, so I am feeling very happy. I was feeling better every heat and, no, the rain during the final didn't affect me. It was colder and I do better in these conditions."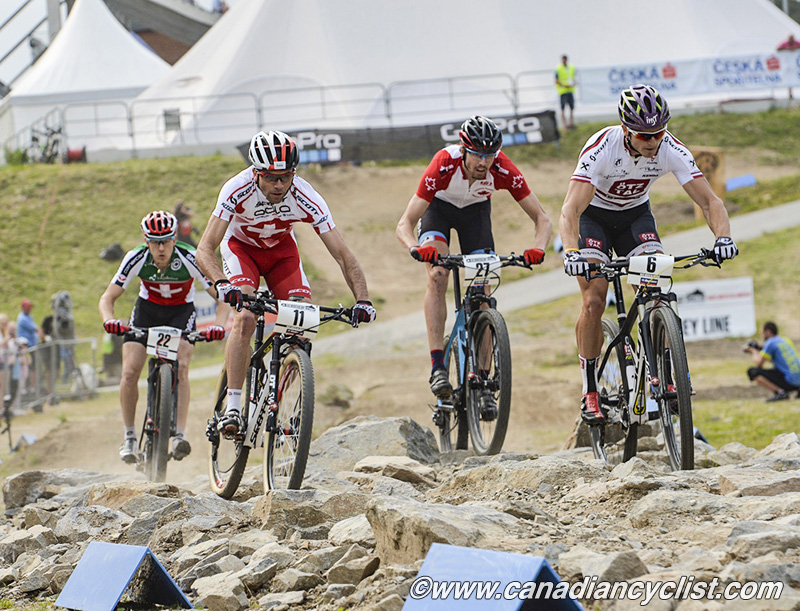 Canadian Champ Leandre Bouchard (27)
Canadian national champion Leandre Bouchard (Team Canada) was the only Canadian to qualify - Sebastien Cadieux-Duval (Garneau) finished 45th and Peter Disera (Team Canada) 47th. Bouchard tried to attack on the climb in his eighth-final, briefly taking the lead before Federspiel and Marcel Wildhaber (Scott-Odlo) swept around him to knock him out of contention. Bouchard ended up ranked 23rd overall.

Federspiel, with two second places in two rounds, takes the overall lead with 80 points. Gaze drops to second with 64 points, followed by Halzer and van der Ploeg, tied with 60 points. Bouchard did not gain any points since he didn't make the quarterfinals.


Results final

Results Qualifying
Fatal error
: Uncaught Error: Object of class PDO could not be converted to string in /home/canadiancyclistcom/canadiancyclist.com/public/modules/news.php:528 Stack trace: #0 /home/canadiancyclistcom/canadiancyclist.com/public/modules/news.php(517): getrelatedgallery() #1 /home/canadiancyclistcom/canadiancyclist.com/public/dailynews.php(58): getDailyNewsArticle() #2 {main} thrown in
/home/canadiancyclistcom/canadiancyclist.com/public/modules/news.php
on line
528