May 26/14 11:30 am - Mansfield O-Cup #2 Report

Posted by Editoress on 05/26/14

First-time victories were the order of the day at the second stop of the Scott Ontario Cup mountain bike race series presented by Plastiglas. With many of the usual contenders racing either at the World Cup in the Czech Republic or the Canada Cup in Québec, TUFRACK Racing teammates Lindsay Webster and Kelsey Krushel took advantage of the opportunity to score breakthrough wins in their respective Senior Elite categories.

The course at the Mansfield Outdoor Centre, a perennial stop on the circuit, was dry and dusty. Riders faced two significant climbs each lap (the first coming immediately off the start), a technical downhill section known as Exit Wound, plus plenty of power sections and fast, swooping singletrack.

Elite Women

After racing in Baie St. Paul on Saturday, Karlee Gendron (Trek Canada) showed plenty of enthusiasm in leading the field off the line and up the start climb. Hard on her wheel was first-year elite Victoria Giangrande (Trek Store CC), who moved ahead of Gendron to enter the opening singletrack in first, a position she maintained down Exit Wound and through to the second major climb, where a bobble saw her give way to Gendron and Webster.

Webster was content to follow through the opening lap. "Being my first elite race, I didn't know how it was going to go, so I decided to hang with some of the more experienced girls and they led me through the first lap and showed me lots of the lines." When Gendron began to fade on the second lap, Webster maintained her pace and rode to a convincing win.

Behind her, Giangrande was able to regain her rhythm and move into a solid second, while Mélanie Bernier steadily improved throughout the race to claim the third step on the podium.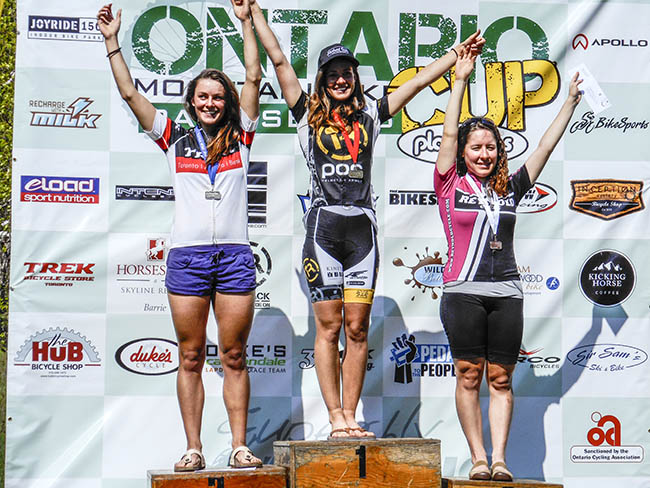 Elite Women podium
With a background in cross-country skiing, the 24-year old Webster was introduced to mountain biking by her sister Brittany, an accomplished elite-level mountain biker and Olympic nordic skier. "I went to watch one of her races one weekend and I thought it was really cool. She said 'I'm going to sell you my old mountain bike and you're going to start loving mountain biking.' and that's exactly what happened."

Having raced Woodnewton and Mont Temblant as an expert, Webster is surprised by her elite win, and is eagerly anticipating the future. "A lot of the girls are away for this race so I'm looking forward to when they're back and riding with them. I have a lot to learn still so I'm definitely looking forward to everything they can teach me."

Giangrande recently began working with mountain bike coach (and racer) Peter Glassford. "It's my first year with him and I've definitely seen some huge improvement over last season. I rode strong and tried to improve on each lap. I worked really hard this winter and it finally feels like it's paying off."

As the sole entrant in the Junior Expert Women's category, Siobhan Kelly (ToWheels/Epic Sports) was permitted to race with the Elite Women, putting in an outstanding performance to take third overall.

Elite Men

It's not unusual for Krushel to get off to a fast start, but this time around he held the lead for the duration for a wire-to-wire victory. A opening-lap fall on the approach to Exit Wound was the only blip on the screen, but his early lead was big enough to keep him at the head of affairs.

"I think it may have a little to do with attendance," said Krushel of his win. "I was the fastest person here today but there are a lot of talented racers in the province who happened to be at bigger races today. Not to say I'm not extremely happy with how it went today. My condition this year is on par with last year. I'm just getting started for the season and looking forward to the next races."

Although Krushel was quickly out of sight, the remaining podium positions were still up for grabs. Team Bikeland teammates and brothers Jon and Mark Winfield weren't fazed by Krushel's fast start, preferring a more conservative pace.
Elite Men podium
"It was a fast start," explained older brother Jon. "I think everyone was thinking that they had a good shot at a podium today. I just tried to go into the singletrack without burning myself out. I slowly worked my way up. I was riding with Alex Schmidt (Wolfpak Racing/Inception Cyclery) and Scott Lynch (Two Wheel Racing). We were going back and forth for a while and I put in a hard effort on the main climb and got a bit of a gap."

Once on his own, Winfield was able to maintain his position to post an impressive second-place finish. "It feels awesome. It definitely gives me confidence, knowing that I could do that today, going into future races. Also the points will help getting better call up positions for the starts, which are always key in these races."

To say that Mark Winfield rode a steady race is a bit of an understatement. Apart from the start lap, which was slightly shorter than the rest, all his lap times were within eight seconds of each other, allowing him to work his way through the field to finish third. "I'm super happy. It was kind of a reduced field because some people were at the Canada Cup and the World Cup, so we had the real Ontario guys." Nevertheless, Winfield was pleased with his first elite podium. "It feels pretty good."

Race Notes

- The Winfield brothers both work at their sponsors store in Barrie. Fellow Team Bikeland rider Davis Ross was watching from the sidelines after breaking his wrist in a training crash. He hopes to be back in time for the Sudbury Canada Cup.

- Master Expert 50-59 winner Robert Sule (Erace Cancer p/b La Bicicletta) is taking his love of cycling to a new level. In partnership with his wife Maryka he plans to set up a cycle touring business in the Mont Ventoux area. The couple is heading off to France this week to scout out real estate.

- O-Cup organizer Sean Ruppel is attempting to have mountain biking recognized as an official sport by OFSAA.

Report and photos by Emil van Dijk