May 29/14 7:35 am - World Cup Action Returns to Albstadt for Eliminator & Cross-country

Posted by Editoress on 05/29/14

One week after the Mountain Bike World Cup returned to Europe for the first time in 2014 at Nove Mesto in the Czech Republic, teams and riders will descend upon Albstadt, Germany, for Round Three of the Eliminator (XCE) and Round Four of the Cross-country (XCO).

Last year, Albstadt was the opening round of the World Cup, and provided some of the hardest and most exciting racing of the season, with new names making it onto the podium.

The Eliminator has been moved from an urban venue to the main competition site, keeping everything in one compact location. Incorporating elements of the XCO circuit, the approximately one kilometre course starts with a climb and then traverses the side of the mountain, hitting the technical "Deep Hole" section of the XCO course before finishing with a sprint down pavement to the finish line.

World Cup leader and world champion Alexandra Engen (Ghost Factory) is the clear favourite for the women, having won both of the first two rounds. However, she will receive competition from Katharin Stirnemann (Sabine Spitz Haibike) and Jenny Rissveds (Scott-Odlo), who have both appeared on the podium in the previous two rounds. Canada had multiple entries in the women's Eliminator, with Andreane Lanthier-Nadeau (Team Canada) making it through to the small final and finishing seventh overall, despite being sick.
Lanthier-Nadeau will not be participating in the Eliminator in Albstadt and will instead concentrate on the Cross-country (XCO).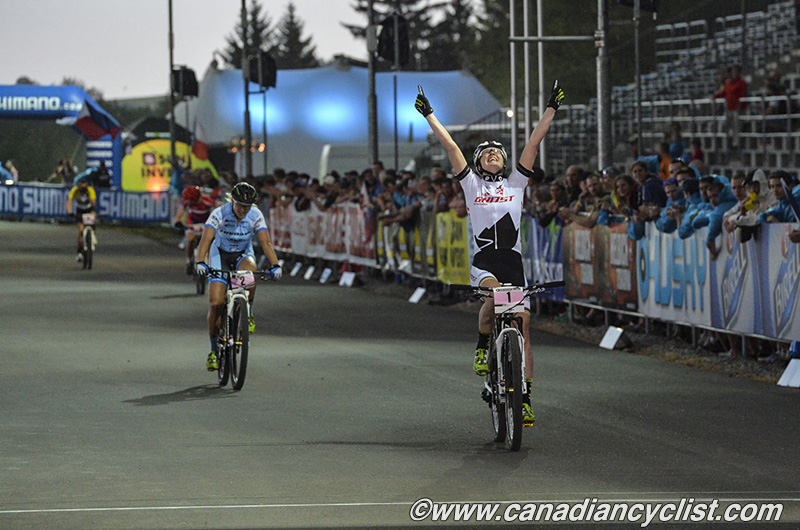 Alexandra Engen (Ghost Factory) winning in Nove Mesto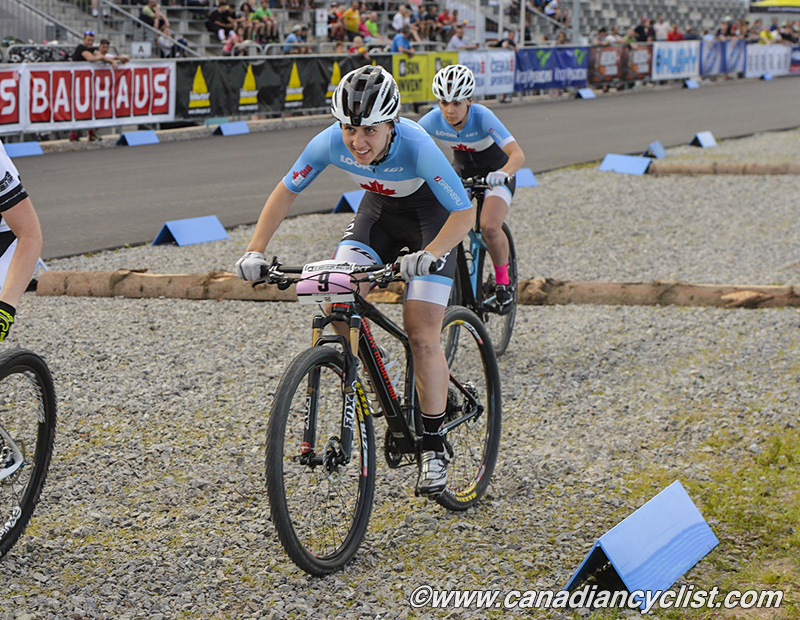 Andreane Lanthier-Nadeau (Team Canada) made it through to the small final in Nove Mesto
For the men, Daniel Federspiel (Oetztal-Scott) took over the World Cup lead after Round Two, when Round One winner Samuel Gaze of New Zealand broke his chain in the quarterfinals and was eliminated. Others to watch will include the very fast Miha Halzer of Slovenia, who won the last round, and world champion Paul van der Ploeg of Australia. Last year, Raphael Gagne (Team Canada) finished fourth on the urban circuit, however, Gagne is focussing on the cross-country this year and did not compete in the Eliminator last weekend. Canadian champion Leandre Bouchard (Team Canada) was the only Canadian to qualify last weekend, but was knocked out in the first round; he will be hoping to do better this week.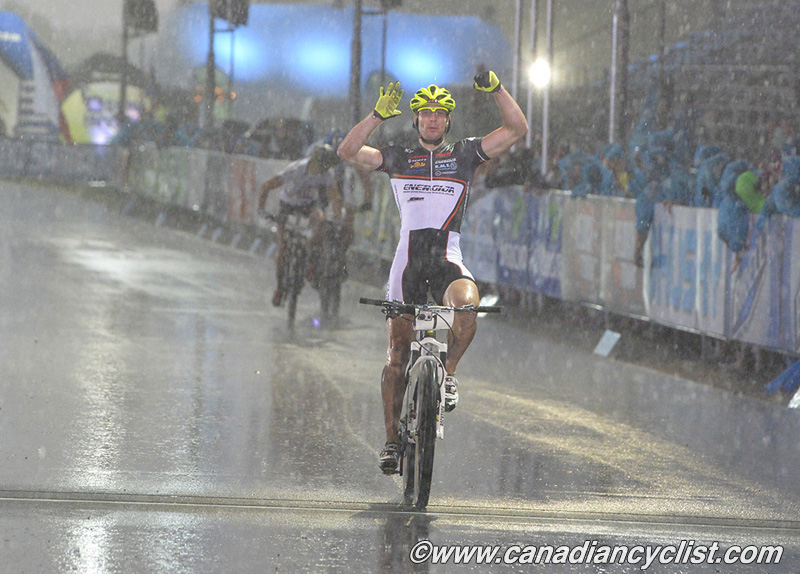 Miha Halzer winning in torrential rain in Nove Mesto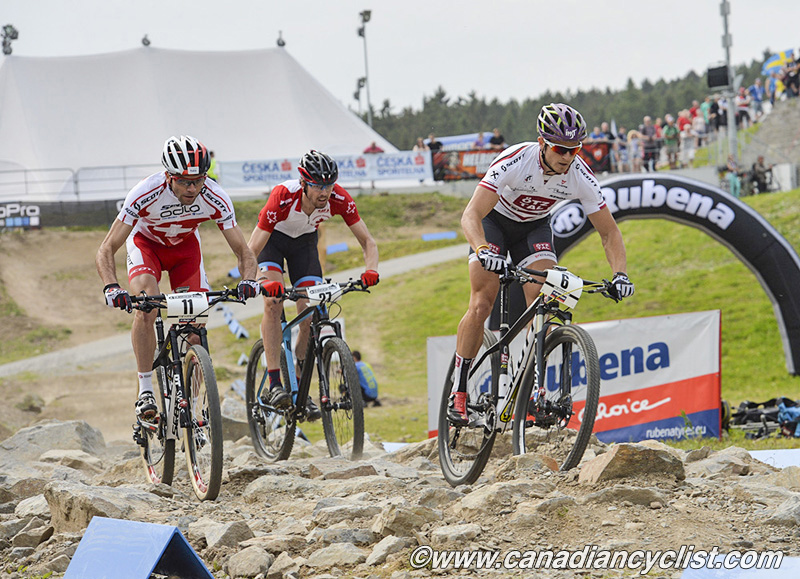 Daniel Federspiel leading Leandre Bouchard
The XCO circuit is little changed from last year, but the riders are well aware of how difficult it is, with steep punishing climbs in the first half of the 4.18 kilometre course.

The women's cross-country series has had three winners in three rounds, so there is no clear favourite in Albstadt. Jolanda Neff (Liv Pro XC), the winner of Round One, continues to lead the overall standings, however, her team mate Pauline Ferrand Prevot absolutely dominated the last round, winning by almost three minutes. The other rider to watch will be former World Cup champion Catharine Pendrel (Luna). Pendrel returned to World Cup competition last weekend after missing the earlier rounds due to injury, however, the Canadian showed that she is clearly on form by finishing second to Ferrand Prevot. Canadian champion Emily Batty (Trek Factory Racing) had an uncharacteristically distant 18th place last weekend, and now sits fifth in the overall standings and will be looking to get back on the podium.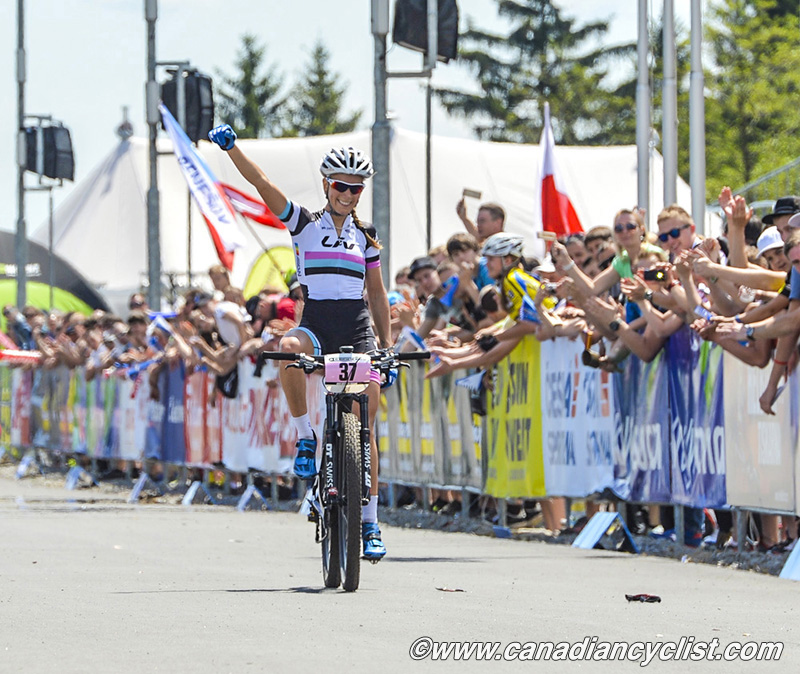 Pauline Ferrand Prevot winning Nove Mesto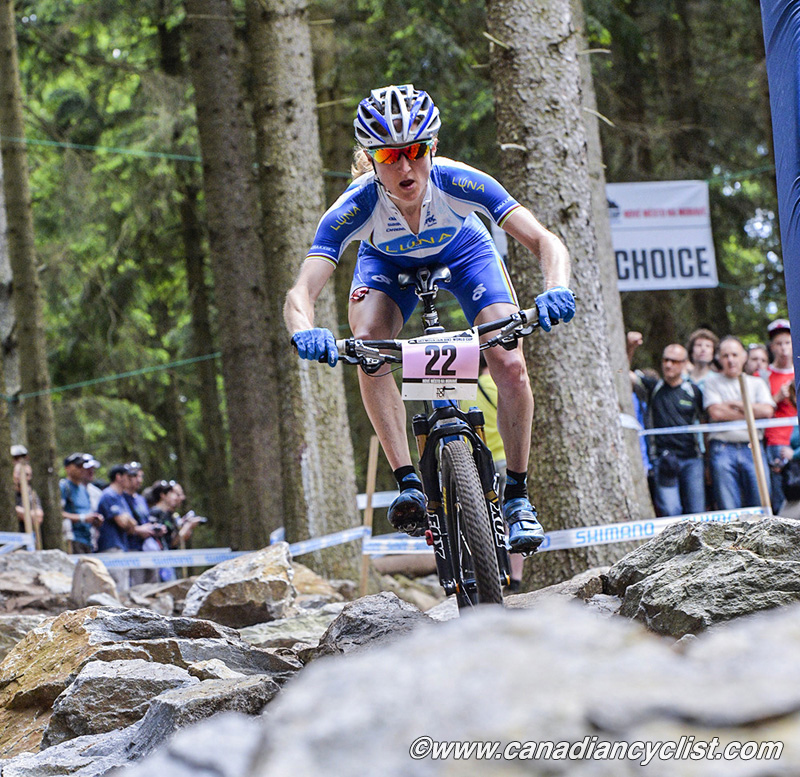 Catharine Pendrel made a strong return after early seson injury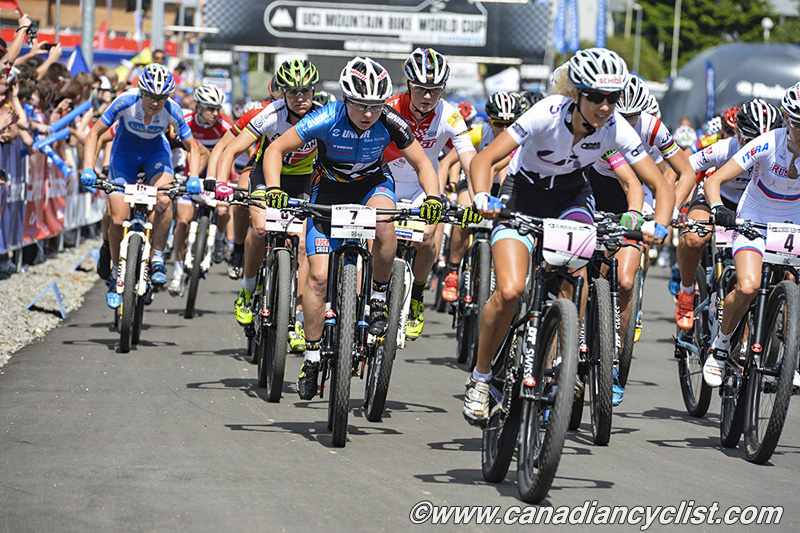 World Cup leader Jolanda Neff leading out the start in Nove Mesto
The men's competition will be equally interesting. Julien Absalon (BMC) won the first two rounds, while his perennial rival Nino Schurter (Scott-Odlo) won last weekend. Both had difficulties last year at Albstadt, with Absalon having to drop out with mechanical problems while holding a commanding lead, and Schurter having an uncharacteristically bad day to finish 18th. Others to watch include Olympic champion Jaroslav Kulhavy (Specialized Racing XC) and Australian champion Daniel McConnell (Trek Factory Racing), who had a breakthrough ride at Albstadt last year, winning the first World Cup of his career, and who has since become a regular podium threat.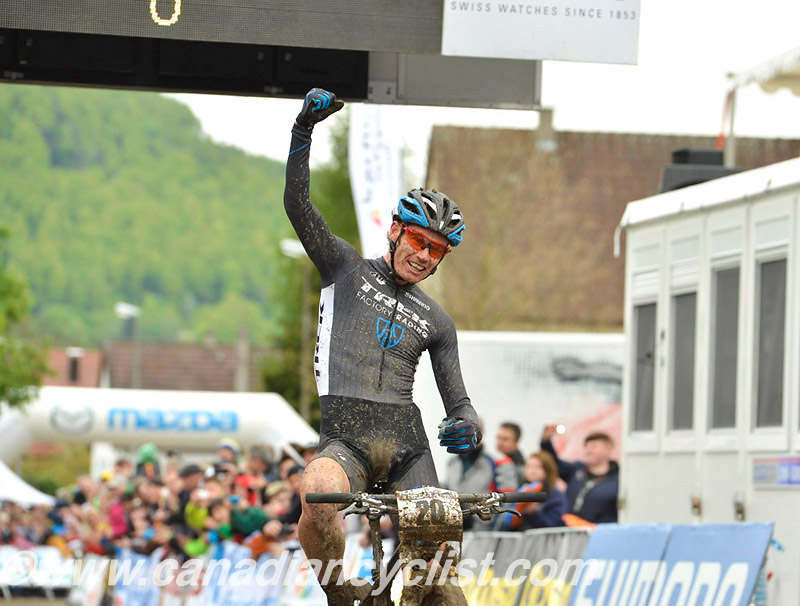 Daniel McConnell (Trek Factory Racing), had a breakthrough ride at Albstadt last year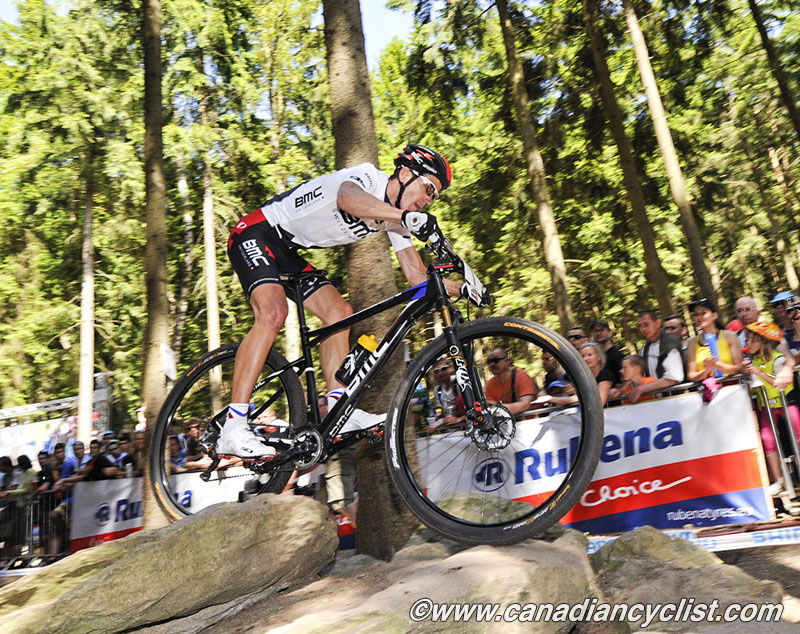 World Cup leader Julien Absalon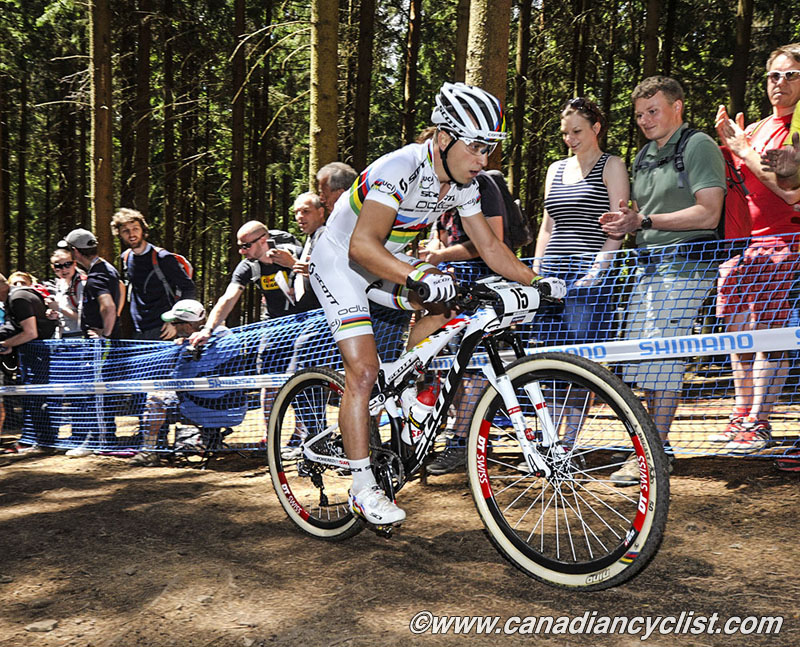 Nino Schurter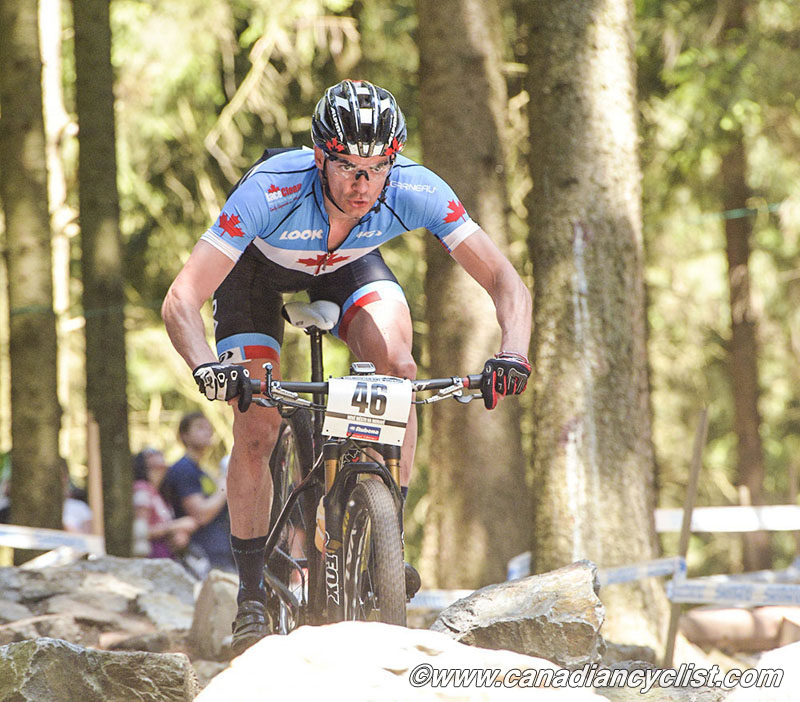 Raphael Gagne
Gagne, who is the top-ranked Canadian after finishing 14th in Round One and 23rd last weekend (he skipped Round Two in Cairns, Australia), will be looking to break into the top-20 this weekend. The Scott-3Rox duo of Geoff Kabush and Derek Zandstra will be looking to bounce back from poor showings in their first World Cup of the season last weekend, when Kabush was 49th and Zandstra was lapped.

In the Under-23 men, Canadian champion Leandre Bouchard (Team Canada) was fifth last weekend at Nove Mesto, and will be hoping to at least equal it this weekend.