July 15/14 15:04 pm - Tour de France: Rest Day Interview with Svein Tuft

Posted by Editor on 07/15/14

Canadian national road and time trial champion Svein Tuft is currently riding in his second Tour de France; along with Christian Meier on the Orica-GreenEDGE team, they are the only Canadians in the race this year. Today is the first rest day of this year's race, after ten hard stages. Tuft is sitting in 140th place, 1:33:51 down on race leader Vincenzo Nibali (Astana). We spoke with Svein about the race so far.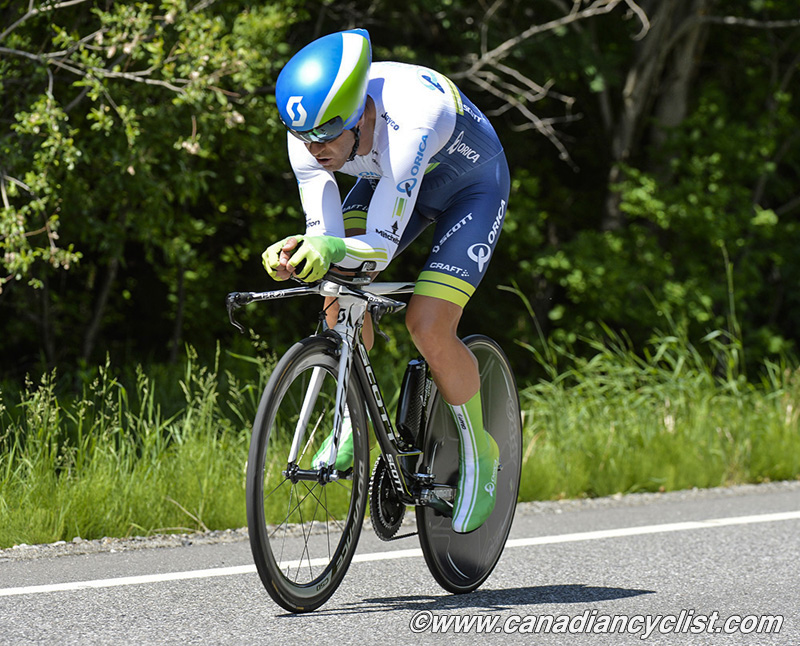 Svein Tuft, ITT, 2014 road nationals


Canadian Cyclist: So what's it like riding in the Tour with the maple leaf of national champion; the first rider to do so?

Svein Tuft: For me I guess it's another one of those things I never thought I'd be able to do in my career. That was something that I thought, years ago, back in my [Canadian squad] Symmetrics days, 'Aw, no that's not going to happen' ... but then, here we are, Christian and I, and wearing the national champion's jersey. It's pretty special, man.

CC: There's been a ton of crashes, it seems even more than usual. With Alberto Contador going down yesterday, and Christopher Froome going out and Mark Cavendish going out ... is it worse than usual?

ST: From what I can understand - and I've only done one other Tour - this is generally the theme in the first week, just nervous and stressful. But this edition was really tricky, starting in England. I've never seen crowds like this, and when you have that many people on the side of the road, and the roads are narrow enough, and the GC teams are trying to push it to the limit ... everyone's fighting for every little inch. You're always going to have crashes, but what's most significant about this edition is that it's been some really big names, and I think it's just the pressure of getting through that first week.

We were in England, and then a Roubaix stage [Stage 5], and this last two medium mountain stages were super difficult, but before that there were a couple of stages that on paper that should have been straightforward, but we had wind and rain, and all these crazy elements. So, it's been a really hard first ten days, man.

CC: I wanted to ask you about the Roubaix stage - it looked pretty crazy even for cobblestones, with all the rain.

ST: Yeah, you know, it hasn't really rained at Roubaix going back in history, maybe only a couple of times in the last ten or 15 years, from what guys are telling me. For a lot of guys that was a new experience, and sure enough it happens at the Tour de France. I think it was pretty rough luck for some of the GC contenders, and I was quite amazed by the outcome. But at the same time, I don't think those guys should have to be forced to struggle through that. I'm amazed at how well the GC contenders did, getting through that day.

CC: How about Christian? He's in his first Tour, what's it like to be able to ride it with him?

ST: It's been great. Like I said, I don't think either of us would have thought we'd been in this situation; on the same team, riding in the Tour. That's a pretty special thing for both of us. I think he's really happy to be here, and he's doing great work for the team. He was a last minute call in, but it's been really good for him and the team to have him here. He's pretty psyched.

CC: So now it's going to start to get into the big mountains and some really big stages. I guess your role each day, especially for the latter part of the stages, is to just survive?

ST: Actually, you know, this year has been quite a bit different. We definitely have some big mountain stages coming up, but I would say the most difficult stage of the Tour would have been yesterday. That was a filthy day. There was not one flat section of road, and right from the gun, it was Cat 1, Cat 2, Cat 3 [climbs] ... There was maybe three Cat 1s and a couple of Cat 2s, and two Cat 3s. Those are always the worst. The big mountains you are in survival mode, but these ones... [Note: It was actually four Cat 1s, two Cat 2s and a Cat 3]

We [the team] have a couple of good opportunities coming up with Simon Gerrans; there's some climbs we can all get over and then help Gerro in the finish. So, looking forward to those, and then some breakaway days on the road for maybe guys like me and Luke Durbridge, and then the TT on stage 20, where I just hope to have some kind of legs left.

CC: Yeah, I was thinking that for the TT you were probably one of the team's main hopes to do well.

ST: Yeah, like I said it's stage 20, so you don't know what you're going to get, but I'm going to definitely going to be doing everything I can to make sure I still have something in the tank for that. It's a long, difficult TT, and if you're on a good one, you might be able to really have a go. So, I hope that's the case.

CC: Talking about time trials - you and Will Routley were added to Team Canada for the Commonwealth Games. I assume your participation will partly depend on how you feel after the Tour?

ST: I've decided that, no matter what, I'm going. I'm pretty keen to do it and it's not like you have to fly to India [for the last Commonwealth Games, right after the Road Worlds], it's a pretty simple trip. So I'm keen to do the TT and the road race. You never know how you are going to feel after you finish up on the Champs Elysees; a few days after you could be really hurting, but if your head's in it, that's all that matters, your body follows.

I have a really good break after that in August, so for me it's like the light at the end of the tunnel, to really push through to the Commonwealth Games road race.

CC: Now a somewhat different question - you've probably seen the stuff about SmartStop looking at bringing their team to Canada, and Mark Ernsting's M1 project. From your perspective, having been on Symmetrics and SpiderTech, what's the importance of teams like that to get riders like you and Christian to teams at the highest level.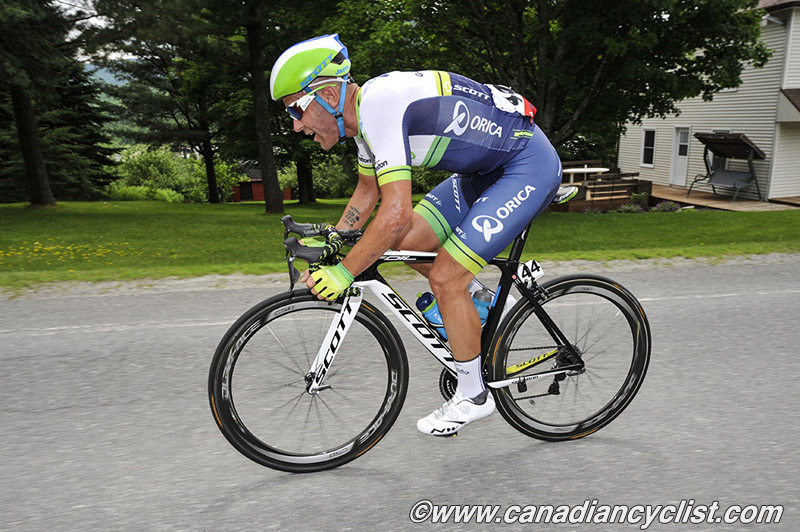 Svein Tuft on lone winning breakaway at road nationals
ST: It's huge. I'm really happy to hear that these guys are pushing to grow something like that in Canada. I believe it's so important for young guys to have a place to grow. I don't just mean getting to races and getting results; but to be part of a good core of guys who really understand and to learn what racing really is. Because it's not just about being a guy who can win Strava segments and can push big numbers on an ergo[metre]. That's great, but if you can't do all the other stuff, the 90% of stuff that comes with being a professional, then you are lost out there.

I see so many young guys who are quite talented from back home, and I've heard stories; 'This guy's so strong, he's got this record and blah, blah, blah' ... and I always think, well, that's great, but there's no real outlet or place for him to grow and develop as a rider.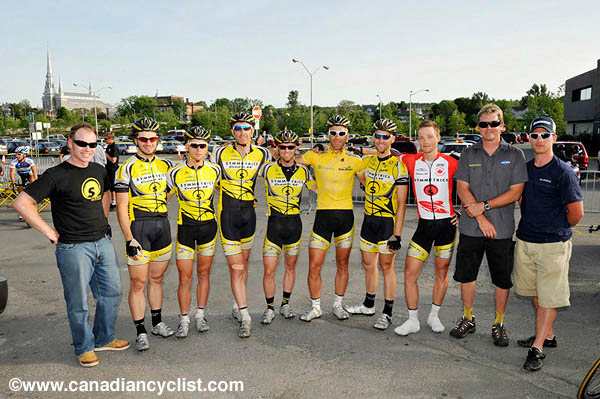 Team Symmetrics in 2008, the year Svein Tuft won Tour de Beauce
When I look back to Symmetrics, that's what that was for all of us. You look at all of the guys who came out of that program, and they were able to assimilate straight into another team, because they learned all the lessons from guys like Eric Wohlberg and just the other older guys on the team. We had such a good culture that they were able to pass that down and really teach that other aspect of the sport.

So for me, it's crucial that we have a place for young riders to actually have something to aim for, to go to and grow not just as a rider but as a man. Because really, that's what it's all about.

CC: So just before I let you go, what's on the schedule for the rest day, today?

ST: I got up pretty late, then we hopped on the TT bikes; we got new TT bikes from Scott, which are pretty sharp. That's the first time I had a chance to ride it, went out for a couple of hours with the boys. Had some lunch, and now I'm just getting into nap mode. Nothing too exciting.