July 18/14 21:24 pm - Emily Batty and Catharine Pendrel Battle for Elite Women's Title

Posted by Editoress on 07/18/14

When the elite women take the start on Saturday at the 2014 Canadian Mountain Bike Cross Country Championships at Hardwood Ski and Bike in Oro-Medonte, near Barrie, ON, expect a fierce and intense battle.

Emily Batty (Trek Factory Racing), the defending Canadian Champion, will have strong hopes to repeat, but many strong women will be vying to dislodge her from the red and white maple leaf jersey.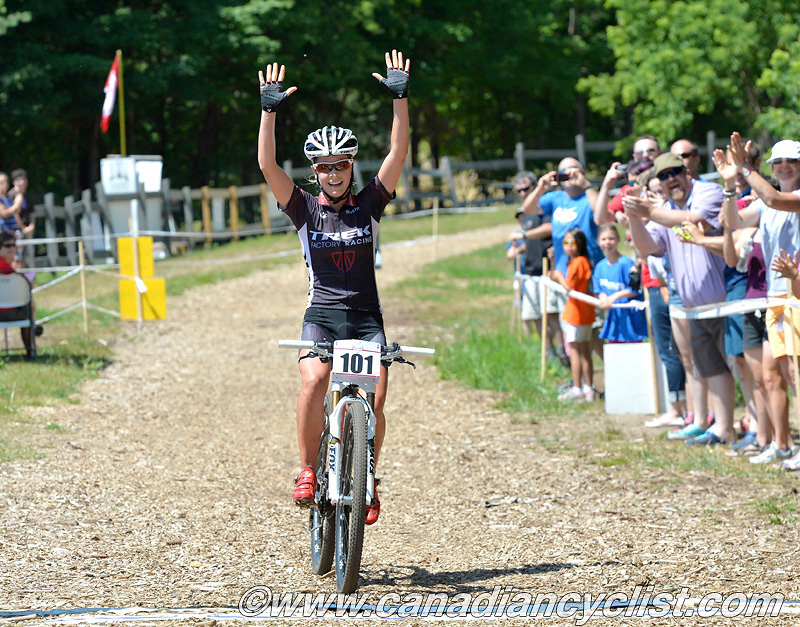 Emily Batty winning in 2013
At the top of that list, is none other than former World Champion, World Cup Champion and four-time Canadian Champion Catharine Pendrel (Team Luna Pro), who relinquished the jersey in 2013 when she didn't participate in the race due to an injury.
Catharine Pendrel became World Champion in 2011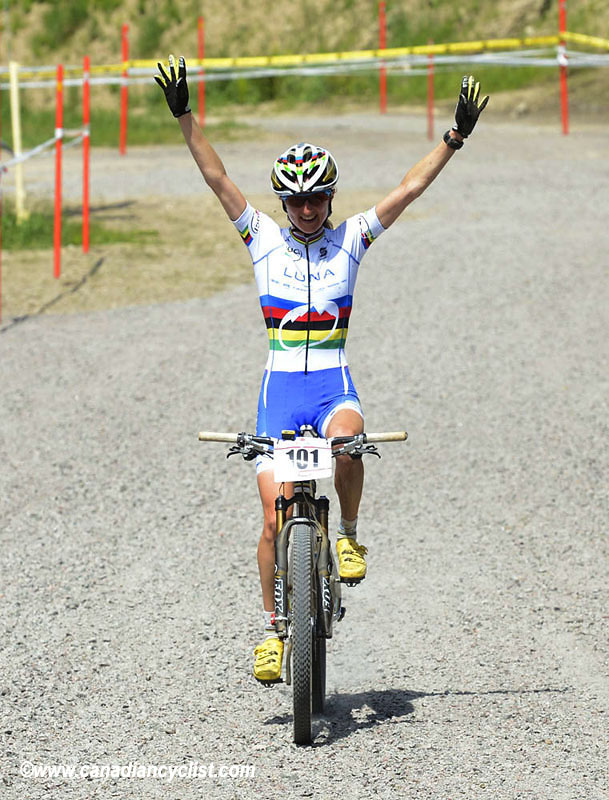 Pendrel winning Nationals in St Felicien in 2012
"I'm really looking forward to the race. The course is a lot of fun and has definitely changed since the last time I rode here in 2006. I think it will be a very tough race. There is no recovery out there, and it's all full gas. It certainly will be a lot of fun and some good challenges," said Pendrel.

"The Canadian Championships is something that every Canadian holds pretty near to their hearts. It was tough for me to miss the event last year, but I think Emily has done an amazing job of representing the maple leaf. I know she is on great form and that she grew up on these trails. I think she will give me a super tough battle for the title, for that jersey. Whoever gets it will wear it very well. I'll certainly do my best to get the maple leaf back," continued Pendrel, who stood on the World Cup podium this year at her first start of the season.

Batty, who has been wearing the maple leaf for the last year, is excited to defend the title, especially with Catharine Pendrel on the start line: "I'm looking forward to tomorrow. I feel as my fitness and my form are spot on. The last fews days on the track went well. Being so close to home, I was able to do quite a few laps, a few more than what we would normally get at a World Cup race. I've done all my studying and work, and now it's about getting to the line and have all the stars align."

Speaking of the battle with Pendrel, Batty anticipates a tough fight to the finish line: "I am a very patriotic person. I am very proud to be Canadian, and to have won the jersey last year, I was very proud. However, Catharine wasn't here. I respect her more than any other competitor. She is a wonderful person, and an amazing athlete. She's back, and we'll get to battle it out for a true race tomorrow. She'll never make it easy, she'll always be nipping at the bit. We've raced together for years, and I think it will be a very good spectator race. Hopefully, we'll be able to put on a good show."

Along with Pendrel and Batty, there is a long list of contenders for the title, such as three-time Canada Cup champion Sandra Walter (Liv Giant), Jean-Ann Berkenpas (Xprezo-Borsao), Mikaela Kofman (Scott-3Rox Racing), Amanda Sin (Scott-3Rox Racing), Andreanne Pichette (Opus-OGC), Hayley Smith (Norco Factory Team), Andreane Lanthier-Nadeau (Rocky Mountain Bicycles Factory Team), Cindy Montambault (Equipe du Québec) and Catherine Fleury (Equipe du Québec/Cyclone d'Alma).

The cross-country races for all categories will be presented on Saturday, staring at 9: 00 am Eastern Time with the Junior and Cadet categories.

Canadian Cyclist will be providing live coverage starting at 9:00 am EDT.
Cycling Canada press release (edited)