July 19/14 20:18 pm - Canadian XC Nationals : Pendrel and Kabush Victorious

Posted by Editoress on 07/19/14

A thrilling finale in the elite men's event capped off a great day of racing at the 2014 Canadian Mountain Bike Cross-country Championships, at Hardwood Ski & Bike near Barrie. Geoff Kabush (Scott-3Rox Racing) came from behind to win his record-setting eighth national cross-country title, and Catharine Pendrel (Luna Pro Team) overcame a tenacious Emily Batty (Trek Factory Racing) to win her fifth championship. Frédérique Trudel (Specialized Racing Canada) and Léandre Bouchard (Équipe du Québec/Cyclones d'Alma) claimed national titles in their respective U23 categories

Elite Women
Injury prevented Pendrel from taking the start in 2013, but when she took the start against the defending champ and local favourite Batty, the race everyone had been waiting more than a year to see was finally a reality.

Cindy Montambault (Équipe du Québec: CVM 2 VALS), silver medalist in Thursday's Eliminator race, led the field off the line for the five lap race. Coming back into the stadium area it was Pendrel, Batty and Sandra Walter (Liv/Giant Canada) leading, followed by Montambault, Mikaela Kofman (Scott-3Rox), Andréanne Pichette (Opus/OGC) and Amanda Sin (Scott-3Rox).

After a bobble by Pendrel on switchbacked Cayley's Climb, which also held up Batty, Walter rode into the lead, but was subsequently overtaken by Pendrel and Batty, who quickly opened up a healthy gap by the end of the opening lap.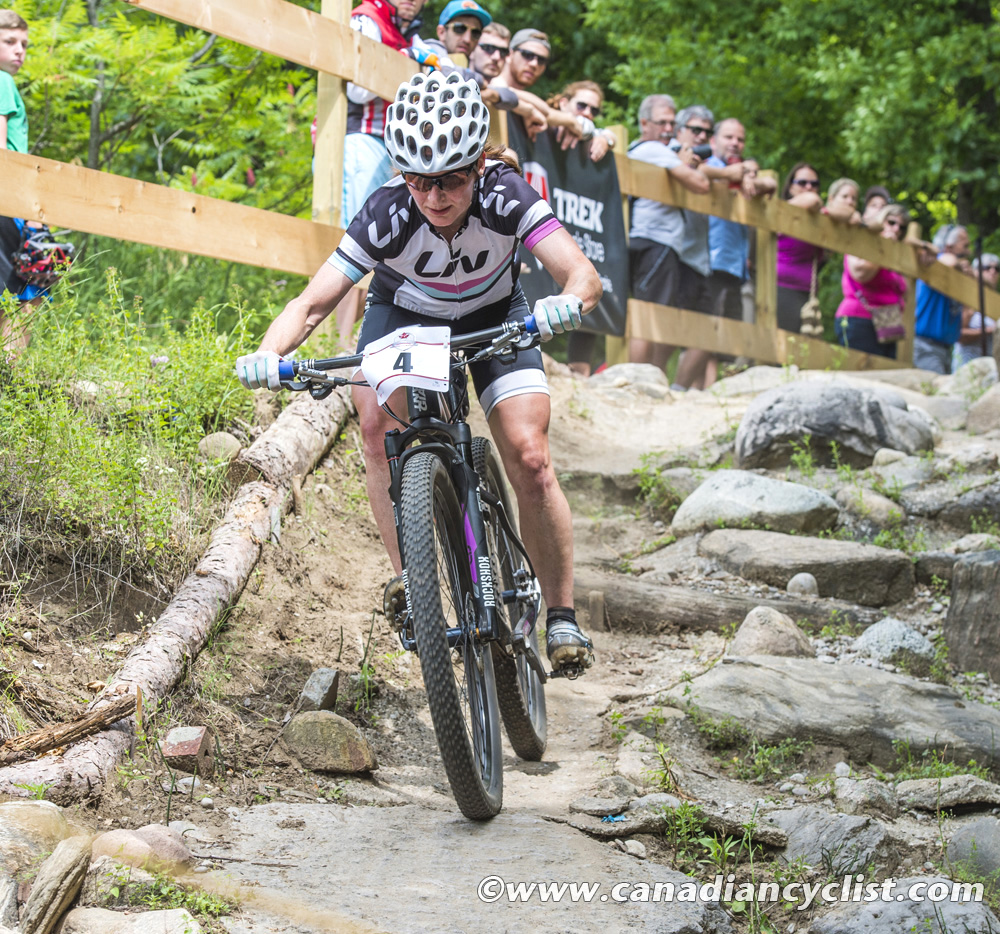 Sandra Walter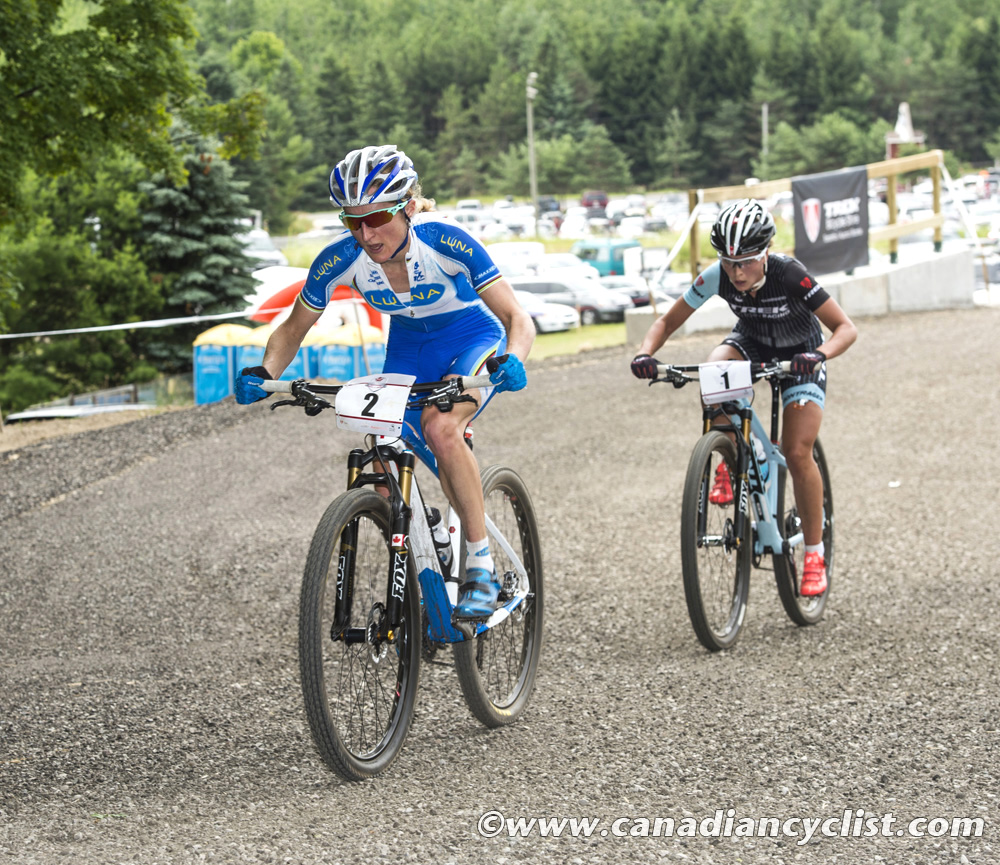 Pendrel and Batty in the lead
Pendrel's husband, Keith Wilson, commented that his wife has only one race tactic, that being to "Grip it and rip it". That plan was in full effect, as the former world champion was at the front forcing the pace, but Batty was able to follow, seemingly without difficulty.

"To be honest, the first couple of laps I was feeling pretty comfortable," revealed Batty. "I was letting it rip on the descents, because I had them memorized so well, and I was able to recover quite a bit descending the singletrack."

Early on lap three of the five-lap race Batty did move into the lead, allowing Pendrel both respite and insight into her fellow competitor: "Emily's a very strong rider. She's a very skilled rider. I expected that she was going to be there for at least two laps. When she went to the front during the third lap I got to see a little bit more of where she was at. We could hear each other breathing so we both knew we were working hard, but when I was following I felt like I had a little bit more and I used that to my advantage. I made a move that I hoped would be decisive and it was."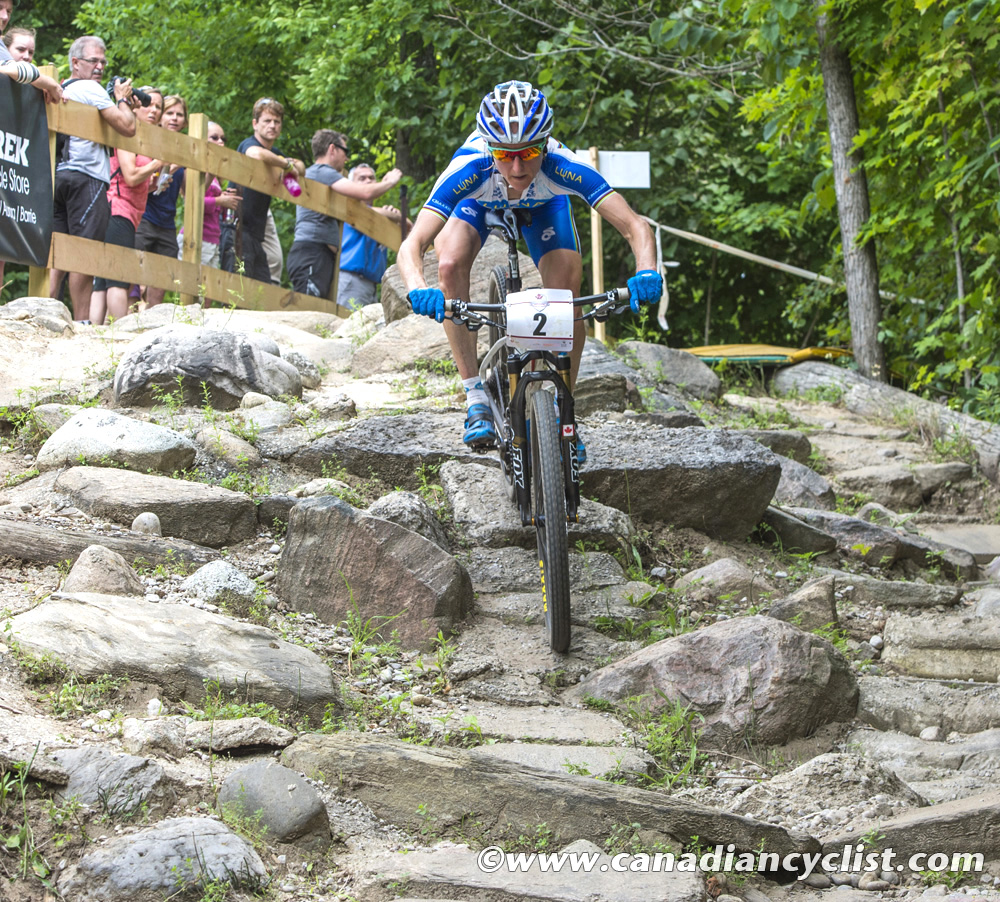 Pendrel on Boneshaker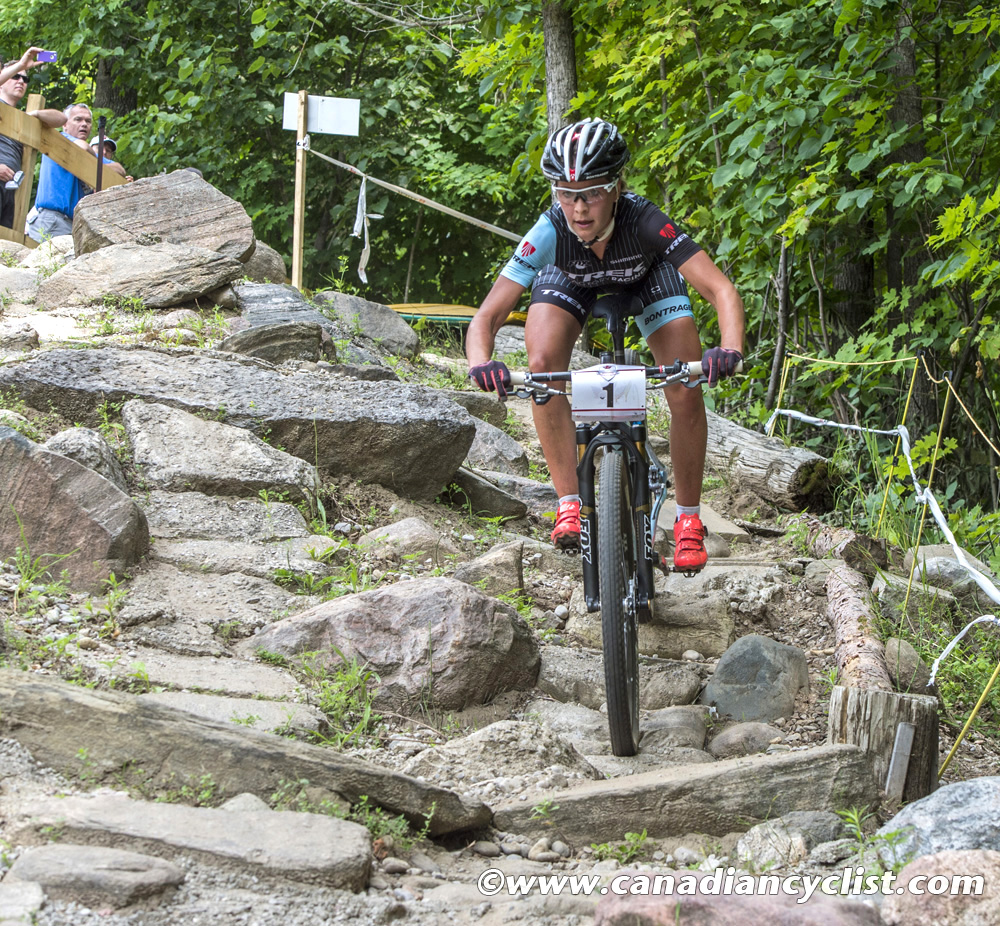 Emily Batty on Boneshaker
On that same third lap, on the course's longest climb, Pendrel turned the screw a little tighter, hoping to pry open a gap.

"She hit it with two-and-a-half laps from bottom to top on the longest climb, and I was able to hang on to that," said Batty, "but it did take a bit of a match because I knew she was going to pin it, and I was able to hang on to that. I was able to get around her and tried to counter, but she hung on to that and came back around. It was super-eventful, but she just wore me down little by little."

Initially only a handful of seconds, the gap grew steadily as the race wound down. Keeping the pressure on, Pendrel rode to her fifth national title.

"My offense is better than my defense," commented Pendrel post-race. "I find I'm in a better headspace when I'm dictating the pace, so that's what I was doing today. I just had to have faith in my fitness that eventually the pace would be too hard and Emily might not be able to go with me, and if she could go with me to the end of the race then I was just going to have to be smart and choose a moment to make a decisive move. Luckily, the offensive tactic worked."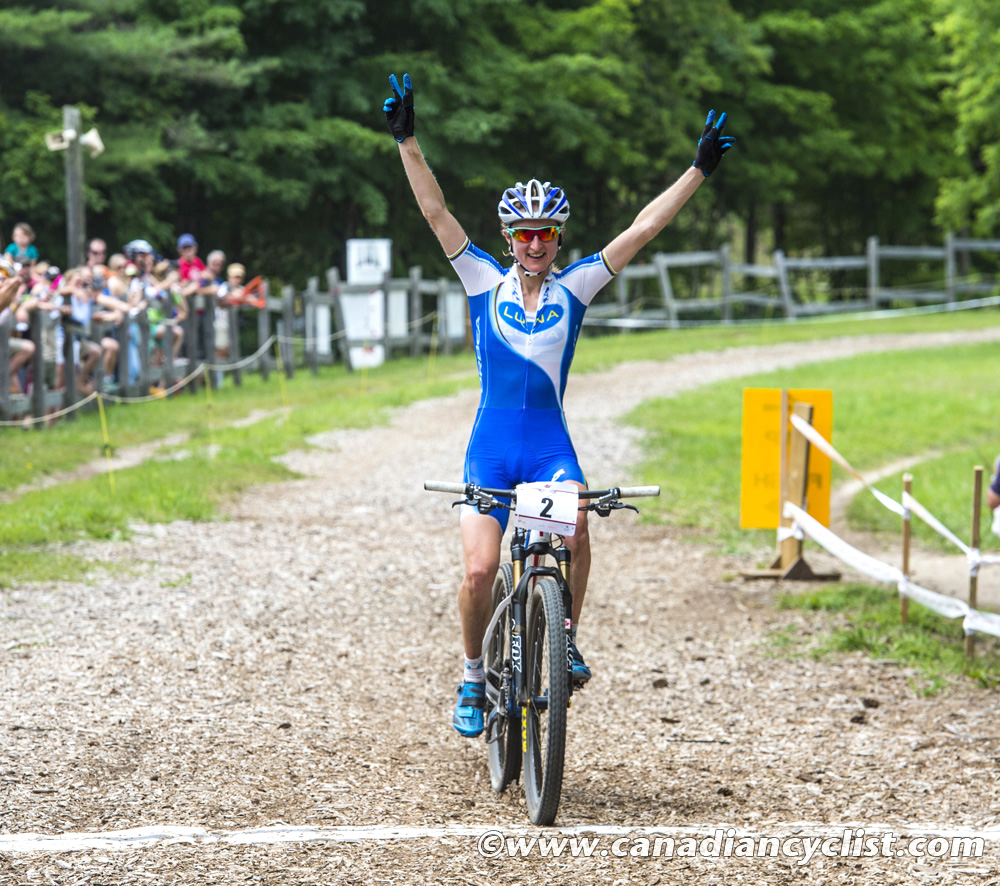 Catharine Pendrel wins
Batty finished second and Walter, riding on her own for most of the race, came home in third. Kofman hung on to fourth, while her teammate Sin overtook Montambault for fifth.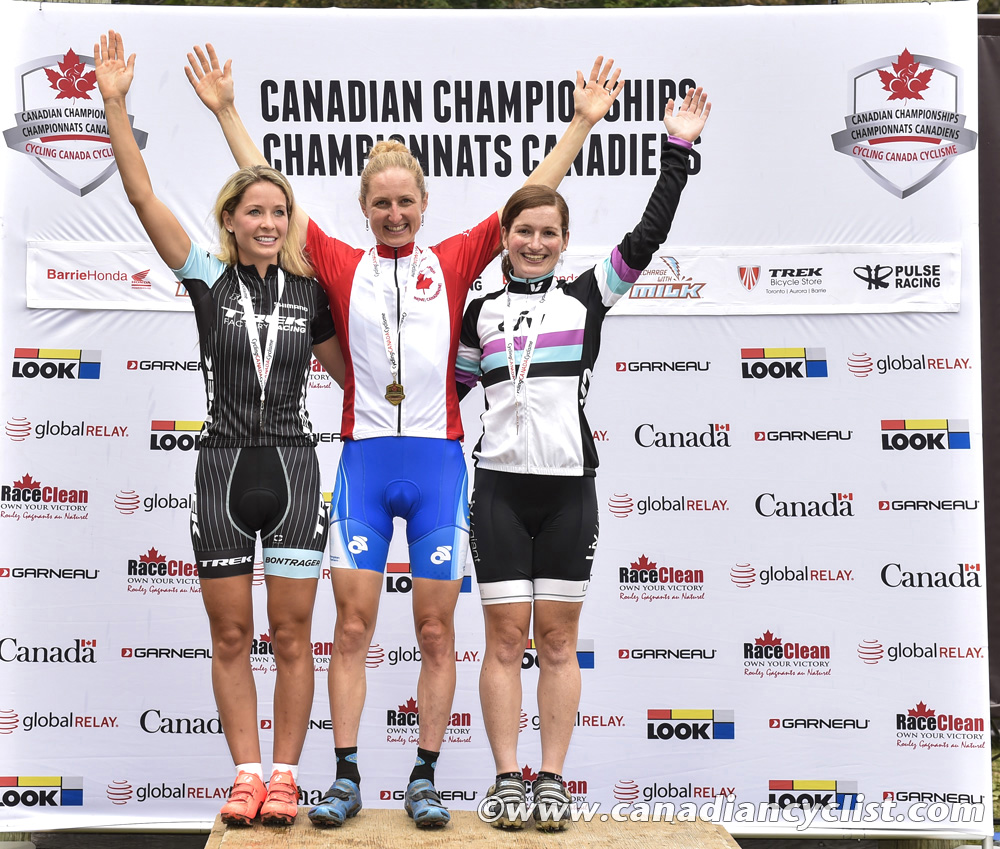 Batty, Pendrel, Walter
Despite finishing second, Batty was pleased with her performance and her current form. "Honestly, I have to say I felt awesome. She had an even better day but I did feel really awesome. I worked really hard and I would have to say that was harder than the Australian World Cup. Second place to Catharine today was pretty respectable so I'm happy. It's definitely good to have each other to push each other. I think this was a top-5 World Cup pace today."

Without a carrot to chase, Walter relied on mental strength and technical ability to remain in the hunt for a podium placing. "I know that Mikaela is a really strong rider and a great climber, so that was very motivating knowing that she was back there. There's lots of other really strong girls nipping at my heels. I wanted that medal and that was keeping me going."

"The course is obviously different [from last year] and has some new features. I used my technical skills to my advantage. I find my technical is pretty strong, and really just staying smooth, staying strong and not making too many mistakes. If I could do that I could keep it going."

Elite Men
Leading up to race day there was plenty of talk about Kabush's hoped-for eighth title, but Adam Morka (WFP Coaching/Trek Bikes) had other ideas, shooting into the lead and holding it through the opening section of singletrack. Hard on his wheel were Cameron Jette (Scott-3Rox), Evan Guthrie (Norco Factory Team), Raphaël Gagné (Équipe du Québec/Rocky Mountain Factory), Kabush, Zandstra and Max Plaxton (Cannondale Factory Racing).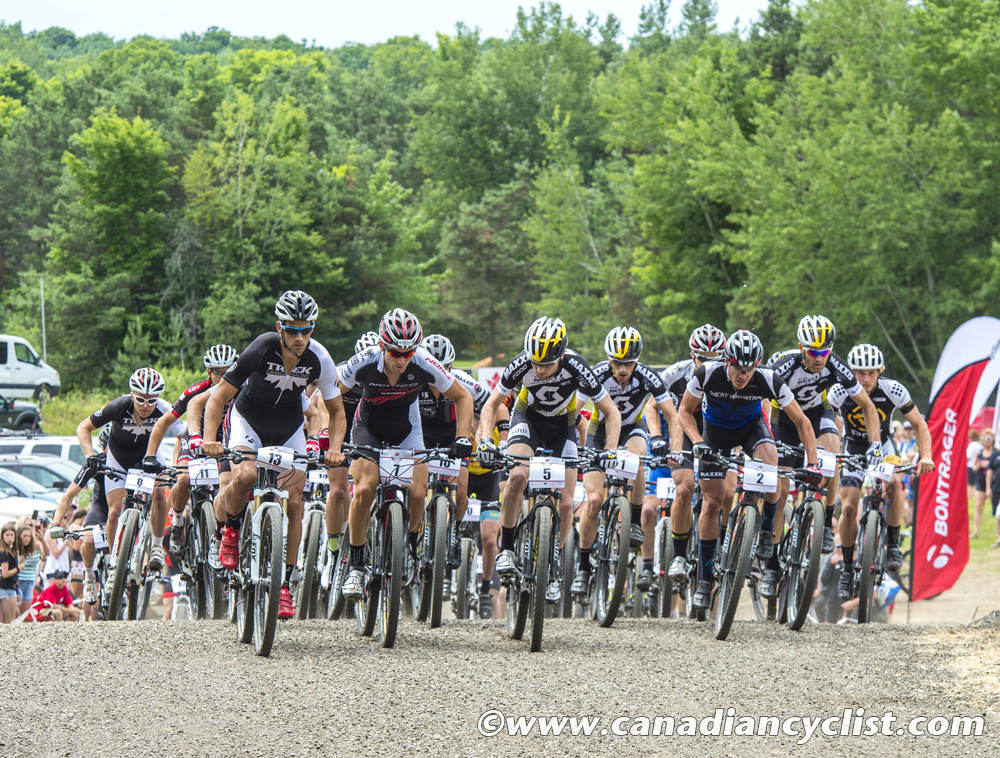 Men's start
Heading into lap two of six, Guthrie had moved into the lead, holding a ten second gap over the aforementioned riders, with the Norco Factory Team duo of Andrew L'Esperance and Andrew Watson slightly further back.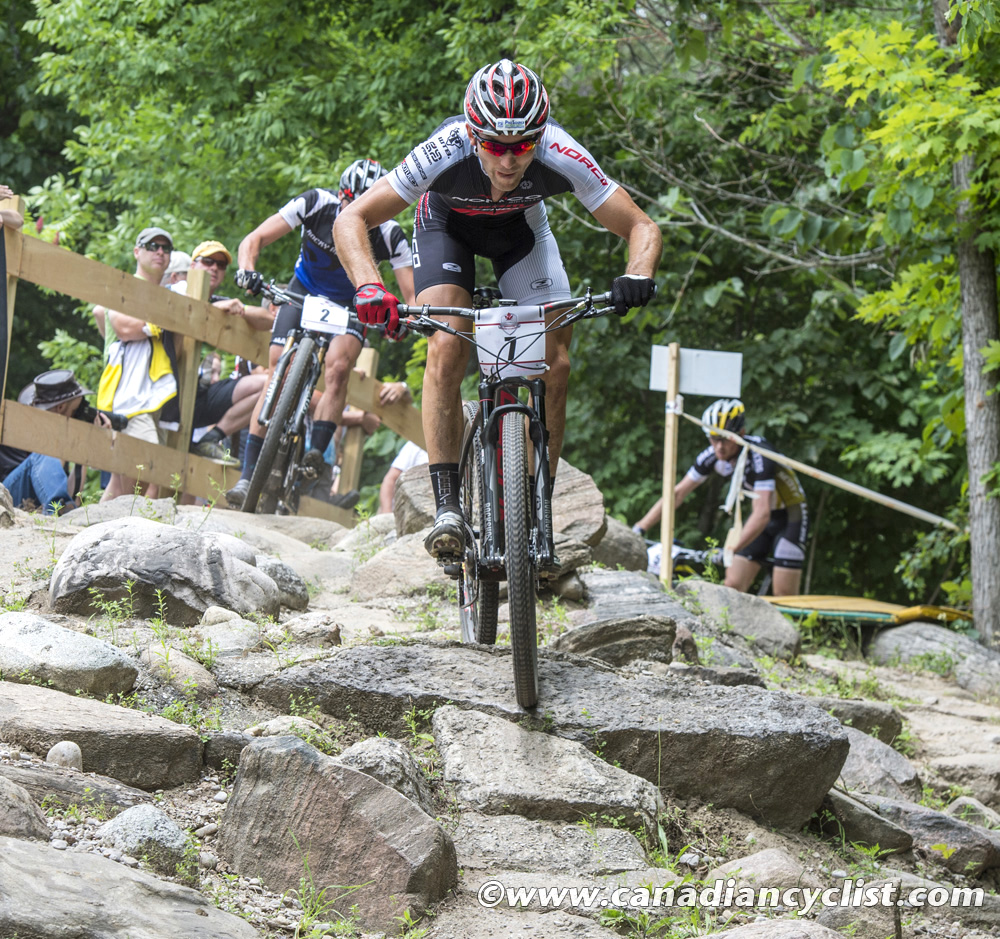 Evan Guthrie in the lead
By the third lap, with racers settling into a rhythm, Guthrie had Jette and Gagné for company, with a second trio of Plaxton, Kabush and Zandstra at 20 seconds, and Morka alone in seventh.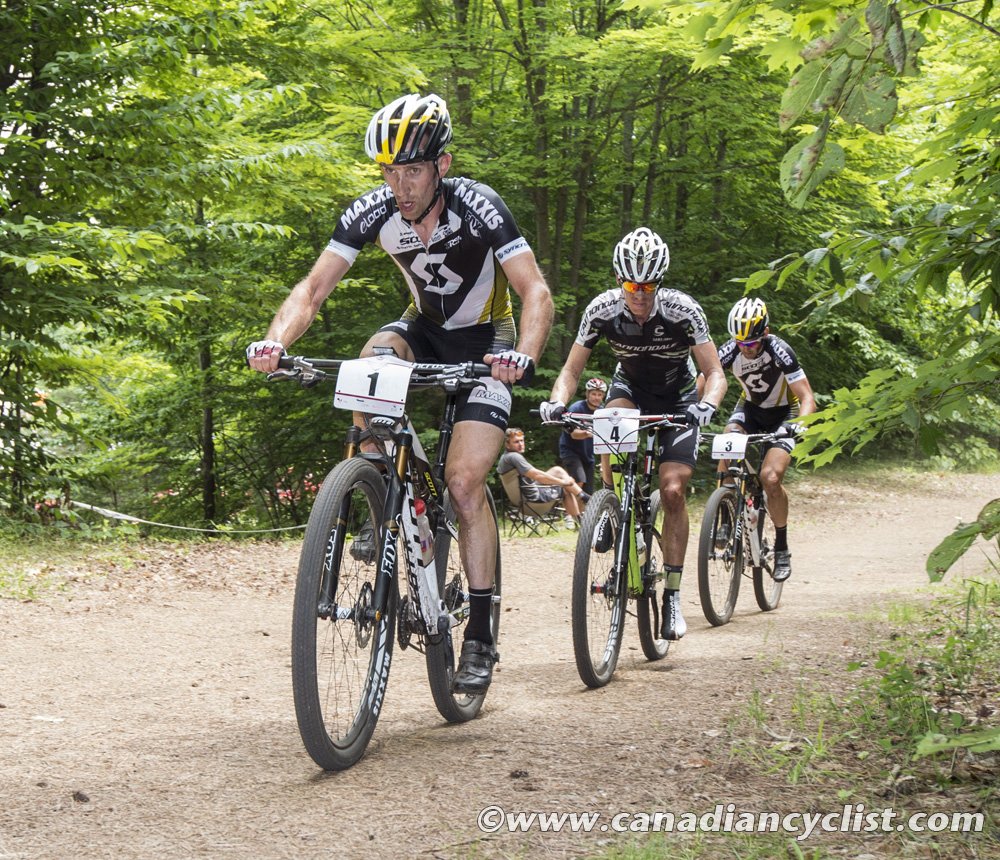 Derek Zandstra leading the chase
The gap between the dueling trios grew to 30 seconds by the fifth and penultimate lap, when everything suddenly changed. A chain problem saw Jette off his bike and running, and Guthrie attacked Gagné to take the solo lead. Zandstra and Kabush began to pour on the coals, with Plaxton scrambling to hold on.

By midway through lap five Gagné had reeled in Guthrie, only to have the first-year elite rider roll away again at the beginning of the final lap. Kabush and Zandstra by then had dropped Plaxton and caught Gagné, and the veterans set off in pursuit of Guthrie, who was quickly brought back.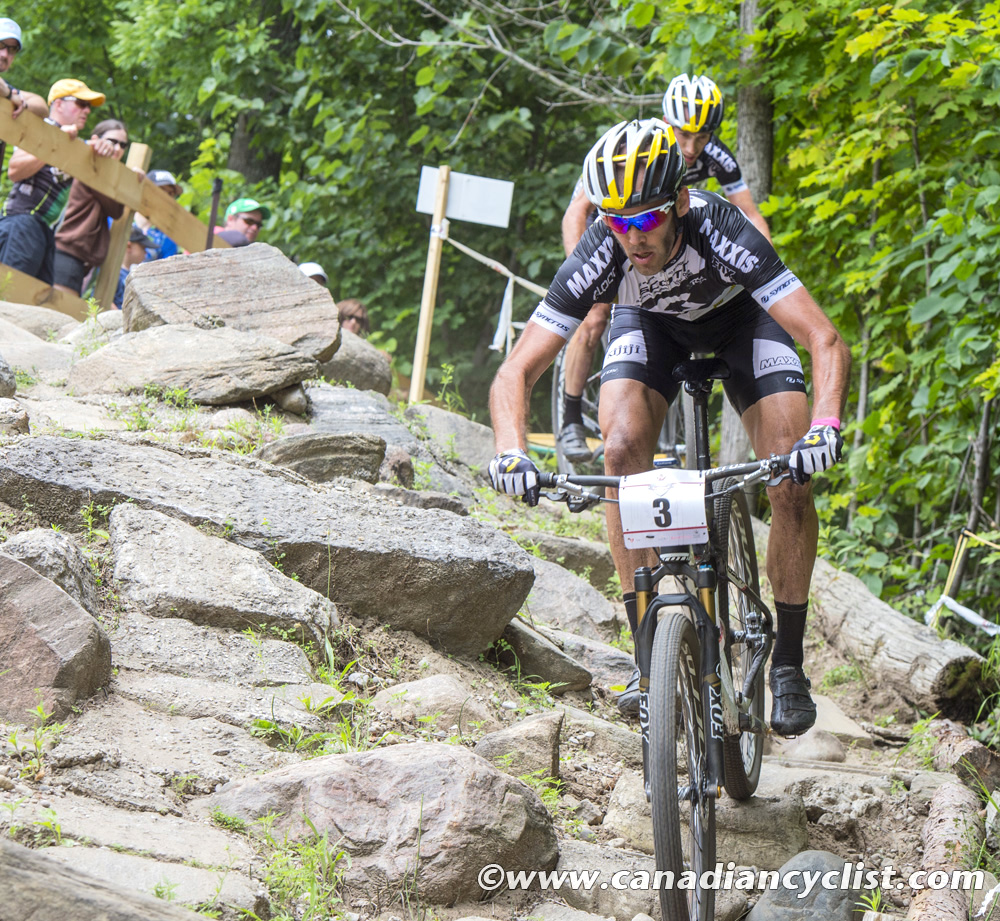 Geoff Kabush
Zandstra attacked but soon had Kabush for company, and the pair worked to distance Gagné. Kabush had a bit more left in the tank and finally surpassed Alison Sydor's record of seven national cross-country titles to become Canada's most successful elite cross-country racer.

"It came down to the last five minutes," related Kabush. "I had the mental energy to really focus and squeeze it out on the last climb and get a gap. On a course like this it's all about being efficient right to the end. The goal for the team was to get the jersey again, and it was a successful day for Derek and me being one-two. I'm looking forward to the next couple World Cups representing the jersey."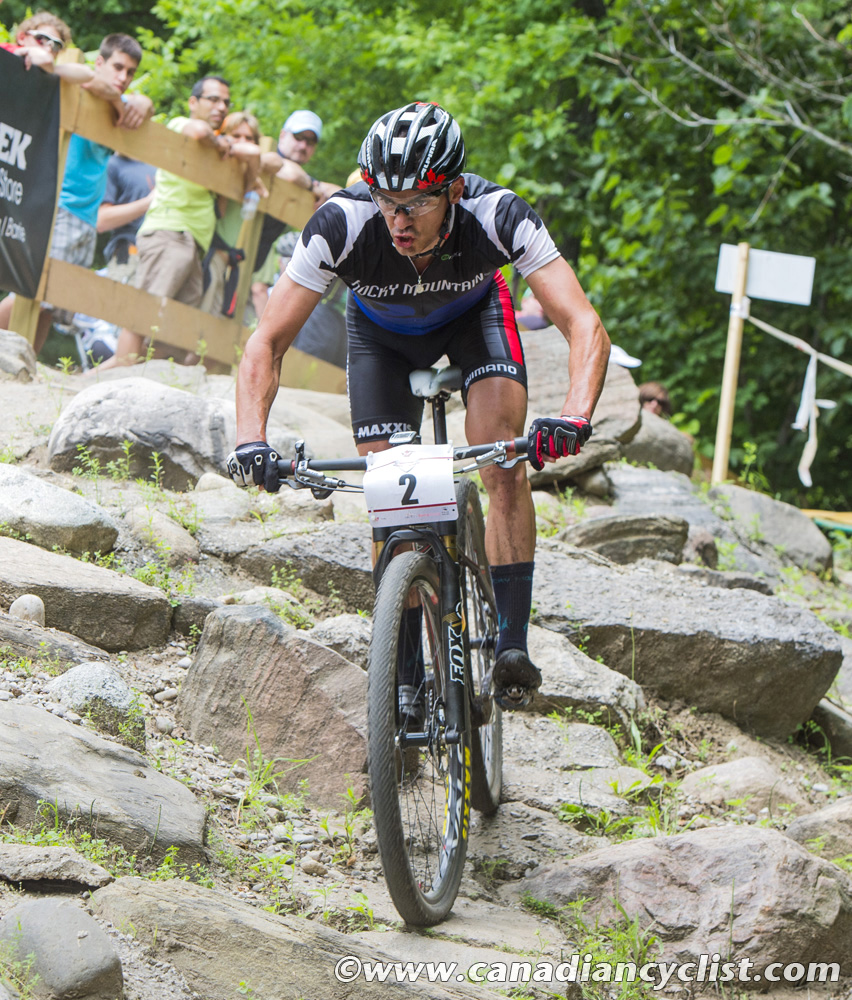 Raphael Gagné
"Early in the season I had the national title as a target," said Gagné. "I didn't finish too far from the win. I think I was in the game the whole race. I played it smart, I avoided traffic and strategy because I didn't have the numbers like 3Rox."

"Cameron was trying to split it up, sometimes going to the front but not pushing it as hard as I thought he could. That's something I tried to avoid, so when they started looking at each other I went to the front. I just wanted to avoid any attacks from Cameron and Evan, so I micro-paced it to be strong the whole race, and that played in my favour because when the 3Rox guys caught up I was there, I just wasn't able to go around them at the end of the race."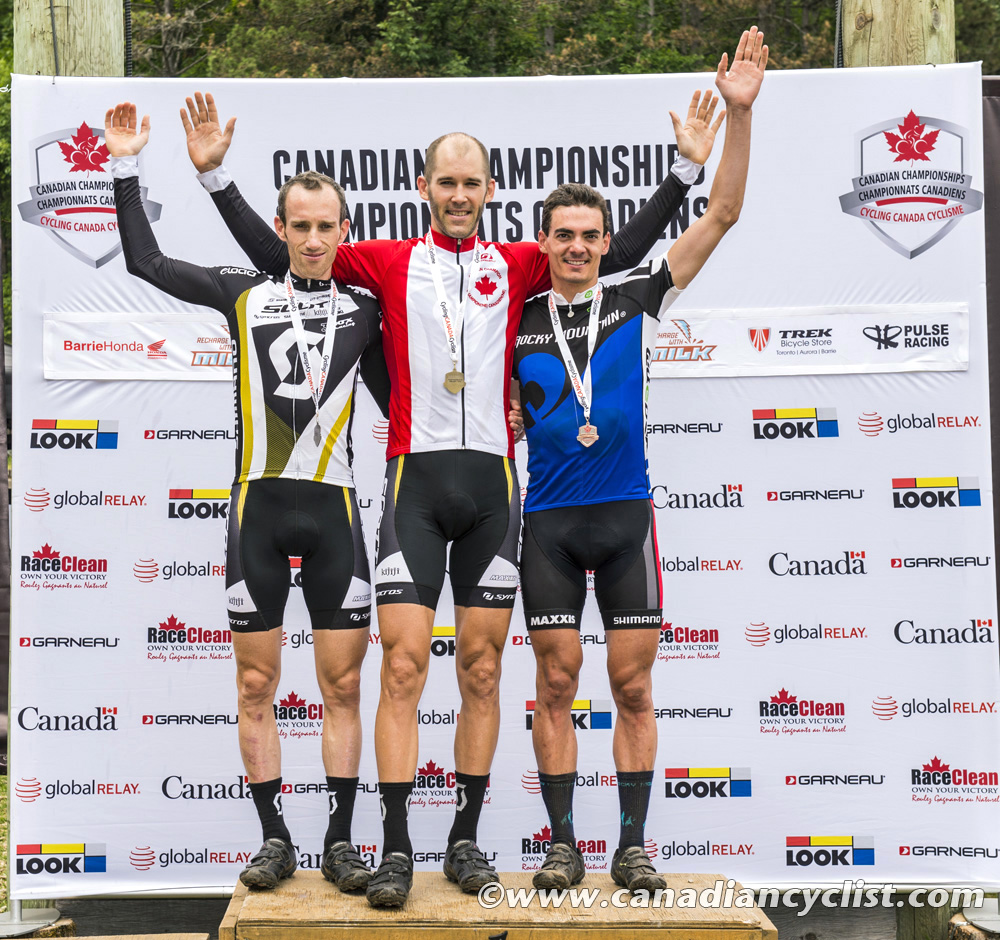 Both Kabush and Zandstra were quick to praise their teammate Jette. "Cam was driving the pace," gushed Zandstra. "We were hurting in the back. We didn't exactly know what was going on. Max said we've got to start working here or we're going to get too far behind."

U23 Women
The U23 women's event was arguably the most exciting race of the day. Haley Smith (Norco Factory Team) got the holeshot but by the end of the opening lap it was Maghalie Rochette (Luna Pro Team) at the sharp end of affairs.

The revelation of last year's national championships, Rochette held a 25-second lead over Smith, Rachel Pageau (Équipe du Québec/Devinci/Ekoï) and Catherine Fleury (Équipe du Québec/Cyclone d'Alma) going into lap two of four laps. Further back was the defending champion, Trudel.

Early on in the second lap Rochette's lead came to an end as Smith took over, with Trudel now in third position and Fleury in fourth. As Smith extended her lead, Rochette was fading, dropping to fifth behind Trudel, Fleury and Pageau.

Entering the feedzone on the fourth and final lap, Smith held a 37 second lead over Trudel, with Fleury a further 45 seconds back in third. Disaster struck the leader when she tumbled while riding over a boulder, and the gap fell to a mere eight seconds. Pushing hard, Trudel caught and passed Smith in the latter stages of the lap, crossing the line in tears for a very emotional win, her fourth national title in succession.

"I don't know what happened on the last lap," said Trudel. "I wasn't thinking about anything but going as fast as I can. It worked."

Although she struggled in the early season, Trudel maintained confidence in her abilities. "Just keeping the mentality was really tough. Always thinking that I've done it three times, I can do it again."

Second place was bittersweet for Smith. "I got too cocky. On the last lap I heard the announcer say 'She's got 37 seconds' and I got really excited. I really wanted to win, more than I've ever wanted to win before. It got in my head a little bit. I endo'ed pretty hard and my bars twisted and I couldn't get them untwisted. At that point I'd lost 30 seconds. I was just rocked. I was trying to go as hard as I could but I was cramping. I gave it 100% but a little mistake cost me the race."

Fleury managed to hold on for third, matching her result in Thursday's Eliminator. "It was a tough race. The girls were very fast on the first lap, but I feel I've accomplished what I wanted. It's my first U23 podium at the national championships. I'm pretty happy about my races."

Rochette, who was third in 2013, ultimately finished in sixth place this time around, and didn't sugarcoat her feelings: "I don't think I went too hard on the first lap. That was the plan and I just wasn't able to execute. I have absolutely no excuse but I'm really not proud of the way I raced, and not happy either. The other girls were stronger and I'm glad they raced super-well. For myself I have nothing to say except that I'm really disappointed with myself. My mind is still a bit foggy from the race. I'm happy with the first lap, now I have to be able to keep that for the entire race for next time."

U23 Men
In his final year in the category, Mitchell Bailey (Trek Canada) was hoping to defend his title in the best possible fashion, with a win. The same could be said for Bouchard, who already had two U23 championships to his name, and is also moving to the elite ranks in 2015.

The pair proved to be the class of the field as they went to the front immediately off the start, and quickly distanced chasers Jérémy Martin (Équipe du Québec/Rocky Mountain Factory), Peter Disera (Norco Factory Team), Marc-Antoine Nadon (Scott-3Rox) and Evan McNeely (Norco Factory Team).

Swapping the lead between them, Bailey and Bouchard steadily built up an insurmountable lead. Disera, in his first year of U23, found himself alone in third after Martin flatted.

The winning move came late in the fourth lap of five, when Bouchard gained a bit of breathing room on the long climb. The gap slowly grew to 30 seconds, and Bouchard had his third U23 championship, with Bailey a strong second and Disera an impressive third in his first year in U23.

"On the fourth lap I opened a gap," stated Bouchard, who, in a private joke with Raphaël Gagné, refers to his body as 'The Machine'. "I took that opportunity to open the machine and push hard so he couldn't come back. After that I went all out on the last lap."

"It went back and forth between Léandre and I," related Bailey. "At one point I thought he was hurting. He was breathing really hard. But he always has an extra gear, somehow. He turned it back on and cleanly rode away. If anyone was going to beat me, he's got the results to back it up."

Third place for Disera was a result of his ability as well as being sensible. "I had no real desire to chase or stay with Mitch and Léandre because I knew by the end of it I wouldn't have the legs and I didn't want to blow too much too early. Jérémy and I were riding for a little bit. He was stronger than I was but I was feeling really good on the technical. I used a little bit of tactics. Some sprints going into singletrack, opening it up on the descents, and then he ended up flatting. I was starting to fade on the last lap and was lucky to hang on to it."

Junior Women
Soren Meeuwisse (Team Ontario-Trek Canada Mountain Bike Team), was the fastest of the Junior women's field, finishing solo ahead of Laurie Arseneault (Iris) and Paige Foxcroft (Team Ontario-Angry Johnny CC).

"Winning the jersey was a major goal for me this year. I wanted to live up to the expectations from last year, so I'm happy to come away with a win this year. Now, I'm hoping to travel to Norway for the World Championships and get a good placing there as a first-year Junior, as it will be a very tough field," said Meewisse, visibly very happy after the race.

"I am very comfortable on these trails. I've been practicing on this course for about a month now. Countless laps. I felt smooth on all those technical sections on which other people were having trouble with. The long climb right after Boneshaker [rock garden descent] was particularly difficult for me today. I'm better at short, spunky climb."

In the Cadet women's race, Erica Leonard (Team Ontario-Team Bikeland) won the title, overtaking Samantha Fuller (Angry Johny's CC) in second place and Juliette Tétraullt (Skinouk-VDM) in third place after crashing twice.

Junior Men
Marc-André Fortier (Équipe du Québec) was the fastest among the Junior men, posting a time of 1:09:28, for a solo win, Rhys Verner (Cycling BC) and Felix Burke of Mont-Tremblant, QC (Opus-OGC). Fortier is currently leading the Canada Cup series.

"This is a good day. My legs were great today. After the first two minutes, I had a gap of 5-10 seconds, and I managed to widen the gap throughout the race. I was not sure if they would catch me near the end, but I gave it all to finish. I'm very happy," commented Fortier, two-time Canadian champion in the cadet category.

"Since I won last week [at the Sudbury Canada Cup], I came here as one of the favorite to take this race. I handled it well. It is about five guys with all the same strength. We feed off each other and challenge ourselves. The winner is different in each race. The course didn't offer any rest period. It goes up and it goes down. It is very physical with a lot of elevation. There was many spectacular passes, and it was very fun."

U17 Men
In the men's Cadet category, Quinton Disera (Team Ontario/Cycle Solutions Angry Johnny's CC p/b Norco LG) successfully defended his cadet title from last year. Gunnar Holmgren (Team Ontario : Next Wave Cycling Team), another local favourite, was challenging Disera for the title until he crashed hard. Disera, the younger brother of Peter Disera, who calls Hardwood Ski and Bike his local training centre, easily won the race by posting a time of 52:38.63. Tyler Orschel (Team Ontario-Trek Store CC) and Sean Fincham of Garibaldi Highlands, BC (Cycling BC) finished second and third after a sprint that saw Fincham relegated for leaving his line.

Commissaires Mike Drolet and Steve Head were in a very good position to determine that Fincham impeded Orschel's sprint to the line, though they also took the time to review numerous pieces of photographic evidence before rendering their decision.

Race Notes

- There will be two Canada Cups in the Greater Barrie area in 2015. The first will take place at Horseshoe Valley on June 7th, organized by Sean Ruppel of SuperFly Racing, and the second a week later on June 14th at Hardwood Ski & Bike, organized by Glenn Meeuwisse of Pulse Racing.

- The awards ceremony began with a country and western version of O Canada, with bilingual lyrics.

- A raft of national titles (and strong thumbs) have provided Geoff Kabush with the wherewithal to really pop the cork on the podium champagne. Other winners cork popping skills paled in comparison.

- Gunnar Holmgren (Team Ontario: Next Wave Cycling Team) was despondent after the Cadet Men's race. In second place and charging on the final lap, he suffered a rear-wheel flat that knocked him out of contention. His father Rob commented: "That's racing."

- The Commonwealth Games team of Batty, Gagné, Pendrel and Plaxton were recognized following the podium ceremonies. The team departs later this week. Kabush withdrew his name from consideration prior to team selection in order to focus on upcoming World Cups and give others an opportunity to participate.

- Cindy Montambault commented the combination of racing the Eliminator and the general excitement in the buildup to the cross-country race probably had an effect in the latter stages of the race. Her coach (and husband) Serge Desrosiers is also the coach of Équipe du Québec.

- Johanna Bertin and Bruce Pendrel, Catharine's parents, not only drove from Harvey Station, New Brunswick, to watch their daughter race, they also volunteered as race marshals.

- Serving as a Pan Am test event, the national championships took advantage of plenty of trail and infrastructure work at the venue. The new course, which will be the Pan Am Games course for next year, received strong praise from riders, who cited its difficulty and 'fun' factor. The venue is still undergoing renovations for the Games, with the finish and timing system to be moved to the new start area. More than $200,000 has been invested to date, with more work to come, including a new cell tower for improved phone and internet coverage.

- Thanks to the organization for the smooth running of the event, quick results and overall support.

Report by Emil van Dijk, with additional reporting from Rob Jones and Cycling Canada
Fatal error
: Uncaught Error: Object of class PDO could not be converted to string in /home/canadiancyclistcom/canadiancyclist.com/public/modules/news.php:528 Stack trace: #0 /home/canadiancyclistcom/canadiancyclist.com/public/modules/news.php(517): getrelatedgallery() #1 /home/canadiancyclistcom/canadiancyclist.com/public/dailynews.php(58): getDailyNewsArticle() #2 {main} thrown in
/home/canadiancyclistcom/canadiancyclist.com/public/modules/news.php
on line
528