July 22/14 23:42 pm - Dr. Jack Taunton joins M1 Pro Cycling's Initiative

Posted by Editoress on 07/22/14

M1 Sports Management is pleased to announce that Dr. Jack Taunton will be joining the M1 Pro Cycling Advisory Team.

Dr. Taunton was the Medical Officer for the Olympic Games in Los Angeles (1984), Seoul (1988), Barcelona (1992) and Sydney (2000). He was also the Chief Medical Officer for the Vancouver 2010 Olympic and Paralympic Winter Games where he oversaw the medical plan, including emergency healthcare, doping control programs and planning for large-scale gatherings that was recognized by the International Olympic Committee (IOC) as the most organized medical plan in Games history.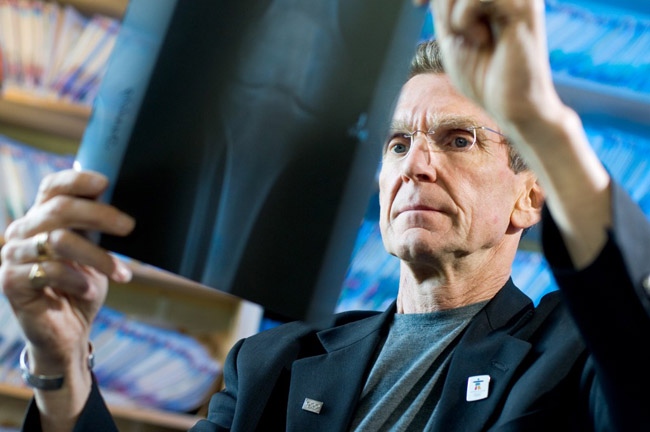 Earlier this year M1 Sports Management announced it's intent to establish the most sophisticated professional road cycling platform that has ever been created in Canadian history for both men and women. Having Dr. Taunton join our team shows the depth in the foundation for this platform. As the program develops Dr. Taunton will provide the team with world class advice on it's talent identification initiatives, athlete rehabilitation needs and sport medical requirements that will guarantee the athletes the best support available during their professional career.

Mark Ernsting, leading this initiative, states: "It's an honour to have Dr. Taunton reach out to us after hearing about our initiative and wanting to support the project by offering his expertise." This project is designed to be a Canadian initiative that attracts the best professionals in every industry that can help support this vision. Ernsting states: "This is a perfect example of how we want to continue to bring great minds and talent in Canada under one umbrella for this professional road cycling program".

Dr. Taunton has a clinical practice in sports medicine at the Allan McGavin Sports Medicine Centre and Fortius Sport & Health. He is a Professor in the Faculty of Medicine and School of Human Kinetics at the University of British Columbia and was a founding director of the Centre that is dedicated to sports medicine and sport science with physiotherapy, orthopedics, primary care and research.

Dr. Taunton states: "After being at 4 Olympics with cycling I know the value of full sports medicine and sports science support. I have always had a life long passion in the sport of running, but have also always loved the sport of cycling. Over the past ten years the sport awareness has grown tremendously and I believe that this vision is being developed at a perfect time. Working in partnership with Cycling Canada's for a long-??term vision to have a rider on the podium at future Games is now more than even possible. I look forward to the opportunity to be involved and supporting this plan."

It is important that the program continue to develop a professional platform that ensures its success at all levels. Therefore, the Advisory Team will continue to strategically grow over the coming months.
Press release