July 23/14 12:42 pm - Commonwealth Games: Interview with Joe Veloce on the Second Day of Track Training

Posted by Editoress on 07/23/14

Joe Veloce is one of three Canadian men on the Commonwealth Games sprint squad. We spoke with him for a few minutes after his final training session before competition begins tomorrow.

Canadian Cyclist: Your overall impression on being in Glasgow and the track?

Joe Veloce: It's a great facility and a great [athlete's] village. Hard to read the track, really on whether it's fast or slow. But, either way, we're all on good form, so it should be a good competition here.

CC: Jasmin [Glaesser] said to me yesterday that it was steeper than she was used to and the transitions were tricky; what's your feeling about it?

JV: I think it depends on the rider's background. For me, I like a more round track; this is a bit tight in the corners. There are very big transitions, so it could help some riders come off the banking. It really depends on the style of the rider.

CC: You are doing three events - Team Sprint, Sprint and Keirin.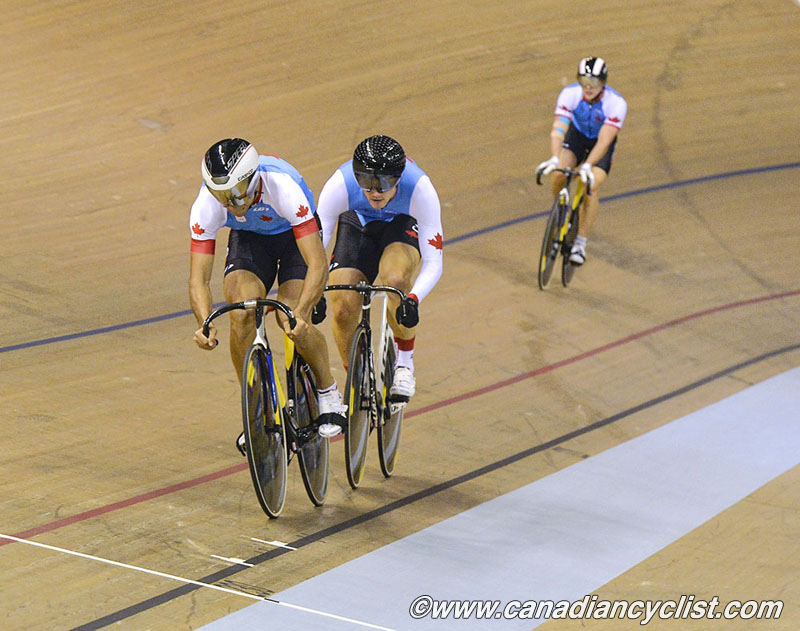 Joe Veloce leading during Team Sprint training
JV: In the Team Sprint, the first goal is to make it into the top-4 so that we get a ride in the Finals. At that point anything can happen. We are fortunate that now we have a third member to the team, Vincent [de Haitre], who came over from speedskating in Sochi at the Winter Olympics. So we are fortunate now to have three riders who can compete at this level. So we are looking for a good time.

In individual stuff, for me personally it is an exciting time because I finally feel like I'm back on form after my crash last year, almost a year ago exactly. So this should be a good test for me. We're all coming on pretty good form, so anything's possible. We'll just have to wait and see.

CC: Can you fill us in on some background about the crash.

JV: It was a pretty bad crash in Colorado Springs at a sprint competition. Broke my scapula, collarbone, concussion, bruised lung ... so definitely the worst crash of my career. I was off the bike for at least 8 to 10 weeks, so a slow recovery to come back. I missed most of the World Cup, and the past month of racing in T-town [Trexlertown] is the first real racing I've done [since last year]. And this is definitely the first international calibre competition I've done.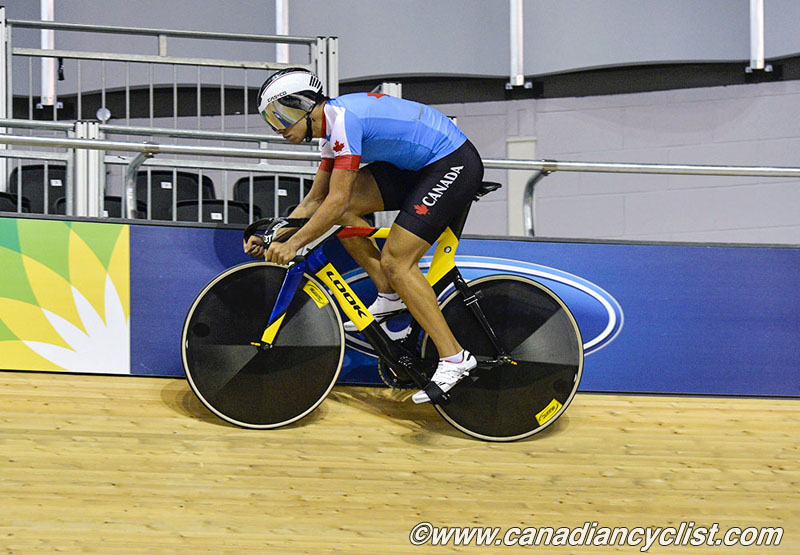 Joe Veloce practices flying lap
CC: For you is the Keirin the event where you are looking for the best result?

JV: I'd say between the Sprint and Keirin it's equal. I like both events equally. I know I have more experience in the Keirin, from the Olympics, but I'd say either one here.

CC: Have you set any particular goals?

JV: They are more process goals; make sure you execute properly, because then the times fall into place. I don't really focus on the time or the position, it's more about making the move and executing the way I'd like to.

CC: Now, on the sprint squad you are the guy with major Games experience, so have you been talking with the other guys about what to expect?

JV: We're all pretty experienced at this point. Hugo's been to World Cups and World Championships over the past couple of years, and Vince was at the Winter Games. He didn't realize that the Commonwealth Games is almost more volume [number of athletes] than the Winter Olympics. But in terms of a Games environment, I think everyone has adapted real well and is not being affected.

CC: So your competition starts tomorrow.

JV: That's right, we have a couple of rounds of Sprint in the morning and then right into Team Sprint in the evening. So it's going to be a busy day. Then the rest of days continue right on, so the whole week is pretty packed.

CC: Last question ... Milton; I guessing you are starting to get pumped about the track opening in just a few months?

JV: Oh yeah, I can hardly wait. I've already made the move back home; I'm going to be living half an hour away from the track. it's great because it will be right in my back yard. Just having a group of sprinters, the facility and the infrastructure ... I think the sport is just going to explode from there. I'm really looking forward to it.
Fatal error
: Uncaught Error: Object of class PDO could not be converted to string in /home/canadiancyclistcom/canadiancyclist.com/public/modules/news.php:528 Stack trace: #0 /home/canadiancyclistcom/canadiancyclist.com/public/modules/news.php(517): getrelatedgallery() #1 /home/canadiancyclistcom/canadiancyclist.com/public/dailynews.php(58): getDailyNewsArticle() #2 {main} thrown in
/home/canadiancyclistcom/canadiancyclist.com/public/modules/news.php
on line
528