July 23/14 17:27 pm - Training for a Championship: Adam Morka and Evan Guthrie Talk Strategy

Posted by Editoress on 07/23/14

There are numerous approaches to winning a bike race. Two riders who decided to take the bull by the horns and ride from the front at yesterday's Canadian Mountain Bike Cross-country Championships were Adam Morka (WFP Coaching/Trek Bikes) and Evan Guthrie (Norco Factory Team), both competing in the Elite Men's category.

For Morka, the decision to ride at the front was all about positioning. "I planned to go out pretty hard just to stay safe. I was a little nervous about that first switchback climb and trying to follow up it. I figured a safe tactic was to burn one match and lead up it and just stay safe until it spread out."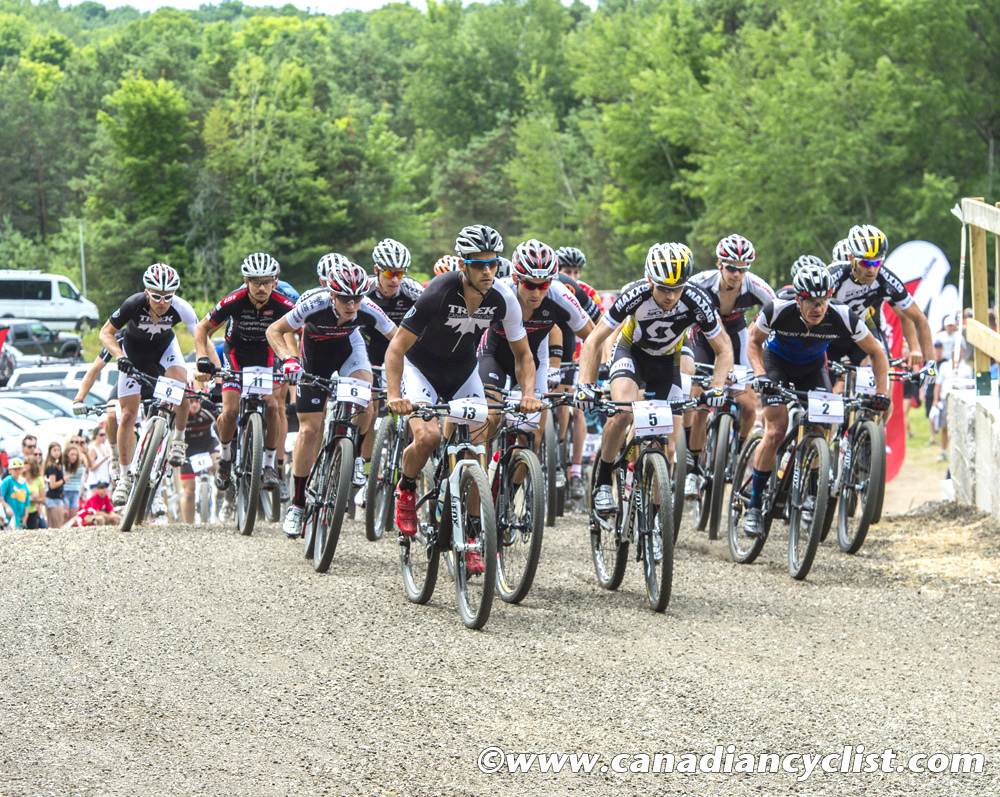 Adam Morka (WFP Coaching/Trek Bikes) at the front at the start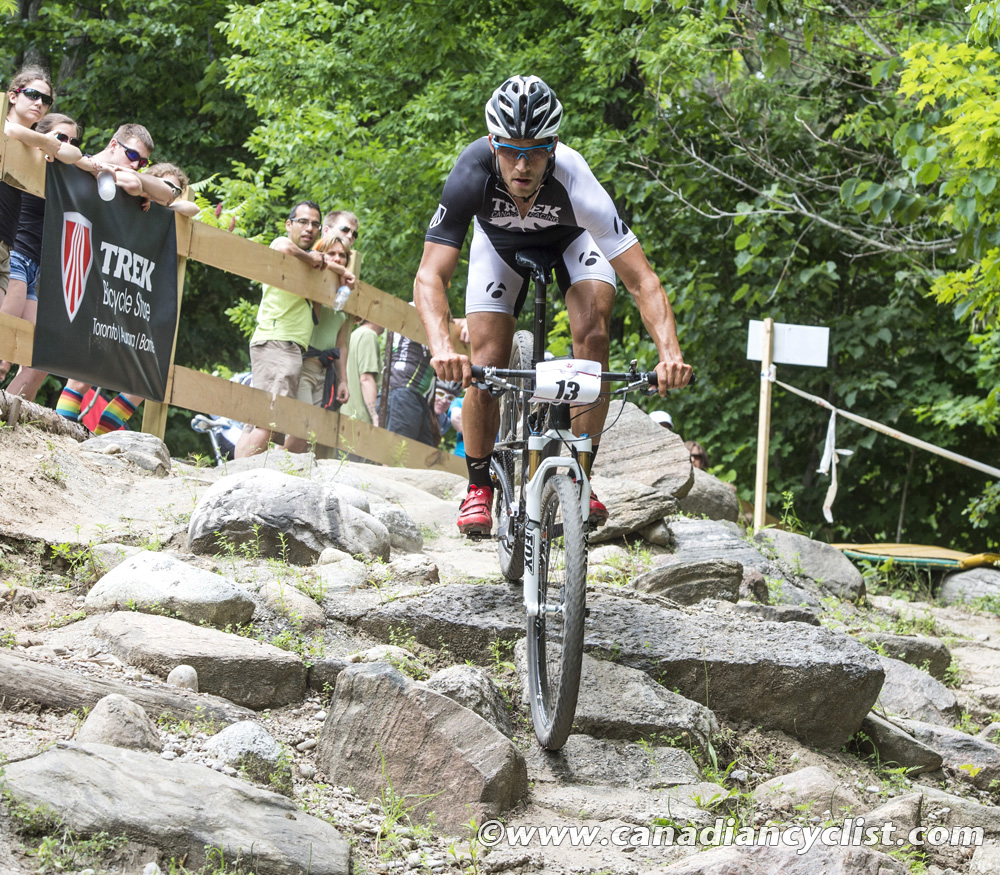 Adam Morka on Boneshaker
That sentiment was echoed by Guthrie, who, having recently graduated from the U23 ranks, felt he had something to prove. "You know, this is my first year of senior so I wanted to earn my keep and show these guys that I'm going to be racing up front. I don't want to be sitting in the group so it was just being up front and staying out of trouble 'cause things tend to happen at the starts in these races."

After the initial excitement of the opening laps, Morka's plan shifted to a second phase. "I was hoping to dangle and ride my own race, but match their pace, for the whole race and hopefully come back on the last two laps, but I just couldn't come back to them. It was good, though, otherwise." The 27-year old ultimately finished in sixth place.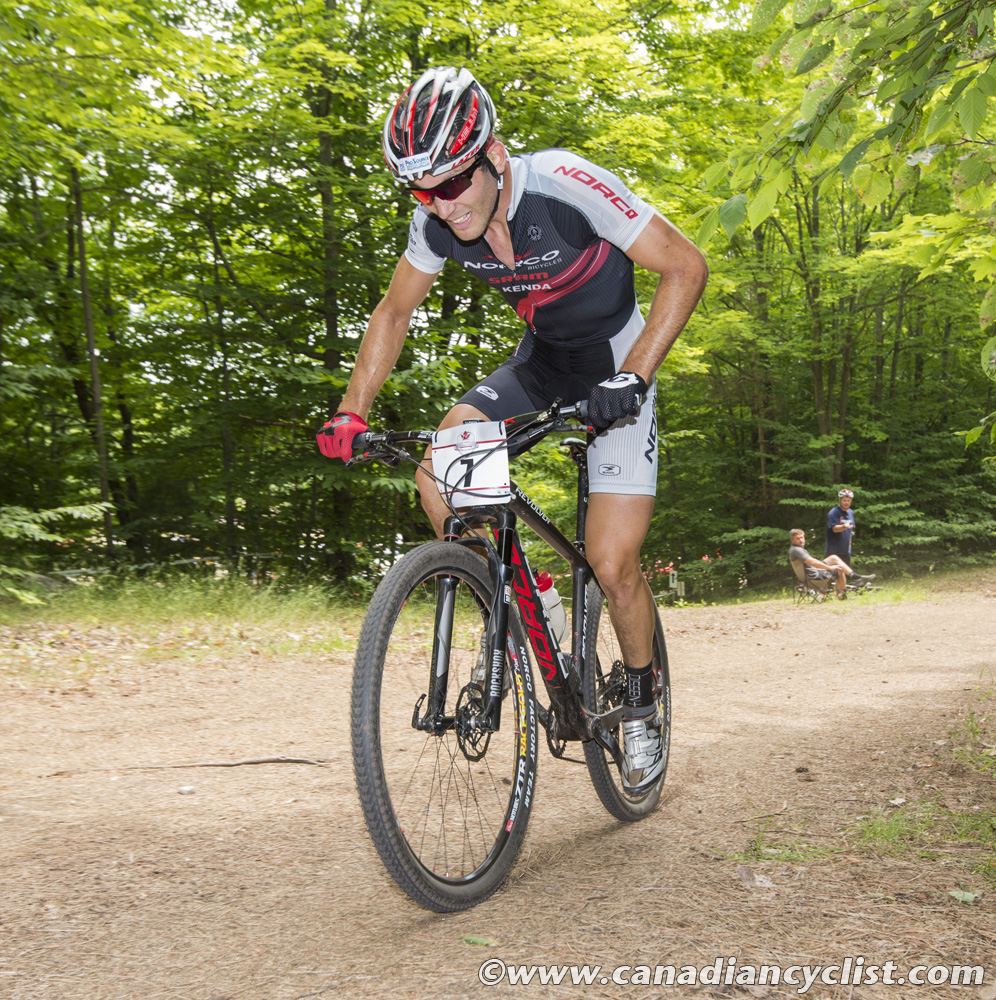 Evan Guthrie (Norco Factory Team)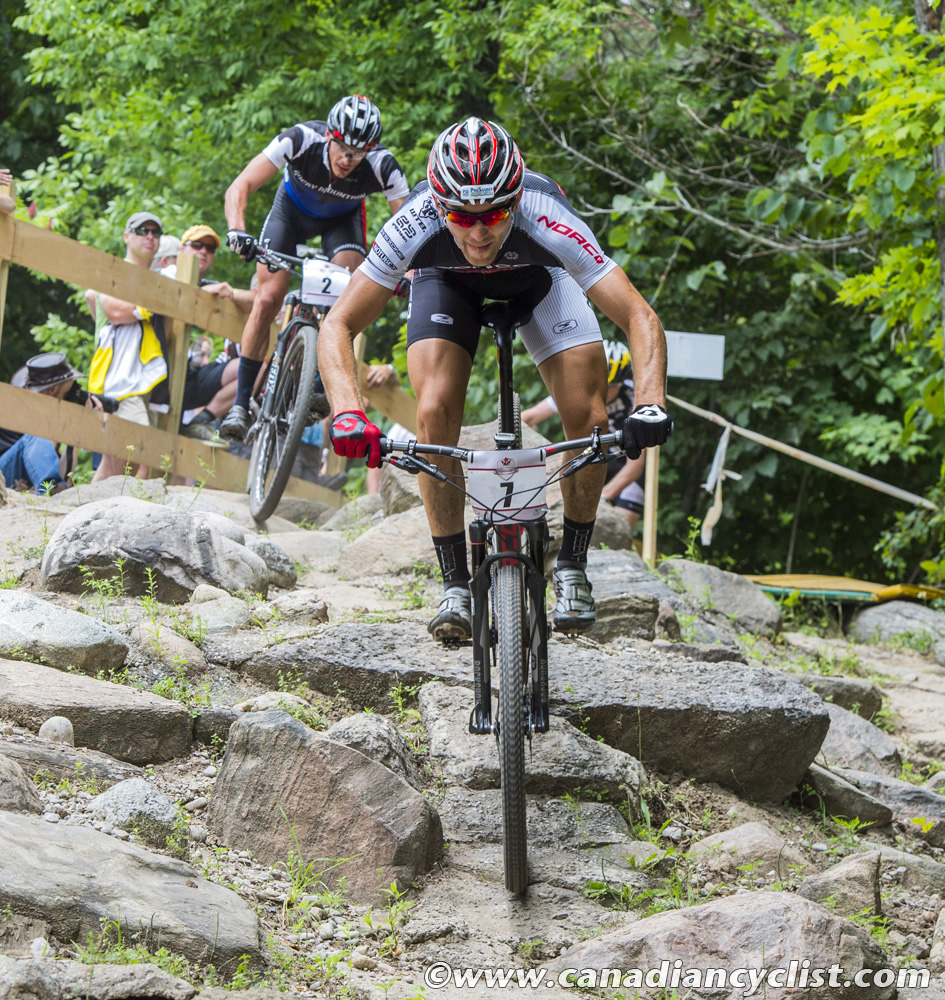 Evan Guthrie (Norco Factory Team) in the lead
Arguably the man of the match, Guthrie's strategy had added benefits. "It's a little more motivating for myself if I'm at the front versus following wheels. There are a lot of teams here so I wanted to be out front and not try any tactics and just go for it."

Once the race was underway, the tactical advantage tilted toward the Scott-3Rox Racing team. Cameron Jette was at the front with Guthrie and Raphaël Gagné (Équipe du Québec: Rocky Mountain Factory), while Derek Zandstra and eventual winner Geoff Kabush were following at 30 seconds.

"They had a perfect scenario," explained Guthrie. "They've got three strong guys that on a good day could go one-two-three, so they definitely had the numbers in their favour. I was trying to push the pace. Cam was contributing a bit and Raph was definitely being aggressive. I wanted to keep attacking and not have the pace ever ease up because those guys had so many options and I was just trying to play my own game."

Guthrie's gambit resulted in a fifth-place finish. "It was a good day. Everything worked out kind of the way I wanted. If I could have lasted another half lap that would have been good. I faded pretty hard at the end but I was just going for it. I'm pretty happy with the way the day went."
By Emil van Dijk
Fatal error
: Uncaught Error: Object of class PDO could not be converted to string in /home/canadiancyclistcom/canadiancyclist.com/public/modules/news.php:528 Stack trace: #0 /home/canadiancyclistcom/canadiancyclist.com/public/modules/news.php(517): getrelatedgallery() #1 /home/canadiancyclistcom/canadiancyclist.com/public/dailynews.php(58): getDailyNewsArticle() #2 {main} thrown in
/home/canadiancyclistcom/canadiancyclist.com/public/modules/news.php
on line
528