July 24/14 15:56 pm - Mission Accomplished for Day 1 at Commonwealth Games

Posted by Editoress on 07/24/14

Canada had a strong first day of track competition, making the bronze medal finals in both the men's Team Pursuit and Team Sprint. While they finished out of the medals in each case, Team Manager Kris Westwood is pleased with the results.

Canadian Cyclist: So Day 1 - both good and not so good results.

Kris Westwood: Well, our real focus here was the team events; both the Sprint and the Pursuit; we came into them with a goal of making the bronze medal final, and we accomplished both objectives. The [Individual] Sprint, with only 12 going through to the racing, we knew would be difficult, so it wasn't really a big surprise that we didn't make it through. We would have liked to get at least one guy, but it didn't work out.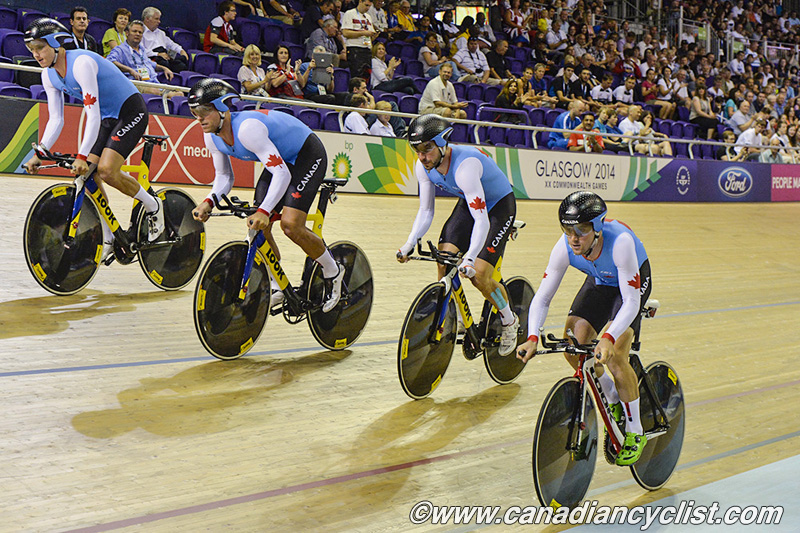 Team Pursuit heads out on Qualifying round
The real disappointment with the Team Pursuit was that we weren't really able to set a time. we were looking to see what we're capable of on an international level track and in a competition environment. With Ed [Veal] almost crashing when he touched wheels [in qualifying] then that threw us off [they rode 3000 metres with only three riders] and the time was much slower than we were expecting. And then in the final we didn't get a chance to set a time because the Kiwis caught us after about half distance. So, that was a bit of a disappointment.

Good results from the Team Sprint guys, obviously, Australia, England and New Zealand are very hard to beat at this level. We are really happy that we beat the Malaysians, they were the ones we were most worried about, and the scots too. So I would say very much mission accomplished today. the foundation of our program is moving forward with the team events, and this is the starting off point, with new coaches in place, and once we move into Milton, things are really going to take off.
Fatal error
: Uncaught Error: Object of class PDO could not be converted to string in /home/canadiancyclistcom/canadiancyclist.com/public/modules/news.php:528 Stack trace: #0 /home/canadiancyclistcom/canadiancyclist.com/public/modules/news.php(517): getrelatedgallery() #1 /home/canadiancyclistcom/canadiancyclist.com/public/dailynews.php(58): getDailyNewsArticle() #2 {main} thrown in
/home/canadiancyclistcom/canadiancyclist.com/public/modules/news.php
on line
528