July 25/14 5:09 am - Commonwealth Games - Zach Bell Team Pursuit Interview

Posted by Editoress on 07/25/14

Zach Bell is a member of Canada's Team Pursuit squad that raced for bronze at the opening day of the Commonwealth Games, finishing fourth behind New Zealand. We spoke with Zach, the most experienced member of the squad, about the race.

Canadian Cyclist: Overall, are you guys satisfied with your Team Pursuit result?

Zach Bell: No, I think as a team we are not satisfied. We have the capacity we know from training that we have been riding pretty good times. I think the opportunity to put down a time was in the first ride and because of some mistakes that were made we didn't get to do that [team member Ed Veal touched wheels and nearly crashed, reducing the team to three riders for 3000 of the 4000 metres].

In the second ride we went out a lot better technically, but riding against the New Zealand team we didn't get to finish it off. We knew that was going to happen, but it was still frustrating not putting together what we thought was a clean ride, as it was our first chance to do that in competition. Obviously we would have liked it to go a bit better.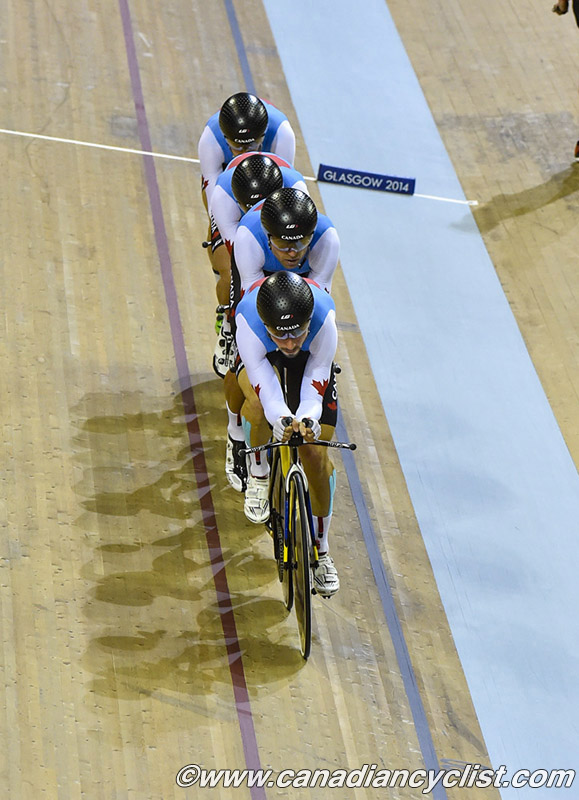 Bell at the front during the Final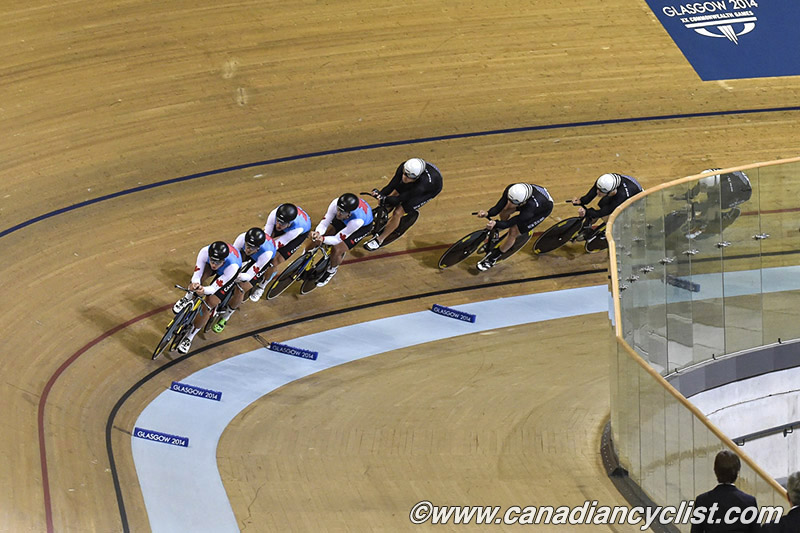 New Zealand about to catch Canada
CC: So I understand it was Ed coming onto the back after a turn at the front, where he touched a wheel.

ZB: Yeah, he was coming onto my wheel in the exchange and touched, and had to go into the infield. He did a good job to avoid crashing, but from there he had lost so much momentum that it wasn't possible to get back on the group.

For me, I had to kind of take control of it and do our best. Aidan [Caves] rode a really good race, and we still had a fast time for three guys, and for Canada, but not what we could do for the group that was here.

CC: For you personally, as we have discussed previously, you haven't had much time on the track since London [Olympics], so how are you feeling now with some competition in your legs?

ZB: I think for the next events we have a pretty good group of guys to do well. What I can contribute to the group in the bunch races is significantly more than I could in the Pursuit. You're a little more limited when you are riding such a technical event, and really it's one that I don't have a great deal of experience with either, so I might be a little bit ahead of the curve, but not much.

But in the bunch races I have the tactical knowledge and ability to help the other guys read the race better. I think Remi [Pelletier-Roy] has some really good tools right now. So I feel really good about our ability to affect the results more in the bunch races coming up.

CC: So what's next on the program?

ZB: I'm not racing tomorrow [in the Individual Pursuit]. I think they originally had me in the IP, but with the schedule I have [Points and Scratch on the Track, Road Race and Time Trial], for the rest of the Games, we decided it's best to save my legs. I've posted some pretty good times [in the IP] in my history, but against guys like Bobridge [Australia] and the ones from the UK, there wasn't much point in posting a time for time's sake. But Remi's going to do it [also Ed Veal], and Remi was putting in some good times at our training camp, so I think he may surprise a few people with his time.
Fatal error
: Uncaught Error: Object of class PDO could not be converted to string in /home/canadiancyclistcom/canadiancyclist.com/public/modules/news.php:528 Stack trace: #0 /home/canadiancyclistcom/canadiancyclist.com/public/modules/news.php(517): getrelatedgallery() #1 /home/canadiancyclistcom/canadiancyclist.com/public/dailynews.php(58): getDailyNewsArticle() #2 {main} thrown in
/home/canadiancyclistcom/canadiancyclist.com/public/modules/news.php
on line
528