July 25/14 17:01 pm - Commonwealth Games Interview - Ed Veal

Posted by Editoress on 07/25/14

At 37 years of age, Ed Veal is the oldest member of Canada's cycling team at the Commonwealth Games, however, he has been an integral part of the Team Pursuit squad that made it to the Bronze medal final [finishing fourth behind Australia], and was 12th in the Individual Pursuit. We talked to Ed after his IP ride.

Canadian Cyclist: So what has it been like for you racing for Canada at the Commonwealth Games?

Ed Veal: Oh, it's incredible. I'm having the time of my life.

CC: Now you are older than the usual first time Games participant. When did you make the decision to pursue a spot on the Team Pursuit squad?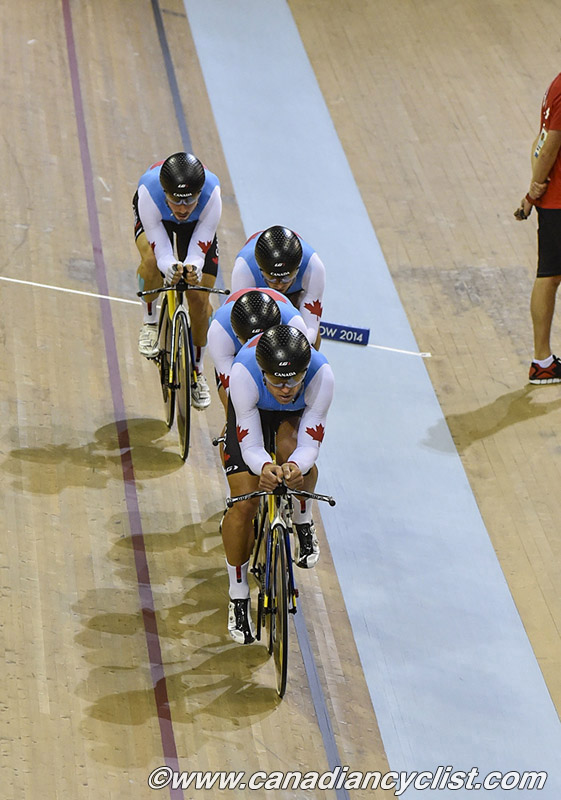 Ed Veal leads the Team Pursuit squad
EV: I had an opportunity with the Para program to pilot a couple of blind athletes, and I went to the Parapan Am Games with Daniel Chalifour. I really enjoyed that, and Eric Van den Eynde [national Para coach] was the one who planted the seed, and said that maybe I should try the able bodied program and see what I could do on the track. Once he said that, I made an effort to go to Nationals, so it started about two years ago.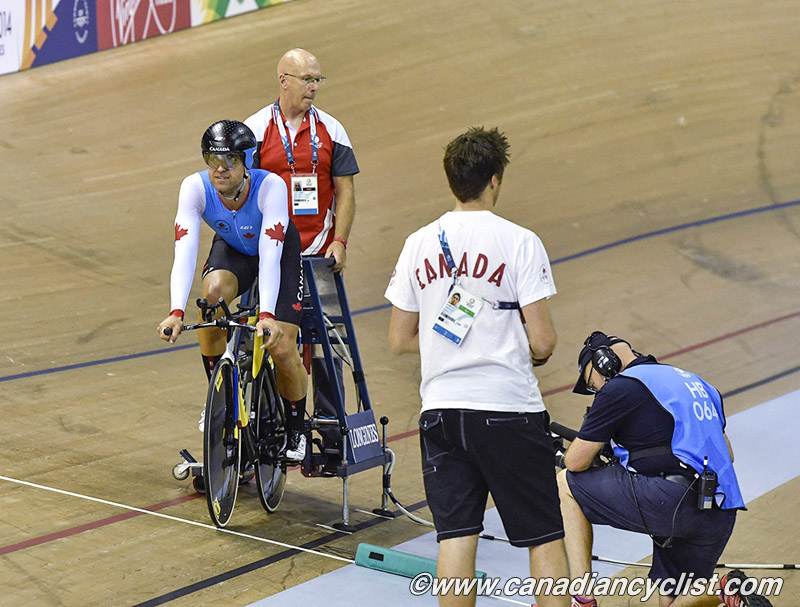 Waiting to start the Individual Pursuit
CC: You've done two events so far now - the Team Pursuit and the Individual Pursuit. Take us through those two events from your perspective.

EV: The focus was the Team Pursuit. Zach said it best: We had a hiccup, which I caused. Came out of a corner and touched wheels with Zach, unfortunately in the first kilometre. The guys rode strong and got us in the medal round. That really was the goal, to get to the medal round. We kind of knew we were going to be fourth; these are the top three teams in the world. But we didn't get a time, so that's why we are disappointed. We would have liked to have held New Zealand off, but they came on hot and they came on us ... I don't even think we made two K. So making the medal round was a success, but not having a time to report back and that Canadian record ... we'll just have to wait until Pan Ams.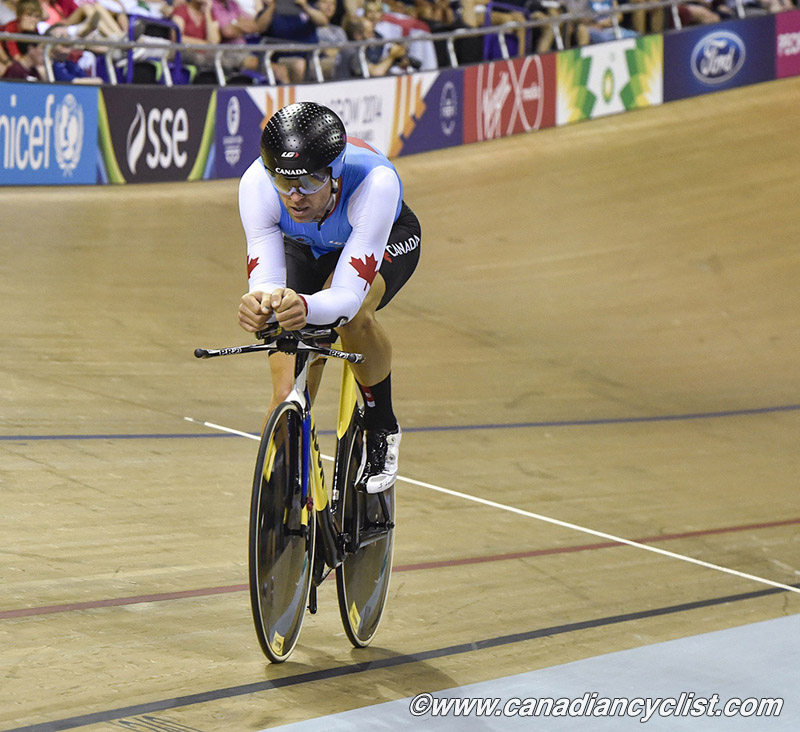 As far as the Individual, that was a PB [Personal Best]. I've been chipping away at it, but that wasn't even a goal of mine. I was thinking maybe 4:35, but when I spoke to the coaches they said we should shoot for 4:32, so really close [he rode 4:33]. I kind of blew up on those last couple of laps, I really didn't know where I was, but luckily I was way ahead. When I looked at the screen and saw the time, I was really, really happy.

CC: You got to be in the lead until [team mate] Remi Pelletier-Roy took it away from you.

EV: I knew that Remi was going to take it, no matter what. I wasn't supposed to be in the lead; I was supposed to go out steady, but I got excited and went out hard and kind of did what a rookie does! Luckily, when I blew up it wasn't a full blown, come to a dead stop, and I could still hold on to finish with a 4:33.

CC: What's left for you in terms of racing?

EV: We haven't decided yet. I am registered to do the time trial, but with the unfortunate thing that happened to Nic [Hamilton, who crashed in training], I'm probably going to have to play a little bit bigger role in the road race; that would have been Nic's role. So there's a good chance I'm going to find out in the next couple of days that I might not do the time trial and save myself to help out Svein and Zach and the boys in the road race. I don't do any of the bunch races [Points and Scratch], so I get to relax and focus on the TT and the road race. But the TT is to be confirmed.

CC: So overall a successful Games for you?

EV: Oh yeah. If I didn't do another event I'd been happy. I wish I could bottle this feeling. I'm on top of the world ... I'm really, really enjoying myself.
Fatal error
: Uncaught Error: Object of class PDO could not be converted to string in /home/canadiancyclistcom/canadiancyclist.com/public/modules/news.php:528 Stack trace: #0 /home/canadiancyclistcom/canadiancyclist.com/public/modules/news.php(517): getrelatedgallery() #1 /home/canadiancyclistcom/canadiancyclist.com/public/dailynews.php(58): getDailyNewsArticle() #2 {main} thrown in
/home/canadiancyclistcom/canadiancyclist.com/public/modules/news.php
on line
528