July 27/14 22:03 pm - Commonwealth Games Interview - Aidan Caves

Posted by Editoress on 07/27/14

Aidan Caves is the youngest member of the Canadian track team at the Glasgow Games, competing in the Team Pursuit (4th), the Points Race (DNF) and today, in the final day of track competition, the Scratch Race. The 19 year old from Vancouver spoke with us after the Points Race.

Canadian Cyclist: Give you give us some of your background, because you are newer to the national program.

Aidan Caves: I started racing four years ago. I did my first Junior Pan Am Championships as a second year Cadet in Argentina. So, I've just progressed through the ranks, stayed with the team and done all the national team trips up to now. I have most of my results on the track, I like it more because I've got more out of it.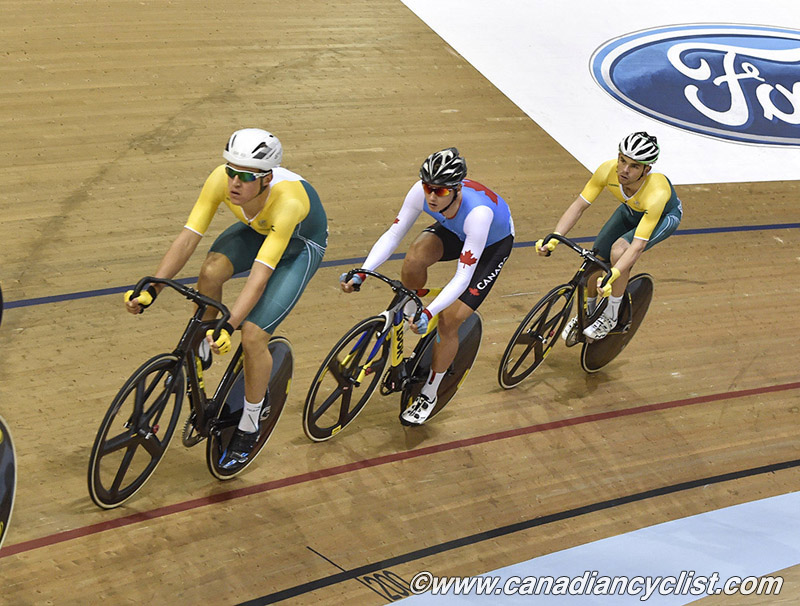 CC: This must be a pretty big jump for you; attending a major Games. How has your experience been so far?

AC: The experience has been pretty amazing. I look up to so many people who are here, and it's really nice be able to race against them. It's been a great learning experience.

CC: You have raced the Team Pursuit and now the Points Race. How do your results match up to what you were hoping or expecting?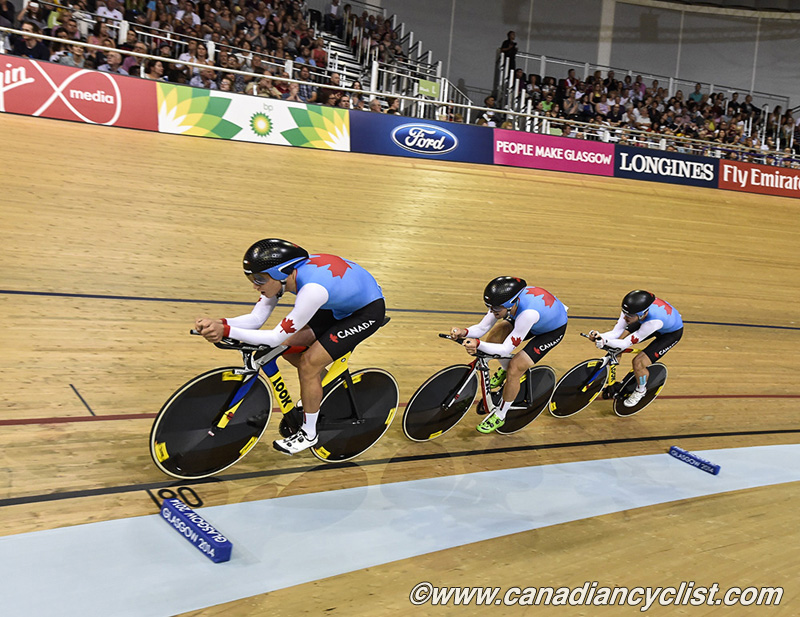 AC: Obviously, we had a little bit of trouble in the Team Pursuit [one rider dropped off early in the qualifying ride and they had to complete with three], but it was a really good experience. It was the first time we've actually done a race together as a team pursuit squad and it can only get better.

In the Points Race, I kind of jumped into the deep end a little bit, over my head maybe.

CC: I saw that you were aggressive early in the race.

AC: Yeah, I tried a couple of moves with a couple of the Kiwis and Aussies, but just didn't go to plan for me. That was the longest track race I've ever even started, so I'm pretty happy to have got past qualifiers and into the final. Maybe in four years down the road I can do a little more.

CC: So what are you taking away from this experience; what are some of the major things you have learned?

AC: Well, on the Team Pursuit side of things it's coming together really nicely. We're getting better as a team every time we come to the track, so that's a really, really positive thing. And for bunch racing, I've learned a lot, like how to get back onto wheels at such a high speed. It will come with the years, and I just get more experience every time I do bunch races at this level.

CC: So what do you have left for competition?

AC: I'm only halfway done. I have the Scratch Race qualifier and hopefully final, and road race at the very end. It should be interesting.