July 27/14 22:35 pm - Commonwealth Games Pre-race Chat with MTB Squad

Posted by Editoress on 07/27/14

The mountain bike competition takes place on Tuesday at Cathkin Brae, but today most of Canada's team were taking it easy. We took a few minutes with them for a team photo and some brief comments on their impressions about the course. Before they left, team members Catharine Pendrel, Emily Batty, Max Plaxton and Raphael Gagne also spent a little time with school group of 9 and 10 year olds who stopped to watch the photo shoot.
Almost a year ago we visited the sites of the 2014 Commonwealth Games (Track and MTB)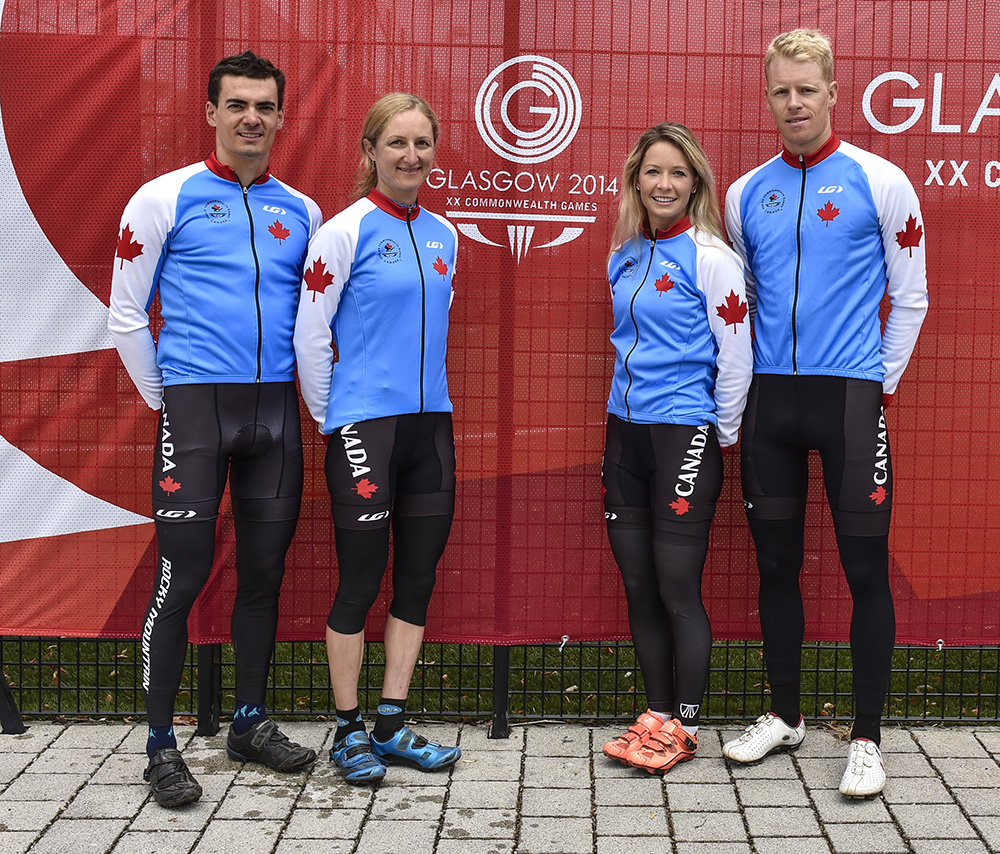 Raphael Gagne, Catharine Pendrel, Emily Batty, Max Plaxton
Canadian Cyclist: Now that you have had a chance to ride the circuit, overall impressions?

Emily Batty: It's a fast, flowy course, there's a lot of gravel sections and fast bermy sections. So, for the first couple of laps we were just learning how the terrain works with the different tires, but after a few laps we've got it pretty dialed, and it's a lot of fun, taking it all together.

Raph Gagne: I'll just add that it is fast and you have to get used to that loose gravel on top of hardpack.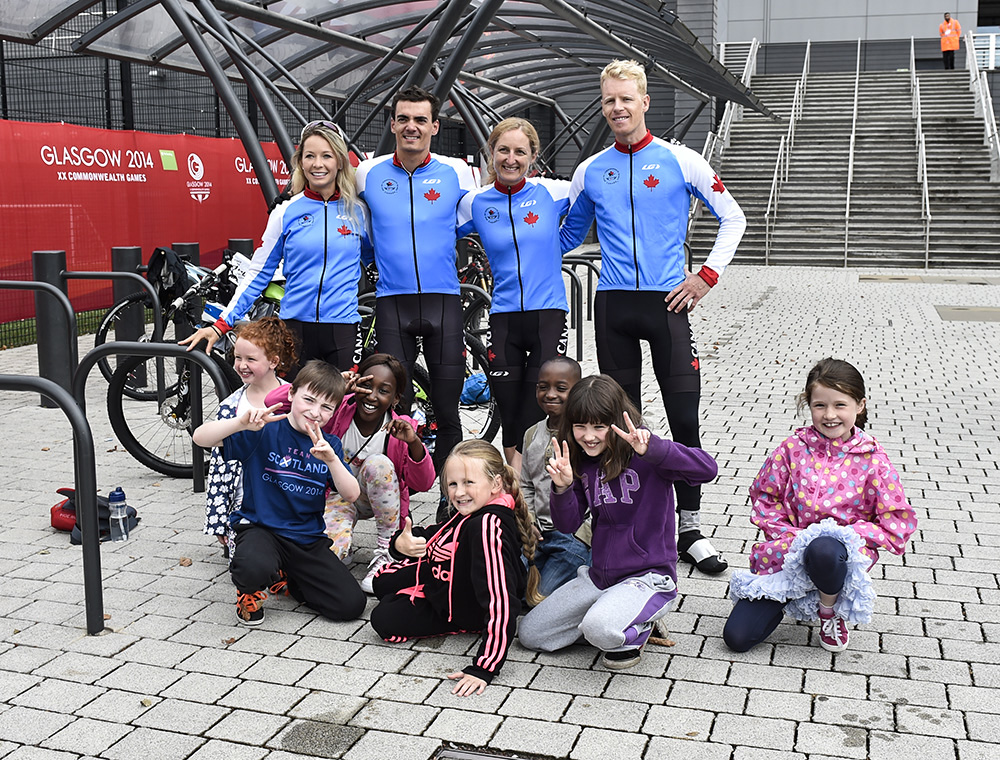 Local school kids pose with Team Canada
CC: Max, what effect will the weather have - when you arrived it was really nice, but now we have rain today. Do you think it's going to make much difference?

Max Plaxton: We haven't seen it in the rain, but Raph's going to ride today on the course, so he will be able to give us some feedback. From what I saw [in the forecast] it should be dry, and it's been surprisingly warm, and even muggy. So we may have to look at some cooling techniques for race day if it's a warm one.

Catharine Pendrel [who answered in her best Scottish brogue, which I will attempt to reproduce]: Aye, it's right good fun out there Rob! Really a fantastic course and we're all looking forward to Tuesday.

CC: Obviously, the Canadian women are favoured, but who are you seeing as competition?

Catharine 'Mac' Pendrel: Annie Last [England]. We haven't seen her at her full potential since the Olympics and she's coming off a couple of injuries, but I think she's going to be on fire here. I look to her to set a really fast first lap. I also think Rebecca Henderson of Australia will be strong and looking to get a medal.

CC: Emily, this is your second major Games, and London didn't go as well as you hoped [she broke her collarbone in training at London just a few days before the race, but still competed]. So, I guess you have extra motivation to do well here.

Emily Batty: Yes, absolutely. You always want to do well at a Games and represent your country. It is a very similar vibe [to London], a similar Village and schedule, and I want to do well here.

CC: Raph, this is your first major Games, so your impressions?

Raphael Gagne: It reminds me a lot of Canada Games, but much bigger. It's super inspiring, and we have a strong team here. With all the nations, it's really cool, but the main focus is the race, so I've been really careful about distractions and I'm feeling pumped for the race on Tuesday.

CC: Max, Canada is among the medal favourites, but Dan McConnell [Australia] is also in that mix.

Max Plaxton: Yeah, if you were to look on paper, Dan's the favourite coming into the race. But I think he'll be isolated a bit more; fortunately Raph and I are two of the strongest guys as well in the race so maybe we can work together a bit. I think he [McConnell] is going to start extremely fast, along with Anton Cooper [New Zealand] and his team mate Sam Gaze. They'll be a couple to watch out for as well.