July 29/14 16:09 pm - Commonwealth Games: Catharine Pendrel, post race interview

Posted by Editoress on 07/29/14

Catharine Pendrel continued Canada's unbroken string of victories in the women's cross-country at the Commonwealth Games on Tuesday, with a dominant performance. She finished nearly a minute and a half ahead of Canadian team mate Emily Batty, who took silver, with Rebecca Henderson (Australia) taking third.

The men's race saw an upset, with favoured Dan McConnell (Australia) only able to take bronze behind a pair of unexpectedly strong New Zealand riders - Anton Cooper who took gold, and Sam Gaze with silver. Canada's Max Plaxton was with the lead group until the final lap, finishing fourth, while Raphael Gagne took seventh.

Catharine spoke with us for a few minutes after the race, before getting ready to jet back to Canada for the Mont Ste Anne World Cup this coming weekend.

Canadian Cyclist: Congratulations! You were pretty dominant through the whole race; did you attack or just see a gap opening and go with it?

Catharine Pendrel: It was more I was just trying to move into a good position and string the field out, because I didn't have a spectacular start. It was on the main climb, which I knew would be the most decisive section. It's about a two and a half, three minute climb. So I went there and only Rebecca could go with me, and at the top of the second switchback I was alone, so I was 'okay, this is the spot to go'.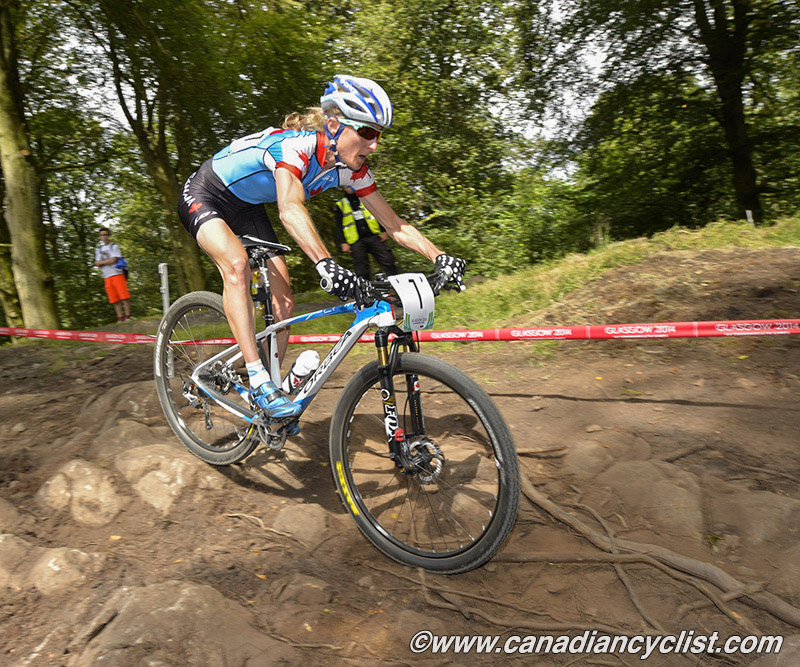 CC: Now, you've won the world championships ... can you compare that to winning Commonwealth Games gold?

CP: Definitely a Games experience is always different then a World Cup or a world championship. World championships I think is kind of the pinnacle, but this is definitely close to it. The feeling of being able to get on the podium and see your flag being raised, hear your national anthem ... it's just so special.

At the [Commonwealth] Games, even though the depth of competition isn't as big, it's concentrated the attention on a fewer riders. It's puts more pressure on you, and you get into that Games mentality, where you know that a medal is more important than getting a top five.

So there is that pressure, but it's about keeping it about the performance and what works for you, rather than getting caught up in whether Canada always wins gold in mountain biking. It's just about doing your best and hoping it's good enough for a medal.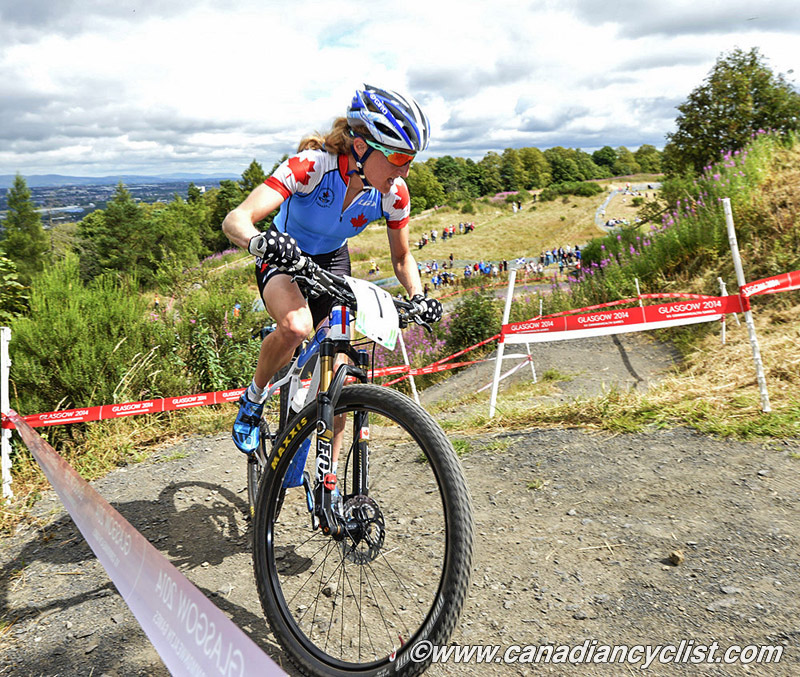 CC: So my question earlier in the week about Canada never having lost women's gold didn't add to the pressure?

CP: [Laughes] Yeah, I was going 'no, no, no, no'.... but it's good training for the Olympics to go through this. Initially, earlier in the week, all of us felt so relaxed, but as it came time to the race I was getting pretty nervous, and had to say to myself 'calm down, it's just another bike race...'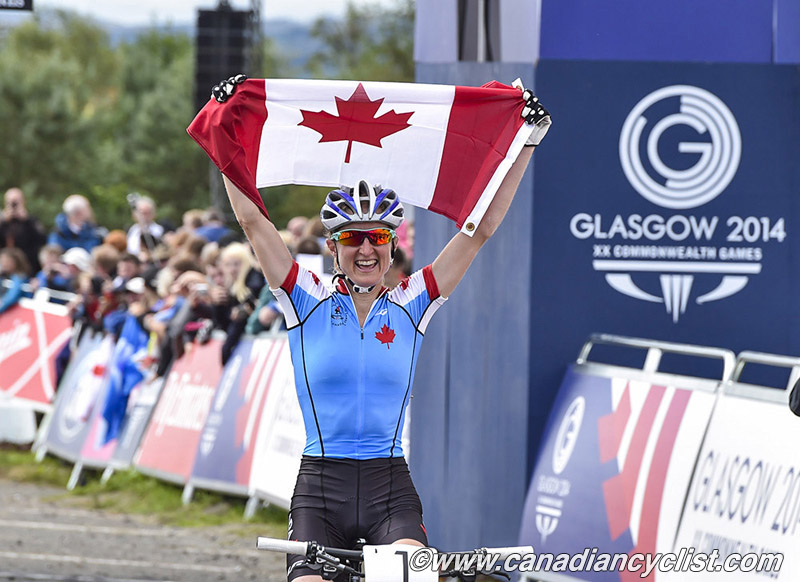 CC: So how was the course; it was pretty windy. You had more sun then the guys, but it still wasn't the best conditions.

CP: It's such a fast course, I was a little bit nervous that if a group formed behind me they might have an advantage in the wind. But on the climb coming into the finish we had a spectacular tailwind which was quite nice, and it was just a matter of managing keeping your surface volume small when it made a difference.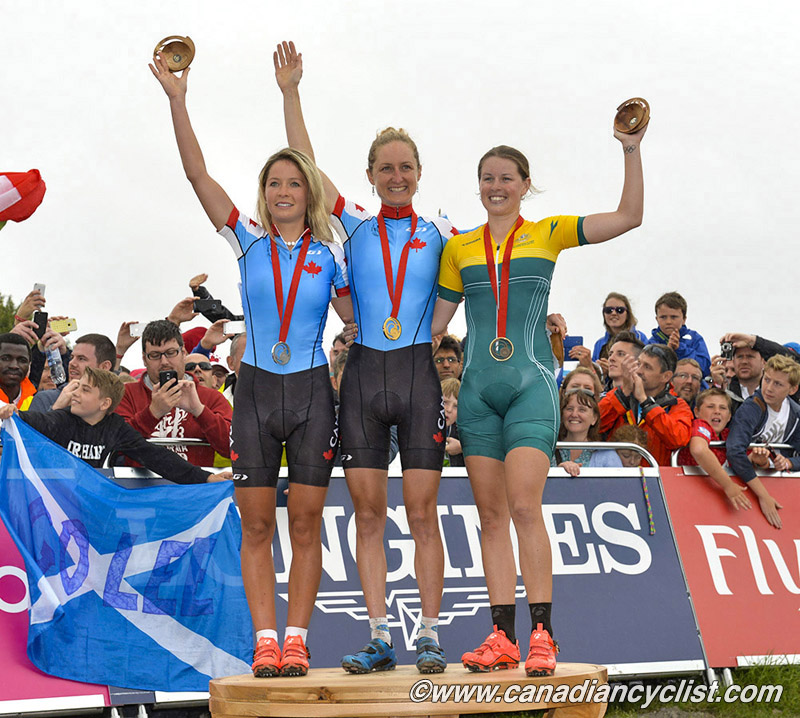 CC: You are leaving tomorrow, heading for Mont Ste Anne. Is it going to be different to get back into the mode where now you are racing not just the top in the Commonwealth, but the top riders from everywhere.?

CP: I don't think so, because that is more what I'm used to, racing the larger field size. I love Mont Ste Anne, and I know they've created a new course for us, and it's going to be exciting to check that out. I'm one of those riders that thrives on the depth of competition, so I just think it will help me be even better.
Fatal error
: Uncaught Error: Object of class PDO could not be converted to string in /home/canadiancyclistcom/canadiancyclist.com/public/modules/news.php:528 Stack trace: #0 /home/canadiancyclistcom/canadiancyclist.com/public/modules/news.php(517): getrelatedgallery() #1 /home/canadiancyclistcom/canadiancyclist.com/public/dailynews.php(58): getDailyNewsArticle() #2 {main} thrown in
/home/canadiancyclistcom/canadiancyclist.com/public/modules/news.php
on line
528