July 30/14 6:46 am - Commonwealth Games: Emily Batty, post race interview

Posted by Editoress on 07/30/14

Emily Batty took the silver medal on Tuesday in the women's cross-country race at the Commonwealth Games, finishing just behind team mate Catharine Pendrel. We spoke with Emily for a few minutes after her medal ride.

Canadian Cyclist: So how did the race unfold for you?

Emily Batty: What happened was, that after the start I was down into sixth or seventh place. Then Catharine was able to get to the front of that train through the Double Dare [descent], and I was only able to make contact with them once we started climbing, and at that point it was singletrack. I got really hung up at the start, and lost time to Catharine there, and by the climb I was already back from her, and she already had a gap.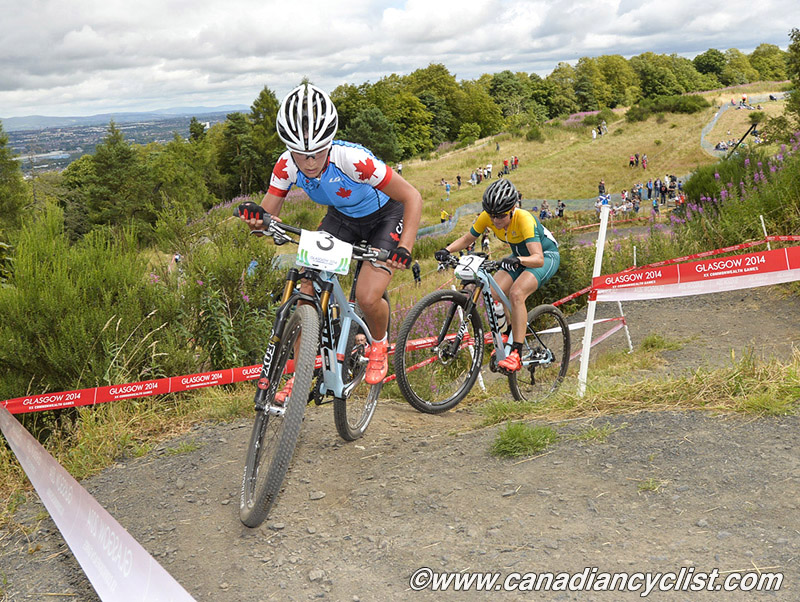 Batty and Henderson at the top of the climb
I guess Bec [Henderson - Australia] tried to stay with her for a bit, but by the top of the climb I was able to make contact with her [Bec]. By that point Catharine was already out of sight.

CC: So what was happening with you and Bec out there. You are team mates on Trek, but obviously this is a different situation.

EB: Once we realized that Catharine was totally out of sight and the gap was quite significant, it became a race for second and third, and maintaining those medal spots. So we didn't want to work against each other, and let anyone come across [from behind]. We are team mates on our trade team, so we did work together but I definitely wasn't going to pull her across to Catharine.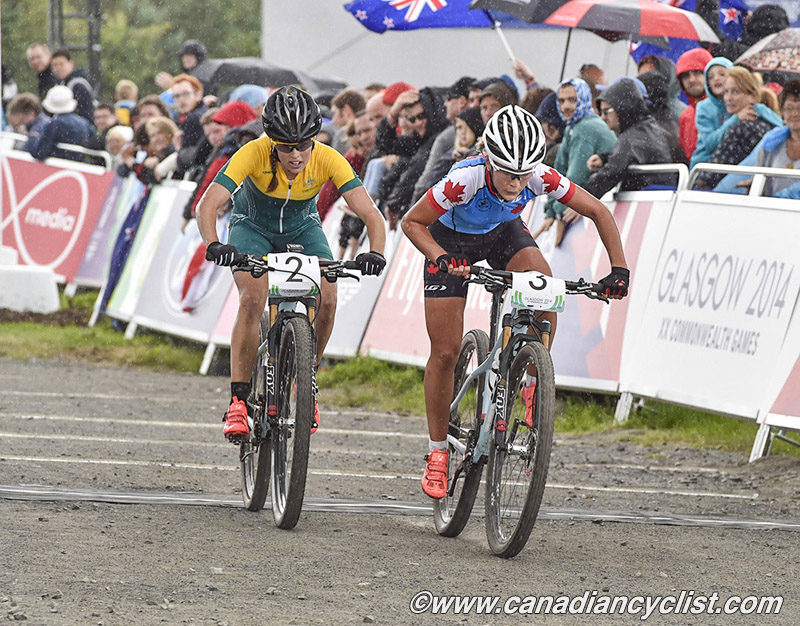 Starting the last lap
CC: So when did you finally get clear?

EB: There was a tailwind up the climbs so it was really hard to get a gap on Bec. I know her strength from riding and training with her. I did get a gap but she was able to reel me back in across the top on the flat rock sections. So I just kept the pace really high and really pushed to make sure she wasn't with me going up the final climb on the second last lap. I did a full effort on the last lap and a half to maintain a gap.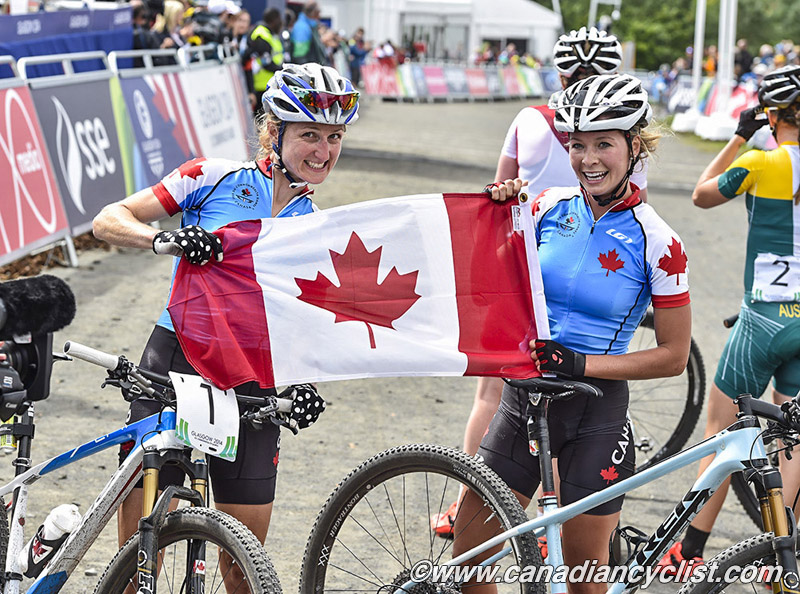 1-2 for Canada
CC: Now this Games was obviously a much better experience for you than London [where she broke her collarbone in training before the race]. How does it feel to be a silver medallist at a major Games?

EB: It feels pretty amazing to be honest. But I did come here for gold. But silver is the next best, and it makes an impact on our sport when Canada can take both gold and silver. Canadian women have been dominant in this event, so it's really an honour to continue that. I'm really proud; there were a lot of people watching, a lot of coverage and attention on these Games. So being able to bring it to the table and representing your country is a pretty special thing.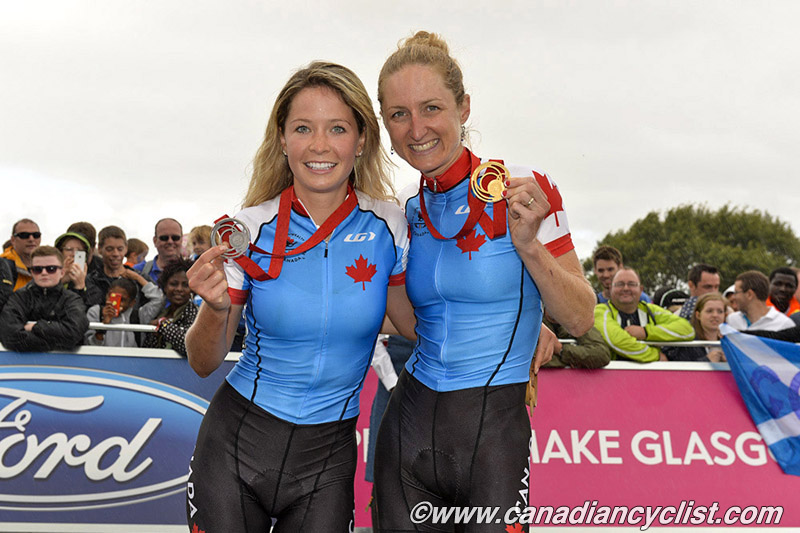 Fatal error
: Uncaught Error: Object of class PDO could not be converted to string in /home/canadiancyclistcom/canadiancyclist.com/public/modules/news.php:528 Stack trace: #0 /home/canadiancyclistcom/canadiancyclist.com/public/modules/news.php(517): getrelatedgallery() #1 /home/canadiancyclistcom/canadiancyclist.com/public/dailynews.php(58): getDailyNewsArticle() #2 {main} thrown in
/home/canadiancyclistcom/canadiancyclist.com/public/modules/news.php
on line
528