July 31/14 15:20 pm - MTB World Cup Turns to North America After Six Week Break

Posted by Editoress on 07/31/14

After a six week break, the UCI Mountain Bike World Cup returns this weekend with all three disciplines at Mont Ste Anne, Quebec, Canada, the of first two stops in North America. Mont Ste Anne is the longest running venue on the World Cup circuit, having run every year since the start of the World Cup series in 1991, with the only exceptions 1998 and 2010, when it hosted the world championships. This weekend will be Round 5 for both the Downhill and Cross-country, and Round 4 for the Eliminator.

The action begins on Friday with the Eliminator, a first time event for Mont Ste Anne. Organizers have put together a course that requires both speed and technical skill as riders climb out of the start and then have to negotiate a pumptrack before a sprint to the finish.
Eliminator
The start list will be missing one major contender - women's World Cup leader and world champion Alexandra Engen (Ghost Factory), who is taking a break from racing to recover from physical and mental exhaustion. This will move Kathrin Stirnemann (Sabine Spitz Haibike) into the overall lead, since even a win by other top contenders, such as Jenny Rissveds (Scott-Odlo), would leave them with less points than Stirnemann. Canada has seven women in the Eliminator, including new national champion Elodie Bernier.

The men's race will be a lot tighter, with the top three contenders all in attendance, and only separated by 20 points. The World Cup leader and world champion, Paul van der Ploeg, leads Round 3 winner Fabrice Mels (Salcano Alanya) by only three points, with defending World Cup champion Daniel Federspiel (Otztal Scott) 20 points back. The six Canadian men are led by Canadian champion Leandre Bouchard, who has made the Final in a World Cup this year, and will be hoping to make the podium again before a home audience.
Downhill
The Mont Ste Anne Downhill combines both long, high speed sections and technical rocky, rooty segments, where a rider can easily crash out of contention. Manon Carpenter (Madison Saracen) holds a 90 point lead in the women's standings, and is the only rider to have won two rounds this season. Emmeline Ragot (Lapierre Gravity Republic), the winner of Round 3, is second in the standings, with Nicole Myriam (Commencal/Riding Addiction) 28 points further back and world champion Rachel Atherton (GT Factory) right behind her. A poor result by Carpenter could see any of these three riders vault into lead.
Micayla Gatto (Pivot Factory DH) and Casey brown (Bergamont Hayes) are the top two Canadian riders in the standings, sitting 11th and 12th respectively.
Steve Smith winning in 2013
The men's standings are headed by Specialized Racing DH team mates Troy Brosnan and Aaron Gwin, with the Australian Brosnan holding a slim 29 point lead over former two-time World Cup champion Gwin. Josh Bryceland (Santa Cruz Syndicate), who recorded his first ever World Cup win in Round 4, is third, 87 points behind Brosnan. World Cup defending champion and Canadian champion Steve Smith (Devinci Global Racing), who won here on home soil last year, will also be looking for his first win of the season as he comes back from injury.
Cross-country
The Cross-country at Mont Ste Anne is a classic course of hard, long climbs, and rocks, roots and slippery mud on the descents and, for 2014, the organization has completely redesigned the circuit. The 4.1 kilometre course contains more hard switchback climbing then ever, and the crowd-favourite 'Beatrice' rock garden descent has been brought back, after being removed last year for rebuilding. The hardest section of the course is likely to be middle, with a very steep singletrack climb immediately followed by Beatrice and then the Zig Zag climb from previous years. This will like be a critical portion of the circuit.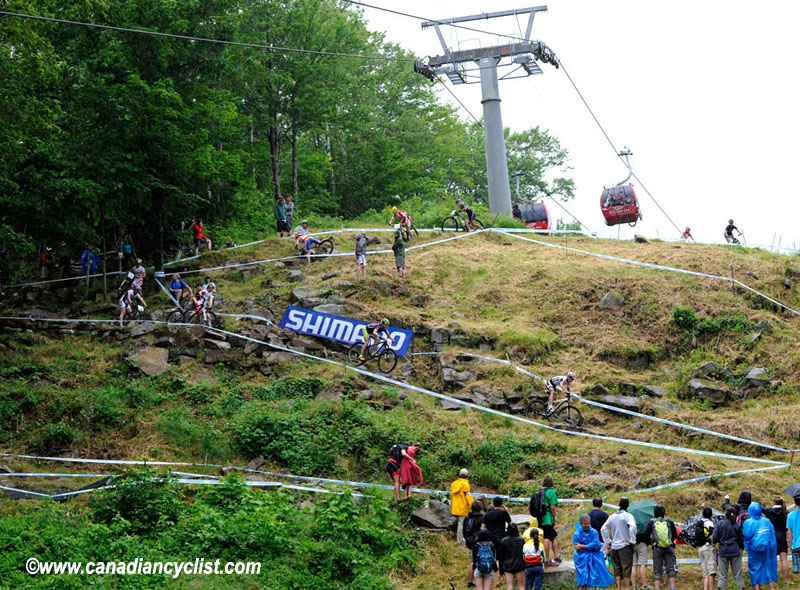 Beatrice' rock garden is back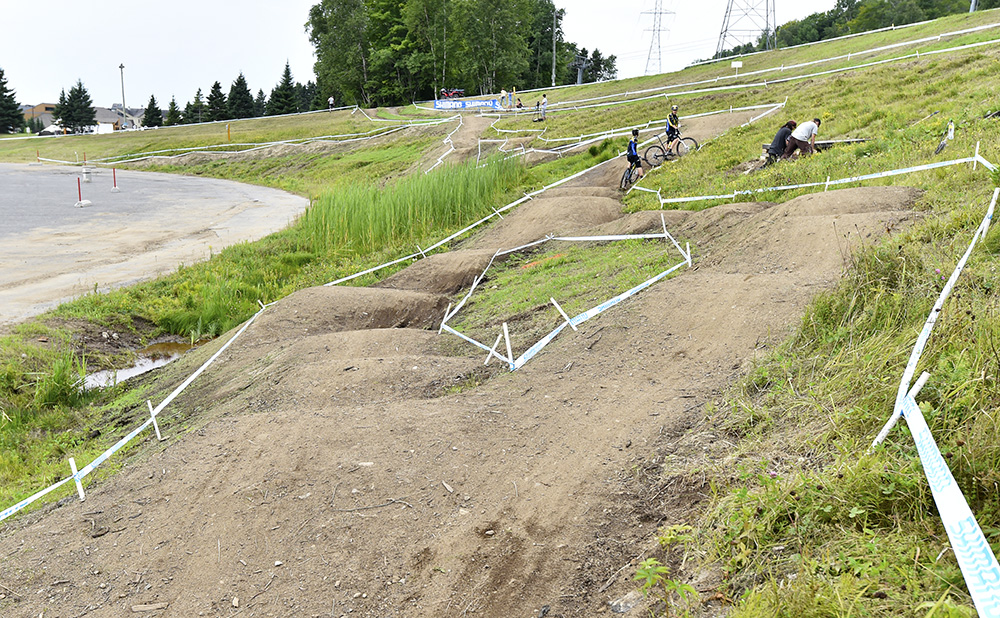 The new pumptrack section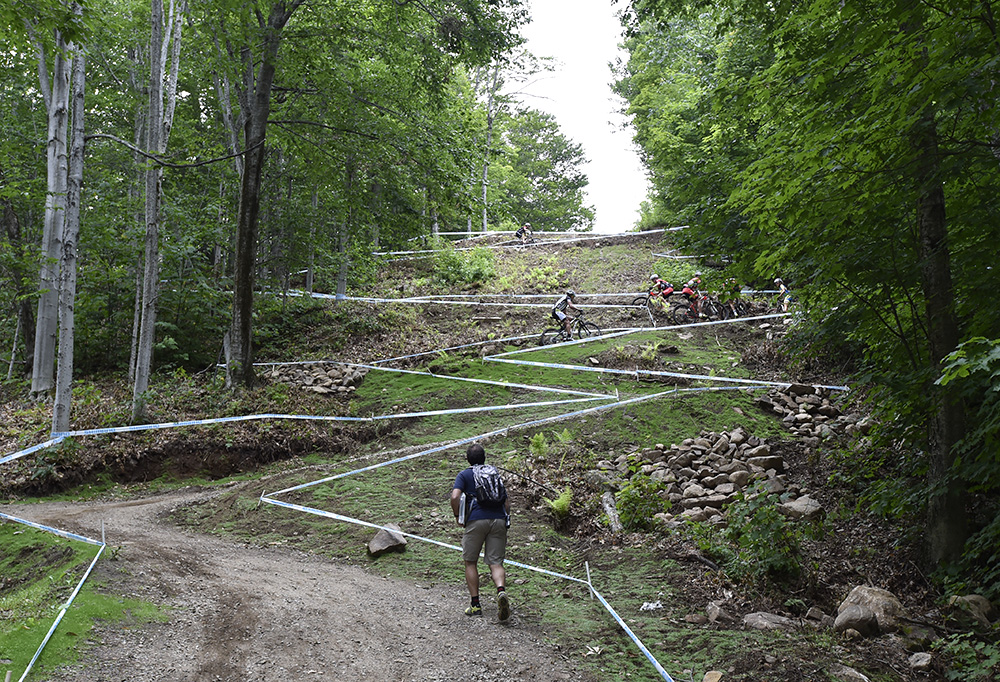 This new steep switchback climb is just before the Beatrice drop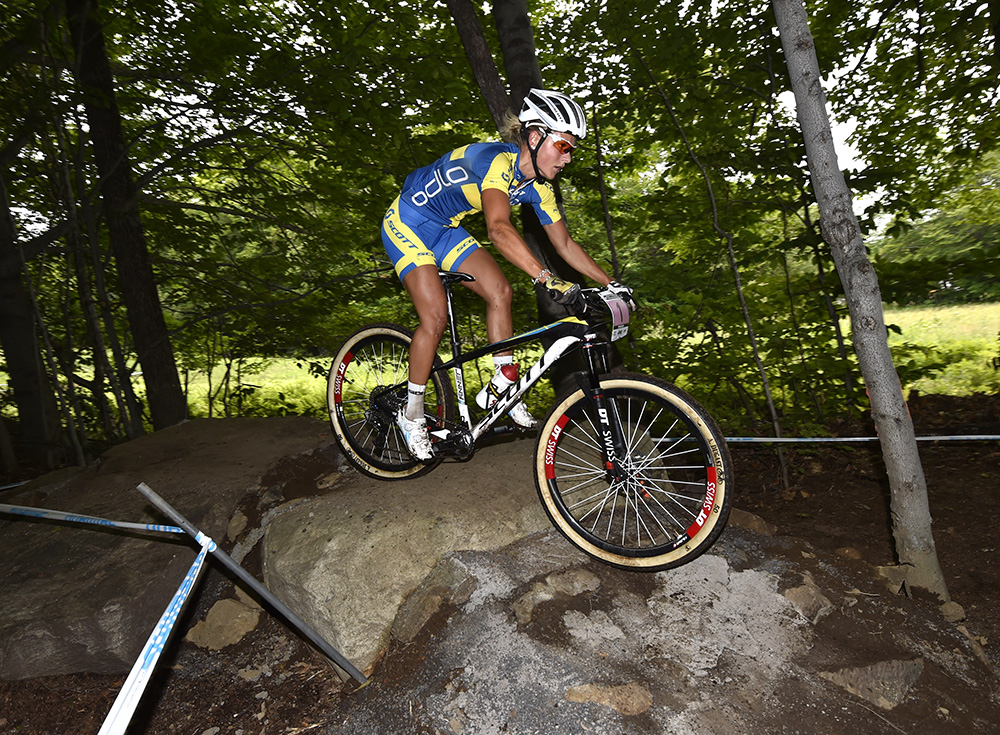 Jenny Rissveds goes over a new drop
Besides Engen, former Mont Ste Anne winner Gunn-Rita Dahle Flesjaa (Multivan Merida) has withdrawn from competition for unspecified illness, while world champion Julie Bresset (BH-Suntour-KMC) returns after a mid-season absence. World Cup leader Jolanda Neff (Liv Giant XC) is almost assured of holding onto her lead with the absence of both second placed Dahle Flesjaa and third placed Pauline Ferrand Prevot (Liv Giant), who focussing on the road at this point in the season. Sabine Spitz (Sabine Spitz Haibike) is the next highest placed rider, but 170 points behind Neff. One rider to watch for will be the newly crowned Commonwealth Games gold medalist and Canadian champion Catharine Pendrel (Luna), who arrived here straight from Glasgow, Scotland, the day after winning the Games title. Commonwealth Games silver medalist Emily Batty (Trek Factory), currently sixth in the overall standings could move up to the top-3 with a strong result. Local favourite Marie-Helene Premont was at a press conference earlier in the week but still has not confirmed her participation.

In the men's race, Julien Absalon (BMC), who has just become a father for the second time, holds an unsurmountable lead in the standings after having won three of the four rounds so far this season. The new circuit with steep climbs will suit Absalon's style, but second placed Nino Schurter (Scott-Odlo), the world champion and defending World Cup champion will be looking to close the gap in the standings and get his second win of the season. Canadian champion Geoff Kabush (Scott-3Rox), who elected to skip the Commonwealth Games to focus on the two North American World Cups, will be looking for a good result, as will Commonwealth Games athletes Raphael Gagne (Rocky Mountain) and Max Plaxton (Cannondale Factory).