August 23/14 22:54 pm - DH World Cup Crowns Two New Champions

Posted by Editoress on 08/23/14

The 2014 Downhill series of the Mountain Bike World Cup saw two young riders complete what is a breakthrough season for each of them as they were crowned World Cup champions in Méribel, France. Manon Carpenter (Saracen Madison) and Josh Bryceland (Santa Cruz Syndicate) took the women's and men's overall titles after a season that also saw them claim their first individual World Cup victories. World champion Rachel Atherton (GT Factory) and Australia's Sam Hill (Chainreactioncycles.com/Nukeproof) took the seventh round wins.

Riders had strong praise for the 2.1 kilometre run in the French Alps, which featured natural rooty, rocky terrain on a steep and fast track. While it was easy to go fast, it was hard to avoid mistakes, and many riders started a good run only to lose time in the technical wooded sections.

After qualifying, Carpenter held an 80 point lead over Emmeline Ragot (Lapierre Gravity Republic) and 110 points over Atherton, with Atherton qualifying first, Carpenter second and Ragot third. A win by any of these three and a mistake by the others could determine who took home the overall title.

Britain's Fionn Griffiths was the first to go under 4:10 with a 4:07, but she was soon surpassed by Tahnee Seagrave (FMD Racing), who recorded a sub-4 minute time at 3:56. Australian champion Tracey Hannah (Hutchinson UR) immediately took another four seconds off, but the fastest three were about to start, and Ragot obliterated the leading time by nearly nine seconds, to 3:43.820 .

Carpenter, riding conservatively to avoid a crash which could ruin her World Cup title hopes, slotted in 2.7 seconds behind the French rider, which was enough to ensure her overall win. However, Atherton took top honours on the day in the final run, finishing with 3:40.415 after blazing through every split with the fastest time.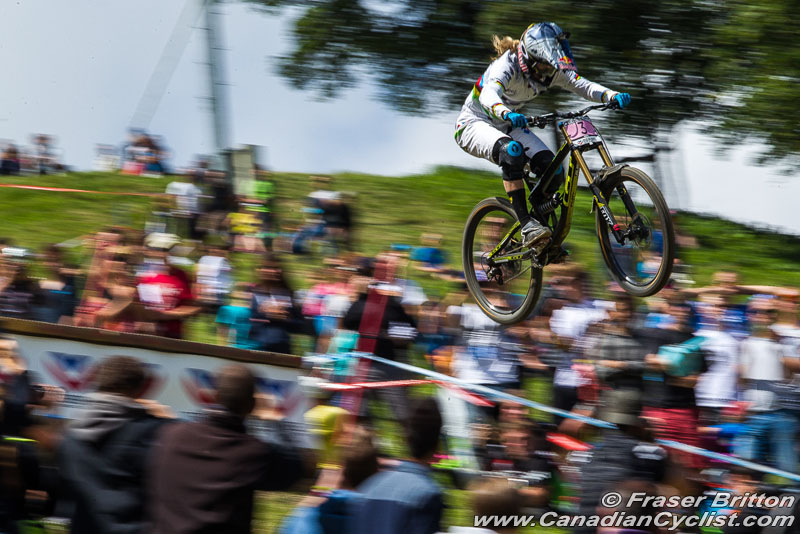 Rachel Atherton
"That was so nerve wracking," commented Atherton. "The track is proper downhill; it's so hard that you know you're not going to get down without a mistake. I tried to back off a bit at the top so I could save some energy at the bottom, because I know these girls are strong on the bottom half of the track. I tried to ride like I did in practice, but it's hard to ride calm and relaxed when it's a bloody World Cup on the line!"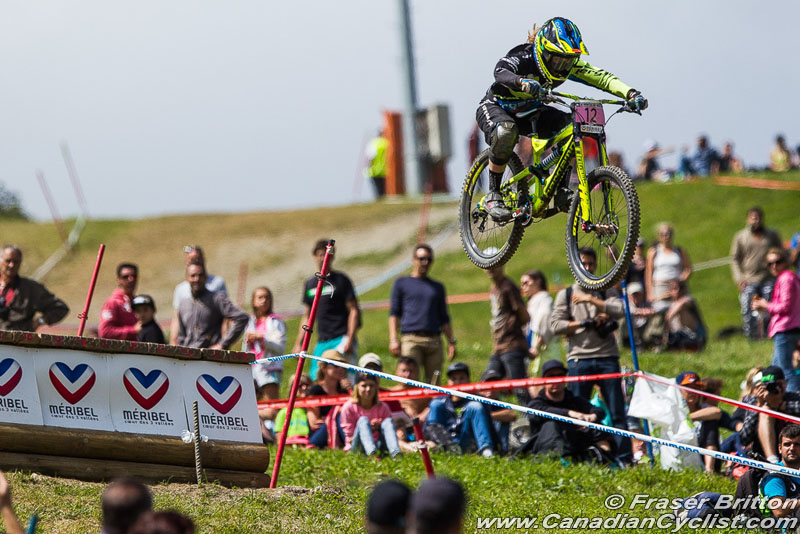 Casey Brown
Casey Brown (Bergamont Hayes) was the top Canadian woman, finishing ninth. Canadian champion Vaea Verbeeck was 11th. Top ranked Canadian Micayla Gatto (Pivot DH) did not race, still recovering from the hip injury she suffered in a crash at the previous round in Windham, NY.

Carpenter, in a season that saw her take her first ever World Cup win, as well as two more, finished atop the standings with 1360 points, followed by Atherton at 1310, who leapfrogged Ragot in the standings to beat the French rider by 10 points. Despite not competing in the final round, Gatto finished the season in tenth overall with 399 points, followed by Brown in 11th with 295. Verbeeck is 13th with 236 points.

"In the back of my head I knew it was tight for the overall," explained Carpenter, "but I was trying to enjoy the track, it's really good and a lot of fun, one of the best tracks I've raced on this year. It's bonkers to win, I'm really happy to win, so that whatever happens at the world championships, I've got this. It's more my style to be consistent through the year, so I'm really happy."

The men's title race was between three riders - Bryceland, Australia's Troy Brosnan (Specialized Racing DH) and Aaron Gwin (Specialized Racing DH). Only 82 points separated the three riders going into the weekend, although Bryceland received a bit of a boost when he finished second to Matt Simmonds (Madison Saracen) in qualifying for 40 points while Gwin was only seventh (18 points) and Brosnan received none after flatting.

Florent Payet (Evil Vengeance Tour) was the first to spend significant time in the Hot Seat, in the lead for over 30 riders before Greg Williamson (Trek World Racing) finally bumped him. Markus Pekoll (MS Mondraker) was the next to take the Hot Seat, and lasted until the final ten riders, when Gee Atherton (GT Factory) became the first to take the leading time below 3:20 at 3:17.475. Brosnan, who had an earlier than expected start time due to his qualifying run flat, struggled through his run, finishing well back and effectively putting himself out of contention for the overall title.

As the top-10 continued to count down, Atherton's run was looking better and better. Gwin improved his chances for the overall with a strong ride that slotted him just behind Atherton, until pre-race favourite Hill lived up to expectations with a time 1.1 seconds faster than anyone else.

Bryceland, riding second from last, was fifth at the first split, improving to third at the second split and to second at the finish, guaranteeing his overall victory by finishing in front of his rivals, only to be bumped to third for the day when the final rider, Simmonds, finished just ahead of him.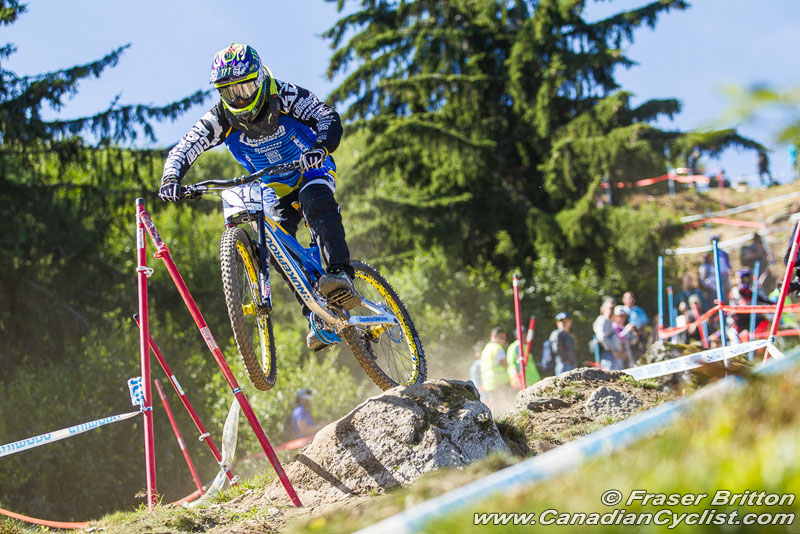 Sam Hill
"It's awesome to win," said Hill. "I just tried to avoid mistakes and push hard through the woods. I knew it was going to be tight so I just tried to push as hard as I could. I love this track, it's the best we've raced on all year. It's steep and natural, and nothing man-made, which is what we love. It's a great finish to the World Cup season."

Only two Canadians qualified for the Final, with Mark Wallace (Devinci Global Racing) finishing 32nd and Kyle Sangers 53rd.

Bryceland took the title with 1187 points, just 49 ahead of Gwin, who beat out Brosnan by a further 13 points. Hill finished fourth in the standings, one point behind Brosnan. Steve Smith (Devinci Global Racing), despite missing the final three rounds (as well as the first two) was the top Canadian in 48th place with 205 points. Wallace finished 53rd with 179 points.

"I've gone over this [winning the World Cup] so many times in my head," revealed Bryceland. "I was at the top before my run, and I was just thinking 'I'm cool with this, just do your thing'. But then I got going and I got so nervous that I rode really tight and wasn't committing to my lines, and it was a bit of a nightmare. So to still be third place, I'm feeling pretty happy."

In the Junior men, Loris Vergier (Lapierre Gravity Republic) won the final round, to vault ahead of American Luca Shaw (SRAM/TLD Racing) in the overall standings. Jack Iles (Evil Vengeance Tour) was the only Canadian racing, finishing eighth, and moving up to fifth (from sixth) in the final standings.
Women and Junior Men's results
Fatal error
: Uncaught Error: Object of class PDO could not be converted to string in /home/canadiancyclistcom/canadiancyclist.com/public/modules/news.php:528 Stack trace: #0 /home/canadiancyclistcom/canadiancyclist.com/public/modules/news.php(517): getrelatedgallery() #1 /home/canadiancyclistcom/canadiancyclist.com/public/dailynews.php(58): getDailyNewsArticle() #2 {main} thrown in
/home/canadiancyclistcom/canadiancyclist.com/public/modules/news.php
on line
528