August 29/14 15:44 pm - Para-Cycling Road World Championships: Day 2 results, afternoon session

Posted by Editoress on 08/29/14

Canadians Just Outside of Medals on Day 2 of Para Road Worlds

The 2014 UCI Para-Cycling Road World Championships kicked off on Thursday in Greenville, South Carolina, where Canada had three athletes finish within 18 seconds of medal contention.

The time trial races on Friday saw the return to international competition of Olympian Lyne Bessette (Bromont, QC) and Robbi Weldon (Thunder Bay, ON), who finished fifth in the women's tandem. The prolific tandem had won multiple medals at UCI World Cup and World Championships in the past, and went on to win a gold medal for Canada in the road race at the 2012 Paralympic Games in London. Racing for the first time together in two years at the 2014 Global Relay Canadian Road Championships earlier this summer, the two women won the gold medals in the road race and the time trial.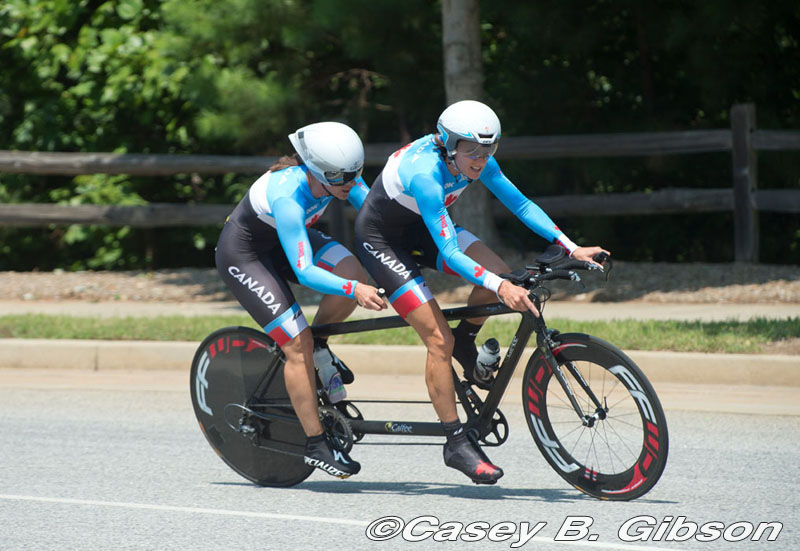 Lyne Bessette and Robbi Weldon
In the men's tandem, Canada had two tandems competing in the time trial. Unfortunately, the tandem of Daniel Chalifour (Mont-Laurier, QC) and Alexandre Cloutier (St Antoine de Tilly, QC) were victims of a crash and subsequently were unable to finish the race. Matthieu Croteau-Daigle (Thetford Mines, QC) and Pierre-Olivier Boily (Sherbrooke, QC) took 16th place.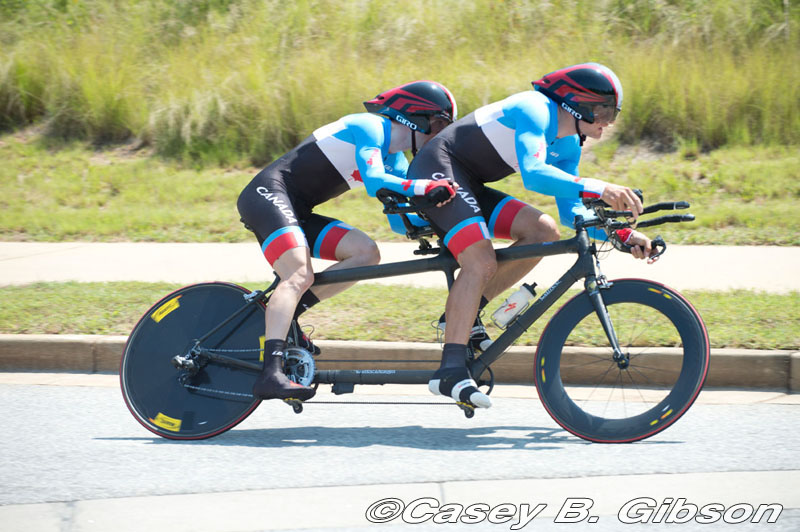 Competing in his very first World Championships, Ross Wilson (Sherwood Park, AB) finished in sixth place, completing the course with a time of 26:14.92. He was within 18 seconds of the bronze medal. Jaye Milley (Calgary, AB) finished in twelfth position.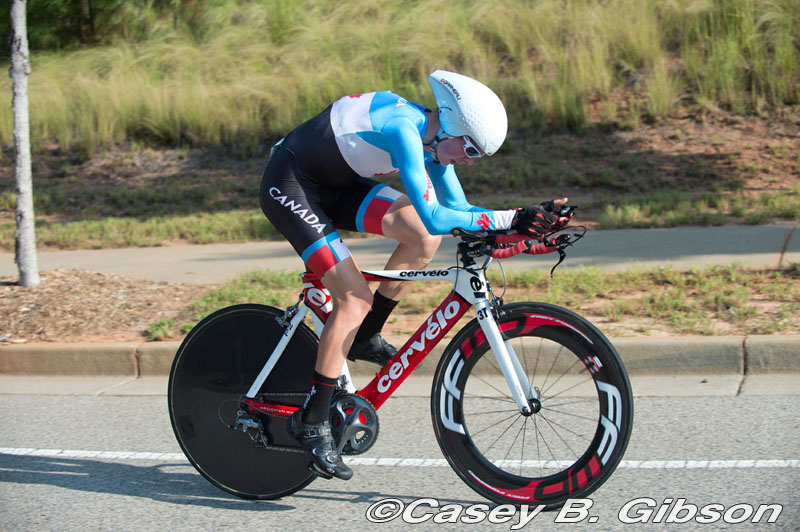 Michael Sametz
In the men's C3 class, Michael Sametz (Calgary, AB) rode to fifth place in his debut appearance at UCI World Championships, finishing the race with a time of 23:49.49. Sametz was also within 18 seconds of winning a bronze medal.

Marie-Claude Molnar (St-Hubert, QC) and Nicole Clermont (Sherbrooke, QC) also both finished fifth. Molnar was 1:10 off the winning time and 18 seconds off the bronze medal pace, while Clermont crossed the line with a deficit of 2:37 on the World Champion's time.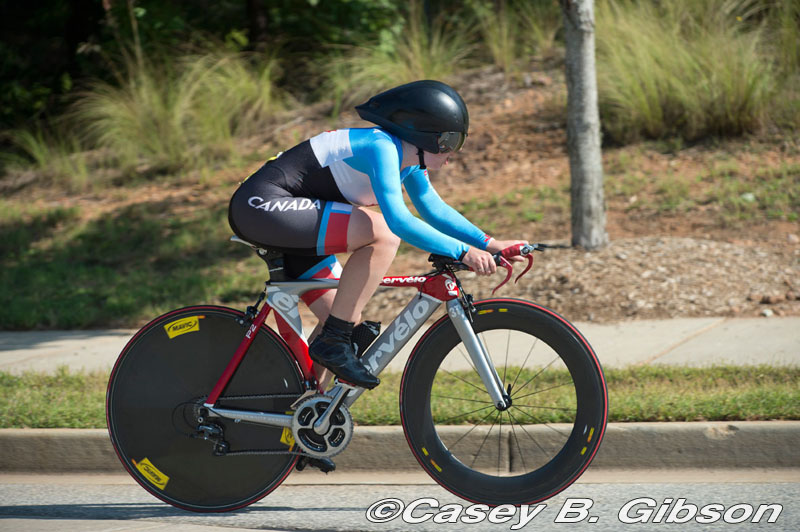 Marie-Claude Molnar
On Thursday, the Canadian hand bike team relay squad, comprised of Mark Beggs (Montreal, QC), Mark Ledo (Maple, ON) and Robert Labbé (Quebec, QC), finished in seventh place.

Racing continues Saturday with the time trial races for all tricycle and hand bike classes. All eyes will be turned on defending T1 Champion Shelley Gautier (Toronto, ON), and Marie-Eve Croteau (Quebec, QC), who will attempt to regain her World title won in 2011 in the T2 class.

At age 46, Gautier is the top ranked athlete for the world ranking in her class and won the World Cup title this year. Croteau is ranked in second place of the world ranking in her class, and finished the World Cup season ranked second place of the overall standing.
Cycling Canada press release
Today and tomorrow the time trials are taking place in in Greenville, South Carolina (USA).
Medals were awarded this afternoon in the Men's and Women's B tandem and the Men's C4 and 5 categories.
No Canadians were on the podium.
Women B, 24.9 km

Time
Gap
1 Japan (Yurie Kanuma/Mai Tanaka P)
34:46.04
0.00
2 New Zealand (Emma Foy/Laura Fairweather P)
35:37.18
51.14
3 Great Britain (Lora Turnham/Corrine Hall P)
36:11.22
1:25.18
4 Netherlands (Odette Van Deudekom/Kim Van Dijk P)
36:22.06
1:36.02
5 Canada (Robbi Weldon/Lyne Bessette P)
36:42.36
1:56.32
6 Ireland (Katie-George Dunlevy/Eve Mccrystal P)
36:54.32
2:08.28
7 United States (Shawn Cheshire/Mackenzie Woodring P)
37:18.04
2:32.00
8 New Zealand (Phillipa Gray/Kylie Young P)
37:21.46
2:35.42
9 Spain (Jozefa Benitez Guzman/Judit Masdeu Cort P)
37:54.09
3:08.05
10 Greece (Adamantia Chalkiadaki/Argyro Milaki P)
38:51.24
4:05.20
11 United States (Karissa Whitsell/Lisa Turnbull P)
40:04.80
5:18.76
DNF Poland (Iwona Podkoscielna/Aleksandra Wnuczek P)

Men B, 24.9 km

1 Italy (Ivano Pizzi/Lucca Pizzi P)
31:26.98
0.00
2 Netherlands (Vincent Ter Schure/Timo Fransen P)
31:40.77
13.79
3 Poland (Marcin Polak/Michal Ladosz P)
31:49.52
22.54
4 Spain (Ignacio Avila Rodriguez/Joan Font Bertoli P)
31:52.89
25.91
5 Italy (Emanuele Bersini/Riccardo Panizza P)
32:00.18
33.20
6 Spain (Carlos Gonzalez Garcia/Noel Martin Infante P)
32:16.85
49.87
7 United States (Clark Rachfal/David Swanson P)
32:25.50
58.52
8 Australia (Matt Formston/Michael Curran P)
32:48.65
1:21.67
9 Ireland (James Brown/Bryan Mccrystal P)
32:57.18
1:30.20
10 France (Damien Debeaupuits/Mickaël Dhinnin P)
33:07.95
1:40.97
11 Poland (Przemyslaw Wegner/Piotr Czopek P)
33:13.61
1:46.63
12 Germany (Timo Kleinwaechter/Erik Mohs P)
33:17.76
1:50.78
13 Colombia (Nelson Serna/Sebastian Durango P)
33:21.08
1:54.10
14 Slovakia (Vladislav Janovjak/Robert Mitosinka P)
33:22.05
1:55.07
15 South Korea (Jong-Giu Kim/Daehong Chun P)
34:06.27
2:39.29
16 Canada (Matthieu Corteau-Daigle/Pierre-Olivier Boily P)
34:21.58
2:54.60
17 Argentina (Raul Villalba/Ezequiel Romero P)
35:25.86
3:58.88
18 United States (Lance Footer/Shawn Olin P)
36:06.01
4:39.03
19 Malaysia (Mohd Yusaini Yusop/Muhamad Nur Syafiq Suhaimy P)
37:02.45
5:35.47
20 Hungary (Arnold Csaba Butu/Gergely Ivanics P)
37:19.51
5:52.53
DNF Canada (Daniel Chalifour/Alexandre Cloutier P)
DNF Finland (Jarmo Ollanketo/Tommi Martikainen P)
Men C4, 24.9 km

Time
Gap
1 Jiri Bouska (Czech Republic)
33:24.33
0.00
2 Jozef Metelka (Slovakia)
33:30.28
5.95
3 Sergey Pudov (Russia)
33:48.93
24.60
4 Jeffrey Scott Martin (United States)
33:58.56
34.23
5 Jiri Jezek (Czech Republic)
34:47.25
1:22.92
6 Roberto Alcaide Garcia (Spain)
35:12.27
1:47.94
7 Gianluca Fantoni (Italy)
35:14.47
1:50.14
8 Diego German Duenas Gomez (Colombia)
35:14.85
1:50.52
9 Jonathan Copsey (United States)
35:42.35
2:18.02
10 Cesar Neira Perez (Spain)
35:45.83
2:21.50
11 Jeremy Crepeliere (France)
36:10.66
2:46.33
12 Carol-Eduard Novak (Romania)
36:33.21
3:08.88
13 Leonel Solis (Costa Rica)
37:37.50
4:13.17
14 Damian Lopez Alfonso (Cuba)
37:55.61
4:31.28
15 Oskars Gailiss (Latvia)
37:57.16
4:32.83
16 Jose Aureliano Valenzuela (Mexico)
38:36.29
5:11.96
17 Mohd Najib Turano (Malaysia)
38:43.97
5:19.64
18 Morten Jahr (Norway)
39:46.13
6:21.80
19 Thomas Schafer (Germany)
39:54.44
6:30.11
20 Guoping Wei (China)
40:31.17
7:06.84
21 Henrik Marvig (Sweden)
41:52.59
8:28.26

Men C5, 24.9 km

1 Yehor Dementyev (Ukraine)
32:36.81
0.00
2 Wolfgang Eibeck (Austria)
32:43.29
6.48
3 Daniel Abraham Gebru (Netherlands)
33:26.11
49.30
4 Andrea Tarlao (Italy)
33:46.26
1:09.45
5 Elia Botosso (Italy)
33:46.91
1:10.10
6 Alistair Donohoe (Australia)
33:57.73
1:20.92
7 Michael Gallagher (Australia)
34:13.90
1:37.09
8 Rodny Minier Castillo (Dominican Republic)
34:35.39
1:58.58
9 Lauro Cesar Chaman (Brazil)
34:56.98
2:20.17
10 Soelito Gohr (Brazil)
35:29.81
2:53.00
11 Tomas Kajnar (Czech Republic)
35:41.17
3:04.36
12 Robinson Jaramillo (Colombia)
36:12.29
3:35.48
13 Patrick Hagenaars (Austria)
36:24.40
3:47.59
14 Damien Severi (France)
36:44.64
4:07.83
15 Christopher Murphy (United States)
37:40.43
5:03.62
16 Mark Gyulafia (United States)
37:52.65
5:15.84
17 Baobin Duan (China)
44:40.33
12:03.52
Fatal error
: Uncaught Error: Object of class PDO could not be converted to string in /home/canadiancyclistcom/canadiancyclist.com/public/modules/news.php:544 Stack trace: #0 /home/canadiancyclistcom/canadiancyclist.com/public/modules/news.php(533): getrelatedgallery() #1 /home/canadiancyclistcom/canadiancyclist.com/public/dailynews.php(58): getDailyNewsArticle() #2 {main} thrown in
/home/canadiancyclistcom/canadiancyclist.com/public/modules/news.php
on line
544