September 2/14 8:18 am - Mountain Biking Celebrates 25 Years of World Championships

Posted by Editoress on 09/2/14

The international mountain bike season concludes with the UCI Mountain Bike and Trials World Championships, to be held from September 2nd to 7th in Hafjell, Norway, a ski and mountain bike centre just outside Lillehammer. This year represents the 25th anniversary of the Mountain Bike World Championships, which have now been held around the world, including a first-ever African championship last year.

The world championships bring together all aspects of the sport, from the traditional Olympic Cross-country (XCO) and the crowd favourite Downhill (DHI), to the Team Relay, the skill-testing Trials and the newest event, the Eliminator (XCE).

The full Canadian team can be seen at Daily News

Eliminator
The action begins on Tuesday with the Eliminator, to be held for the third time at the world championships. Racing in heats of four riders at a time on a short, technically challenging circuit, the top-two advance from each heat until there are only four left to go for the world title.

The course is held in the unique historic village of Maihaugen, which offers examples of Norwegian architecture going back hundreds of years. The 840 metre course has everything from gravel road, to rocks and roots, drops and banked turns.

Alexandra Engen (Sweden) is unbeaten in the women's category, but a new champion will be crowned for the women, since Engen will not compete, having missed most of the season due to fatigue. The top favourite will be Switzerland's Kathrin Stirnemann, who won the World Cup title a week ago. Canada has one entry, Under-23 rider Rachel Pageau.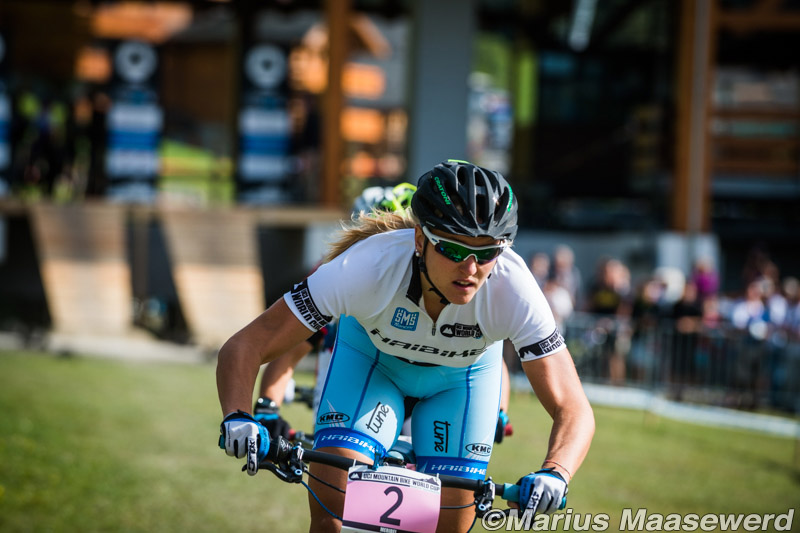 World Cup winner Kathrin Stirnemann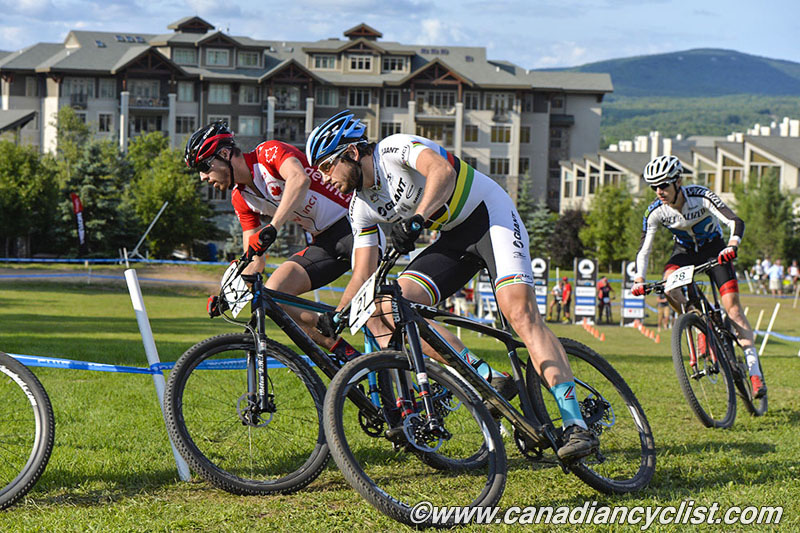 Outgoing world champion Paul van der Ploeg
Andres Soto leads Fabrice Mels
On the men's side, there are at least three favourites, including outgoing world champion Paul van der Ploeg (Australia), World Cup champion Fabrice Mels (Belgian) and the newest phenomenon, Argentina's Andres Soto. Canada has two men entered, Raphael Gagne and Rhys Verner. Gagne has reached the final round at World Cups in previous years.

Team Relay
Wednesday is the Team Relay, a once a year event that pits four riders from each nation against each other. Each country enters an Elite man and woman, a Under-23 man and a Junior man, to each do one lap of the cross-country circuit. Teams can send their riders off in any order they wish, so do they try to open a big lead with the fastest riders and hope they can hang on, or save them until last, and hope they can catch the early leaders? This world championships will have a record 24 countries entered, since the event offers important UCI ranking points in the battle for Olympic entry spots. Perennial favourites are Switzerland, Germany, Canada, Italy and France.

Canada has a very strong team - Catharine Pendrel, Geoff Kabush, Leandre Bouchard and Marc-Andre Fortin.

Trials
All through the week, the Trials competition will be held, providing spectators with a slower, but no less challenging series of events to watch. Competitors have to ride over, under and through a series of obstacle courses, all within a time limit and without putting a foot down. Traditionally strong countries in this unique event are Spain, France, Belgium and Germany. Canada has two Trials riders - Jeff Anderson and David Herr.

Olympic Cross-country
From Thursday to Saturday, the focus is the XCO, starting with the Junior categories, then Under-23 and finally the Elite men and women. The four kilometre course zig-zags up and down the side of the ski hill three times per lap, with both open climbs and wooded rocky sections.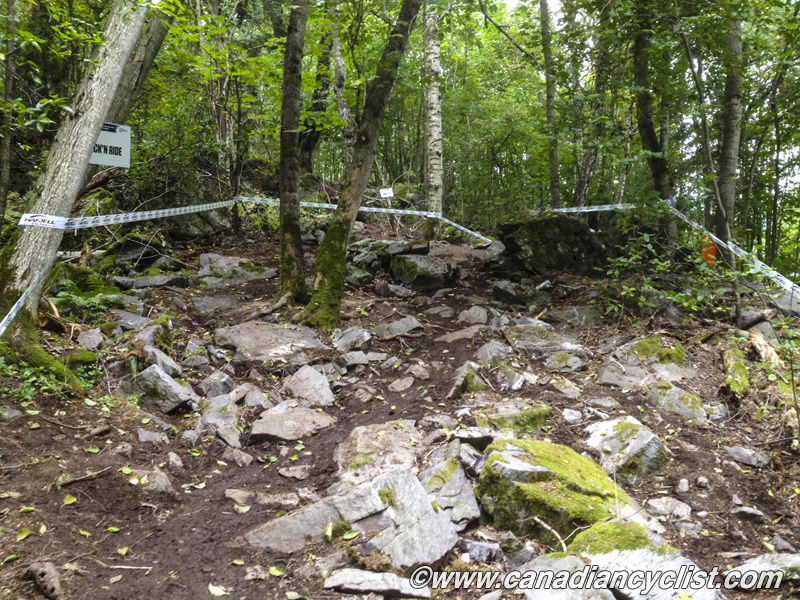 The rock n' ride section of the 1st climb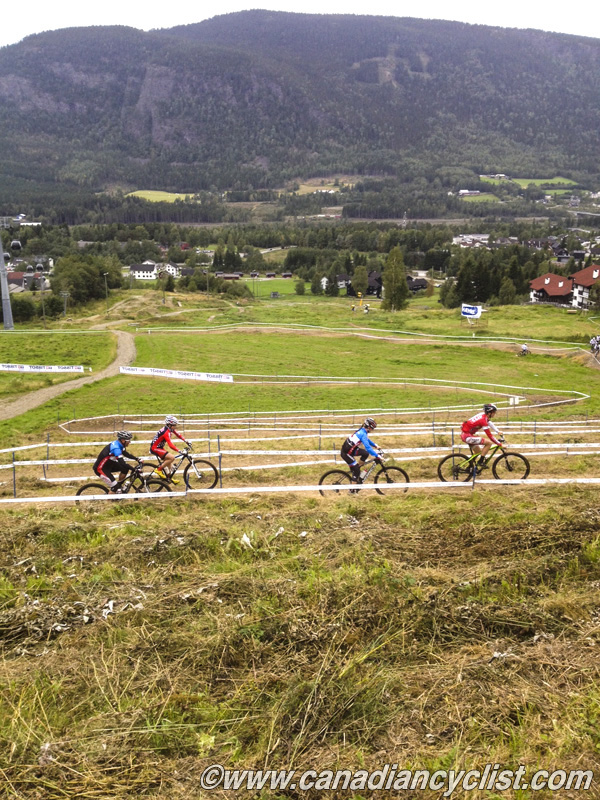 The second switchback climb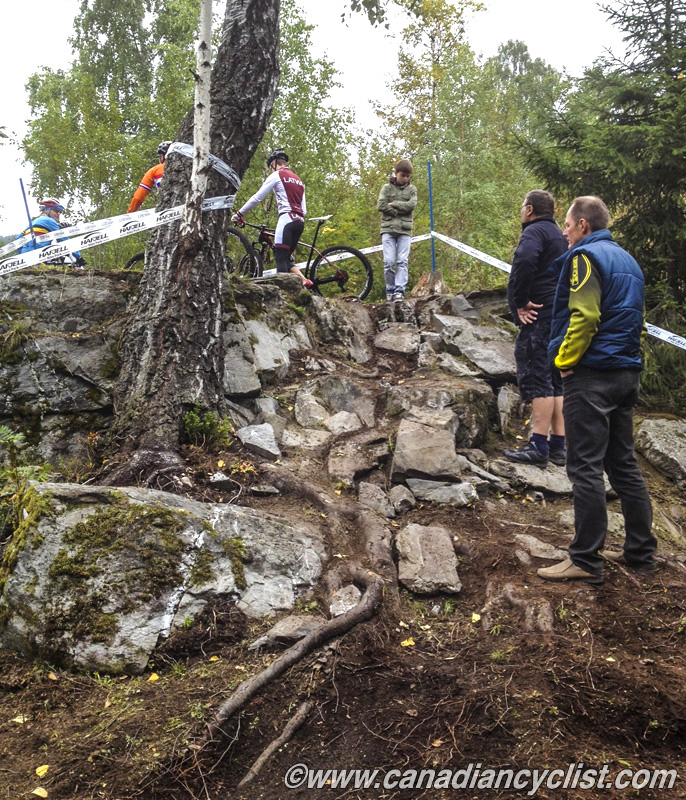 The Troll Drop is one of the last obstacles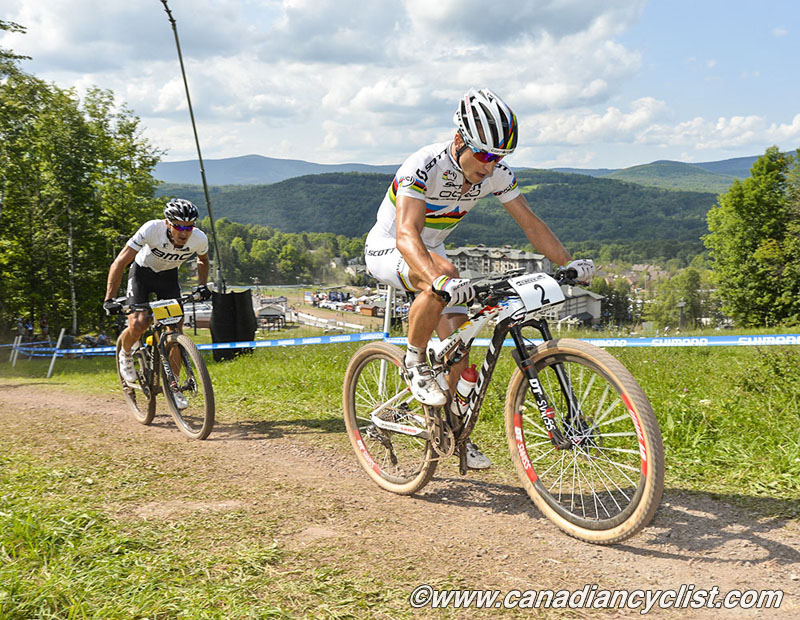 A battle is expected between defending Elite men's champion Nino Schurter and World Cup champion Julien Absalon
While every race has fierce competition, some of the biggest battles are expected to be in the Under-23 women between defending champion Jolanda Neff (Switzerland) and Pauline Ferrand Prevot (France), the Elite women between legendary Gunn-Rita Dahle Flesjaa racing at home and looking for a fifth title, and Canadian champion Catharine Pendrel, the 2011 world champion, and the continuing competition between defending Elite men's champion Nino Schurter (Switzerland) and World Cup champion Julien Absalon (France).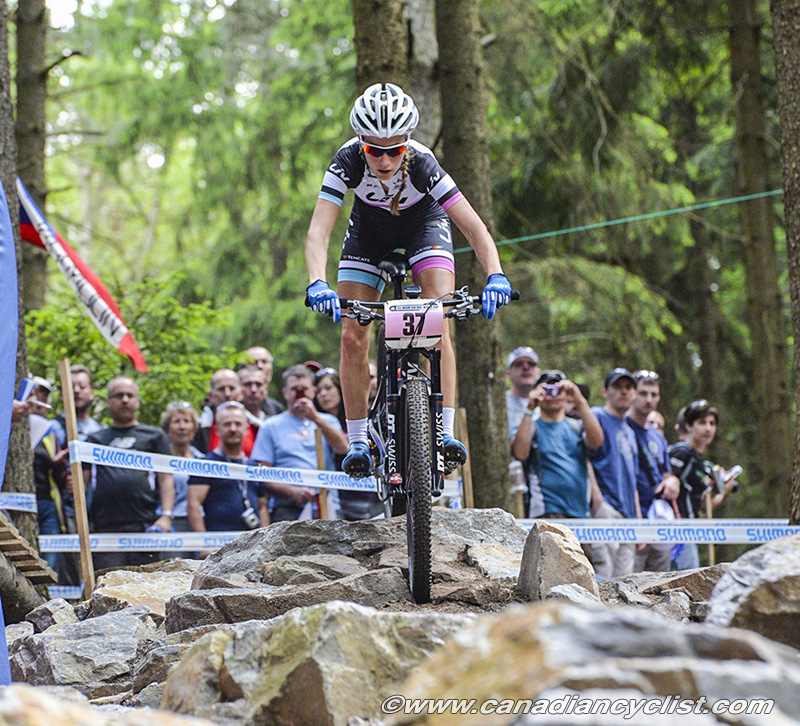 Pauline Ferrand Prevot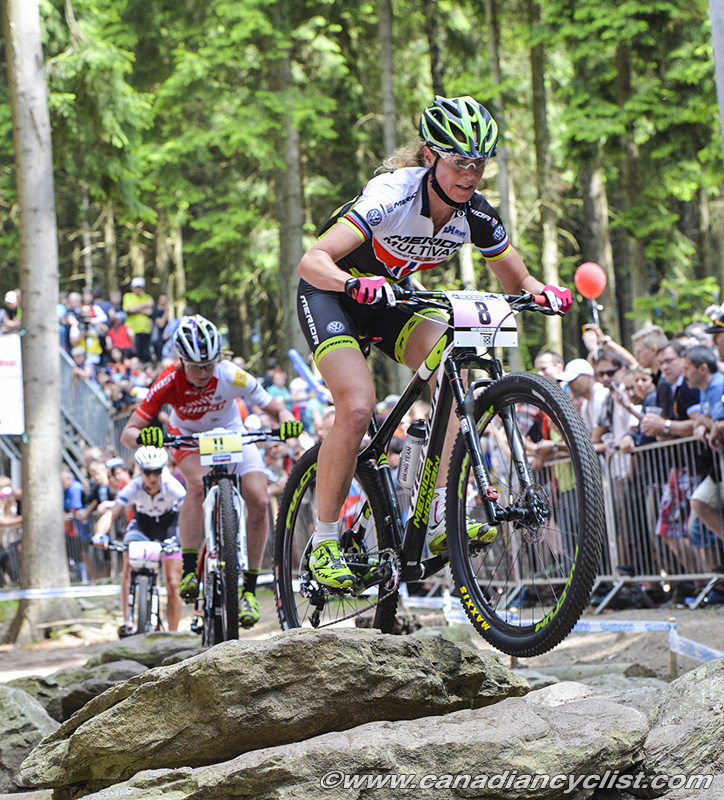 Gunn-Rita Dahle Flesjaa
Catharine Pendrel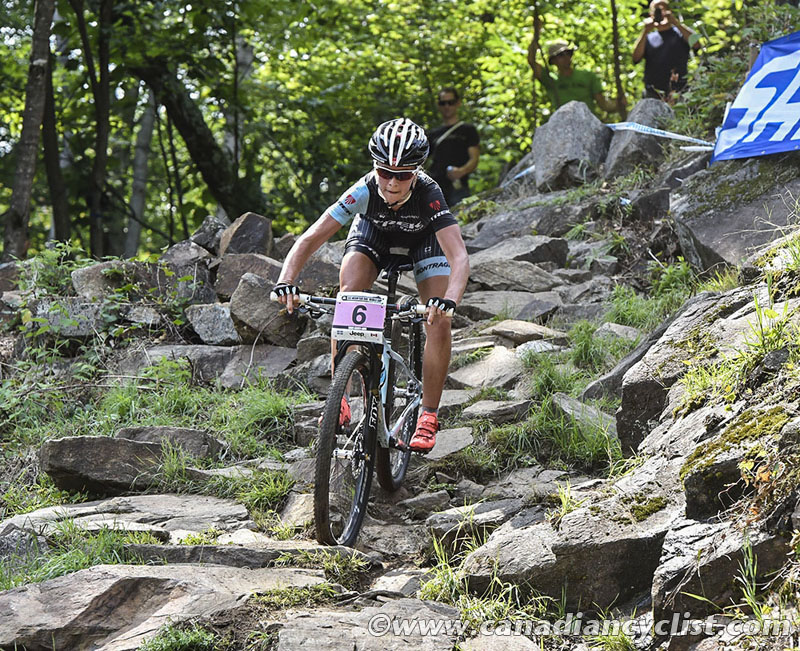 Emily Batty
Besides Pendrel, Emily Batty is a podium contender in Elite women. Geoff Kabush has a strong chance for a top-10 in Elite men, while Bouchard will be looking for top-5 in Under-23 men. Under-23 woman Maghalie Rochette is coming off a top-15 ride in the final round of the World Cup. National champion Fortin is Canada's strongest hope in Junior men, as is Soren Meeuwisse in Junior women.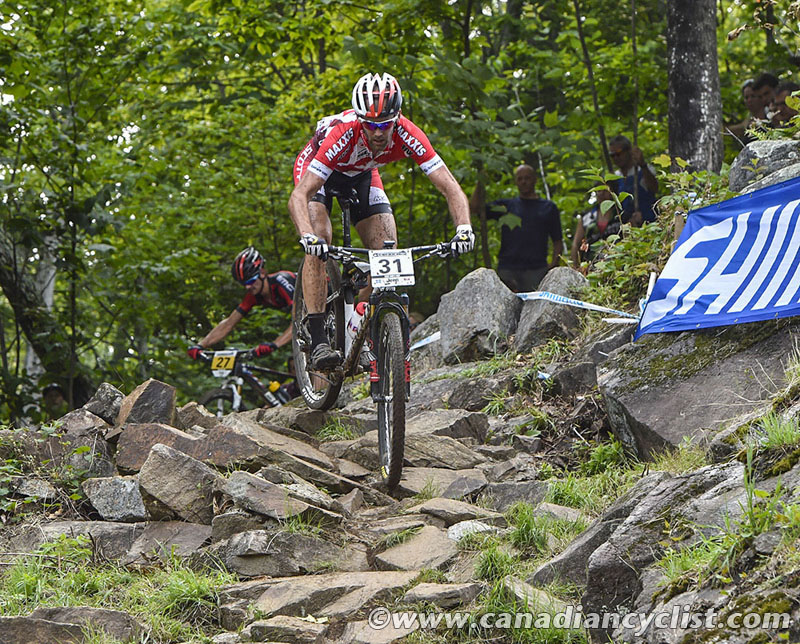 Geoff Kabush
This year, with Olympic qualification underway, riders will be fighting for every position as they try to improve their country ranking.

Downhill
The final day of competition is devoted to gravity racing, with the Junior men and women, Elite women and Elite men fighting for the world title in each category. The 2200 metre run starts in the open with multiple jumps before dropping into technical, rocky and rooty sections. It then moves into the open again for a series of long sweeping turns, back into the woods for a couple of more sections and then a final few open turns before the finish.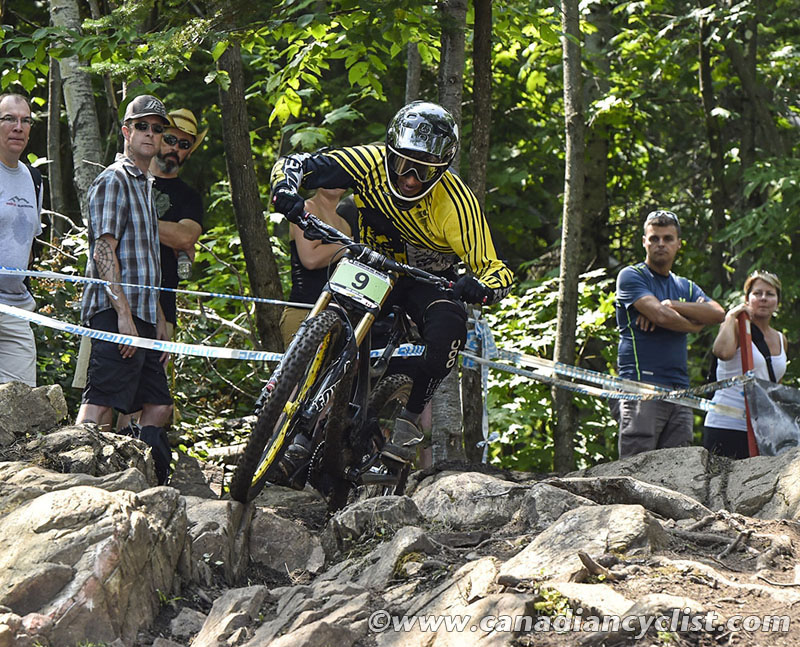 Jack Iles
The Junior men has been a race all year between World Cup champion Loris Vergier (France), American Luca Shaw and Great Britain's Taylor Vernon. Canada's Jack Iles has a World Cup podium this season and will be looking for a top-5 finish.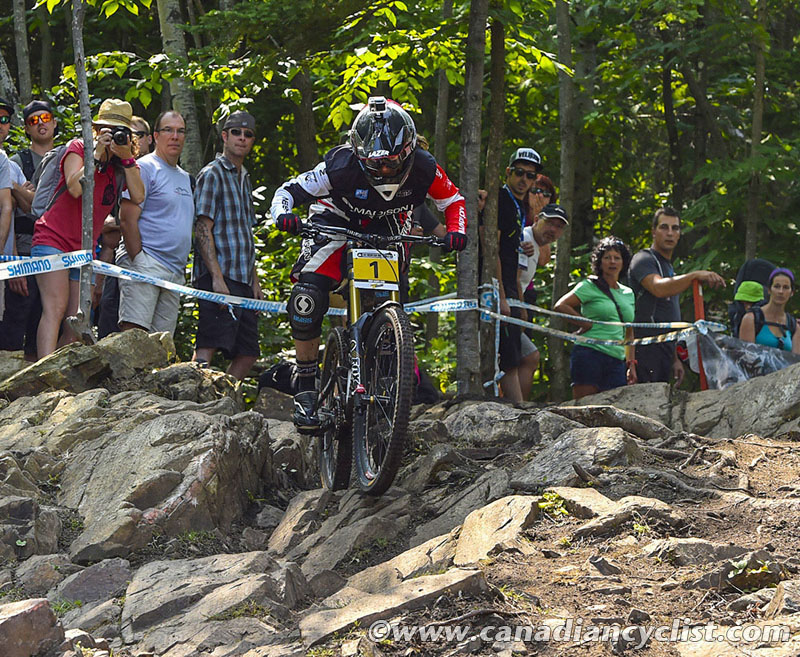 Manon Carpenter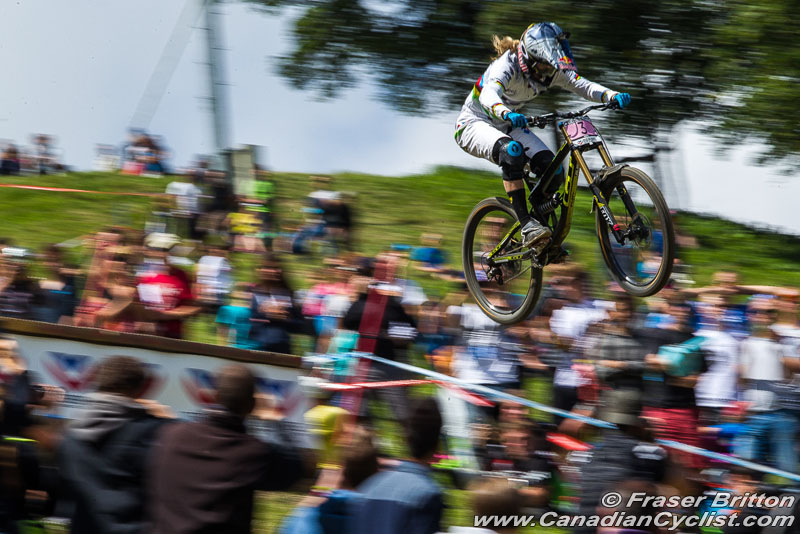 Rachel Atherton
Emmeline Ragot
For the Elite women it should be a fight between defending champion Rachel Atherton (Great Britain), World Cup champion Manon Carpenter (Great Britain) and Emmeline Ragot (France). All three have won this season, and any of them could take the title. Canada has three women entered - Micayla Gatto, Casey Brown and national champion Vaea Verbeeck - and any of them could make the top-10.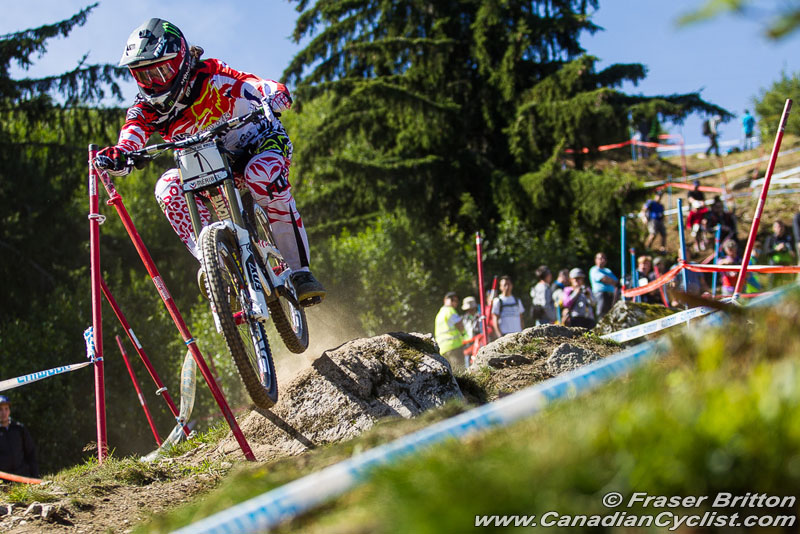 Josh Bryceland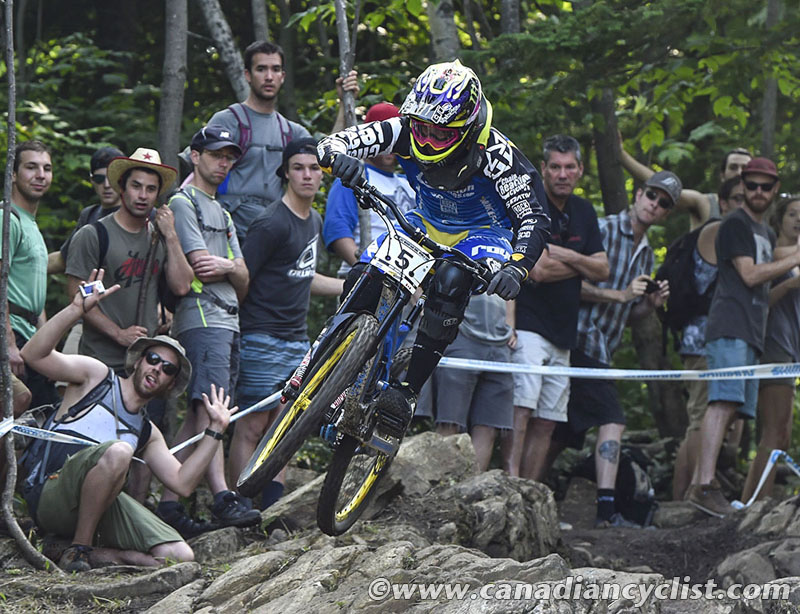 Sam Hill
The men's race also has multiple contenders, including World Cup champion Josh Bryceland (Great Britain), American Aaron Gwin, Australia's Troy Brosnan and Sam Hill, plus defending champion Greg Minnaar (South Africa). Of these riders, only Minnaar and Hill have won the Elite title before.

Canada's best hope, Steve Smith, who is undefeated on this course in World Cup action, will not be racing after injuring his ankle at Mont Ste Anne. Mark Wallace is coming off a 32nd place at the World Cup Final.