September 6/14 13:58 pm - MTB Worlds: Pendrel Wins Second Title, Absalon Takes Fifth Title

Posted by Editoress on 09/6/14

The Cross-country events at the UCI Mountain Bike & Trials World Championships concluded on Saturday with the Elite Women's and Men's races in Hafjell, Norway. Two former winners returned to the top step of the podium, with Catharine Pendrel of Canada winning her second rainbow jersey and Julien Absalon of France his fifth.

The weather continues to favour the Championships, with summer-like conditions bringing out thousands of fans. The local Norwegian spectators were hoping to see home favourite Gunn-Rita Dahle Flesjaa win her fifth title, but the mountain biking legend could only manage ninth.

Pendrel, who won the title in 2011, dominated the six lap women's race from the start, opening a 17 second gap on Irina Kalentieva (Russia) and Maja Wloszczowska (Poland) in the first lap. Wloszczowska gradually fell off the pace, with Kalentieva holding Pendrel to a 35 second lead over the next few laps. Behind, Lea Davison of the United States had steadily worked her way up to sit in third with two laps to go.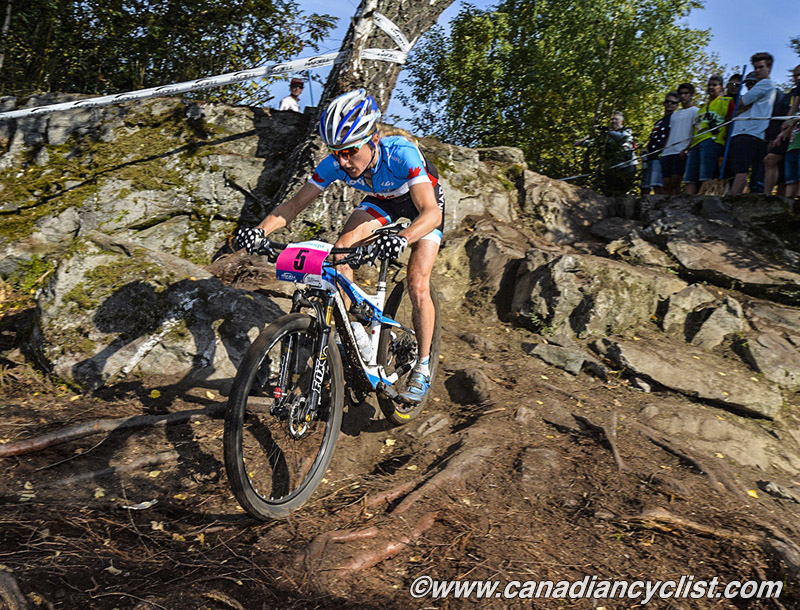 Catharine Pendrel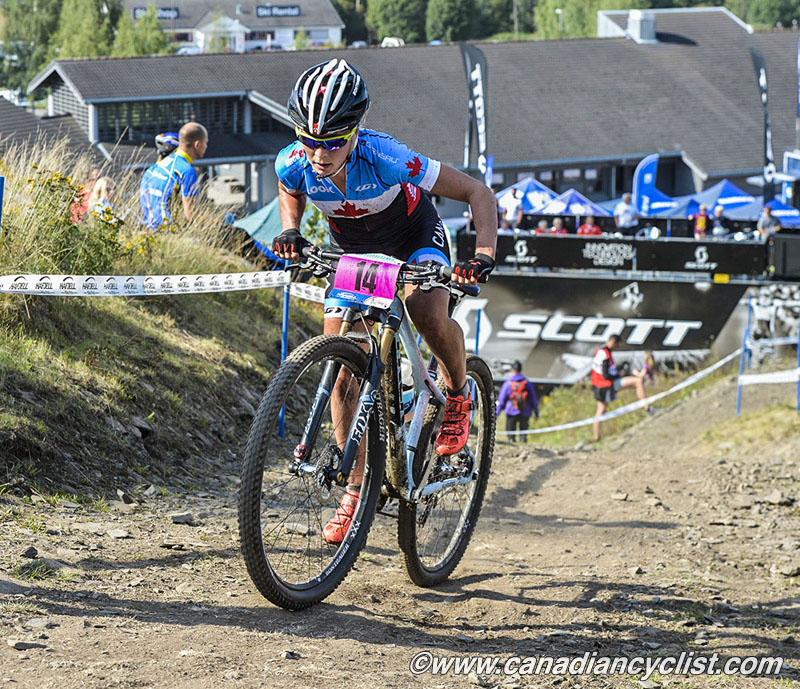 Emily Batty
Pendrel's lead was up to 43 seconds on the final lap when she became the latest of many riders to suffer a flat on the sharp rocks scattered throughout the course. Luckily, she was close to a technical zone and had a quick wheel change, to maintain her lead and finish 21 seconds ahead of Kalentieva. Davison took third, 43 seconds back. Emily Batty gave Canada second top-10 result with an impressive sixth place. Sandra Walter finished 34th after a flat, and Mikaela Kofman was 45th.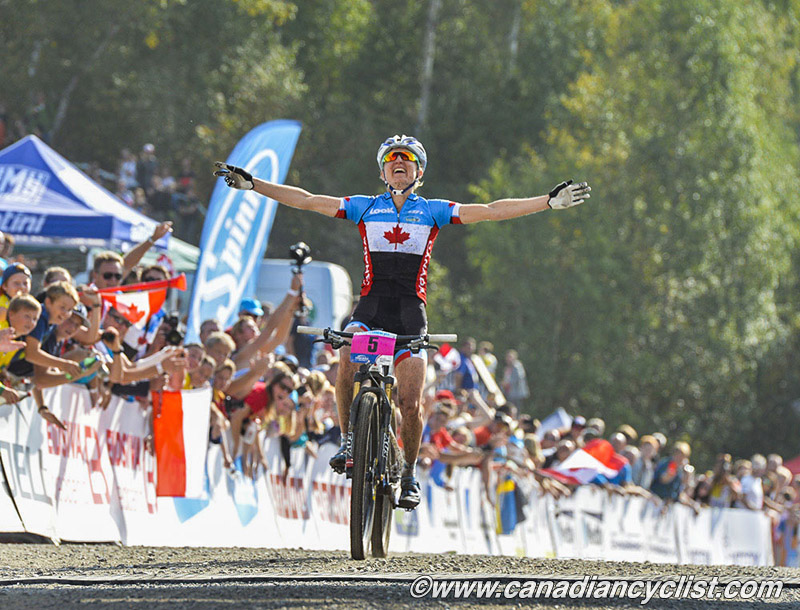 Catharine Pendrel winning her 2nd Championship title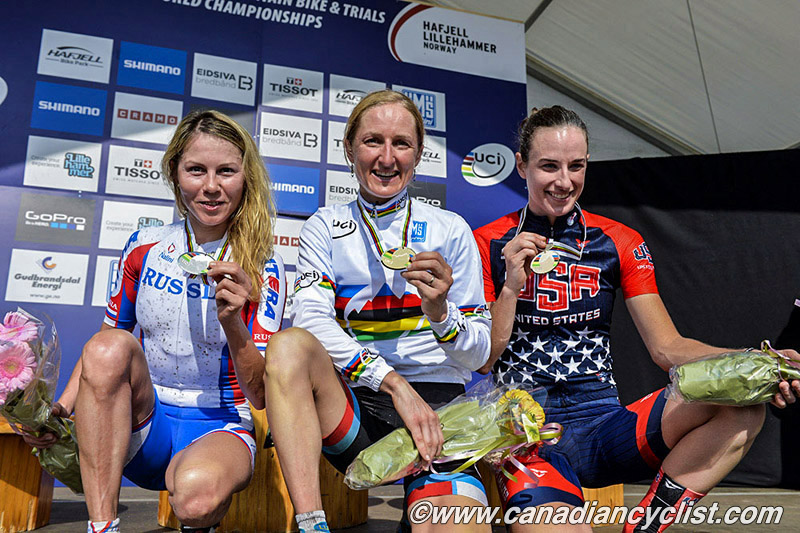 Irina Kalentieva, Catharine Pendrel, Lea Davison
"I like to race from the front," confirmed Pendrel, "and when there's an opportunity to take the lead you should go for it. That's always the kind of racer I have been. If you want to win the Worlds you have got to be willing to take some chances and go out strong. When I came through the finish line after the first lap and saw that I was 20 seconds faster than my Team Relay lap, I was pretty happy, and I felt that I could maintain it."

"I knew Irina was coming behind me, and I knew that she had won here the year before [at the World Cup], so I had to stay on the gas. Then, with half a lap to go, I got a front puncture and I was lucky to have amazing technical support, and the fastest wheel change ever, and get back on the bike to win the world championship."

[Note: We will be posting interviews with Catharine and Emily Batty]

This year has been a season-long battle between the two top ranked male riders in the world - Absalon and defending champion Nino Schurter of Switzerland. Schurter had his usual fast start, and after the first lap in the seven lap race was nearly 30 seconds ahead of his French rival.

However, Absalon, who was using a full suspension bike in competition for the first time, steadily chased down Schurter and caught him in the fourth lap. One lap later, and Absalon was 17 seconds clear, proving to be much stronger on the climbs. He pulled away over the remaining two laps to win by nearly two minutes, completing a near perfect season that has seen him the French national title, the European title, the World Cup title and now the rainbow jersey of world champion.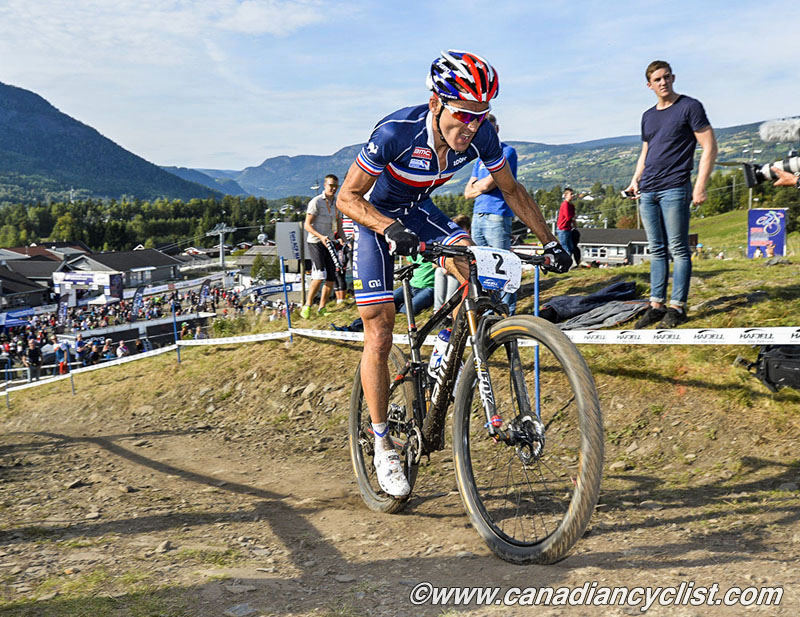 Julien Absalon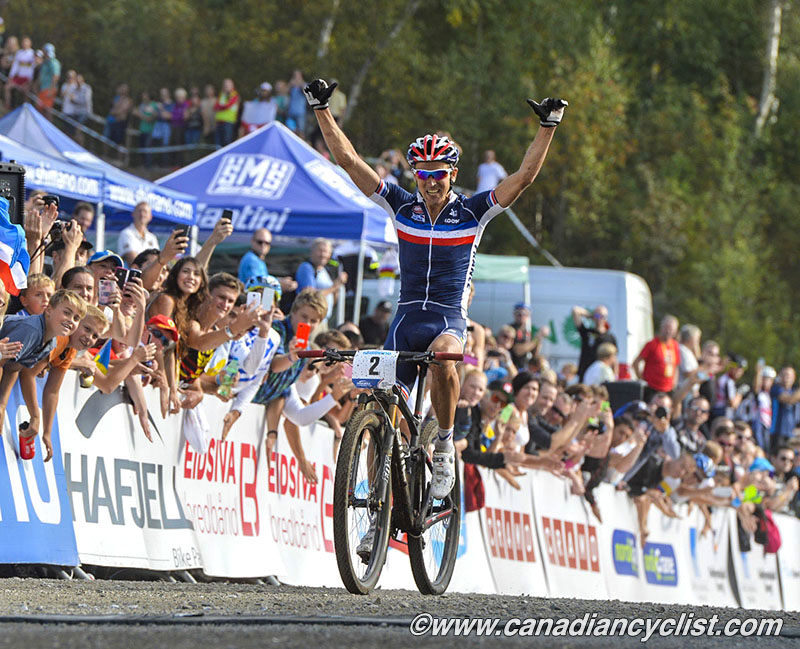 Julien Absalon wins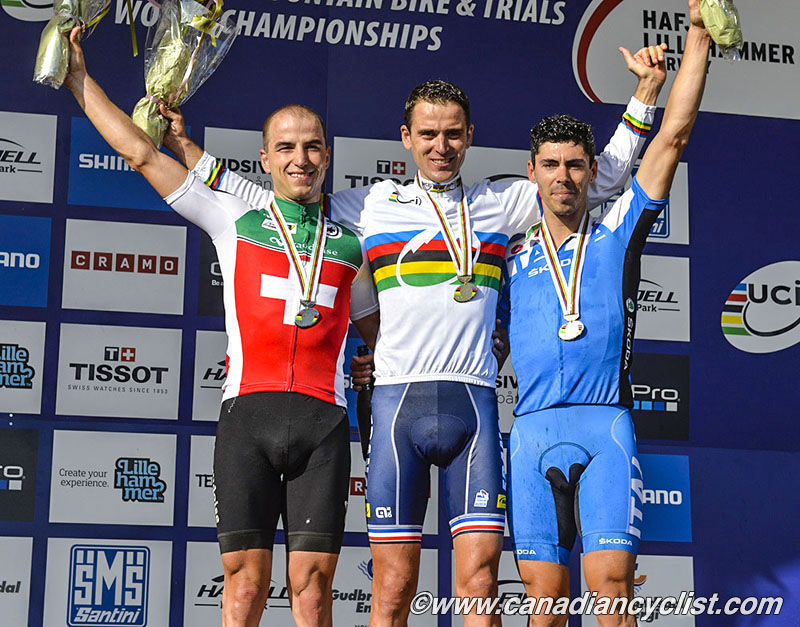 Nino Schurter, Julien Absalon, Marco Fontana
Schurter hung on for second, with Marco Fontana (Italy) overcoming a flat tire to beat Moritz Milatz (Germany) by five seconds for the bronze medal.

Derek Zandstra moved up from the 50s in the early part of the race, to as high as 14th by the end of lap five, before dropping a few spots after a flat. He recovered to record a best-ever 15th. Evan Guthrie moved up from the 80s to finish 48th, while Raphael Gagne was 64th and Geoff Kabush, fighting illness, was 76th.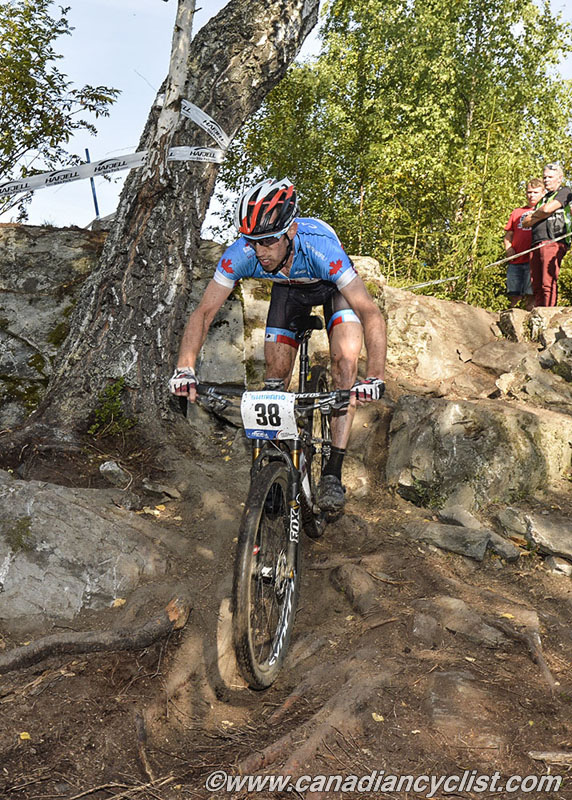 Derek Zandstra
"I am very happy to win this rainbow jersey for the fifth time," said Absalon. "It has been a long time since the last time, in 2007. Today it was almost perfect. I did a bad start and had a little crash in the wood section but I kept going and tried to go step by step to catch the lead. When I got on Nino's wheel I was able to pass him on the climb."

"I made a really good choice to use a full suspension bike because it is such a bumpy track, but it was a little risky because this was my first race with a full suspension bike. So it was a risk, but a good one."

"It's my best world championships by, I think, eight spots, so I'm pretty happy," said Zandstra. "The start wasn't the best for me, we got pretty tangled up in the first singletrack and I think I was sitting around 50th, but I kept going steady and passed when I could, and never let up."

[Note: We will be publishing interviews with Derek and Julien Absalon]
Results
Fatal error
: Uncaught Error: Object of class PDO could not be converted to string in /home/canadiancyclistcom/canadiancyclist.com/public/modules/news.php:528 Stack trace: #0 /home/canadiancyclistcom/canadiancyclist.com/public/modules/news.php(517): getrelatedgallery() #1 /home/canadiancyclistcom/canadiancyclist.com/public/dailynews.php(58): getDailyNewsArticle() #2 {main} thrown in
/home/canadiancyclistcom/canadiancyclist.com/public/modules/news.php
on line
528