November 6/14 9:50 am - Dorel Continues to Grow in Bike Segment

Posted by Editoress on 11/6/14

Dorel Industries has announced results for the third quarter and nine months ended September 30, 2014. Revenue for the quarter increased 10.8% to US$673.0 million compared to US$607.3 million a year ago. Net income for the period rose 75.4% to US$19.5 million or US$0.60 per diluted share compared to US$11.1 million or US$0.34 per diluted share in 2013.

Total revenue for the nine months was up 9.7% to US$1.98 billion compared to US$1.80 billion in the prior year. Net income increased by 27.5% to US$59.5 million or US$1.83 per diluted share, compared to US$46.6 million or US$1.45 per diluted share for the year-to-date a year ago.

While the company showed strength across all segments of their business, the Recreational/Leisure division, containing their bicycle holdings, saw revenue grow by double digits.

"The Cannondale Sports Group (CSG) has had a solid nine months and we see a bright future for this business with a dynamic management team in place," said Martin Schwartz, Dorel President & CEO.

"Caloi's operating profit was positive after losses during the first half and we still expect the bulk of Caloi's earnings during the current fourth quarter. In the mass channel, Pacific Cycle posted healthy increases with quarterly performance exceeding prior year in both revenue and operating profit. We look forward to an excellent racing year in 2015 with our new partners, Slipstream Racing."

"As we transition out of the Brixia relationship with our Cannondale Pro Cycling team, we have incurred one-time costs of US$4.5 million in the quarter, as outlined below in the Recreational/Leisure segment. In addition, the segment's on-going restructuring program resulted in costs of US$0.9 million. The strength of the US dollar also had an unfavourable net impact on the Recreational/Leisure results of approximately US$1.0 million versus last year. Home Furnishings revenues increased with Internet and drop ship vendor sales doing well. Operating profit was down slightly due to declines in domestically produced RTA furniture," concluded Mr. Schwartz.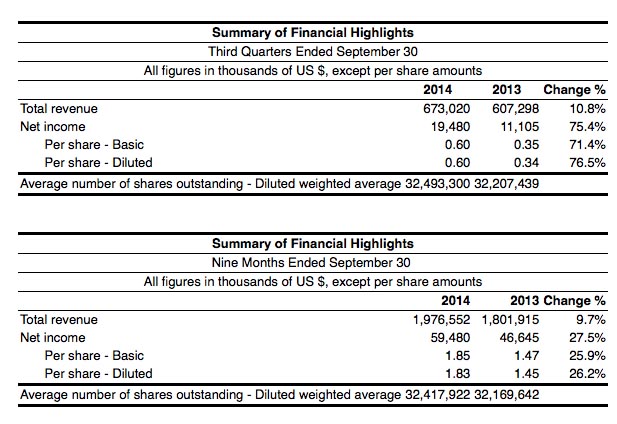 In total, the appreciation of the US dollar had a net negative impact on the Juvenile and Recreational/Leisure segments of approximately US$5.0 million for the quarter versus the third quarter of 2013. Offsetting this was the favourable effect of exchange on the revaluation of put option liabilities which resulted in a gain of US$3.1 million in the quarter versus a loss of US$3.5 million in the same period in 2013 (representing a net favourable change of US$6.6 million), recorded in corporate expenses in the segmented information. In addition, third quarter total expenses related to the Cannondale Pro Cycling team one-time costs and the segment's restructuring costs were US$5.4 million pre-tax. Note that the third quarter of 2013 included a pre-tax expense of US$8.0 million related to an unfavourable ruling in a US car seat product liability case.

Specifically for the Recreational/Leisure division:

Organic revenue increased by 6% in the quarter and 8% year-to-date. Overseas markets in the independent bicycle dealer (IBD) channels, particularly Europe and Japan, as well as sales to the North American mass merchant distribution channels contributed to the quarter and year-to-date organic growth. Increases in revenue in the IBD channel were due, in part, to growth in the E-bike and mountain bike categories, while Pacific Cycle benefited from improved consumer demand for bicycles and electric ride-on toys in the mass merchant channel.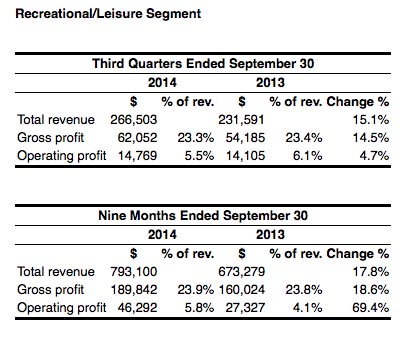 Despite an overall weak economy in Brazil, Caloi contributed to operating profits after two consecutive quarters of losses. Bicycle sales in Brazil are starting to benefit from the successful introduction of Cannondale, GT and Schwinn which has led to gains in domestic market share. With the summer season about to begin in Brazil and the distraction of the World Cup behind them, Caloi is poised for a strong fourth quarter.

Recreational/Leisure's operating expenses in the quarter include costs related to changes in the Cannondale Pro Cycling (CPC) team. The signing of a new agreement with Slipstream Racing led to a one-time write-off of Cannondale Sports Group's equity investment in the Brixia associated team of US$3.4 million in the quarter. An additional US$1.1 million was expensed for funding needed to bridge a shortfall in sponsorship income as the team could not solicit adequate sponsorship during the current transition period. Restructuring costs of US$0.9 million for the quarter and US$3.1 million year-to-date were recorded related mainly to the closure of the Bedford, PA assembly operation. Excluding the impact of the one-time CPC write-off, operating profit in the third quarter significantly improved year-over-year.

"We remain on-track for a much improved year in Recreational/Leisure. Thanks to improved earnings at all three of our major divisions, CSG, Pacific Cycle and Caloi, we fully expect to deliver much better results for the fourth quarter versus last year. Both CSG and Pacific Cycle will build on 2014's solid year-to-date gains while Caloi will benefit from the addition of the Cannondale, GT and Schwinn brands in the Brazil market," said Mr. Schwartz.