November 27/14 17:56 pm - Pilote-Fortin & Caron Join DNA Cycling p/b K4

Posted by Editor on 11/27/14

After a successful season as a USA Cycling Domestic Elite-registered team, DNA Cycling p/b K4 heads toward the 2015 season with a fresh roster and a full calendar.

The team will start the 2015 season with the Trust House Women's Tour of New Zealand (UCI 2.2) from February 18-22 and then focus efforts on a busy calendar of events in North America with an eye on select NRC and NCC races as well as the women's races at the Amgen Tour of California (UCI 2.1), the Larry H. Miller Tour of Utah and the USA Pro Cycling Challenge in Colorado.

Led by three time USA Cycling's masters national road champion and 2013 UCI masters world road champion Anne Perry and 2012 USA Cycling's collegiate national road champion Heather Fischer, the returning squad will be bolstered by an infusion of talent, making the DNA elite team its deepest ever.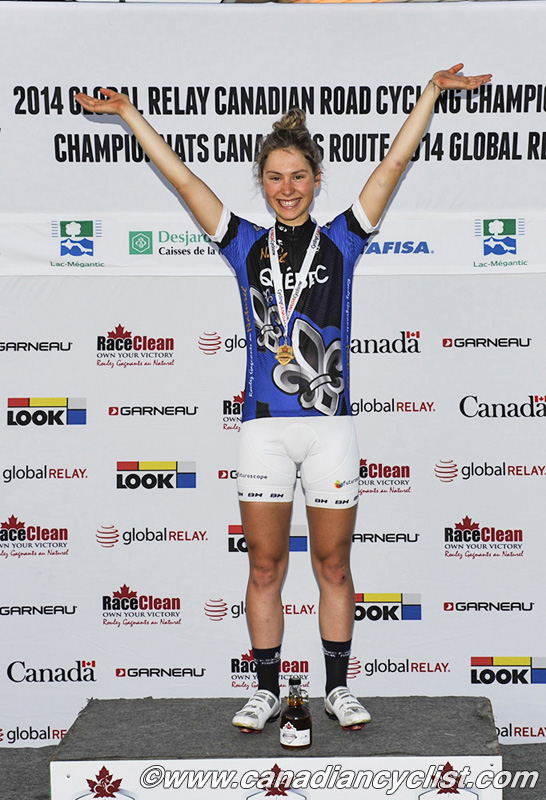 Gabrielle Pilote-Fortin, U23 Women's RR champion in 2014
Joining the team this year are Gabrielle Pilote Fortin (current Canadian U23 national road champion), Tiffany Pezzulo (a fixture on the national criterium scene) and Joanie Caron (former Canadian national team member) as the DNA Cycling p/b K4 roster spreads north of the border.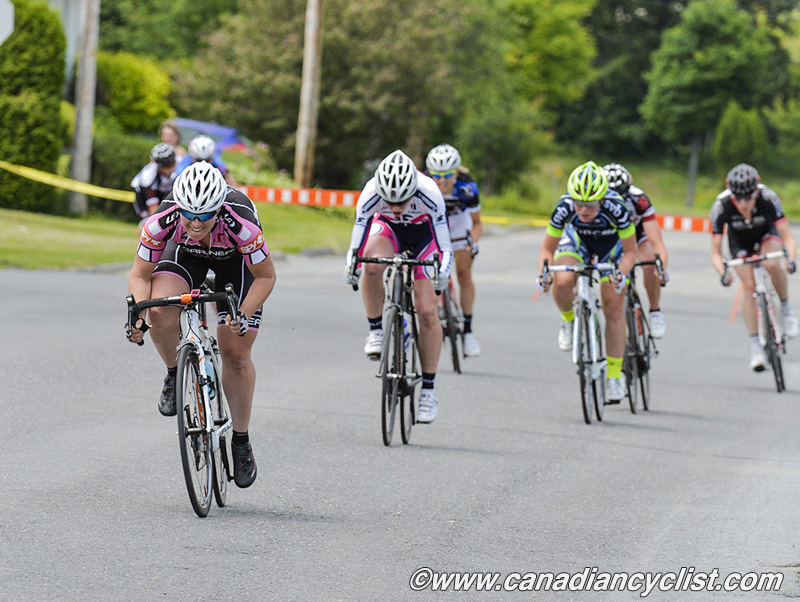 Joanie Caron, 2014 National Criterium Championships
"We are really looking forward to 2015. I believe we are bringing an excellent mix of talent and experience for what looks to be a fantastic year of races for the women's field," commented general manager, Alex Kim.

Pilote-Fortin, who raced on UCI Poitou-Charentes Futuroscope 86 this year, is a climbing specialist and stage race GC threat. In addition to winning the U23 national title, the youngster from Quebec finished third in the Canadian U23 national time trial race and was fifth in the Canadian elite national road race.

Caron is coming off a strong season with the Canada-based Garneau Factory team where her strong sprinting skills led to several podium finishes, including a win at the NoDa GP Criterium in North Carolina and a second-place finish at the Canadian national criterium championship. In addition to racing on the DNA-K4 squad, Caron will be piloting a tandem team in UCI Para competition next year.

Pezzulo, who calls Utah home, has numerous victories over an extensive career as one of the strongest sprinters and criterium racers in the United States. Racing for Vanderkitten in 2014, Pezzulo won the 42nd Carolina Cup and placed second at the Chase Pinkham Memorial Criterium.

Lauren De Crescenzo (Colorado), Catherine Fegan-Kim (Utah) and Kemi King (California) also return to race with the talented 8-woman team.

DNA Cycling p/b K4 will also sponsor a pair of regional women's cycling teams - DNA Cycling 801 and DNA Cycling Masters. Based in Utah, the DNA Cycling 801 squad will compete in local and regional races while the DNA Cycling Masters, based in Colorado, will race around the intermountain region with a focus on USA Cycling's Masters Nationals.

About DNA Cycling p/b K4:
Founded in 2012 by King and Fegan-Kim, DNA Cycling p/b K4 has a mission to inspire women riders to reach their highest potential in the sport. DNA Cycling p/b K4 is devoted to raising the profile of competitive women's cycling locally, regionally and at select national events.

DNA Cycling p/b K4 is owned and managed by K4 Racing, LLC. 2015 partners include DNA Cycling, SCOTT Sports, Markosian Auto, Osmo Nutrition, Rudy Project, Blendtec, Plan 7 Endurance Coaching, Cotton Sox Photography, Doc's Skincare, and Attract Interact.

The 2015 Domestic Elite roster:
Joanie Caron, British Columbia
Lauren De Crescenzo, Colorado
Catherine Fegan-Kim, Utah
Heather Fischer, Colorado
Gabrielle Pilote Fortin, Quebec
Kemi King, California
Anne Perry, Utah
Tiffany Pezzulo, Utah