December 2/14 12:37 pm - Accent/Russ Hays Announces 2015 Roster

Posted by Editoress on 12/2/14

The Accent Inns Russ Hay's Cycling Team presented by Scotiabank has announced its Team roster and new partnerships for the 2015 Racing Season.

"Every year, we seem to raise the bar of excellence," explains Jon Watkin, General Manager. "In 2014 we won 50 races and had over 100 top ten finishes. We took the BC Provincial Road and Criterium titles, and had two top ten placements in the National TT Champs in Quebec. We also had two of our guys selected to race in the 2014 Tour of Alberta. The icing on the cake was having Cody Canning win the Grand Prix Cycliste Pro Sprint Challenge against some World Tour guys. In 2015, we plan to continue to produce breakthrough results, but with a stronger focus on major criterium and circuit races."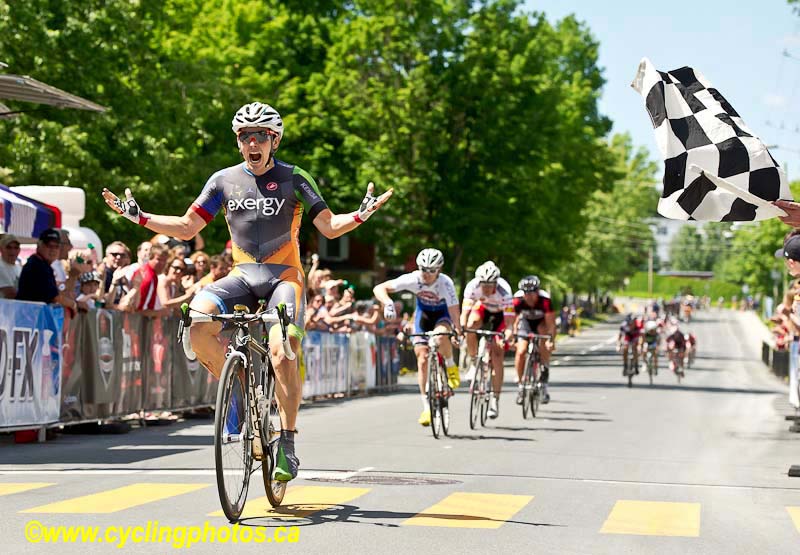 Ben Chaddock winning the 2012 National Criterium Championship
The big news for the 2015 is the addition of former pro racer and 2012 Canadian National Criterium Champion, Ben Chaddock as the team's new Director Sportif. After a pro racing career with pro teams Exergy, SmartStop, and Louis Garneau/Quebecor, the Whistler, BC, native made the decision to wind down his racing for 2015 and focus on giving back to the BC cycling community, while also ramping up his coaching business, Toque Coaching.

"It is time to focus on new dreams and I'm really excited to start this journey by sharing my alpine skiing and cycling experiences with the Russ Hay's crew next season," says Ben.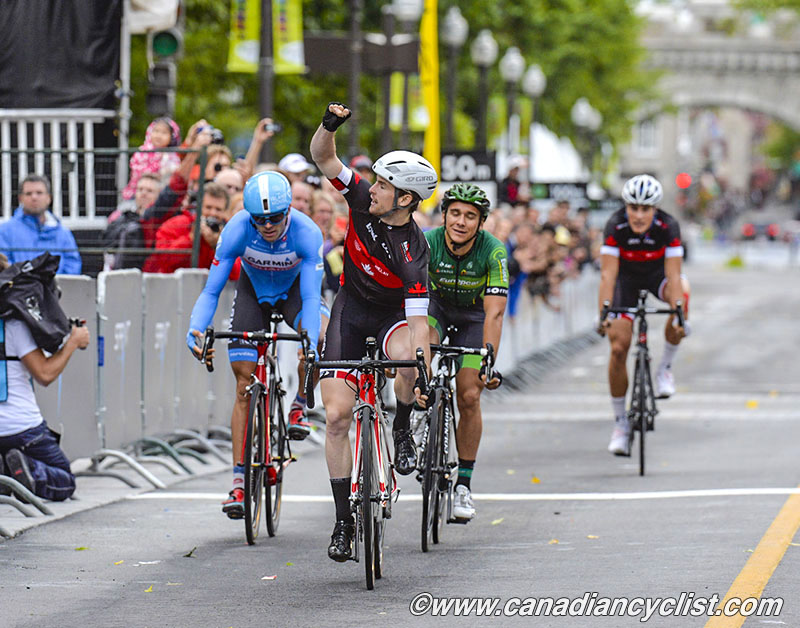 Cody Canning wins the Grand Prix Cycliste Pro Sprint Challenge

Returning to the team is defending BC Road Cycling Champion, Cody Canning, who had a breakthrough performance as overall winner of the 2014 Grand Prix Cycliste Pro Sprint Challenge. "I'm happy to join such a passionate group of sponsors and riders for another season of cycling antics." says Cody.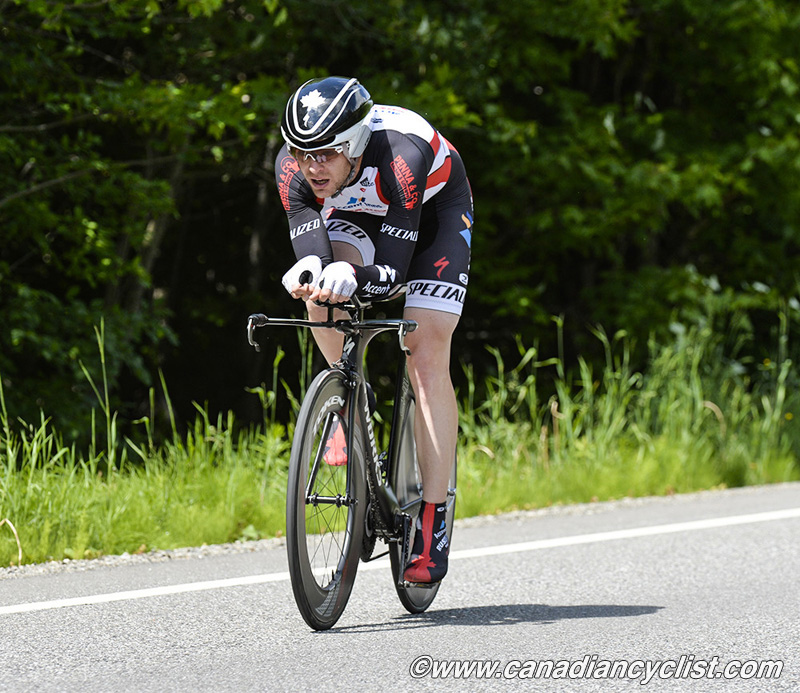 Curtis Dearden
2013 Canadian National Time Trial Champion, Curtis Dearden, is also returning to the team and will be splitting his racing time between road and track for the 2015 Season. While new to track racing, Curtis is setting some big goals to podium at the Canadian National Track Cycling Championships in Milton Ontario. Another ambitious goal is to regain the Canadian National Time Trial title that currently belongs to Canadian World Tour pro, Svein Tuft.

Victoria's Jordan Landolt, who is the reigning 2014 BC Time Trial Champion, joins the team as a relative newcomer to the sport, but with 2014 results that most experienced racers would be envious of. "After seeing the success this team had last year, I'm looking forward to being a part of it and doing what I can to contribute as well. I look forward to riding with experienced guys like Cody and Curtis who have had great success at the top level and learning some of their tricks of the trade." Along with Curtis Dearden, Jordan will become an integral part of the team's plan to regain the National Time Trial Title.

A big addition to the team is Federico Marchiori, who makes the switch from Team H&R Block to Accent Inns/Russ Hays p/b Scotiabank. He brings extensive experience and a huge engine to the team and will be an instrumental player in hilly circuit races and criteriums. The team expects Federico to play a leading role in its racing campaign in California in April 2015.

Two young rising cycling stars from Manitoba will be joining the team for 2015. Danick Vandale and Oliver Evans, who are the new U23 and Junior National Cyclocross Champions respectively, will be moving to BC in the Spring of 2015 and devoting a full road racing season in BC and Western USA. As National champions, Danick and Oliver will be representing Canada at the World Cyclocross Championships in Tabor, Czech Republic, in February 2015. They have just announced a crowd-funding campaign to raise the necessary funding for their trip as it is self funded. For more info, visit www.gofundme.com/cyclocross-worlds.

"We have the most complete roster we have ever had, with potential winners in road, track, and cyclocross." explains Jon Watkin. "This will give our sponsors even more exposure value, especially in the off-season months."

Russ Hay's the Bicycle Shop and Accent Inns continue as co-title sponsors of the team with Scotiabank as presenting Sponsor. "This team is amazing and we are thrilled and proud to continue to have our Accent Inns name as part of it. This takes our bike friendly hotel program to a whole new level. It's fantastic to hear our staff and customers talking with excitement about the fantastic results that the Russ Hays Accent Inns team always delivers," Says Mandy Farmer, President & CEO of Accent Inns and Hotel Zed. Accent Inns & Hotel Zed provide bike friendly accommodations at 6 BC locations as part of its "Bike Love" initiative. This includes providing ground floor storage rooms, Bike wash and Tuning Stations, Access to Advanced Tool Kit, and access to their Laundry Room.

"It goes without saying, 'WE BREED SPEED'." says Martin Clermont of Russ Hay's the Bicycle Shop, "The Russ Hay's Racing program continues to set new milestones every year, and I am personally pumped to see what we can do to raise the bar even further for 2015." His business was recently voted for the second year in a row as one of the top BC Bike Shops by Canadian Cyclist.

The team will continue to be supported by Specialized Bicycles, and will be racing on the new 2015 Tarmac and Venge models. National Cyclocross Champions, Danick and Oliver, will be racing cyclo-cross on the winning Crux model.

Champion Systems joins the team as the new exclusive apparel sponsor and will be outfitting the team with their latest performance and casual products.

EnergyLab Sports also partners with the team by providing for high performance road and cyclocross carbon wheels.

Cycles Lambert-Look also joins the organization as exclusive pedal sponsor by equipping the team with the new Look Keo Blade Carbon pedals.

Other new sponsors include: Powerbar, Claricoast Management Consulting, Toque Coaching, Harbour City Kitchens, and Bin 4 Burger.

Returning Sponsors include: Rumble Drink, Dave Wheaton GM, 2% Jazz Coffee, Robert Cameron Law, Dale Collins Prosperity Planning, Catalyst Fitness, and Ryders Sunglasses.

The Team is currently planning for its first off-season December winter training camp in Victoria BC.

2015 Team Roster

General Manager: Jon Watkin
Director Sportif: Ben Chaddock

Cody Canning - Victoria, BC
Curtis Dearden - Victoria, BC
Jordan Landolt- Victoria, BC
Dylan Cunningham - Victoria, BC
Raph Lalumiere - Victoria, BC
Luke Koolman - Victoria, BC
Normand Richard - Vancouver BC
Zayne Heyes - Vancouver BC
Federico Marchiori - Castelfranco Veneto, Treviso Italy (Resides in Vancouver)
Oliver Evans - Winnipeg, MB
Danick Vandale - Winnipeg, MB