December 6/14 11:48 am - Tara Whitten Interview

Posted by Editoress on 12/6/14

Olympic bronze medallist and three-time world champion Tara Whitten will be returning to racing for the 2015 season. The Edmonton-based rider will be riding for The Cyclery-Opus squad out of Ottawa, as she shifts her focus from track to road, specifically the Women's Individual Time Trial [see Daily News - Tara Whitten Returns to Racing with The Cyclery-Opus].

We had the opportunity to speak with Tara yesterday from her home in Edmonton, where she is currently working on completing her PhD in Neuroscience at the University of Alberta.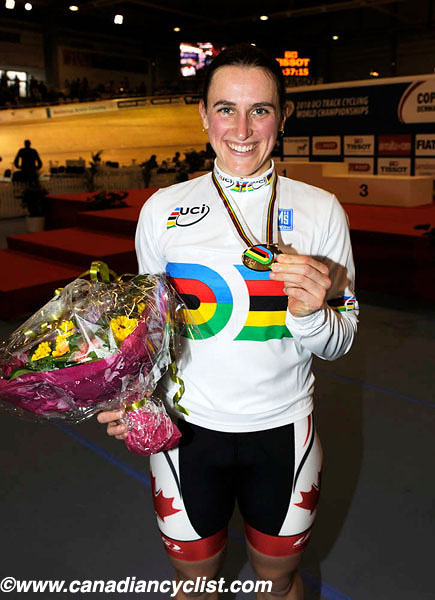 Canadian Cyclist: You and I talked about your plans in 2012 after the Olympics, and you weren't sure at that time what your future would be in cycling - what made you decide to come back?

Tara Whitten: Ever since London [Olympics] I've had it at the back of my mind that there was the possibility of coming back. But my priority then was school, and just taking a break from the competitive side, after such a big push towards London.

I guess over the last six months or so I started thinking about whether I was going to go for it and, if so, this was the time to make the decision.

So, I started training more methodically and talking to some people, and putting together a plan of how I could approach it. I just had a 'wait and see' attitude of whether or not I was enjoying the training, and what I found was that I was really looking forward to training again, and really enjoying the process. That's what made my decision.

CC: This time, your focus is the road time trial and not the track.

TW: Yes, that was something that was also in the back of my mind, because in 2011 I was fourth on the road at the world championships [in the time trial], and I was also fourth on the track [at the 2012 world championships and Olympics in the Omnium], and I had chosen to focus on the track.
Right: 2010 World Champion, Omnium
So it was always in the back of my mind what I could have done if I had focussed on the road. So when I chose to come back, that was the one thing that I thought I could do, to see what I could do in the time trial.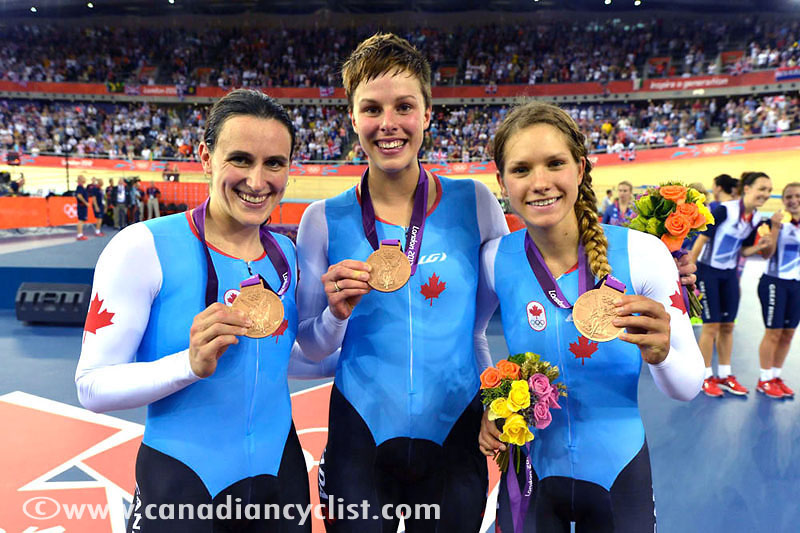 2012 Olympic bronze medalists: Tara Whitten, Gillian Carleton, Jasmin Glaesser
CC: So does this mean you will strictly concentrate on the time trial, or will we see you on the track?

TW: I definitely miss the track, and it is something that I really love. But I feel like I need to focus on 100% on one thing, especially because I'm trying to finish school still. I only have so much time, so I want to focus 100% on the time trial and see where that takes me.

CC: You aren't the first Canadian woman to focus on the time trial - Clara Hughes did the same thing leading up to London. Did seeing what Clara did factor in on your decision, or did you come to it on your own?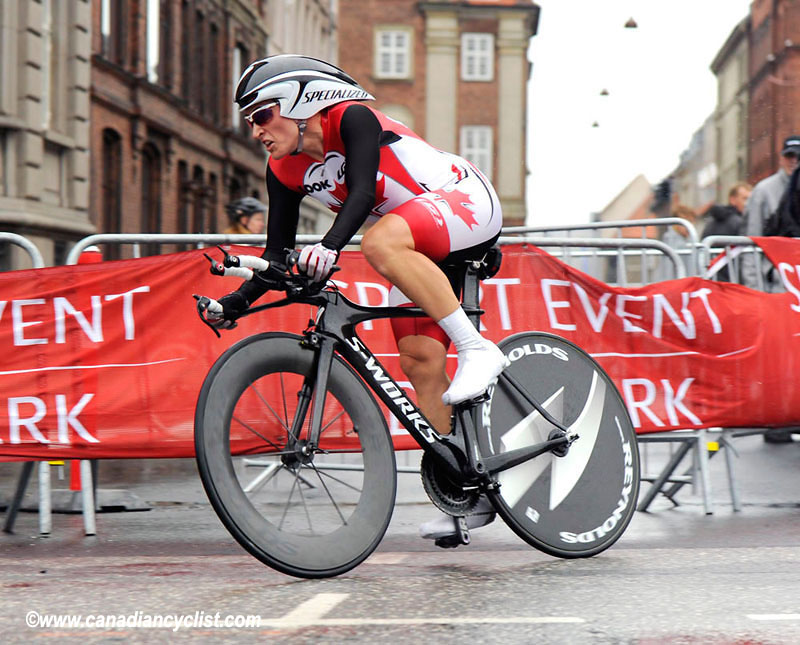 2011 World Championships
TW: I think it's a bit of both. Clara's always been an inspiration to me, especially when I first came into cycling. Just knowing that she was able to switch sports [Tara started out as a nordic skier], I saw what she did.

But at the same time, I think it's just a decision that makes sense for me. It's an unfinished thing in the back of my mind, to see what I can do in the time trial.

CC: Do you have any hopes or ambitions of qualifying for the Pan Am Games in Toronto?

TW: I'm not sure what the qualifying process is going to be and if it's possible.

CC: You have the school commitments to finish up your PhD - how is that going?

TW: School is coming together. I'm getting ready to submit a paper right now that's been in the works for a while, actually since before London [laughs]. And I'm figuring how things will fit together for my thesis, so it's coming together.

CC: You said Road Nationals is a priority. Are there any other events you will do? What about Gatineau?

TW: I'll definitely do some racing before Nationals and Gatineau is definitely in the plans. Anything where there is a time trial and I can test myself is important. Also some stage racing to build up my endurance and racing skills. The exact details are all still in the works.

CC: You said you've been doing some training - rollers, cross-country skiing, working on base fitness?

TW: My winter is going to include a lot of rollers plus some skiing, since I'm going to be here [Edmonton] to finish school.

CC: So no chance we will see you in Milton at Track Nationals at the new velodrome?

TW: Well ... I had considered it, so it still could be a possibility. I'll be out there at some point for aerodynamic testing.

CC: So what's your schedule going to be? You signed with The Cyclery-Opus team for next year; so have you discussed a program yet?

TW: I'm still working on that and figuring out my racing schedule and how everything is going to fit together. But obviously Road Nationals are the first major step in making a real come-back. I'll do some racing before that, but that's going to be the first real focus.

I'm really excited that Chris [Reid, from The Cyclery-Opus team] contacted me about riding with them. This is a perfect opportunity to be involved in the development side of the sport as well, and work with a professional team. They are being very accommodating for me.