December 16/14 17:08 pm - Pan Am/Parapan Am Road Race Routes Released for Toronto

Posted by Editoress on 12/16/14

The toughest endurance competitions at the TORONTO 2015 Games will happen along Lake Ontario next summer, offering runners, race walkers and cyclists - and a potential broadcast audience of millions of viewers - an incredible view of the city skyline as they cross the finish line.

The map detailing the route for the Pan Am road race, as well as the Parapan Am road race have been released (see below). Course lengths have not been released. These competitions are part of the Ontario Place West Channel (OPW) venue contained within CIBC Pan Am Park (PAP), located at Exhibition Place.

All road races in Toronto will start and finish on Lake Shore Boulevard. However, the Pan Am and Parapan races will have laps of different length and levels of difficulty. The Parapan course will eliminate a loop around the Canadian exhibition grounds.

Both courses have short, steep climbs at the western end of the circuit - up Colborne Lodge Drive in High Park, and then up Elias Ave/Ellis Park Road just west of the Park.

The Pan Am and Parapan Am race routes were designed under the direction of international experts to meet the critical technical requirements that govern Olympic, Paralympic and world championship courses.

To ensure a world-class field of play, as well as the safety of athletes and spectators, the race routes will require road closures at certain times on Lake Shore Boulevard and nearby streets.

The majority of these closures will take place in off-peak travel hours or on weekends to minimize disruptions to traffic, business and residents in the race area. For information on closure and reopening times, dates and street locations, please visit TORONTO2015.org/venue/ontario-place-west-channel.

Earlier this month, the TORONTO 2015 Pan Am/Parapan Am Games Organizing Committee (TO2015), the City of Toronto and Toronto Police Service met with businesses located along the race routes, as well as Exhibition Place tenants to help them prepare for how to best operate during the Games.

A public information session will also be held for affected local area residents after the busy holiday season in early January.

Businesses and clubs in this area will be able to stay open during the Games, however customers are encouraged to plan ahead and allow for more travel time as no matter the mode of travel, it will take longer to reach their destination and, in some cases, routes will change at Games time.

On a local level, the Lake Shore community is directly receiving approximately $4 million in roadway improvements as a result of the TORONTO 2015 Pan Am/Parapan Am Games.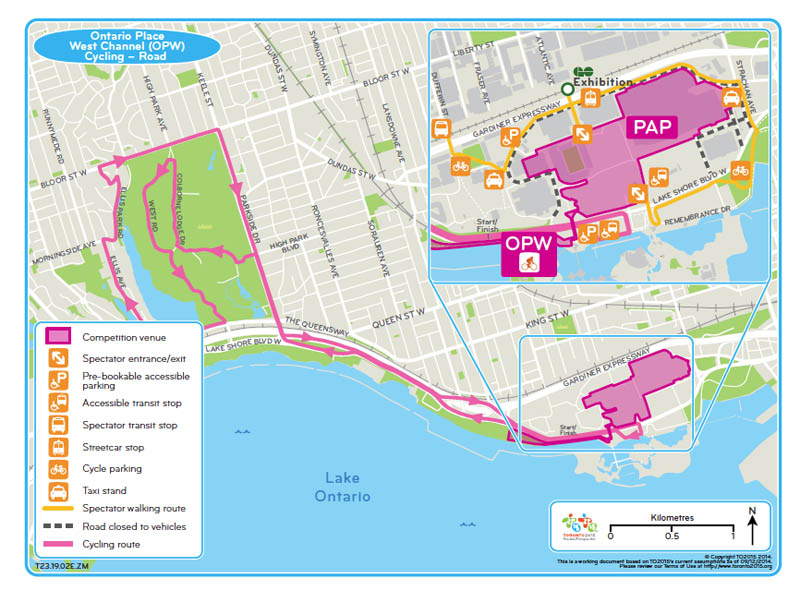 Pan Am road race course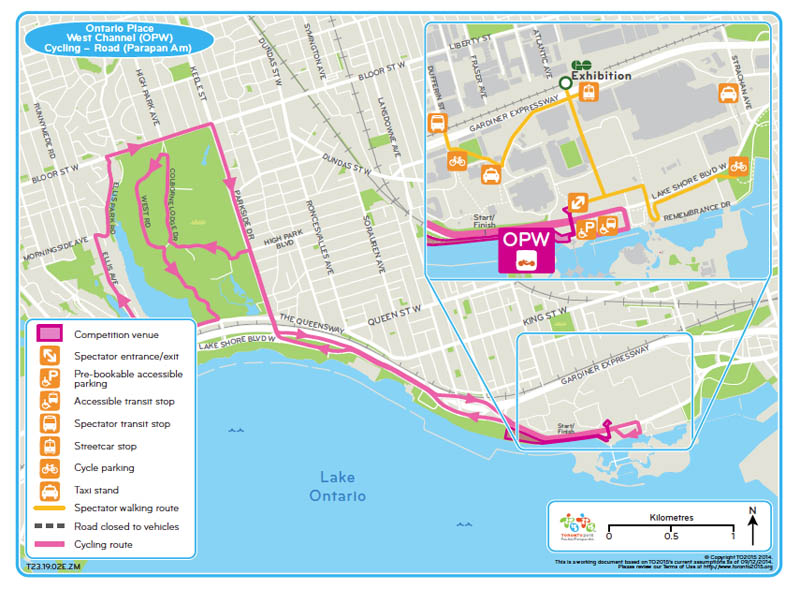 Parapan road race course