December 22/14 12:07 pm - 2014 Roger Sumner Award Winners

Posted by Editor on 12/22/14

In addition to our annual CC Awards, Canadian Cyclist is pleased to announce our choices for the 2014 winners of the Roger Sumner Award for the Best Newcomer. The Roger Sumner Award is named after Dr Roger Sumner, who passed away in December of 2000 after being struck by a car while riding his bike. This award is only presented if we feel that there has been a suitable break-through performance by a Canadian rider. This year, for the second time, we have chosen two winners for this award - Kate O'Brien of Calgary, AB and the Men's Team Pursuit squad.

Kate O'Brien is a member of the Canadian bobsled team, who attended the 2014 Olympic Games in Sochi, Russia, and then shifted her efforts to track cycling, joining Monique Sullivan for the women's Team Sprint, as well as racing the 500m Time Trial, Keirin and Sprint events. O'Brien and Sullivan were fifth in the Team Sprint at the Pan Am Track Championships, O'Brien was fourth in the 500m Time Trial and fifth in the Keirin. O'Brien and Sullivan are currently ranked 13th in the world in the Team Sprint.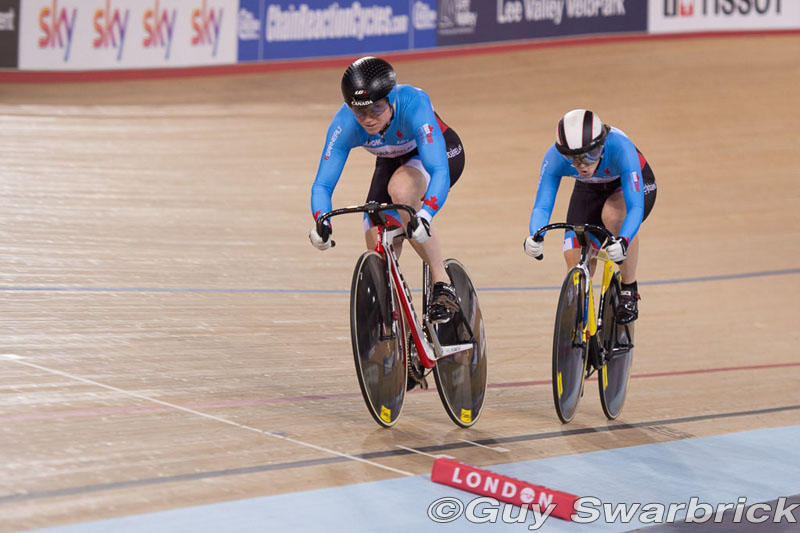 Kate O'Brien leading Monique Sullivan, Team Sprint Canada at London World Cup

The men's Team Pursuit program is still in the development phase, but managed to make the medal rounds at the Commonwealth Games in July, finishing fourth overall. The team also finished sixth at the Pan Am Track Championships. The core of the team consists of Aidan Caves, Sean Mackinnon, Remi Pelletier-Roy and Ed Veal, with riders such as Zach Bell, Adam Jamieson and Eric Johnstone also participating at different events.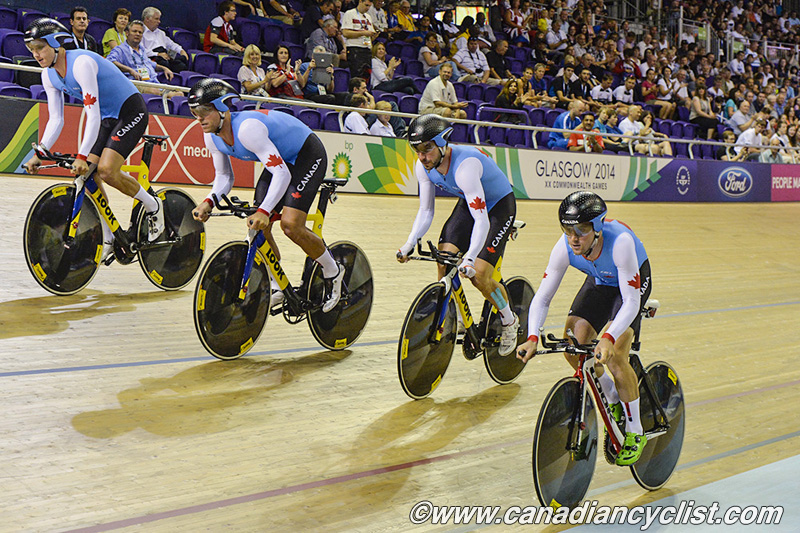 Team Pursuit heads out on Qualifying round at the Commonwealth Games in Glasgow

Roger Sumner was highly involved in the development of cycling in Canada. He was a founding member of the first B.C. Bicycling Association, now known as Cycling B.C. He worked as a dedicated volunteer for many years, sitting on the Boards of the Provincial and the National Associations. He also contributed to many committees through the years, and realized one of his long time dreams when he became a national champion (Masters Road) in 1996.

An admired coach and respected competitor, Roger participated in numerous competitions as a true ambassador to cycling. Roger was particularly involved in encouraging the development of new riders. He was a mentor for many great Canadian cyclists, including Jocelyn Lovell, Alex Stieda, Sara Neil, Ron Hayman and Brian Walton.

Congratulations to our winners!