December 24/14 11:19 am - Best Bike Shops Winner - Parry Sound Bikes

Posted by Editor on 12/24/14

One of the bike shops chosen for the 2014 Canadian Cyclist Best Bikes Shops was a first time winner in Parry Sound, Ontario - Parry Sound Bikes. We dropped into Parry Sound Bikes to present their certificate and to see what led to them being chosen by our readers as one of the top local bike shops in Canada.

Parry Sound Bikes is a relatively new shop, having been opened in April of 2013 by owner Aleesha Mullen. Mullen is originally from Parry Sound, but moved away to work, and to go to school in Ottawa. While in Ottawa Mullen worked in bike shops and when she moved back to her home town it wasn't long before she came up with the idea of opening her own shop.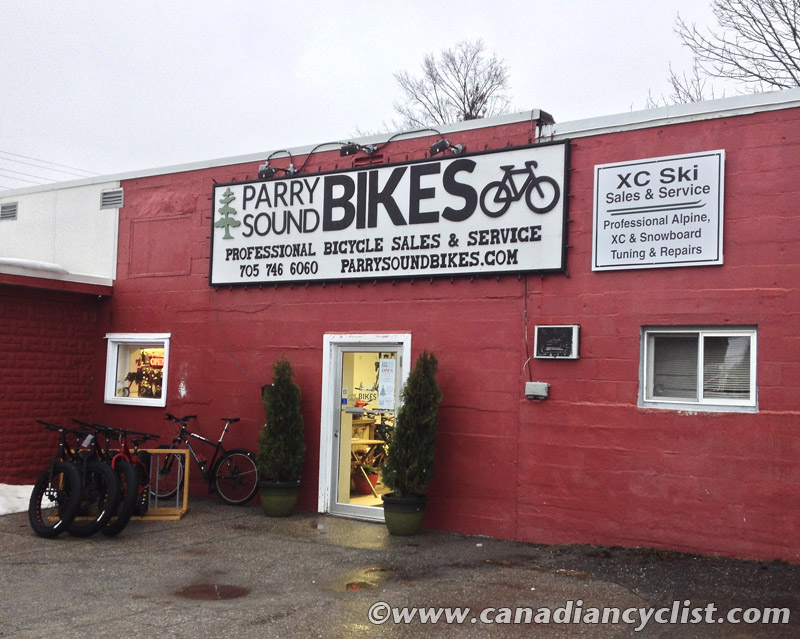 Housed in what was originally a dairy, the 1275 square foot shop has 900 square feet of showroom, with a shop area in one corner that is open to the public. The main bike brands Parry Sound Bikes carry are Specialized, Devinci and Opus. Roughly 50% of sales are mountain bike, with the other half split between hybrid and road bikes. More recently, Aleesha says the shop has been having good success with fat bikes and, for the first time, selling cross-country skiis this winter.

Aleesha says her main goal is "just to get more people on bikes". To that end, the store is deeply involved in the community, helping to get the skateboard and BMX park revitalized and, more recently, working with local riders to build a pump track. They are also active in local programs for bike lanes as well as trying to develop bike trails.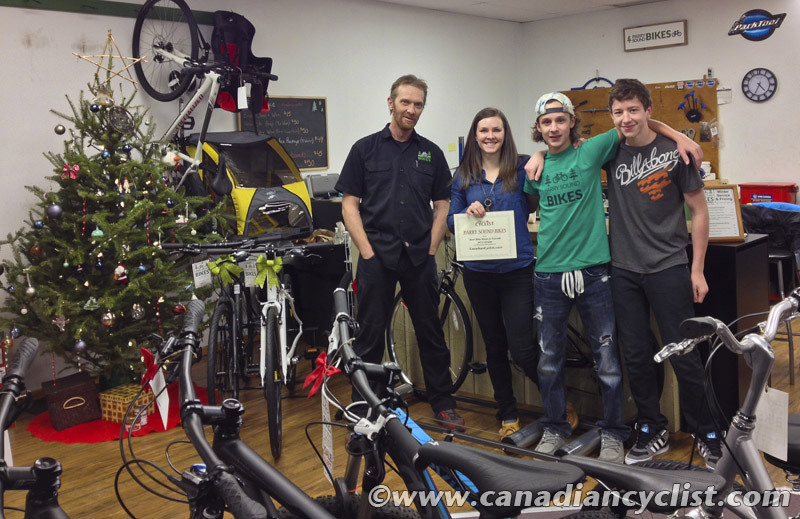 L to R: Dave Scoffield, Aleesha Mullen (owner), Jeremy Hobourn, Matt Marshall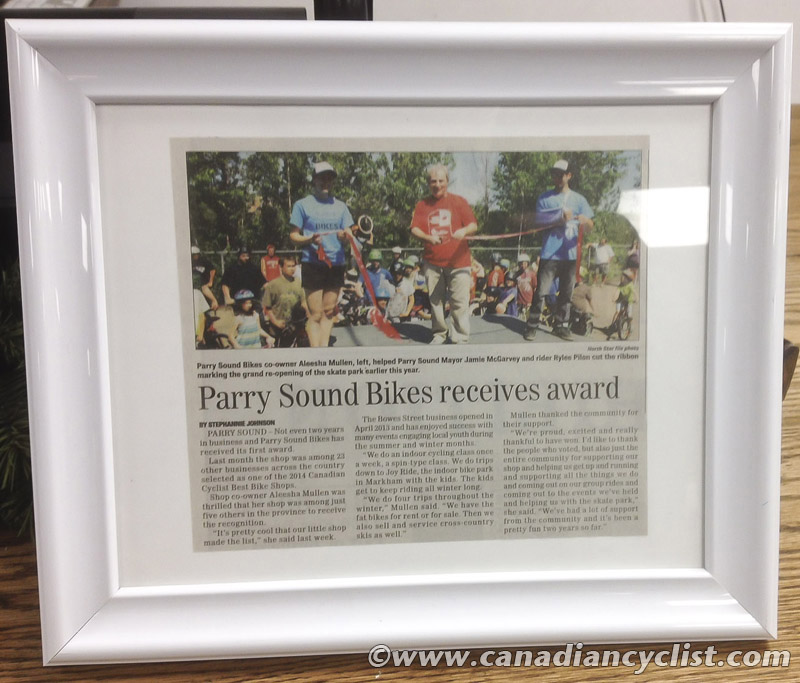 The efforts and comments from customers speak to the loyalty Parry Sound Bikes has generated. They only found out about the Best Bike Shops vote three days before it ended, posting a link on social media. From there, the regular customers swung into action, driving a campaign that saw the store surge in the standings.

There was a huge outpouring of comments; here are a few:

- They are the kindest business owners, and encourage our youth to get out and cycle

- The service is great. Aleesha is very, very knowledgable and very attentive in her service to her customers.

- Fantastic community involvement and a strong passion for biking as well as fitness and fun through sport!

- Great local company doing amazing things for our small community.

- They are having a positive influence on changing the attitudes of our town toward sustainable transportation even for old lumpy guys!

- This shop has engaged the youth of Parry Sound. They were part of the team to improve the skate board/bike park and are part of the Healthy Active movement in town. They rock!

- The owner, Aleesha, makes time to encourage people of all ages to become more active through biking and other forms of active transportation. She sells bikes appropriate for all ages and abilities, sits on community committees to advocate for trails, bike lanes, etc., and she runs free workshops, group rides, lots of free cycling activities for youth and, finally in a long list, was instrumental in rejuvenating the local run-down skateboard park to make it safe and attractive to young people to show off their biking skills. Aleesha is managing to inspire a culture of activity and fun in a community that badly needed her enthusiasm and ideas!

- Not only have they provided me with great personal attention and service, Jamie, Aleesha and their staff have made a positive impact on our community. It's not unusual to find many young kids hanging around their shop learning about positive lifestyle choices and skills that will last a lifetime. What a welcome addition to our town. Their dedication to the youth of our community - rebuilding the bike park, having group rides, and always an open door - makes Parry Sound Bikes one of Canada's best bike shops bar none!

- They are so friendly and knowledgable!! The kids in town hang out there, I was there one day when Aleesha had the kids tell her how much change they were to get back, and they could pick a sticker they wanted. She even gave the one boy a piece of paper and helped him figure out the answer!! How many bike shops take the time to teach. They also have a wonderful Tuesday night bike ride for all levels. Love them!!!

- They treat my grandson with the same courtesy and respect as they do adults

- They are awesome people that allow all the kids to work on their bikes and hang out in the shop, giving them a safe place to congregate and to learn about healthy living and cycling.

- They are wonderful role models for our youth of Parry Sound. Very welcoming of all the youth, provide supervision at our local bike park, include the youth on rides! A welcome new business in our community!!!

- Their community involvement. They were an integral part of the Parry Sound skate park revitalization. They are fantastic local business owners who give back to the Youth of Parry Sound!!!

- Doesn't matter if the bike was bought there they will always help the kids! Whether their tire needs air or they're 2$ short, they always are there for the kids! They did a grand opening, gave away a Free Agent bike. Kids here need them!, & love seeing & knowing all the kids names! They are an amazing part of our small town!

- They are always encouraging the kids to get out and about. Built a town bike park. Take kids on trips. Have flash contests on social media to keep everyone's interest. And hands down the friendliest group I have ever encountered. Yes I will be getting my youngest a bike this year from them.