December 27/14 8:10 am - Pearl Izumi & Shimano Join M1 Pro Cycling Project

Posted by Editoress on 12/27/14

The M1 Pro Cycling project has partnered with Pearl Izumi in the delivery of the H&R Block Pro Cycling Team's technical cycling clothing and Shimano for the team's drivetrain and PRO components.

The H&R Block Pro Cycling Team welcomes Pearl Izumi, Shimano and PRO to the M1 Pro Cycling project. The project's goal is to align with global leaders and Pearl Izumi, Shimano and PRO are a perfect fit in each of their respective industries.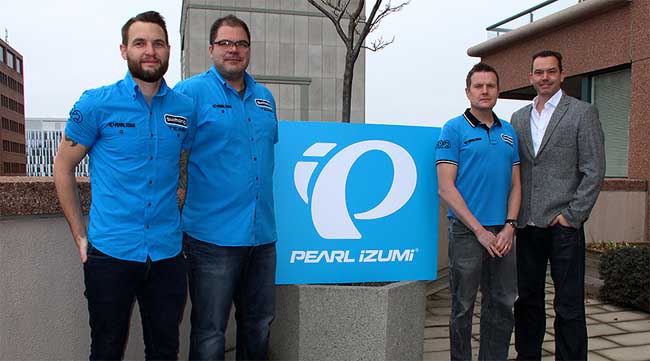 Left to right: Dave Blondel (Shimano marketing co-ordinator), Joe Mignacca (Pearl Izumi sales manager) and Glenn Cameron (Shimano soft-goods division manager) with M1 Project's CEO Mark Ernsting. (Photo Credit: Pearl Izumi)
Pearl Izumi will provide the team with its Custom Team apparel that has been tested and proven at the World Tour level. "As an athlete you want to know that your clothing has a custom fit and allows you to perform in all conditions without any discomfort," states Garrett McLeod, H&R Block Pro Cycling Team rider.

Working alongside athletes to provide custom cycling kits of the highest standard remains a key priority for Pearl Izumi. "Our design philosophy at Pearl Izumi works to create a product which offers precise interaction with the human machine in motion. From our Anatomic 1:1 Chamois to our Aero fabrics we are proud to offer the H&R Block Pro Cycling Team our flagship products," states Joe Mignacca, Sales Manager at Pearl Izumi Canada.

Having the best available equipment in professional cycling is an essential component to the long-term success of the team. "We are in a position to align ourselves with partnerships that want to grow with the team and believe in the goals and objectives that we want to accomplish," says M1 Pro Cycling Sponsorship Director, Robin Clegg. Working with companies that have an international presence elevates the profile of the project not only in Canada, but also as a team in the UCI America's Tour.

Marketing Coordinator for Shimano/Pearl Izumi Canada, David Blondel adds, "We are excited for the opportunity to showcase our brands at this level of competition. The M1 Pro Cycling project is another step forward in Canadian cycling - adding to our existing cycling history and, in part, working to build the sport we love across our collective cycling communities as a whole."

Additional to the Pearl Izumi partnership, Shimano will be the team's official drive train provider and PRO will outfit all the bikes with: bars, stems and seat posts. "When we began the conversation with Pearl Izumi and Shimano, I was immediately impressed with how enthusiastic everyone in both organizations were to become involved in the M1 Project. They saw the business opportunity to become associated with Canada's most elite cycling program and this is exactly what we want when corporations look to use the team as a marketing platform that compliments their current marketing strategies," says M1 Pro Cycling CEO, Mark Ernsting.

The team now looks forward to the official unveiling of the team jersey in the New Year.
Press release