January 30/15 12:34 pm - Rocky Mountain Blizzard - The Mountain Bikers Fat Bike

Posted by Editor on 01/30/15

The Blizzard is one of Rocky Mountain's oldest model names, and I can recall reviewing one from some 20 years previously, when I considered it to be an extremely fine hardtail. In its newest iteration, the Blizzard is the fat bike in Rocky's lineup, and it continues to be worthy of the name.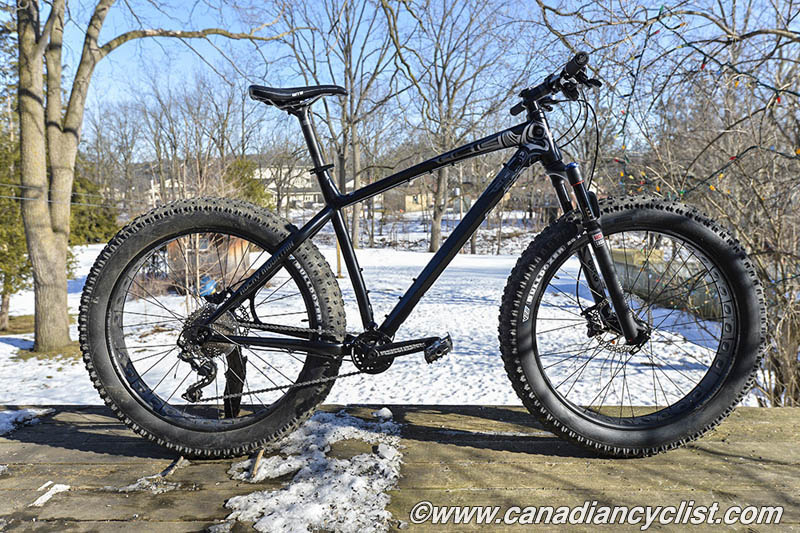 The Blizzard is offered at two spec levels, plus as a frameset. All three share the same hydroformed alloy frame, with tapered top and down tube. The frame is a sloping top tube design, with curved seat stays and chain stays. The clearances are considerably tighter than other bikes we tested, so putting a bigger tire on could be tricky. It comes in a dark grey with an understated but striking west coast indigenous totem design in silver at the head-top-down tube junction.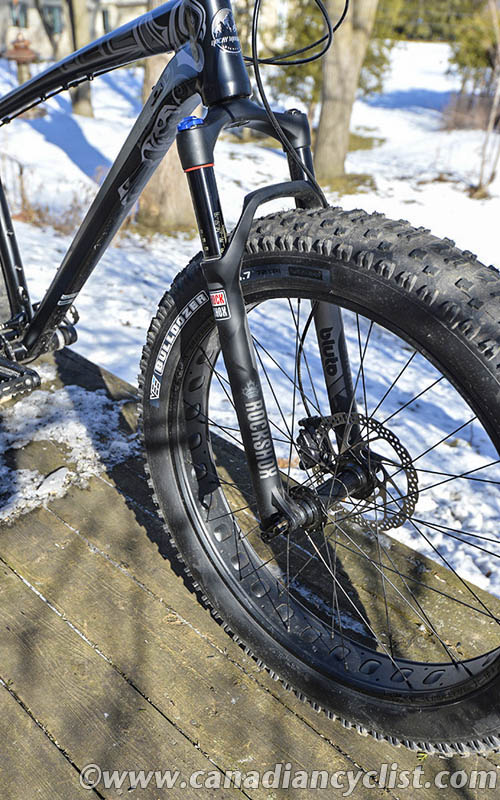 The Blizzard is one of the few fat bikes to sport the new RockShox Bluto fork
The majority of fat bikes are equipped with rigid forks and, indeed, four of the five we tested are so spec'd. However, the Blizzard is the exception, and comes with the new fat bike-specific RockShox Bluto suspension fork. A rigid fork version (with a lower spec component group) is also available, as is the frameset alone with the Bluto fork. The non-suspension equipped Blizzard Deore has the same suspension-ready frame as the Blizzard for potential upgrading.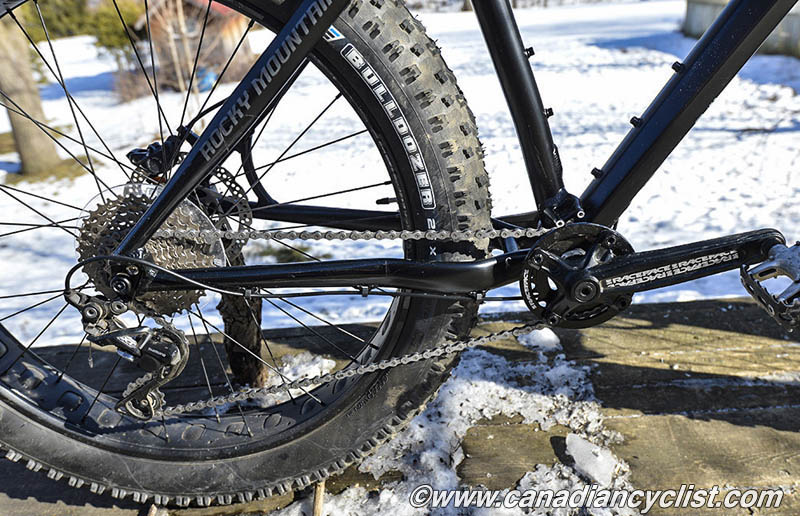 A 1x10 setup with RaceFace cranks gives a wide range of gears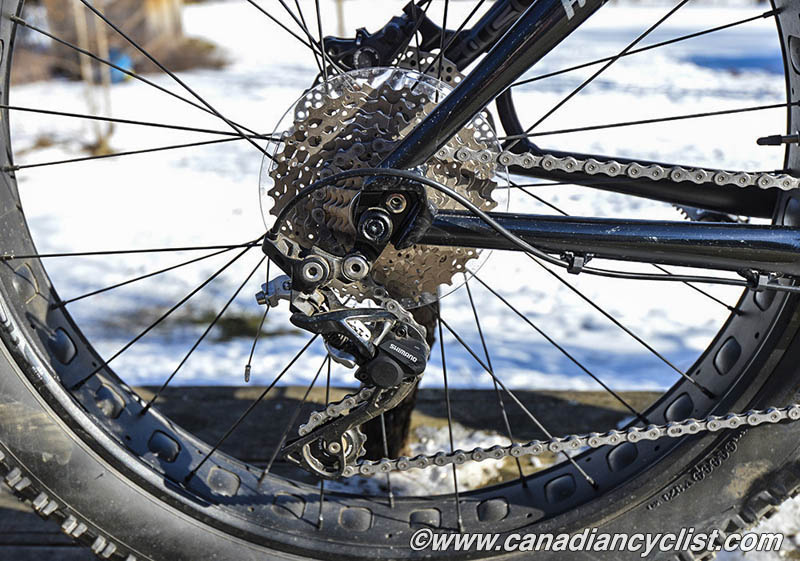 A Shimano XT derailleur provides excellent shifting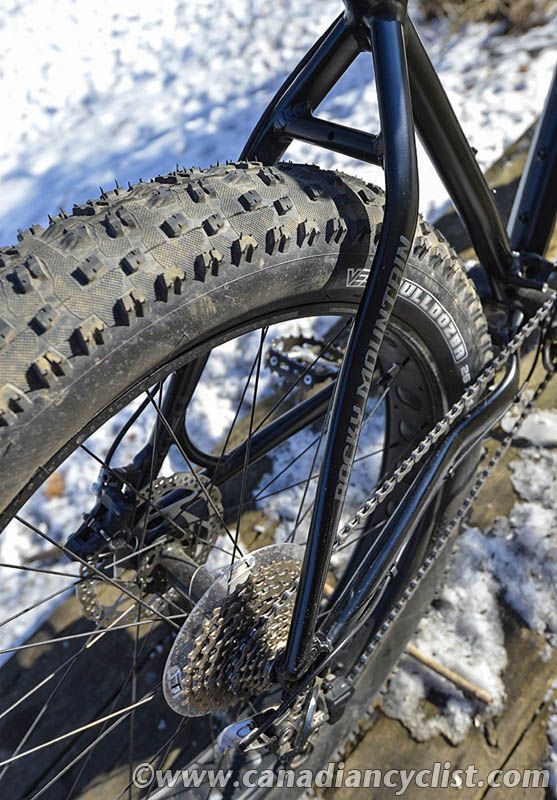 The Bulldozer tires are better in dry conditions than wet and sloppy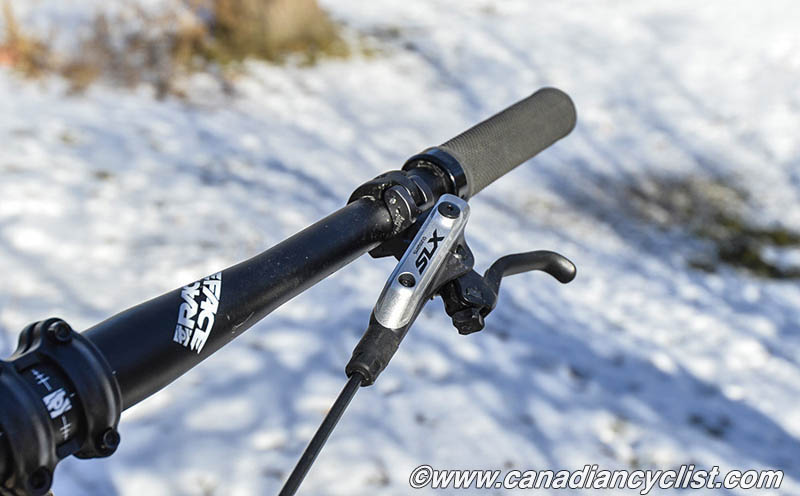 Shimano SLX hydraulic disc brakes & RaceFace bars
The Blizzard, with the Bluto fork, has a retail price of $2849, while the rigid Deore version is $1999 and the frameset (with Bluto fork) $1599. The Blizzard version which we tested comes with a 1x10 setup consisting of a Shimano SLX shifter mated to an XT Shadow Plus rear derailleur. With Raceface's new 24 tooth chainring and bashguard mounted to a RaceFace Team XC crankset in a 100mm threaded BB and an 11-36 cogset, gearing range is wide enough for any climbing. If you do decide that you want a double chainring up front, the braze-on mount is there, ready to go. Brakes are Shimano SLX hydraulic discs back and front.

The wheels are a fairly standard fat bike width of 80mm, with Sun Ringle Mulefüt rims and Wheeltech Fatso hubs. Tires are Vee Rubber Bulldozer 4.7". They are not a particularly aggressive tread, but shed mud and snow well.

The aforementioned RockShox Bluto fork uses the Solo Air technology that appears in the Reba, Pike and Boxxer lines. It has 100mm of travel and includes a rebound lockout.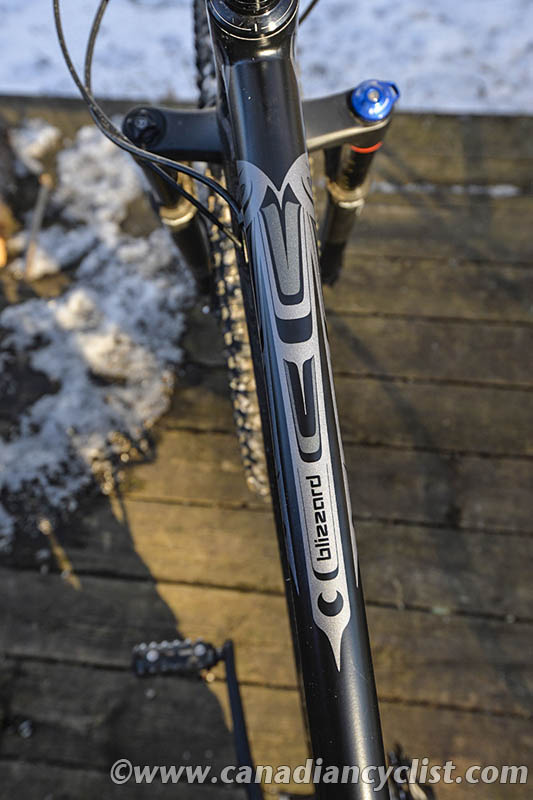 As we mentioned in our overview, contrary to what you might think, fat tires do not replace suspension, except in a minor way. What we have found in riding fat bikes without suspension forks is that it is more like riding a hardtail 29er, with the bigger effective wheel size rolling over obstacles more easily than small ones. However, without suspension you can still feel the bumps, and the wheel loses contact with the ground more easily at higher speeds, leading to loss of control.

So, the Bluto-equipped Blizzard does have a noticeable advantage on rough or rooty tracks - especially at speed - and the lockout is handy for smooth trails or pavement. It works just as well as you would expect for such tried and true technology from RockShox. However, if your riding will be primarily in snow, mud or at slower speeds, then the need for a suspension fork could be up for debate.

Leaving aside the suspension issue, the Blizzard rides like you would expect a Rocky to - good handling, excellent climbing capabilities and well balanced. For some riders, especially in snow or sloppy conditions, it may be a little too responsive, and the saddle-to-bars distance feels a little snugger than most fat bikes, in fact, more like a traditional XC hardtail. Given that this has been Rocky's past forté with the Blizzard, it is not too surprising. Some traditionalist fat bikers might see the Blizzard as a step away from a fat bike, but this is really just early days for the category, so expect more sub-genres to start showing up (enduro full suspension 29er fat bike, anyone...).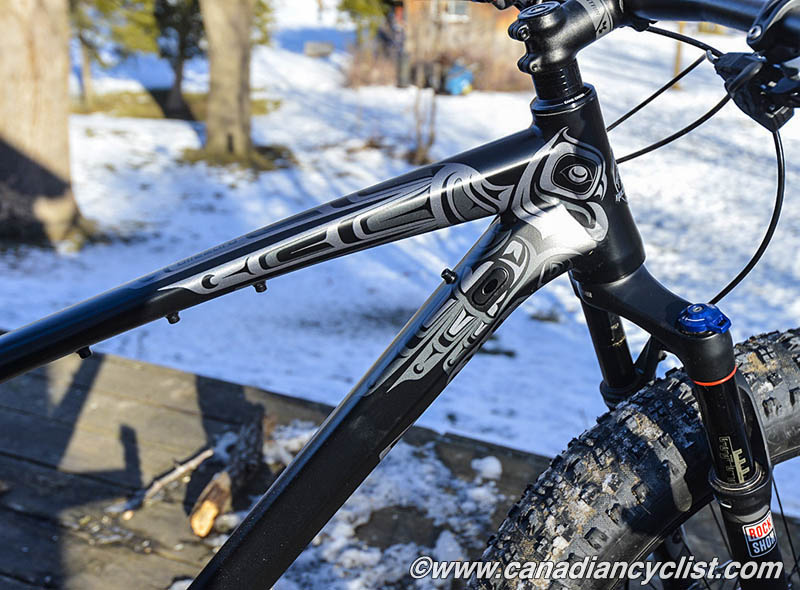 The totem graphics are striking
Rocky Mountain's Blizzard is a mountain bike with fat tires, a subtle but important distinction. I predict that the Blizzard will find a strong following among traditional XC riders who are looking to expand their riding terrains to include snow, sand or other loose traction conditions. If this is you, you won't be disappointed with the Blizzard.

www.bikes.com
Previous reviews of Fat bikes