March 3/15 10:48 am - Woods Scores first Euro Win for Optum

Posted by Editoress on 03/3/15

Optum's rising Canadian star Mike Woods claimed an emphatic solo victory at this weekend's Clássica Internacional Loulé. The first one-day race of the team's six-week stint in Portugal came one week after their impressive performance at the UCI 2.1 ranked Volta ao Algarve, where Woods captured fifth in the race's queen stage.

Starting the season at a 2.1 ranked stage race against the likes of Team Sky, Astana, and Etixx-Quickstep is no small feat. It undoubtedly helped the team on a challenging course in Loulé covering 162 km and featuring three KOM climbs.

Although Woods crossed the line alone in Loulé, smart, tactical riding made the win possible - Optum p/b KBS stood on the podium together as the best overall team. Jesse Anthony finished on the podium in third, 11 seconds behind Woods, and the team's new Canadian signing, Guillaume Boivin, finished in fifth, one second behind Anthony. Tom Zirbel finished 15th, 24 seconds back. All four riders fought into a critical late-race split, where the stage was set for aggressive riding on the hilly final kilometres to set up Woods.

The team was effective in Loulé despite sickness rippling through the athletes' home base in Vilamoura. Eric Young, battling a head cold, was able to start the race but unable to finish in Loulé. Ryan Anderson and Phil Gaimon were hit even harder by sickness, and did not start.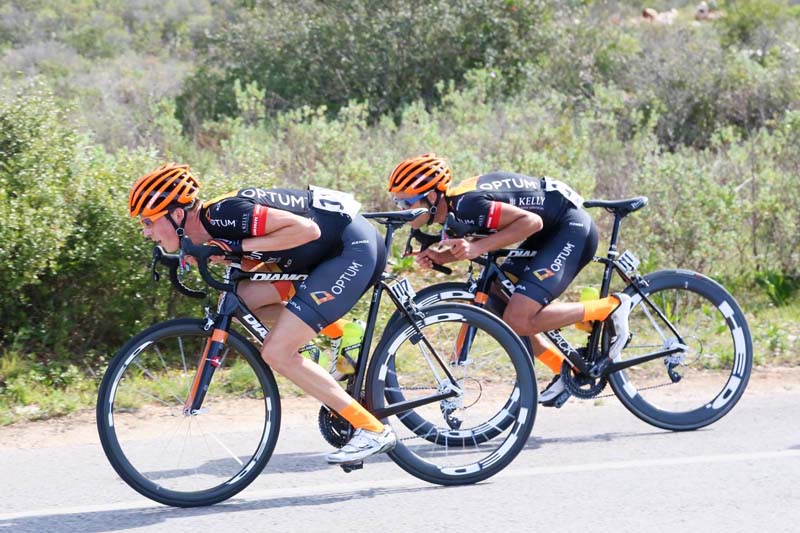 Mike Woods commented on the hard racing, effective recovery and course recon that helped the team capture their first win in Portugal: "Racing at Algarve definitely had an impact on my performance today. Throughout that race, I really felt like I was riding at a level that I have never ridden at before, and this gave me a big confidence boost. Combine that with a solid recovery week and our team pre-riding all of the course and we felt like we had a shot at winning. The team was phenomenal today, even though we had some guys that are really sick and some who were not able to start. When Guillaume told me to attack with 10km to go in the race, I had the confidence to do it, and a solid sense of where I needed to launch."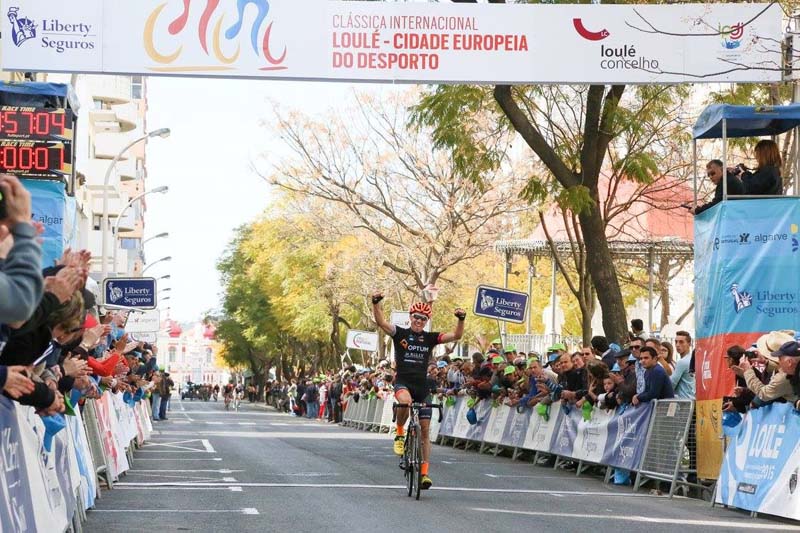 Jesse Anthony explained, "Our only goal today was to win the race, and we never plan to be greedy by stacking the results. We benefited greatly from solid teamwork and smart racing today. The team's new phenom, Mike Woods, is on fire right now, and with a guy that strong on our team, the rest of us can race with extra confidence. When everyone on the team buckles in and races with confidence in each other, the results come. Team management put together a roster that includes depth, ability and versatility. When we have such a well-rounded and motivated squad, it gives every rider the platform necessary to commit fully to our rolls on the team. I was so happy to see Mike rewarded with a win today, and to join him on the podium felt great. I have worked really hard this winter, and I am more motivated than ever to win races and help this team do the same."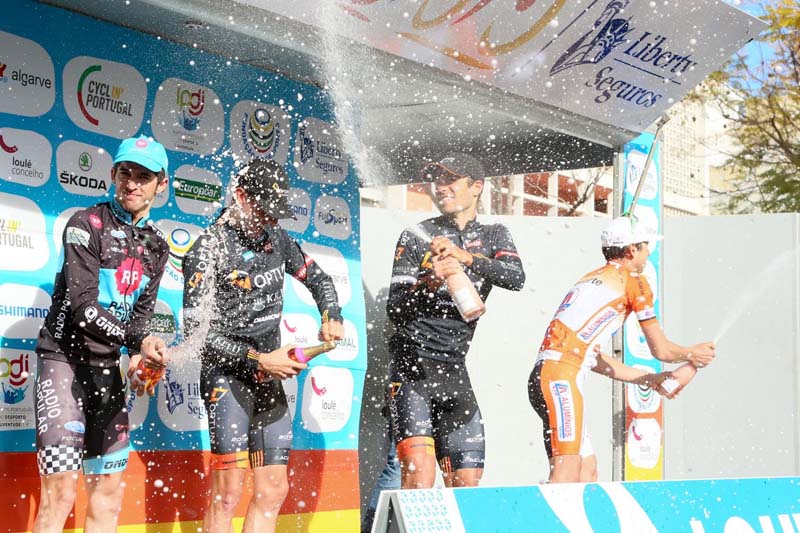 Performance Director Eric Wohlberg provided his perspective on the tactics and key rivalries that helped make the win possible: "Loulé was 160 km with three KOM's; a difficult course in general. The guys were pretty tired from Algarve and we definitely didn't come in rested. Anderson and Gaimon didn't start, Young started but was battling illness and didn't finish. The strategy for the day was to lay as low as possible, take Efapel hostage, and if things started to go pear shaped, shoot the hostage."

"We had faith in Guillaume for the finish. He has been climbing well and can unleash a terrifyingly quick sprint. However, it was also a very lumpy course, so we had to be somewhat conservative on the final climbs through the 80 - 110 km portion of the race to make sure he survived. There were lots of crashes early on, Zirbel got a bit scuffed up but he got back on his bike and was able to contribute. There were breaks going up the road all day long but we were careful to play off the rivalry amongst the Portuguese teams, and sure enough, Efapel was happy to play big shooter."

"After the last KOM, at 108 km, there was a small two-man move roughly 1:45 off the front. Efapel had their whole team on the front and were controlling the gap to the 25-man lead group through the rolling terrain - we had Anthony, Boivin, and Zirbel present. As I was advancing forward, I suggested to Woods that he should have a go from his group, which was roughly 1:30 behind the chase group. About 10 minutes later, Mike bridged across cleanly and we then had four in the move - Efapel was still happy to ride the front alone."

"With 12 km to go, we knew of a little kicker which would serve as a good launch pad for an attack. This would be the spot to throw in a soft one, particularly with Woods, if we had numbers in the move. Woods hit it twice on the short hill and was clear after his second attack. As we guessed, there was a lull in the field and the chase became fragmented, helping Woods open the gap he needed. Efapel and the other teams started to bluff and Mike stayed clear for the solo victory. Jesse and Boivin finished very strong in third and fifth."

Photos © João Fonseca
Report Optum Pro Cycling presented by Kelly Benefit Strategies