May 1/15 10:03 am - Report from Tour of the Gila Stage 2

Posted by Editoress on 05/1/15

The Tour of the Gila continued Thursday with the stage two Inner Loop Road Race. Professional cyclists adore the Tour of the Gila for days like this one: nearly 6,000 feet of climbing, technical descending and a long straightaway for a potential sprint finish.

The scene was set for heroic performances and Optum presented by Kelly Benefits Strategies delivered. The squad, uniquely set up with both a dedicated women's and men's team, earned victories with Canadian, Annie Ewart, and Boulder, Colorado-based, Eric Young.

Ewart's win seemed unlikely midway through the stage. She crashed and required medical attention yet continued racing, eventually pedaling off the front of the peloton and gaining some seven minutes over the field.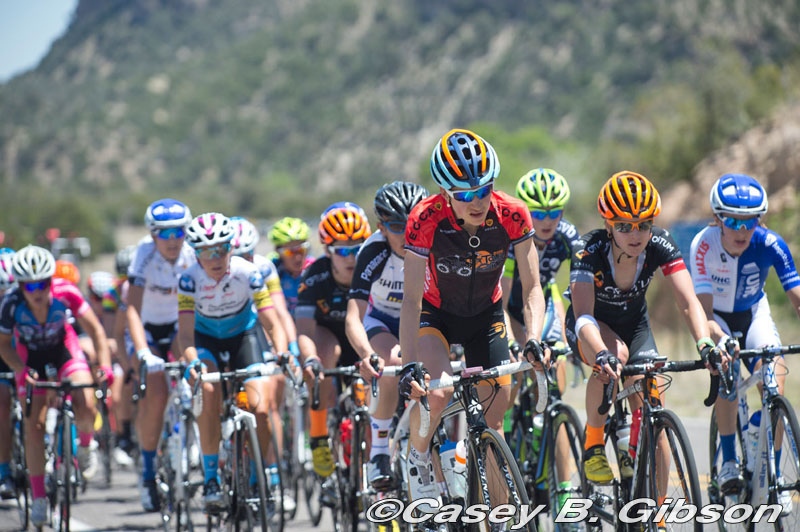 Leader Mara Abbott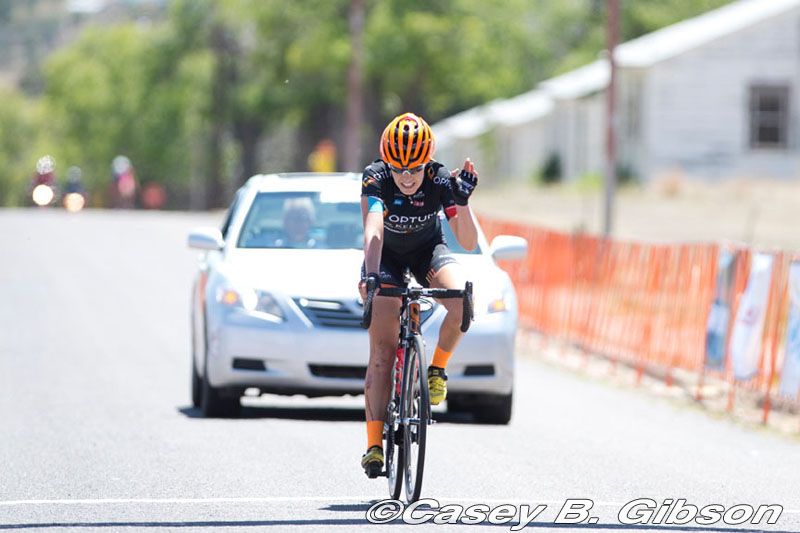 Annie Ewart crosses the line solo to take the win
Race leader Mara Abbott's Amy D. Foundation composite team gave chase but fortunately for Optum, Ewart hung on ahead of second place finisher, Olivia Dillion (Visit Dallas Cycling presented by Noise4Good) at just 19 seconds behind and third place finisher, Alison Jackson (Team Twenty16) at 25 seconds.

The women's overall top 3 remains unchanged after stage 3 with Abbott still leading overall, Abigail Mickey (UnitedHealthcare Pro Cycling Team) in second and Jasmin Glaesser (Optum) in third.

The men's race, like Wednesday's stage one, defied convention. The Inner Loop, containing several challenging climbs including Pinos Altos and Acklin Hill and 5,781 total feet of climbing meant it would be challenging for sprint-oriented riders to arrive to the finish line fresh.

But like his teammate Guillaume Boivin (Optum) a day earlier, Eric Young showed he could maintain position on the climbs despite being known as one of the U.S.'s top sprinters. Young took the race victory with Travis McCabe (Team Smartstop) in second (same time as Young) and Kiel Reijnen (UnitedHealthcare Pro Cycling Team) in third (same time as Young).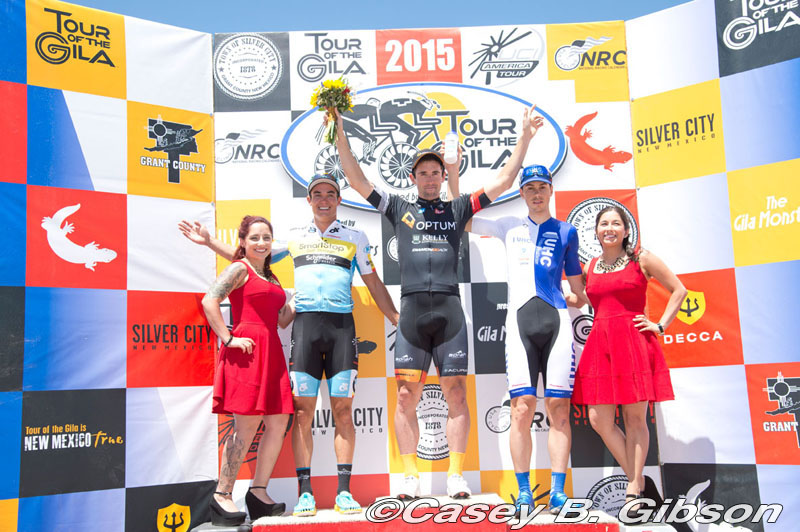 The men's overall top 3 also remained unchanged with Orgullo Antioqueño team's Rafael Montiel in first place, Boivin in second place and Montiel's teammate Cristhian Montoya Giraldo in third place.
Tour of the Gila report

Report by Optum presented by Kelly Benefits Strategies

Stage two of the Tour of the Gila, the Inner Loop Road Race, provided a respite from the towering climb of the previous stage, and an opportunity for the flatland specialists on the team to make their mark. They outdid their double-podium performance on stage one in the only way possible - by winning the men's and women's races in spectacular fashion.

Eric Young sprinted from a full team, 8-man lead out to capture his first win of 2015. Shortly after, Annie Ewart bounced back from a hard crash on the race's major descent earlier in the stage to rejoin the peloton, attack it, and eventually solo away to victory, road rash and all. The 21-year old Ewart demonstrated her growing maturity and strength on the bike in an eye opening way.

Annie Ewart

"I think I had so much adrenaline going after the crash. I was also really angry that I had gone down again (Note: Annie crashed while motor-pacing before the TTT championship). Then Olivia attacked and I saw nobody was chasing so I thought, 'Why the hell not?'. Towards the end I was starting to hallucinate. I thought the peloton was right behind me with 1.5km to go, but I think it must have just been the motorbikes. I kept telling myself you have to win this, for the team especially. I knew they would be back covering any threats behind me. I was just so happy to get to the finish line. I had nothing left. I couldn't even celebrate - I even questioned whether I could take one arm off the bar. This is the biggest win in my career thus far. I don't think it has sunk in yet."

"This team is like a second family to me. I love it. I am really happy with how things are going this year. I hope it just keep going up from here."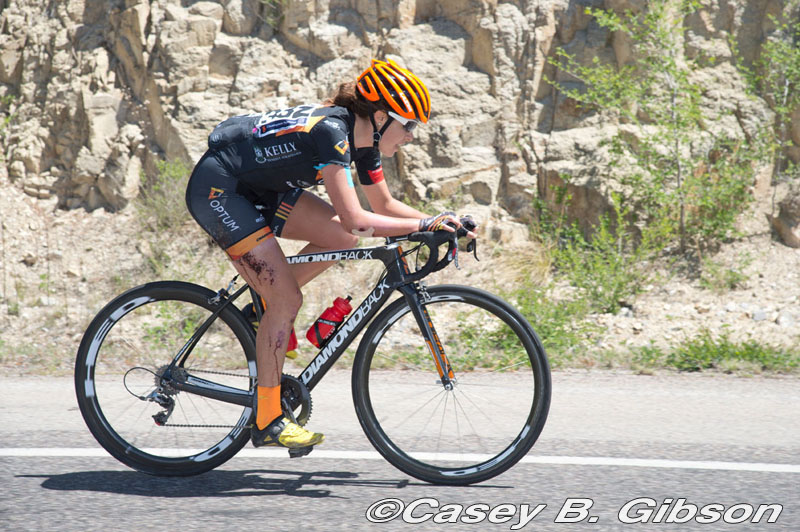 On the damage from the crash:

"Well not nearly as bad as my crash motor-pacing 2 weeks ago. Just some more road rash, and a big swollen leg, but I will be fine. Tomorrow will probably hurt. I was happy to be back to the peloton, and then saw the opportunity to go and so I did. Those 10-12 km chasing on after crashing, getting back, and then attacking were the biggest blur. I probably didn't even know what I was doing."

Results
Fatal error
: Uncaught Error: Object of class PDO could not be converted to string in /home/canadiancyclistcom/canadiancyclist.com/public/modules/news.php:544 Stack trace: #0 /home/canadiancyclistcom/canadiancyclist.com/public/modules/news.php(533): getrelatedgallery() #1 /home/canadiancyclistcom/canadiancyclist.com/public/dailynews.php(58): getDailyNewsArticle() #2 {main} thrown in
/home/canadiancyclistcom/canadiancyclist.com/public/modules/news.php
on line
544