May 2/15 8:53 am - Tour of the Gila: Stage 3 report and photos

Posted by Editoress on 05/2/15

Britton up to Second Overall at Gila After TT

Riders faced non-typical conditions for stage three Dan Potts Memorial Individual Time Trial at the Tour of the Gila on Friday. Quiet winds barely pushed the American flag outside the Tyrone Post Office, site of the stage start.

Expectations were heavy on the men's side for Tom Zirbel (Optum presented by Kelly Benefits Strategies) starting as the out-and-out favourite while predictions for the women's race varied.

Starting in reverse overall standing order, the men's field set off for the 16.15 mile time trial at 9:15 a.m. Near midway, impressive times were posted by Evan Huffman (Team SmartStop) in 34:38 and Brisbane, Australia's Jordan Kerby (Drapac Cycling Team) in 34:21.

But when Zirbel stopped the clock in 33:50, his time would eventually prove race-winning.

"This morning I felt the sting in my legs typical of the third day in a stage race," said Zirbel. "These were the calmest conditions I've ever seen on this course which made my strategy more about how to deal with the terrain and less about battling the elements."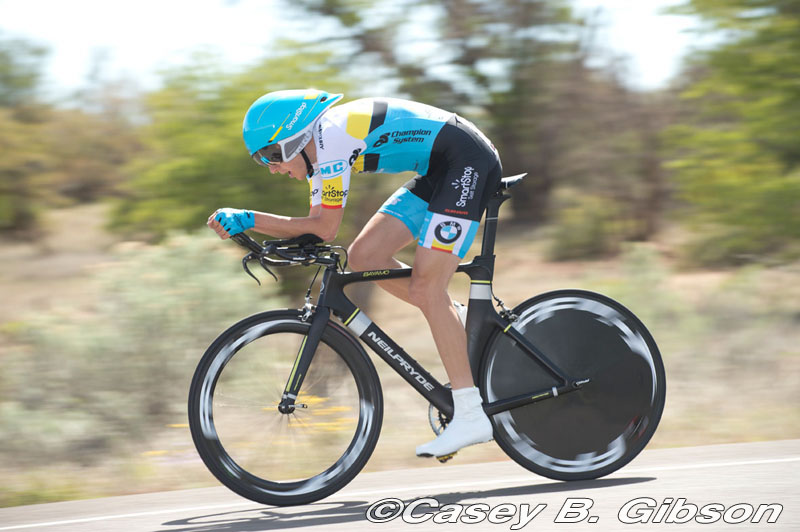 Rob Britton (Team SmartStop) moved up to 2nd overall after TT
Kerby's time secured third place while Huffman was later bested by his own teammate, Rob Britton (Team SmartStop), who finished in 34:15 for second place. Britton, still smarting from last year's Gila time trial where he gave up time and ultimately the race win, was beaming over the result: "Last year I made a few mistakes coming into the finish and it cost me a few places, and eventually the overall by seconds. This year I was dead set on improving on that. I did a lot of work on the time trial this year and it showed today," said Britton.

In the women's time trial, Lauren Stephens (Team TIBCO-SVB) earned as decisive a victory as Zirbel, besting second place Brianna Walle (Optum) by 24 seconds and finishing in 38:35. Walle, who quit her full time job prior to the 2015 racing season, has notched several top results already this year and came to Silver City a week early to acclimatize.

"This is my first time racing the Gila," said Walle. "I came out a little early to acclimate and preview the course to get the feel of it." Her preparation paid off and continues the streak of strong results from the Optum team at this year's Tour of the Gila.

In third place was Allie Dragoo (Twenty16 Professional Cycling presented by Sho-Air), a young rider looking to take each day as it comes: "Today was a really hard race," she said. "You never had time to zone out. I just tried to catch as many people as possible and race my own race."

Stephens surprised few with her time trial win. She came to Tour of the Gila with an overall victory at the Joe Martin Stage Race less than a week removed. The Texan has all-around strengths but until today had raced quietly in the shadows of favourites like Mara Abbott (Amy D. Foundation).


"It was awesome. The time trial here last year here was a breakthrough in my career," said Stephens. "I never thought I'd be in contention for this race, so it's exciting to be where I am and see how far my team can take it."

Abbot finished in fifth place, retaining her overall race lead while Stephens slots into second with Jasmin Glaesser (Optum) maintaining third place after finishing fourth in the stage.

Optum rider Phil Gaimon moved up to third overall in the men's race while Britton advances to second and perennial leader Rafael Montiel keeps the "Gila Monsters" Red Jersey.
Right: Glaesser holds onto 3rd overall after finishing 4th in TT
Smartstop Report

Rob Britton rode the time trial of his life at the Tour of the Gila in Silver City on Friday to catapulte himself from ninth to second on the General Classification and now sits just 22 seconds behind race leader Rafael Montiel from Orgullo Antioqueno.

Britton was the last Team SmartStop rider off the starting block, with former USA Professional Time Trial National Champion Tom Zirbel (Optum Pro Cycling) being the only rider to go sub 34 minutes at a time of 33:50.

Britton's time of 34:15 was fast enough to put him second on the stage behind Zirbel and ahead of Drapac Professional Cycling's Jordan Kerby who finished third.

Sporting Director, Michael Creed followed Britton during his 26km time trial and it was all nerves in the team car as he calculated time splits and watched Britton's incredible ride.

"I was really impressed with Rob's ride today, it is probably the best time trial he has ever done," said Creed, "I was nervous for him because I think he sensed the opportunity in front of him and to see him play it so calm and relaxed, it inspired me as a director."

Britton credits a lot of his success in Friday's time trial to his team mates, who in the previous two stages worked selfishly to ensure that Britton was not riding in the wind and was able to save some legs for the event which would move him up on the General Classification.

"Last year I made a few mistakes coming into the finish and it cost me a few placing's and the overall by six seconds, so this year I was pretty dead set on improving upon that," said Britton, "I've done a lot of work on the time trial and it showed off today."

With two stages left in the Tour of the Gila everything could still change and Britton has the opportunity of a shot at winning the overall race by having a stellar ride on Sunday on the Gila Monster.

"It could change everything, it does every year," said Britton, "I feel really good on the bike right now and I am feeling really good, I've finished second on that stage twice right now."

"Last year's close third place is still pretty fresh in my memory."
Results
Fatal error
: Uncaught Error: Object of class PDO could not be converted to string in /home/canadiancyclistcom/canadiancyclist.com/public/modules/news.php:544 Stack trace: #0 /home/canadiancyclistcom/canadiancyclist.com/public/modules/news.php(533): getrelatedgallery() #1 /home/canadiancyclistcom/canadiancyclist.com/public/dailynews.php(58): getDailyNewsArticle() #2 {main} thrown in
/home/canadiancyclistcom/canadiancyclist.com/public/modules/news.php
on line
544