May 4/15 10:24 am - Tour of the Gila Final report

Posted by Editoress on 05/4/15

The Tour of the Gila's infamous final stage, the "Gila Monster," shook up the standings on Sunday, with Canada's Rob Britton (SmartStop) jumping into the lead of the men's race after Rafael Montiel (Orgullo Antiqueno) lost his four day stranglehold on the men's race leader jersey. In the women's race, Mara Abbott (Amy D. Foundation) easily kept her lead for the overall voctory, but Canada's Jasmin Glaesser (Optum) fell to fourth in the final standings from third.

Montiel's teammates covered attacks and breakaways throughout the stage, which lead team management to feel confident in their jersey defense. But with 25 kilometres remaining, Montiel was off of the lead pack which included Chris Horner (Airgas), Michael Woods (Optum presented by Kelly Benefits Strategies) and the eventual overall race winner, Rob Britton (Team SmartStop).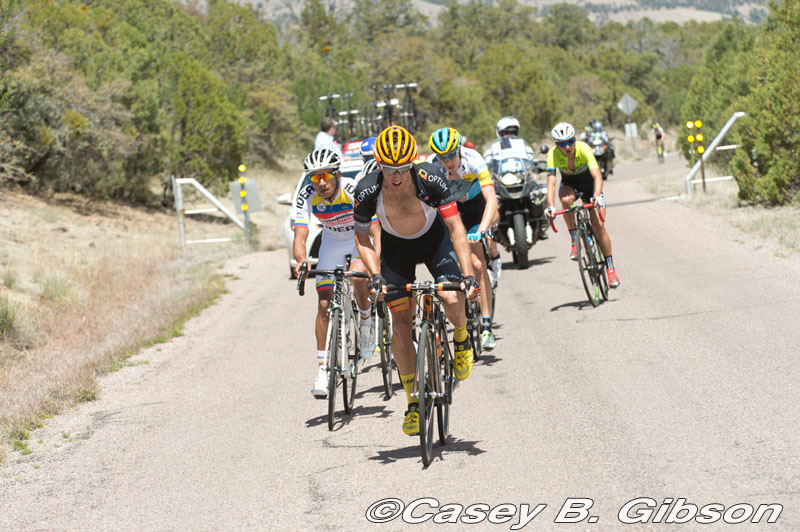 Mike Woods leading final group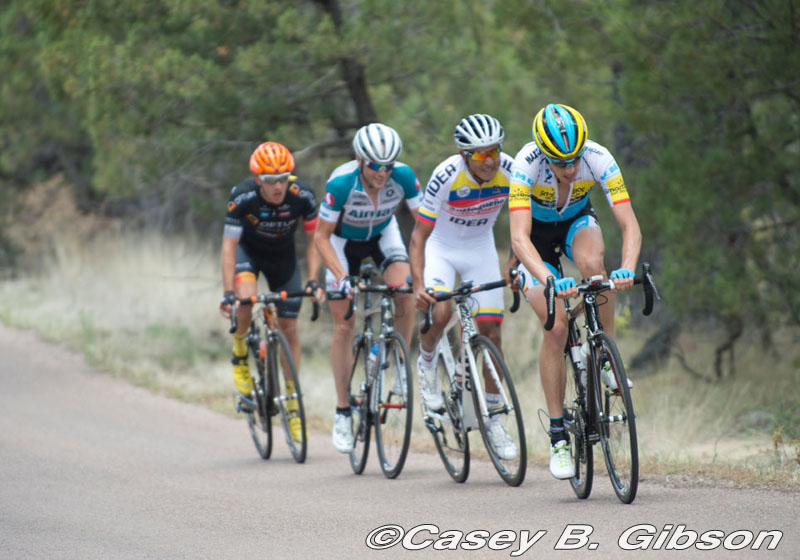 Rob Britton at front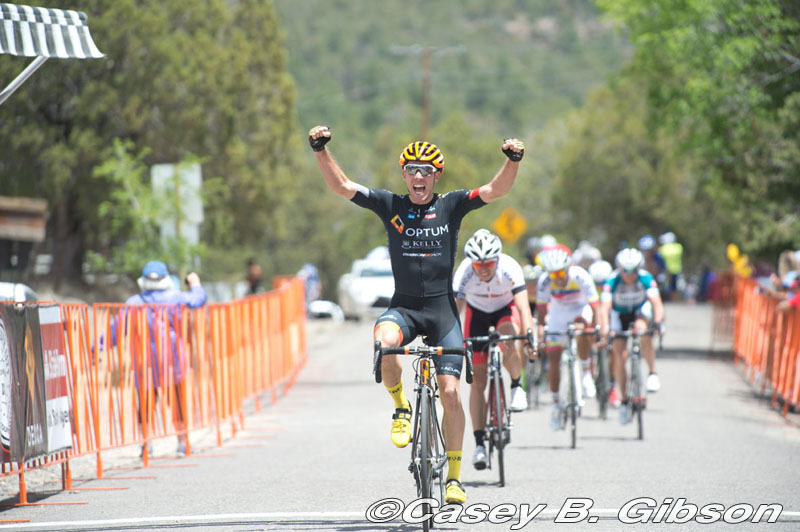 Woods takes the win on Stage 5
"The team rode perfectly all week and my only job today was to not mess it up," said Britton. "The goal was always to win the Gila and better our third place from last year."

Britton left the 2014 Tour of the Gila just four seconds from the win and his offseason diligence and passion for the Gila came to fruition today.

SmartStop Director Michael Creed was confident in Britton's condition during the rider's build up to the Tour of the Gila.

"I knew Rob was really motivated and he looked good and smooth," said Creed. "To say you're going to win and pull it off is always hard. This is one of the races that we didn't win last year so it's nice to keep improving."

The stage winner, Michael Woods, brought the men's Optum presented by Kelly Benefits Strategies Team stage win tally to three after an Inner Loop Road Race win with Eric Young and Dan Potts Individual Time Trial win with Tom Zirbel.

The women's race followed the same pattern as stage one's Mogollon mountain top finish, with the table set for race leader Mara Abbott to showcase her virtuosic climbing abilities. Her win capped an impressive start-to-finish overall lead and, in the process, earned her a record setting fifth Tour of the Gila women's stage race win.

Abbott's 37 second and three minute advantage, respectively, over second and third place today came not to G.C. hopeful Lauren Stephens (Team Tibco-SVB) or Jasmin Glaesser (Optum presented by Kelly Benefit Strategies) but to two opportunists in the form of Katie Hall (United Healthcare Pro Cycling) and Breanne Nalder (DNA Cycling presented by K4).

Hall, who finished second in the final stage to Abbott, also leapt up the final general classification into second place. Nalder, was lost for words in her post-stage interview: "I feel out of this world. I'm toast. It was a long, hard day, but worth it."

As Abbott prepares for later season objectives and rejoining her United Kingdom-based Wiggle Honda Team, she was complimentary of her "composite" teammates, riding for the Amy D. Foundation.

"The girls had really amazing breakthroughs at this race," said Abbott. "I was really proud to ride with them and really proud to ride with the jersey."

On the Gila Monster climb, Abbott was comfortable but justifiably fatigued from the previous four stages.

"It wasn't as hard as some of the other climbs that happened earlier in the race but after five days' racing, it was fairly epic," she said.
Results
Fatal error
: Uncaught Error: Object of class PDO could not be converted to string in /home/canadiancyclistcom/canadiancyclist.com/public/modules/news.php:528 Stack trace: #0 /home/canadiancyclistcom/canadiancyclist.com/public/modules/news.php(517): getrelatedgallery() #1 /home/canadiancyclistcom/canadiancyclist.com/public/dailynews.php(58): getDailyNewsArticle() #2 {main} thrown in
/home/canadiancyclistcom/canadiancyclist.com/public/modules/news.php
on line
528