May 7/15 17:19 pm - Dorel Reports First Quarter Results

Posted by Editor on 05/7/15

Dorel Industries Inc. (TSX:DII.B)(TSX:DII.A) released on Thursday results for the first quarter ended March 31, 2015. Total revenue increased 2.7% to US$665.5 million from US$647.7 million a year ago. Net income was US$11.6 million, or US$0.36 per diluted share, compared to US$24.8 million or US$0.77 per diluted share in the first quarter of 2014. The net negative impact of foreign exchange on Dorel's first quarter earnings equated to approximately US$0.30 per diluted share.

"As expected, Dorel's first quarter performance was significantly affected by the continued strength of the US dollar and resulted in a net negative impact on earnings in our markets outside of the U.S. where almost half of our revenue is derived. Corporate-wide, foreign exchange reduced operating profit in reported currency by approximately US$12 million. This situation is clearly not unique to Dorel and overshadows a number of first quarter's positive accomplishments," stated Dorel President & CEO, Martin Schwartz.

"The integration of the Lerado facilities, now rebranded as Dorel Juvenile China, is proceeding as planned and is a critical element in creating a cohesive and efficient supply chain across the Juvenile segment. Foreign exchange significantly reduced our earnings in the Sports and Juvenile segments. In Dorel Sports excluding the impact of foreign exchange, that segment grew both its revenue and operating profit. In both Sports and Juvenile, price increases have been implemented in certain markets to mitigate the currency issues. Other markets will see price increases beginning in the second quarter. Dorel Home Furnishings posted its best quarter in several years. We are very pleased with the stability of this segment and its contribution to the Company's profitability," concluded Mr. Schwartz.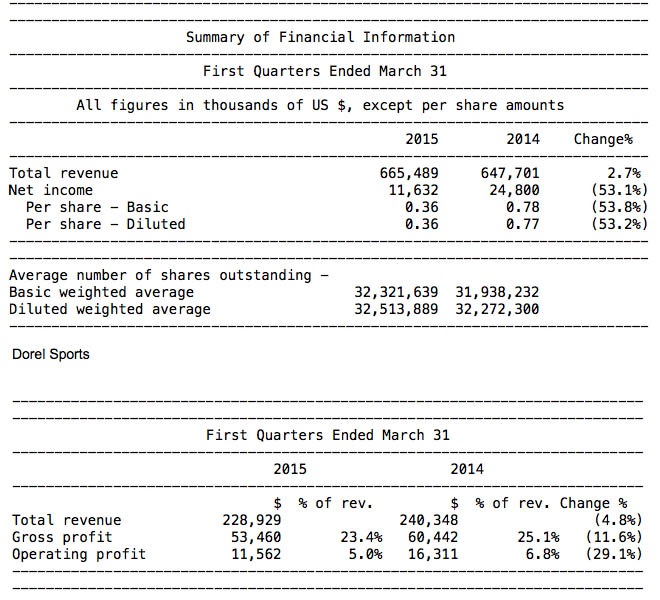 First quarter Dorel Sports revenue decreased by US$11.4 million, or 4.8% to US$228.9 million compared to last year's US$240.3 million. Organic revenue increased by approximately 3% after removing the impact of varying foreign exchange rates. Organic growth at Cannondale Sports Group (CSG) led the segment with particularly strong sales at independent bike dealers (IBD) in Europe and Japan. Caloi also delivered solid organic growth due to the increased demand of its opening price point products as well as the ongoing popularity of Cannondale, Schwinn, Mongoose and GT in the Brazilian market. The success overseas was tempered by the U.S., where there has been a softer start to the year. January was slow, but sales improved throughout the quarter with March back on plan. This trend has continued into April.

Operating profit for the quarter was US$11.6 million versus US$16.3 million in the prior year, with the net negative impact of exchange rate fluctuations accounting for approximately US$7 million in lower earnings. Excluding this impact of foreign exchange, operating profit for the quarter would have increased by approximately 12%. As in Juvenile, price increases have been implemented on a selective basis to mitigate the currency issues. In Brazil, Caloi has successfully implemented increases and has announced more to go into effect in the second quarter.