May 13/15 9:27 am - Review: Race Face Next SL Crankset

Posted by Editor on 05/13/15

Approaching 25 years in the business, Race Face continues to be one of the top innovators in the bicycle industry. Their early forged and CNC'd cranks put them on the map as being one of the best aftermarket cranks available and, to this day, their lightweight, stiffness, shifting performance, and chainring quality rival the best.

Race Face has been working with carbon fibre for a few years now and their flagship crankset, the Next SL is about as drool-worthy as a crankset can get. Made from materials sourced exclusively in North America, the Next SL is light enough to be used on sub 20lb XC bikes, yet it also strong enough to handle the demands of a 5" travel trail bike. MSRP with a single chainring is $499.99, and the BB an additional $59.99.

What I found really unique about it, is that it's been designed to be future-proof. The bike industry has been inundated with different bottom bracket and crank standards lately, and it can get confusing when shopping for compatible parts for your specific frame. Race Face's new Cinch system is forward compatible. Do you run 1, 2, or 3 chainrings? Need a longer spindle for your fat bike? Race Face has you covered. The Cinch system is simply a lockring that holds either a single direct mount ring, a 64/104BCD spider or an 80/120BCD setup; more options than you'll ever need.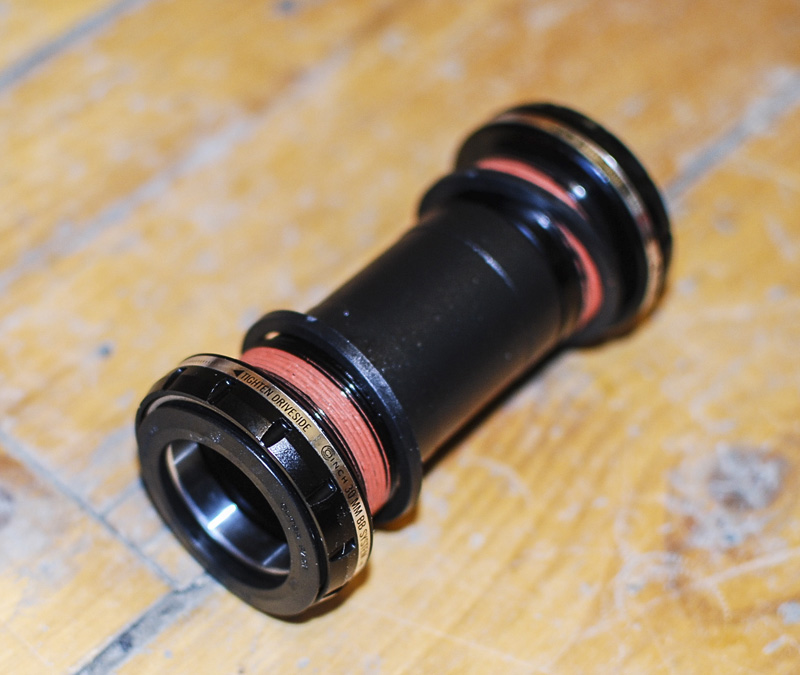 BSA Bottom bracket adds 82g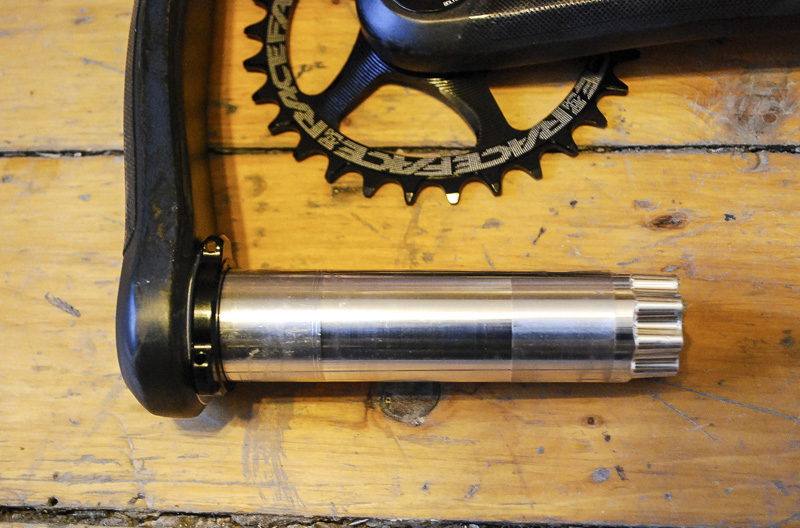 30mm bottom bracket spindle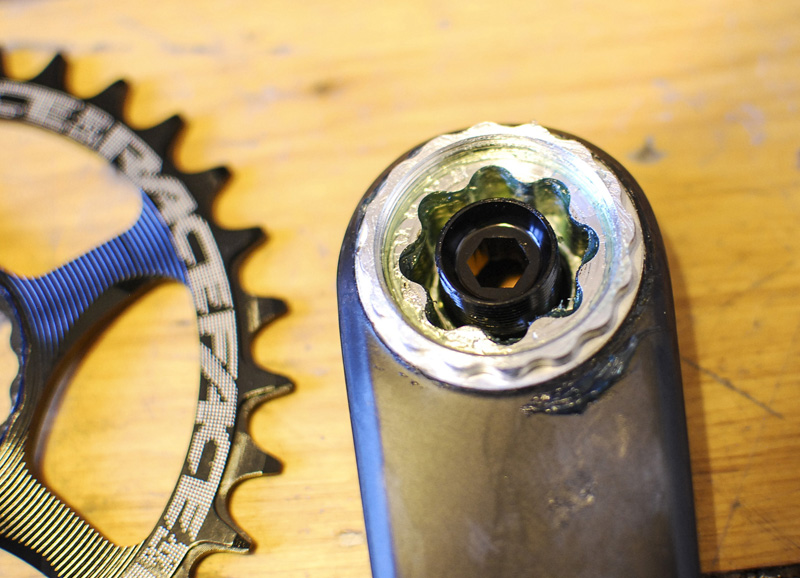 Driveside arm without the chainring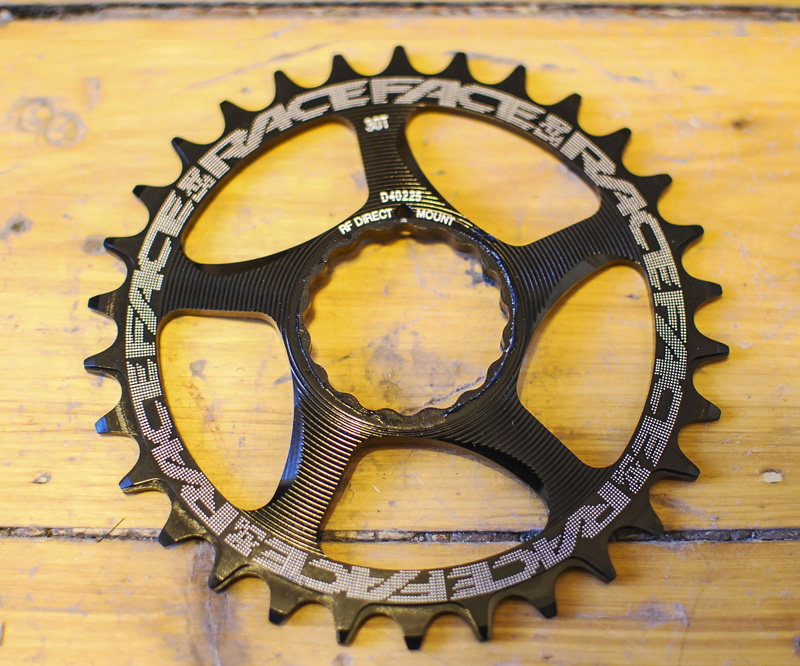 Direct mount chainring
The non-driveside lockring is used to adjust bearing preload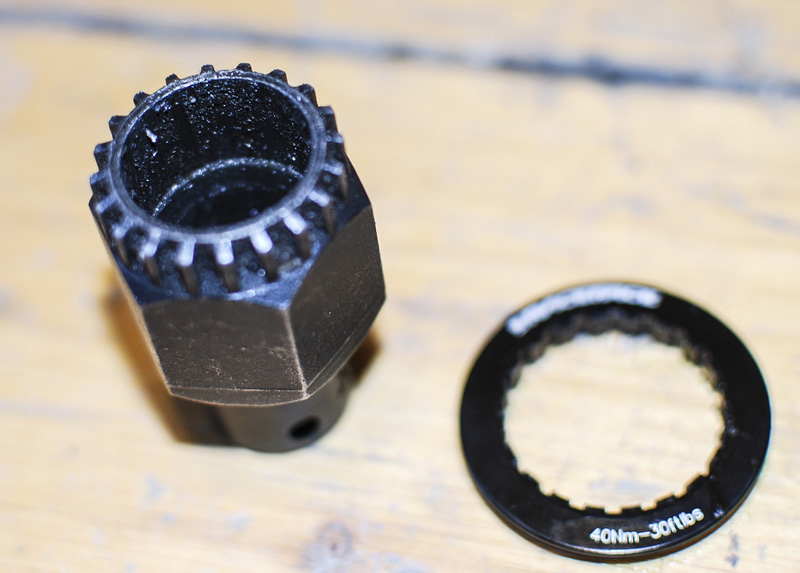 Remember this tool- Cinch-once used as a bottom bracket tool, it now doubles as a lockring tool for the direct mount chainring
The Next SL crank arms are hollow and made entirely from carbon. The 175mm length used for the review came mounted with a single 30T direct mount chainring and weighs 431g; making it one of the lightest production cranksets on the market. The bikes that were used in the test both required threaded BSA bottom brackets, but there are options for those that run a BB92, PF30, or BSA 100 for fat bikes. The BSA BB added 92g to the overall package. Part of what makes the cranks so light is the use of a 30mm aluminum spindle which uses a new 'super alloy' said to be 20% stronger then the traditional 7050 alloys that are more commonly used for BB spindles.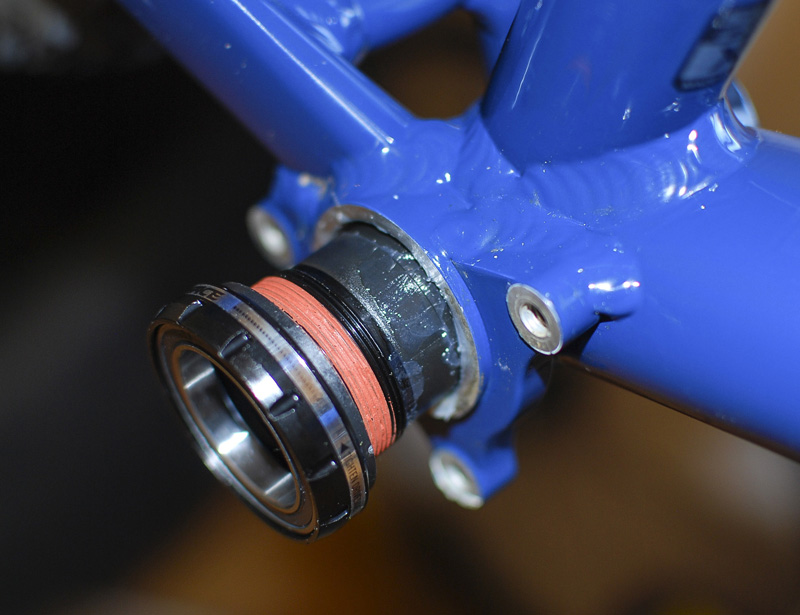 Pretty standard install once you have the proper wrench

Because of the 30mm axle, the Next SL requires a proprietary BB Tool for installation
Installation of the Next SL is straightforward with only one hitch: if your bike requires a threaded BB you'll need a proprietary wrench to secure the cups into the frame. With the 30mm oversized spindle comes oversized bearings and thus a traditional BB wrench won't fit. A PF30 setup simply needs to be pressed in using standard tools. The non-drive crank with the BB spindle is pushed through the cups and, with an 8mm allen wrench, the drive-side arm is secured tightly to it. Once tightened to proper torque (50NM), the bearing preload is adjusted using a ring on the non-drive side. Tighten the ring until all noticeable side-to-side play has disappeared and then lock it into place with 3mm allen.
I first mounted the Next SL's to my hardtail as an attempt to compare the stiffness between it and and my XTR M980's. Crank stiffness is somewhat subjective and to be honest I couldn't tell if one was actually stiffer then the other. What I can comment on is that there was no noticeable flex when pushing down hard on the pedals.

After the first ride the bottom bracket bearings seemed to break in and became buttery smooth. In fact, it spins so freely that you could easily mistake it for an expensive ceramic BB.
The bottom bracket was smooth, rivalling the smoothness of ceramic bearings
Narrow-wide chainrings are commonplace these days, and the 30T direct mount ring held on to the chain without issue. The single ring setup has a 51mm chain line and, combined with a Shadow+ rear derailleur, I never had an issue with chain retention, even when riding down some long stretches of rough terrain.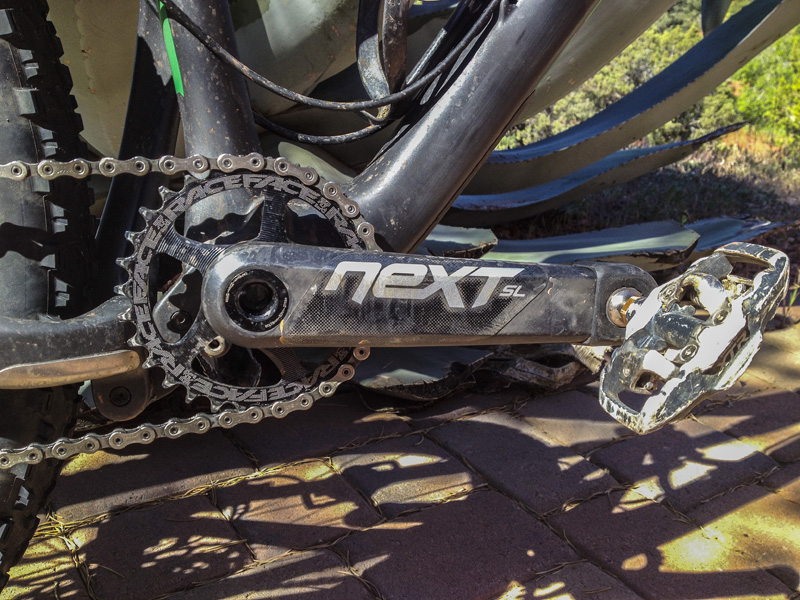 The NextSL
Photo gallery w. Larger images
In my opinion, Race Face has hit the ball out of the park with the Next SL. It's the lightest crankset on the market, it's priced competitively against all other high end cranks, and the setup is a breeze. When compared to other fancy cranks, I feel the Next SL comes out on top. Not only does it work just as well, it's a lot lighter at 431g (according to my scales). That might not mean much to some people, but when you consider it is rotational weight and less expensive then other top-of-the-line offerings, I'd have to look really hard to find a reason not to buy these.
Review by Chad Grochowina