May 18/15 11:56 am - Huge Team Effort Puts Rob Britton in Tenth Overall at Amgen Tour of California

Posted by Editoress on 05/18/15

After a huge team effort, Rob Britton capped off a spectacular week of racing by Team SmartStop to finish tenth overall. Britton was the first non World Tour rider at the Amgen Tour of California.

In a week that has had it's highs and lows for the team, Team SmartStop rode impressively to pull off a huge result at their Californian debut.

The week started with sprint days in Northern California, where on stage one, Bobby Sweeting accompanied Britton in the early breakaway group picking up precious time bonuses along the way that would count towards his overall success.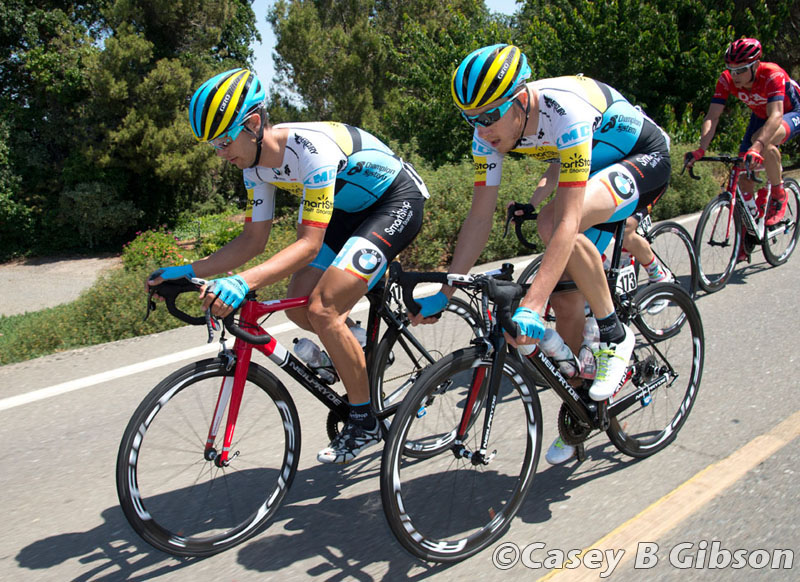 Sweeting and Britton in the break all day on Stage 1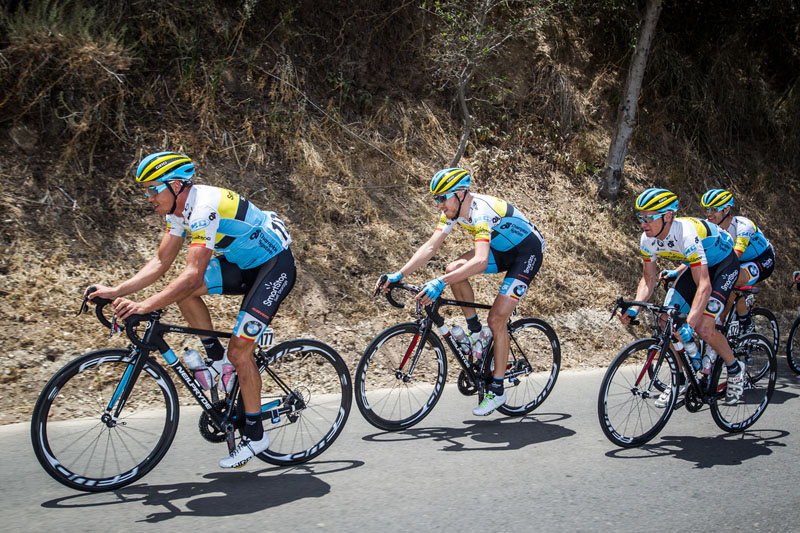 Team Smartstop - photo Jonathan Devich
Disaster struck for the team on stage five when Sweeting hit the ground with less than 10km to go while leading the guys through the field in order to get them in optimal position for the final sprint on a very wet and cold stage.

That day the team lost Sweeting to a compound fracture in his right clavicle.

With the whole team stuck behind the crash and Britton requiring a wheel change, the remaining teammates did what they needed to do to ensure Britton did not lose too much time from the leaders.

"Between protecting me all week and looking after me in the group for all the crucial points in the race, even when I got caught up in the crash and we lost Bobby, they still managed to rally, do a wheel change and pace me back up to the field where I only lost 13 seconds," said Britton of his team mates that day.

"It could have been worse, it was basically the story of the week, I was kept out of trouble and away from the wind all week. All I had to do was deliver in the time trial and the finishing climb up Mt Baldy."

Due to weather conditions up at Big Bear Lake, the individual time trial course was changed and a shorter more technical course at Magic Mountain Parkway was put in its place. This was unfortunate for Britton as with a longer time trial he may have been able to put more time into his general classification rivals, but despite the change Britton rode incredibly to keep himself with in reach of the top ten overall.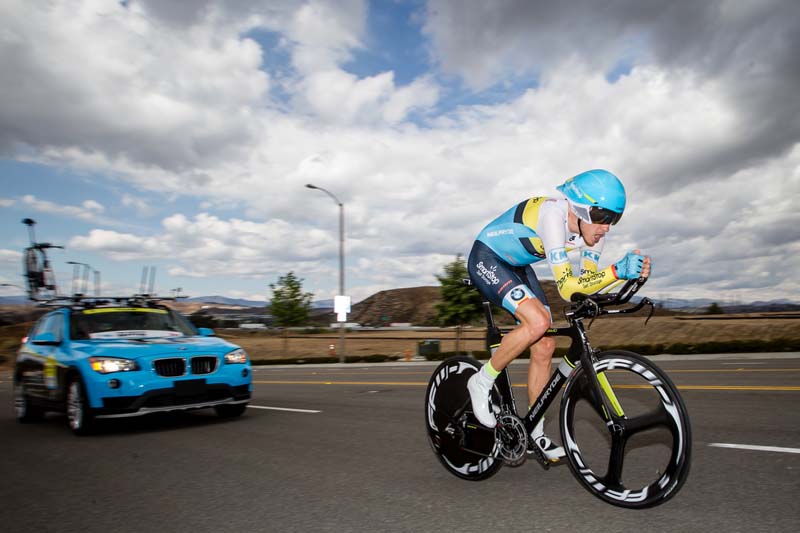 photo Jonathan Devich
The Mt Baldy stage on Saturday proved to be Britton's high point of the eight-day stage race, when he climbed amongst World Tour riders to finish eleventh on the stage and bring himself back into the general classification top ten.

It was another team effort by the five remaining riders, Travis Livermon had pulled out due to a head cold, and everyone rode out of their skin to position Rob in the best possible way for the final climb.

"Between keeping me in position all day, coming into the base of the climb on Glendora Mountain Road was the main objective for positioning," said Britton, "After that it was pretty simple, just follow Team Sky or who ever is setting temp and hold on until we got to the base of Mt Baldy."

"At that point it became just an 8km uphill time trial."

The final stage of the Amgen Tour of California became a fight between Etixx-QuickStep who were leading the overall race and Peter Sagan's Tinkoff-Saxo team with Sagan sitting just two seconds in deficit to the yellow jersey.

With that in mind, the team was 100% focused on delivering Britton to the finish line safely without losing any time in order to keep that top ten spot, which they did perfectly.

"My goal going into the beginning of the season was to be the top domestic multi stage racer in the country or North America, so I guess it feels good to achieve that goal," said Britton on finishing as the top domestic rider, "I am looking forward to improving on that in the future and getting closer to the top five, top three, at these big events."

It was a huge week for Team SmartStop at the Amgen Tour of California; Sporting Director Michael Creed is incredibly proud of how the team rode and conducted themselves during their first outing at this infamous race.

"It's hard to hope for too much, losing Bobby and Travis was a hard blow, but again these things happen and the team dealt with it the best they could," said Creed, "Losing those seconds on stage five was scary but didn't matter too much in the end, which was nice to know."

On the sprints, which Mark Cavendish and Peter Sagan dominated, Creed said: "We had a really good sprint and there is only so much you can do against the likes of Cavendish, Sagan and Wippet. Finishing in the top ten, considering we are missing guys like Kline and Bell, I think it is still pretty good."

"The team had a good showing in a race that we never thought we could participate in twelve months ago. There are bigger and better things on the horizon."
Team SmartStop press release