May 29/15 8:46 am - Adam Morka Interview

Posted by Editor on 05/29/15

If you follow mountain bike racing, you will have seen the return of a Canadian name to the Elite men's start list for the opening rounds of the US Cup series and last weekend's World Cup opener - Adam Morka (Trek Canada).

Morka, husband and coach to pro woman mountain biker Emily Batty, stopped racing at the international level in 2012 to focus on his coaching business - Wired for Performance Coaching (wfpcoaching.com).

However, he made a decision over the winter to return to racing and is currently ranked third in the US Cup Series and finished 67th at the Nove Mesto World Cup (after starting 108th).

We spoke with Adam in Albstadt, Germany, as he and Emily prepare for Round Two of the World Cup this weekend.

Canadian Cyclist: You have decided to come back to racing at the World Cup level - why?

Adam Morka: Well, if I go back to 2012, I battled pretty bad iron deficiency and I was also sidetracked with Emily going to the Olympics. So that year was kind of a write off. Then, in 2013, we both got mono [mononucleosis], which really sucked [laughs], so that year was a write off as well, and then in 2014 I just started racing a little bit, not really training, had some okay results; sixth at Nationals, but just doing it for fun.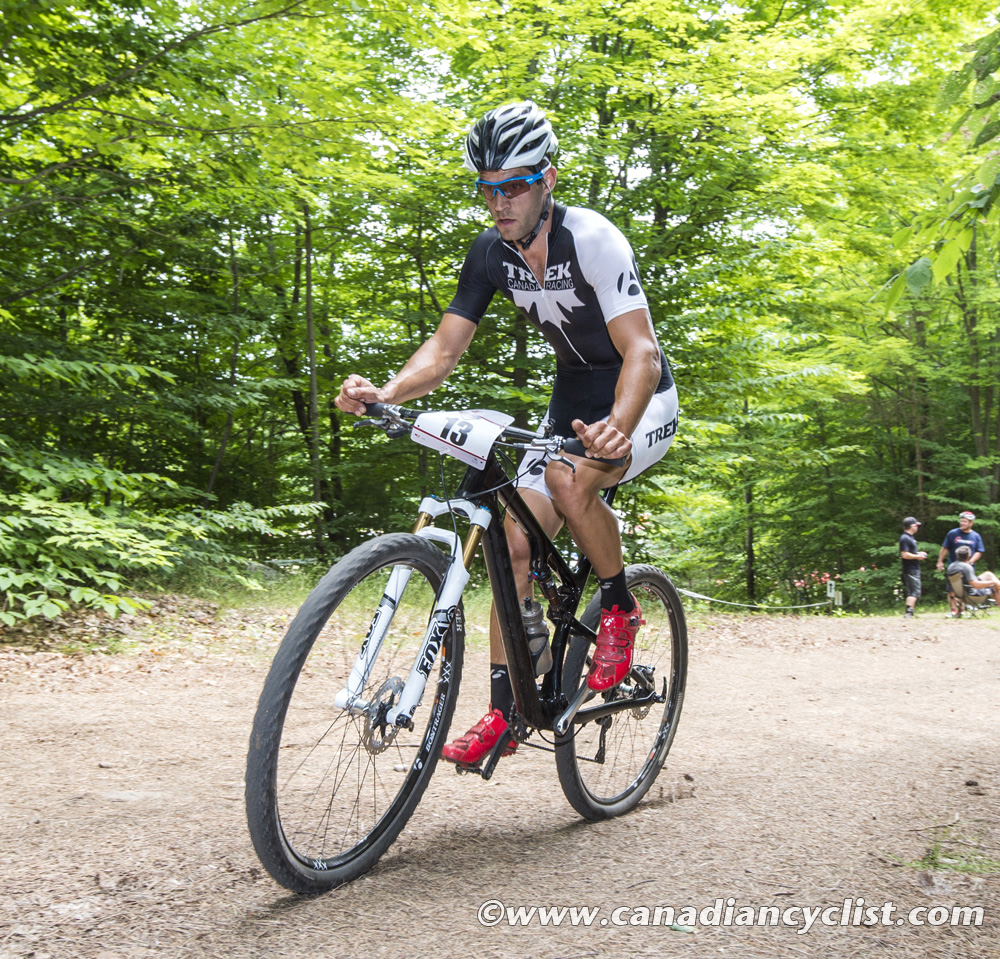 2014 Nationals
I was feeling good on the bike, so for 2015, I thought 'hey, why not?'. Why not give it one last shot. So I really focussed this spring on training and had some pretty good results at the US Cups, so I wanted to see what I could do at the World Cup level.

CC: Did Max Plaxton pulling out of competition [see Max Plaxton Takes Leave of Absence from Sho-Air/Cannondale] have any impact on your decision? Something like, 'Huh, there's a spot opening up in the top ranks of Canadian men'.

AM: I'm not sure ... I still think Max will be back, come Olympics. As an athlete it's always hard to stay away from the sport. After six months goes by, 12 months goes by, you start picking up the bike a little more, you start training ... so I think Max will be back.

But, honestly, when I came back this year, the only thing I had in mind and the only thing I wanted, was to see what I could do. I'm not really too worried about anybody else, or going to Worlds ... I just wanted to really see what I can accomplish as an athlete, focussing on it full time.

CC: Now, you train Emily, so how has this return to racing changed that? Obviously, you can still ride and train together, but race day has to be a fair bit different.

AM: Yeah, race day is definitely different. It's a bit of a compromise that way. But from a training perspective it's almost better, because we are now more on the same schedule all the time and we're both very focussed on training. It seems like every time one of us gets more focussed the other follows suit. So it's worked well in that sense. And hopefully as we go on, we'll figure out the race day stuff better.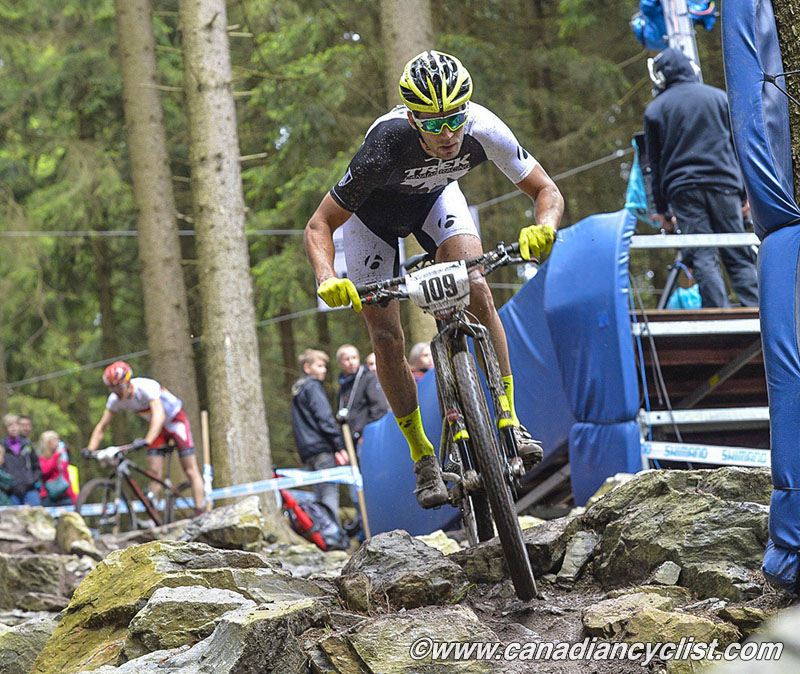 Nove Mesto World Cup
CC: So you've had your first comeback World Cup, finishing high 60s. For your perspective, how did it go?

AM: It was good. I was a little overwhelmed on the start; I think I rolled through at the end of the start lap [loop] 133rd, and then clawed my way back up to 67th by the finish. I had kind of forgotten how hard you have to go in a World Cup ... it's nothing like the US Cups!

I was looking at the heart rate file after, and I maxed out at 181 heart rate and averaged 173 ... so I pretty much ran 95% of my max the whole race. I hadn't gone that hard all year.

It was good, I would love a fair shot with a better call up, but I do know that coming back with no UCI points means I've got to go through the trenches before I can get a better start position.

CC: So what about Albstadt this weekend? It is very different course with a lot of hard, steep climbing. How does it suit you compared to Nove Mesto?

AM: It suits me really well. Emily and I climb a lot in training; to-date I've probably done 130,000 metres of climbing in training this year. So the climbing suits me, but the shorter lap is going to be my issue, because of traffic. The first climb is pretty much a single track climb, so I'll have my work cut out for me just trying to finish on the lead lap, I think.

CC: They have added a start loop, for the first time; will that help a bit?

AM: Yeah, but it can go either way. I think a lot of the guys don't like the start loop because it doesn't really favour the guys at the front of the race. They have to be very protective of their spots, and a lot of the guys mid to back of the pack tend to shuffle around more ... so it can go either way with a start loop. Hopefully I can make it work to my favour, but we'll see.

CC: What are your goals overall for coming back this year?

AM: I'm very focussed on the US Cups; right now I'm ranked third overall in the Series, so I'd like to continue that. My main focus for the year is Nationals, Mont Ste Anne and Windham. Because hopefully by then I should have a better ranking and better call up, and I can actually try and race more towards the front of the race.

Nationals I'd like to be top-3; I think I'm more than capable of doing it, it's just making it all happen on the day. And I'll just have to see what happens in the latter half of the season.

CC: To change topics a bit; you've been coaching Emily for a long time now, since 2009 ... how's that working - being married to the person you are coaching?

AM: It's good ... Emily and I have worked together for so long now, and she is pretty much at the point where she knows what she needs to do, and I'm there for fine tuning. When things go wrong, that's when you need a good coach in your corner, and that's where I come in.

It's good relationship-wise, we are used to it. We spend 24-7 together, so sometimes there's bad days ... but like any relationship you just have to work through it. And I think, at the end of the day, it has made us a stronger relationship.

CC: You have a coaching service; now that you are racing full time are you still working with other athletes?

AM: I'm still coaching quite a bit, but I've narrowed it down more to high performance athletes. I've found my niche with athletes that show up to training and really want to be there and perform. I went through a few years with some athletes where their heart wasn't really into it; so I've narrowed my list to the ones that want to be there.

CC: You discussed earlier this year working with Lesley Tomlinson and her TaG program; is anything happening there?

AM: Emily and I would love to do something like that in the future. It's a really good fit for us, so yeah, in the future. It's just whether the timing is right, right now. I think it is something you will see happen later in Emily's career.

CC: You said 'later in Emily's career' ... now, Emily has been racing a long time, but she is still not that old [27 next month]. Have you guys discussed or mapped out, say, the next five years, or how long you expect to continue?

AM: We've talked about it a lot. I think, if I could use Gunn-Rita [Dahle Flesjaa] as an example, you can always have a long term plan and map it out, but until you get to the end of the road you can't really put a definitive answer on it.

Maybe Emily gets to 2020 and says 'this is my last year', but then, as Marie-Hélène [Premont] did, you get that itch to race and all of a sudden you are racing until you are 42, like Gunn-Rita.

So, yes, we've mapped it out and hopefully she [Emily] will go until the 2020 Olympics and then we will see from there.

CC: Because, obviously, there are questions for you guys, like with other women riders -do you want to have a family and how do you fit it in? Gunn-Rita is a good example of how you can do it, but she is a pretty special case.

AM: Yeah, Gunn-Rita is definitely the benchmark. I think it's one of those things: If you want to do it and are mentally prepared to manage it, it's more than possible.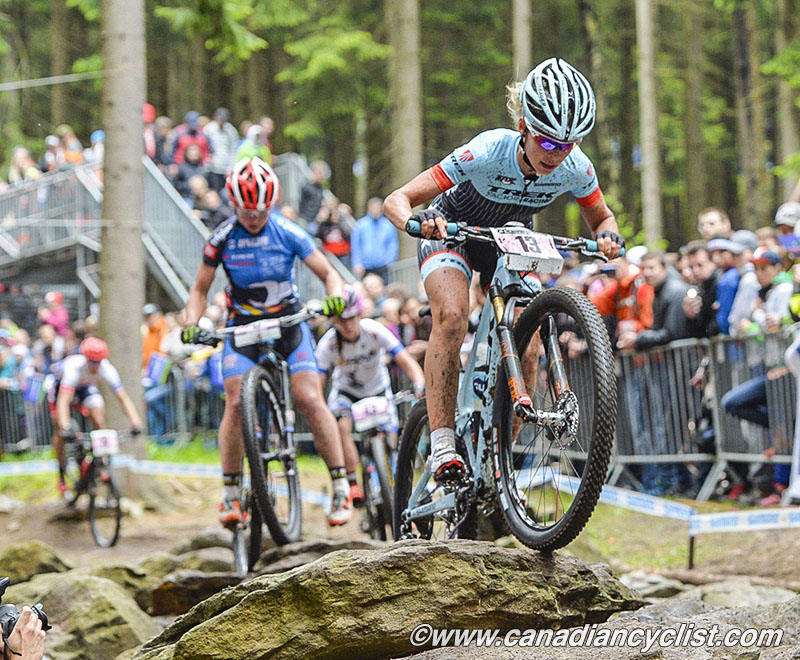 CC: So what's next for you and Emily after this weekend?

AM: We'll go home and do the two Canada Cups; they're an hour and a half drive for us, so it's pretty low in terms of travel stress. Then we'll go and do a big training camp in Colorado. Emily's really focussed on Andorra [Worlds] this year, just with it being at altitude and she tends to do pretty well at altitude. We've been doing a few altitude camps - two in the Spring, this other one in June and a final one in Livigno [Italy] in August.

And Pan Am Games is coming up; I think that will be a good event for Emily, it's a great course for her. Obviously, the competition is stiff with Catharine [Pendrel], so we'll see, it'll be good to watch the girls fight for it.