May 30/15 18:09 pm - Rochette 12th Albstadt World Cup #2

Posted by Editoress on 05/30/15

Jenny Rissveds (Scott-Odlo) made it very clear that her victory last week in the opening round of the UCI Mountain Bike World Cup presented by Shimano was no fluke by dominating Round 2 in Albstadt, Germany, on Saturday.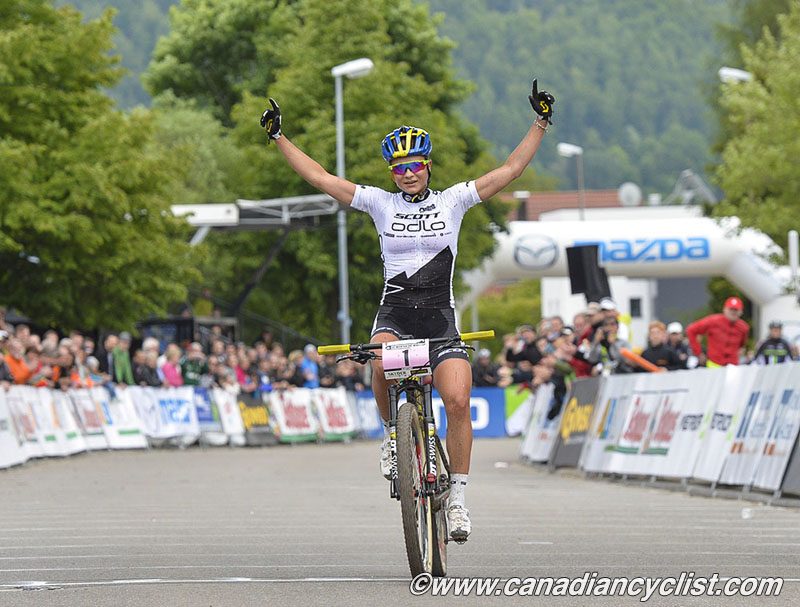 Jenny Rissveds wins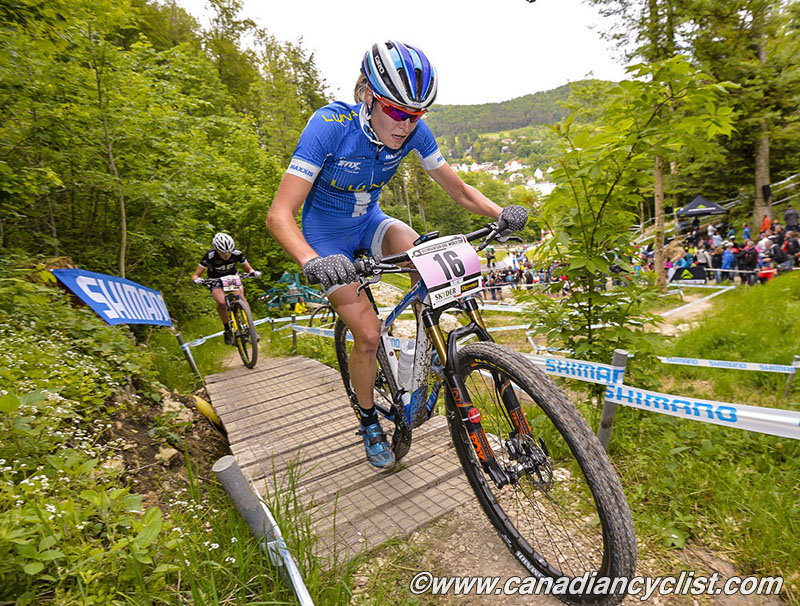 Maghalie Rochette
Maghalie Rochette (Luna) was the top Canadian for the day in 12th; a personal best for the World Cup. Rochette had a poor start, dropping to near the back of the field after the start loop, but worked her way back all race as others faded. [Note: We have an interview with Maghalie below]

The Albstadt course is known for its long, steep climbs and fast, rough descents. Many a rider has gone out too hard only to crack in the second half of the race and quickly lose positions. Indeed, less than half the field finished on the same lap as the winner.

A dozen riders came out of the start loop with the leading group - including Canada's Haley Smith (Canadian National) - but by the end of the first lap there were only two left: Rissveds and Alessandra Keller (Strubey-Bixs). American champion Kate Courtney (Specialized), third in the first round, was nine seconds back but could not close the gap, while other contenders were even further behind.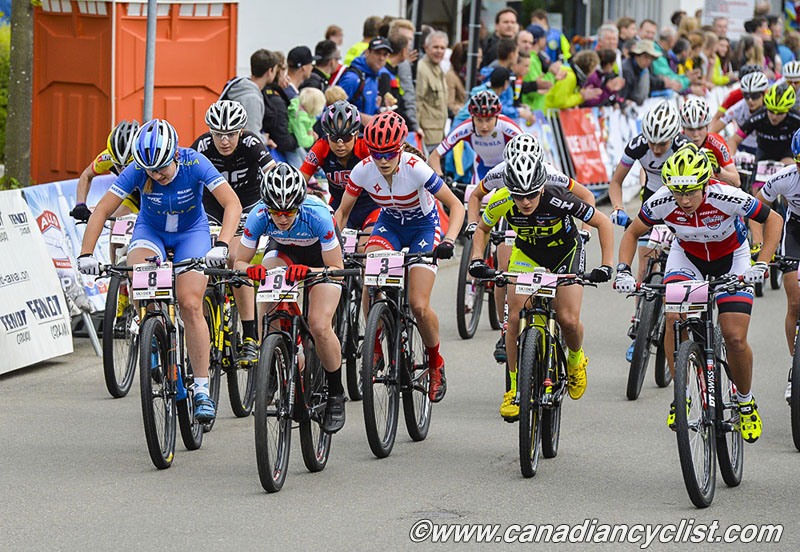 Group at the end of the start loop
Margot Moschetti (Betch.nl Superior Brentjens), second last week and a strong climber, was expected to be Rissveds main challenger, but was clearly struggling and eventually finished fifth, after suffering from illness all week.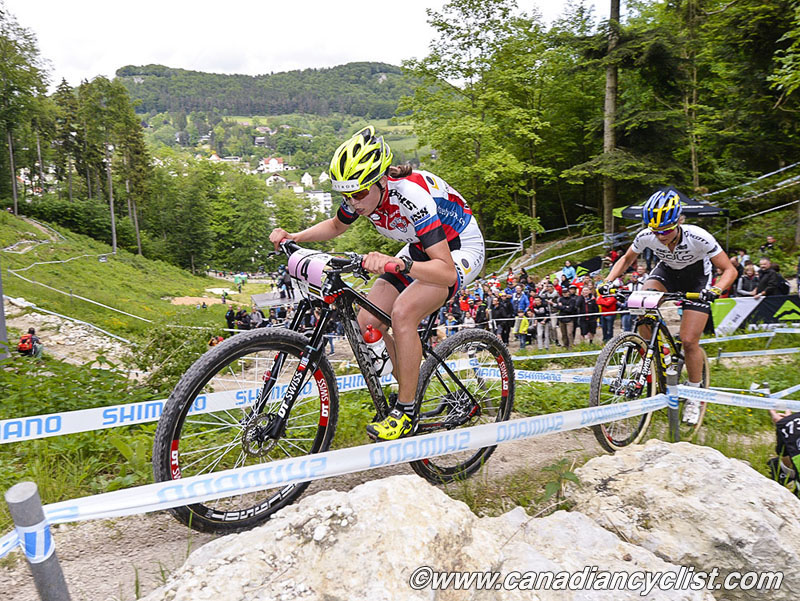 Alessandra Keller (Strueby-Bixs Team) leads Jenny Rissveds (Scott-Odlo MTB Racing Team) in the early laps
Rissveds and Keller rode together for the first half of the race, but then Rissveds began to slowly pull away; 13 seconds after the fourth lap, 28 seconds at the start of the sixth and final lap, and 49 seconds at the finish line.

Keller looked pleased to take second and, combined with her fourth place result in the first round, it moved the Swiss rider up to second overall. Courtney rode her own race to finish third, but was over three minutes down on Rissveds.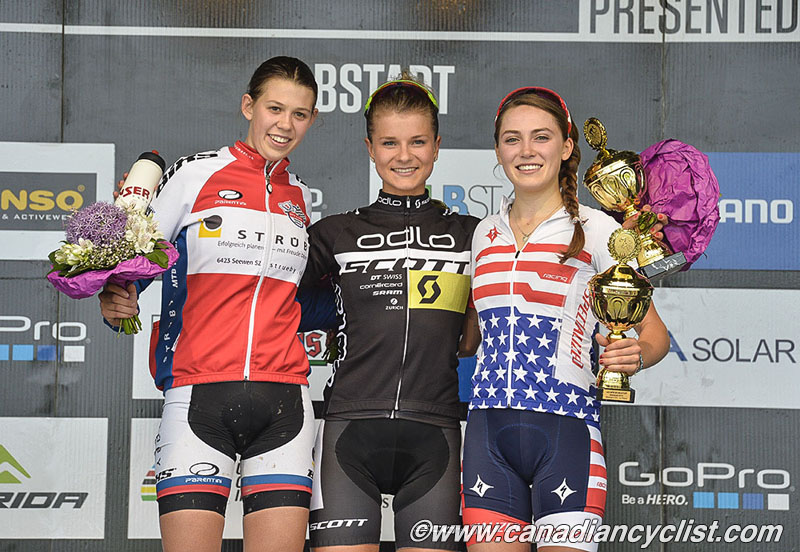 "On the first lap, Alessandra and I worked together to stay away from Kate [Courtney]'" explained Rissveds. "My plan was to attack on the second lap, but I could not drop Alessandra right away. So I tried again on the next lap and it worked."

Smith was among the leaders as they started the first lap, but suffered a couple of crashes and eventually pulled out on lap three, as did Rachel Pageau a lap later. Canadian champion Frederique Trudel also had a strong start, moving up through the field to as high as 13th, but struggled in the final two laps to finish 21st. Other Canadian entrants were lapped, with Catharine Fleury (Canadian National) 40th and Marine Lewis (Canadian National) 41st.

Rissveds leads after two rounds with a perfect 180 points, followed by Keller and Courtney, both at 120 points. Keller is in second by virtue of her higher placing in the latest round. Moschetti drops to fourth, a further 10 points in arrears. Rochette is now the top Canadian, in 13th, followed by Trudel in 14th and Smith in 15th. Fleury is 29th in the rankings.



Fatal error
: Uncaught Error: Object of class PDO could not be converted to string in /home/canadiancyclistcom/canadiancyclist.com/public/modules/news.php:528 Stack trace: #0 /home/canadiancyclistcom/canadiancyclist.com/public/modules/news.php(517): getrelatedgallery() #1 /home/canadiancyclistcom/canadiancyclist.com/public/dailynews.php(58): getDailyNewsArticle() #2 {main} thrown in
/home/canadiancyclistcom/canadiancyclist.com/public/modules/news.php
on line
528