June 18/15 10:39 am - Review: Race Face Components

Posted by Editor on 06/18/15

I can't even remember when I started using Race Face components. I know that in the depths of my garage are things like Race Face alloy handlebars, lots of chain rings and cranks, and a huge variety of stems. The one commonality to all of these old parts is that they are aluminum. That is one of the big changes when you look at Race Face today. Aluminum is still there but over the last few years Race Face has added a wide variety of carbon components to their line.

One of the more exciting aspects for the Race Face carbon parts is that they have introduced a new bar diameter to get the most out of the material. We used to have 28.6mm bars and then we went up to 31.8mm. The NEXT 35 carbon bars go up to a 35mm diameter. This allows material to be trimmed from the bar while retaining great strength. It has proven so successful with the carbon bars that Race Face has also applied it to their alloy bars. There are a few other companies that offer 35mm diameter bars at the moment, but they aren't that common as yet.

This definitely got our attention. So we decided to ask for a complete cockpit of Race Face components and they were happy to send us a nice package of bar, stem, grips, seat post and saddle.

NEXT 35 10MM Rise Carbon Bar
Before I get to the review of the new 35mm diameter I have to say: "Where the hell did the 760mm width come from?"

You can call me old school, but this width in a handlebar is kind of bizarre. I'm not saying we should go back to the stubby bars of a bygone era but what exactly is going on in the Left Coast trails that warrants a bar this wide??? I run plenty of bars that I consider wide (680-720mm), especially on my All Mountain bike and my MTB tandem, but these bars exceed them by a lot.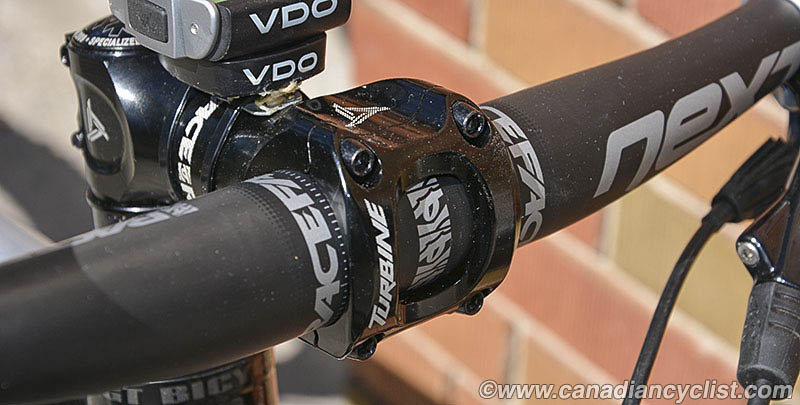 Next bar and Turbine stem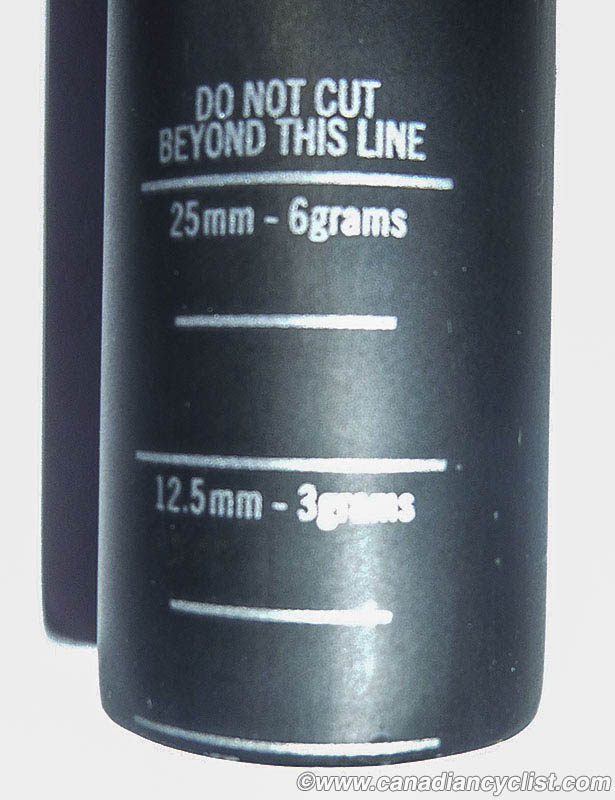 Cut lines are clear
Fortunately, you can cut a maximum of 25mm on each end (50mm in total). After one ride on the full 760mm I did the cut. They are still plenty wide. My usual XC bar, an Easton EC 70 comes in at 620mm. It makes a heck of a difference to your position. You do get used to it after awhile, but don't go stuffing yourself into your usual tight, tree lined single track until you do a spacing test.

In the end, though, the NEXT 35 is a great handlebar. It is very light at 180 grams and it is certainly stiff. Despite the stiffness it didn't end up transferring a lot of trail harshness to my hands. I was impressed on that count. The intended use is for XC and Trail.

With the bar cut to 710mm there wasn't a lot of space on the bar for my usual GripShift and the Strafe grips. The taper from the clamp to regular part of the bar occupies a fair amount of bar, limiting the section where you can affix brake and shifters. It was tight but it did work. It likely won't be an issue with a trigger shifter.

The NEXT 35 is a fine product that shows a great attention to detail. Even little things like markings on the bars for cutting them, and other marks at the clamp to get the bar and stem set up properly are done precisely. It also takes a lot of corporate guts for Race Face to come up with another bar diameter. I tip my hat to them for making the effort.

A NEXT 35 bar will set you back $169.99 suggested retail. That is in the upper echelon of bar pricing but you have to consider you're getting one of the most technologically sophisticated handlebars available from anyone.

TURBINE 35 Stem
With your arms out wide for the NEXT 35 bar you can go with a shorter stem to maintain your position. In this case I went from my usual 110mm stem to a 90mm Race Face Turbine 35. Weight was a fine 190 grams. I'm glad Race Face didn't try to do anything stupid with a carbon stem. Here we have Race Face's long time expertise in aluminum alloy on display. The fit and finish is excellent. While the NEXT 35 handlebar looks really big in diameter the Turbine 35 stem looked pretty normal.

There isn't really anything negative that can be said about this stem. It looks great - as always - and functions superbly. According to Race Face, this stem is for XC and Trail and All Mountain use. It was the obvious choice to accompany the NEXT 35 bar. To get your own Turbine 35 Stem, expect to pay around $99.99.

STRAFE Lock-on Grips
You might ask why we would review grips. Aren't they just personal preference? Yes and no. The unique aspect of the Strafe is that they are 33mm in diameter (standard is 30mm for most of the other Race Face grips). Why didn't someone do produce this before? I have big hands (XL or XXL gloves) and these grips are really comfortable. With a bigger diameter you have a larger contact patch for your hand, which spreads out the force considerably. They are really comfortable for a larger handed person such as myself.

Besides the obvious lock on feature they have soft feel to the surface, but not too soft. I can see these grips working well for either cross-country or downhill purposes. I did notice much less hand fatigue with the Strafe's on my bike. The only issue is that the bar plugs provided with the grips don't fit the NEXT 35 bar. Kind of strange there.

I can see purchasing a bunch of these and replacing my regular size grips throughout my bike collection. They left that much of an impression on me. Race Face gets them made to spec by grip specialists ODI. A pair weighs in at 180 grams and you can get them in Black, Red, Blue, Green, Orange, Grey, and White. Suggested retail for a pair is $25.99. It's a good deal. Riders with bigger hands should check them out. Other grips with slightly smaller diameters are also available from Race Face.

NEXT SL Seatpost
What a jewel of a seatpost. If I owned a bike shop I'd put a NEXT SL in the display case. It is very drool worthy. As it is carbon, the only colour choice is black. The carbon post blends seamlessly into the alloy head. For a 400mm long post, in a 30.9 size, the weight is a fine 250 grams.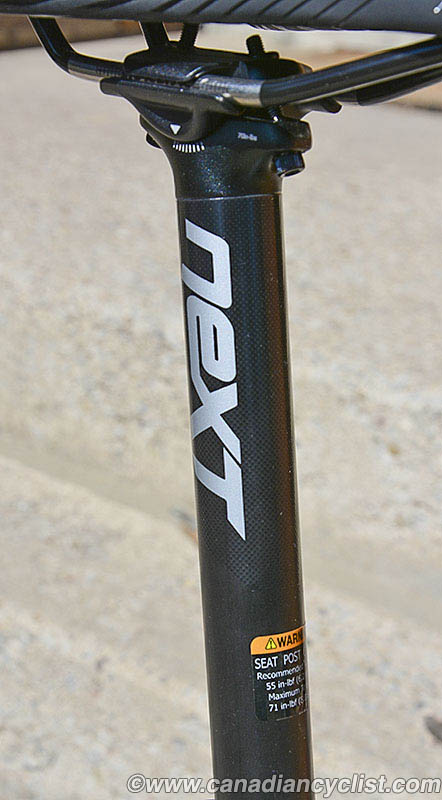 Next SL Post
The head (Race Face calls it the Hunter Head) features a very basic two bolts design to affix the saddle. The bolts are angled outwards to make tool access easier. You can also install the saddle without disassembling the head. Everything just works. What Race Face has done is take a fairly basic item and elevate it to a work of art. It all just functions well. There is lots of adjustment up and down and back and forth. I never had any creaks or strange sounds.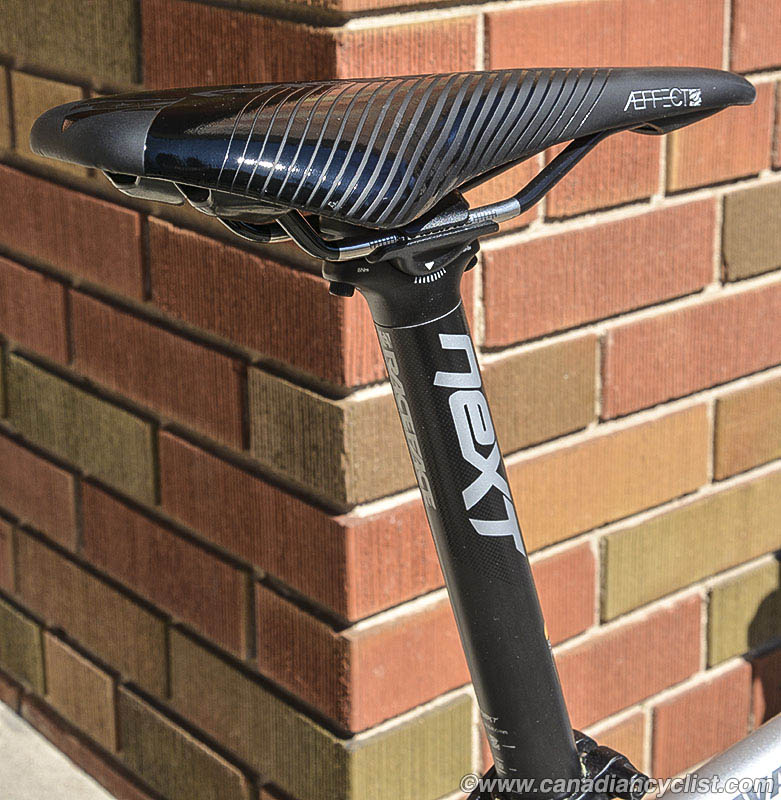 Aeffect Saddle and Next SL Post
Race Face recommends the NEXT SL for XC and trail use. Even though it is strong it is likely too lightweight for All Mountain use. This level of perfection doesn't come cheap. A NEXT SL will set you back $129.99. Save your money or ask for it as a gift.

AEFFECT Saddle
The Aeffect is a really well made saddle that just doesn't work for me. It only comes in a 135mm width and I need a 148 or 155mm. I've also become very accustomed to saddles with a centre channel to relieve pressure. The Aeffect has firm foam that is supposed to help reduce pressure but it isn't a substitute for the channel. I've done quite a few rides on the Aeffect and 30km is about my limit.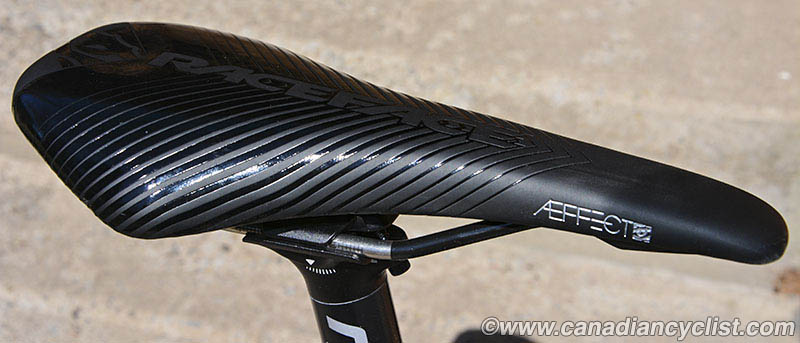 Aeffect Saddle
That's too bad, because it is a really well made saddle. It has ti-alloy rails that helps to keep the weight down to a reasonable 240 grams. It has a microfiber cover with slightly raised stripes to help keep you in place. The shape is very low profile and there is a blunt nose as well. I ride with baggies all the time and I never hooked them on the nose.

If you are looking for a good saddle you might want to look at the Aeffect. It has a lot going for it. I just wished it came in a larger width. To get your own Aeffect it will cost you a suggested retail of $99.99.

CONCLUSIONS
In addition to all of the great carbon products, it now looks like the folks at Race Face are on to something with the 35mm bar diameter. The bar and stem are very good together. As I mentioned above, it worked so well with carbon that it translates to aluminum just fine. This is how mountain biking evolved. We started with one thing and over time its characteristics change. It is good to see Race Face driving that evolution. There are quite a few Race Face components that you might want to consider adding to your bike. You will be adding something of very high quality.

To see all of their components visit www.raceface.com
Review and photos by Mike Badyk