July 3/15 12:03 pm - BC Bike Race Day 5

Posted by Editoress on 07/3/15

Texan Uhl storms the North Shore while Andreane Lanthier Nadeau finds a podium step behind Nash and Barclay

"That was the best yet. Fantastic last trail, Expresso, just brilliant. I heard someone say everything is rollable so I just rolled everything. Rode it blind. It's really what I came here for. If I have the energy I'll do it again next year." Fraser Smith of London, UK

The BC Bike Race returned to North Vancouver this year to get riders in touch with the classic trails of the North Shore. Up until now when the BCBR visited The Shore it was as an opening stage and not mid-week. Last year the wet trails on Fromme and Seymour mountain were a shock to the system for riders unfamiliar with what it meant to ride The Shore. The move to Day 5 was a welcome change for the visitors and the locals who had a chance to return to their bed's and families, while the international field had the previous days to tune their technical finesse in Cumberland, Powell River and on the Sunshine Coast.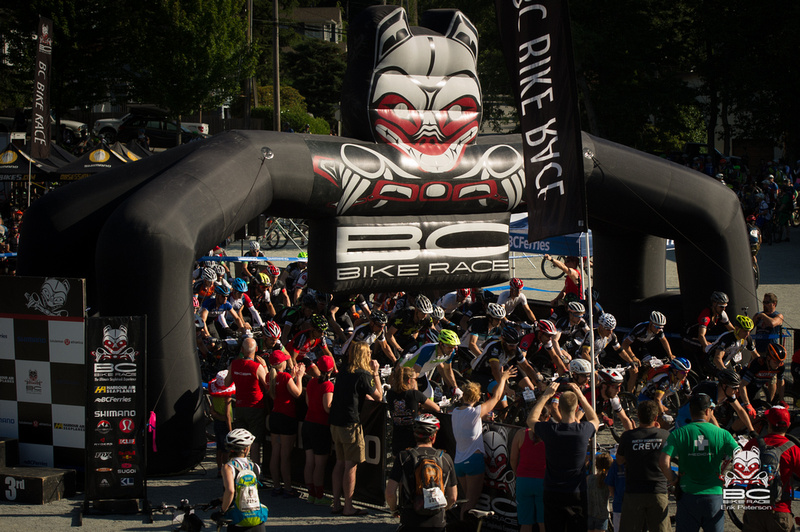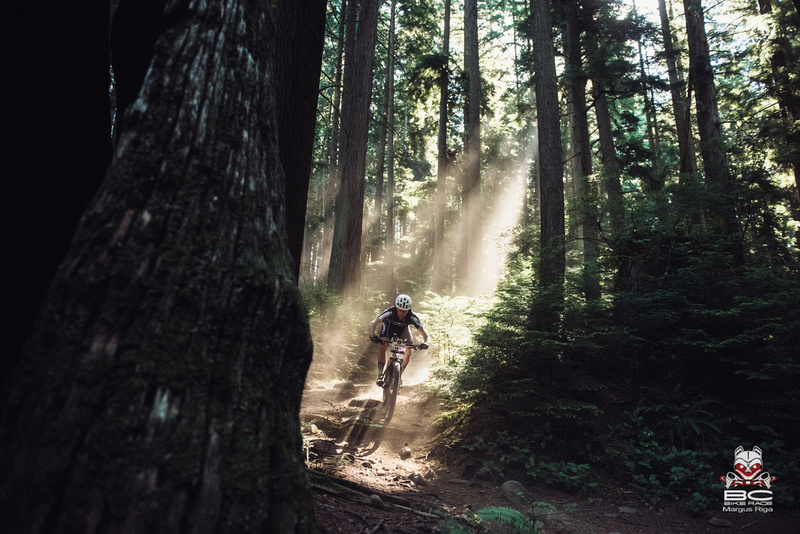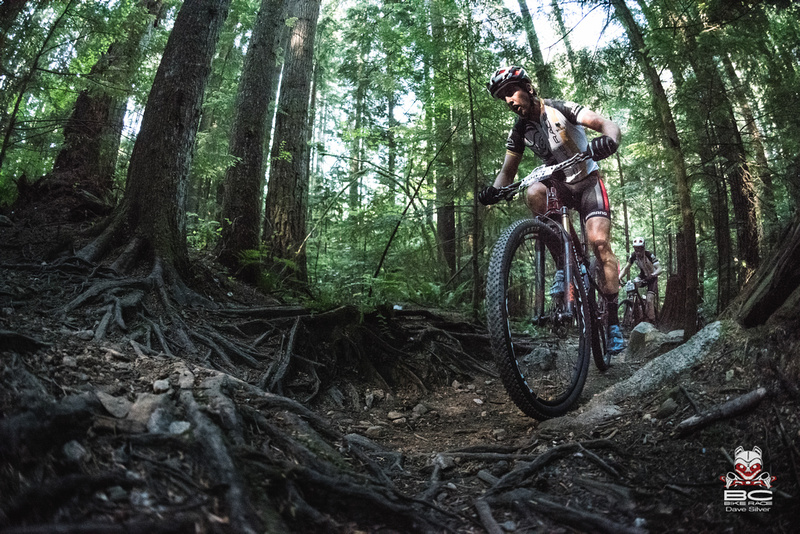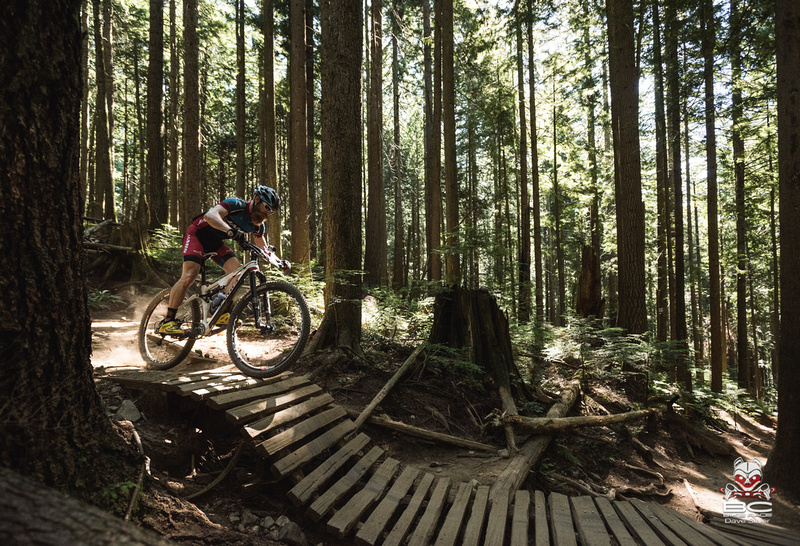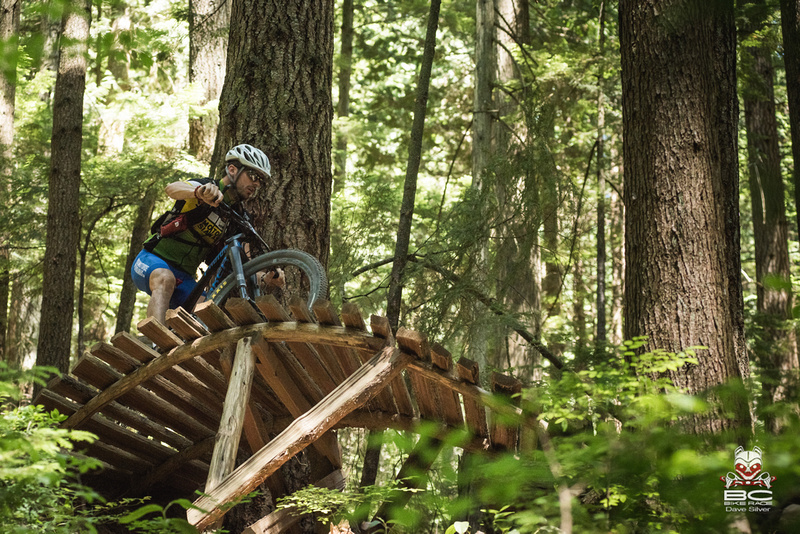 Brady Fleguel of Vancouver was still caked in dust and in his chamois watching his two boys ride in the kids race. "I finished just in time, I got to see them both race." Fleguel said with a big grin. "It's so refreshing to be home. Just having the trail knowledge, being able to relax, and I could help people out, by giving them info on what was coming up." Conveniently his house was just a block away.

The two mountain systems represent different sides of the trails available on the North Shore. Expresso trail on Fromme has a lineage in features, berms, flow, and a hint of leftover fall-lines everywhere. You'll find yourself riding elevated wooden structures that wrap around a tree and hug it the same time, or dropping rock faces to a roll-out below. Seymour Mountain feels less manicured and relies on quick reflexes to negotiate an ever changing direction in travel up and over roots, through rock shoots all while frequently choosing your own line to connect where you're at to where you want to be.

The Race
Day Five may have been a short stage but its' ratio of meter's climbed to distance covered was the second highest of the week. Add the most technically challenging trails of the race to the equation and a lot of shaking of the dice was bound to happen.

Open Solo Men: Uhl, Paxson, and Sneddon fill the podium.

Tristan Uhl (Competitive Cyclist) sunk his teeth into the BC Bike Race today with his second stage win of the week. It was a performance of strength, tactics and perseverance. He covered attacks, paced his efforts, and waited for the right opportunities to present themselves. The week began with Spencer Paxson of Kona Bikes showing he would be a force to deal with. The general consensus of the rest of the field was that he had an extra number on his dial. Uhl might be figuring out that number.

The first big climb up the steep and reworked Old Buck trail created the initial separation of the day. "It was battle. Tristan showed some sharper teeth today. He's coming on stronger and stronger which is really cool. He and I got away on the top of old buck." Paxson

On the descent down Severed to Forever After the duo of Barry Wicks (Kona Bikes), Quinn Moberg (Rocky Mountain Bicycles) were just behind the two leaders with Kris Sneddon (Kona Bikes) and Thomas Turner (Jamis Bikes) working to keep those two in sight.

The two leaders attacked each others weakness through the hike-a-bike and the climb up to the final descent down Expresso. "He drilled it through the flat part. I gapped him on the climb to Expresso." Spencer

"On the paved road section I got around and started hammering. That was brutal. I had no clue how hard that was going to be. One km from the top I backed off the pace figuring I could catch him on the descent. Going down expresso I caught him right at the base of it after a few sketchy moments, I went over the bars at one point. We were together on the final road stretch. He blew a turn and I got in front and got like 5 seconds." Uhl crossed the line almost 12 seconds up on Paxson.

The finish gave Uhl a win, the Overall Jersey, and 50 seconds to hold tight to. "I'm hoping it's coming down to the wire. Tomorrow is going to be the big battle. I think a lot of time can be made or lost. I'm excited but nervous." Uhl

Women's Solo Open: Nash wins and Barclay followed closely by shredder Andreane Lanthier Nadeau.
"The trails were amazing. Super fun, technical but nothing too frightening. Fun things that were challenging but absolutely rideable. It was nice having another girl there." Barclay

Katerina Nash (Luna Chix) was looking forward to today's stage because she figured it would be the most technical one. I'm giving Nash the unofficial award for most well-rounded by being someone who has proven that climbing isn't a problem and states she's willing to attack a loose dusty descent by riding close enough to the person in front to "so the dust doesn't have a chance to get up high."

While Nash tucked into the dusty wake of other riders, Vicki Barclay (NoTubes/ Bike Flights), Rebecca Hodgetts, and Andreane Lanthier Nadeau (Rocky Mountain Bicycles) tussled to fill the rest of the podium. A loose cleat suddenly removed Hodgetts from the equation. Barclay and Nadeau played some cat and mouse on the final climb to Expresso where Barclay had to switch tactical rolls.

Up until this point Barclay was the descender who was caught by Hodgetts on the climbs. Now with Nadeau as the chaser it was Barclay who had to attack on the final climb to get as much a gap as possible dropping into Expresso. The 21 year old Nadeau had recently won an enduro in Oregon and was stoked to have a staggered start today to give her more room on the descents to ditch the brakes and let line choice and gravity play it out.

"Today the wave starts really helped to spread it out and I finally got a clear track on trails and I can really make up time on the downhills." Nadeau "I went really hard off the start because I knew it was going to matter. I ended up with the two leaders in the 80+. These guys are like rad, they were doing pulls." Those brothers are from South Florida and are known as The Z-Boys.

Barclay made it to the bottom of Expresso alone and attacked the course through the neighborhoods of North Vancouver to the finish line, just 15 seconds ahead of the ecstatic Nadeau. "I've just felt like I've been getting stronger and stronger every day!" Her plan of being efficient, breathing right, and smoothly turning over the pedals is starting to pay off.

Featured Trail: Expresso
In most places a trail like Expresso would require a lift pass or some kind of entry fee. As one of the original North Shore trails it has gone through a transformation over the past three years through the efforts of it's builder "Digger" and the North Shore Mountain Bike Association(NSMBA). With over 4000 man-hours, mostly volunteer, it has been rerouted to be more sustainable so more people can ride it. The result is a trail with flow and challenging but rideable features that gets about 3000 riders a month who can ride it for free.

It's considered a Blue Trail, but on the North Shore scale the blues tend to the "Midnight" hue in many other places. It is one of the most popular trails of the Shore and to get in a couple laps after work isn't impossible no matter what bike you want to haul up the gravel access road.


Featured Riders: Christine Shandro, Elladee Brown, Geoff Gulevich
North Van has a rich history of mountain biking personalities that have influenced the culture through a variety of avenues. Despite it's popularity and nine years under it's belt, there are still locals who seem to be logical candidates as participants in the BCBR.

Two of these riders are women from North Vancouver who have decided to join the race for the first time. Christine Shandro and Elladee Brown are good friends with different reasons for jumping the BCBR train. Not a stranger to running a train on trail is the other newcomer to the BCBR, Geoff Gulevich a freerider with regular appearances at The RedBull Rampage.

Christine Shandro raced cross country professionally from 1994 to 2000, making trips to the World Championships for Canada while Elladee Brown was a professional downhiller in the early 90's who won a Silver medal at the first DH World Championships in Durango, CO.

Shandro has had her eye on the event but between kids and her husband's summer mountain bike camps, the timing never lined up. As is common a few friends started talking about entering, including Brown and the motivation from friends pushed the enter button.

Brown was one of those friends and she hadn't raced in a decade. Her business Katana Sports Ltd. representing companies such as Shimano in Canada took her away from racing. "I'm super excited but I was actually nervous because it was my home town. I haven't really raced in almost a decade and I'm almost in a better place now to do this kind of thing and I enjoy it now better than I ever did."

Both women are bedrocks of the North Van Cycling Community and their contributions over the years add up to a history of influencing the progression of the sport.

Gulevich might be better known for his style in the air and backflips but he happens to have a year with a lighter travel schedule so he decided to tackle some challenges that didn't involve moving his own dirt before he could ride it. Born and raised in North Vancouver, his list of new experiences this year include snow biking, bike packing and now stage races. He's a positive force in the the world of mountain biking and a great addition to the traveling tribe of the BC Bike Race.

Note: As we near the finale of the 2015 BC Bike Race's 9th edition, year 10 is just around the corner - registration is opening July 6th, 2015 at 12 o'clock noon.
Courtesy Harlan Price, BC Bike Race
Photos: Margus Riga, Dave Silver, Erik Peterson, Todd Weselake
Day 5 (July 2nd): North Vancouver Presented by Clif Bar, 39km (1524m Elevation Gain)