July 13/15 12:41 pm - Pan Am MTB report and photos

Posted by Editor on 07/13/15

Canadian cyclists continue to rack up medals at the Pan Am Games, on Sunday adding two more golds and a silver medal at mountain biking, to the gold won on the opening day of the Games in BMX. Emily Batty and Catharine Pendrel finished 1-2 in the women's cross-country, while Raphael Gagne took gold in the men's race. Derek Zandstra, Canada's second man in the cross-country, finished just off the podium in fourth.

Weather forecasts earlier in the week hinted at rain, but race day was hot and humid (over 30C) with hazy sunshine at the Hardwood track, 75 minutes north of Toronto. The 5.2 kilometre circuit is well-known to Canadian athletes, with constant short, steep climbs and technical descents - the best known being the Boneshaker rock garden.

In the women's five lap race, Batty and Pendrel were by far the top-ranked riders, and anything less then gold and silver would have been a disappointment. The real question was: who would take gold? Pendrel is the reigning world champion and has the stronger results this year on the World Cup circuit, but this is Emily Batty's home course, and she had massive crowd support.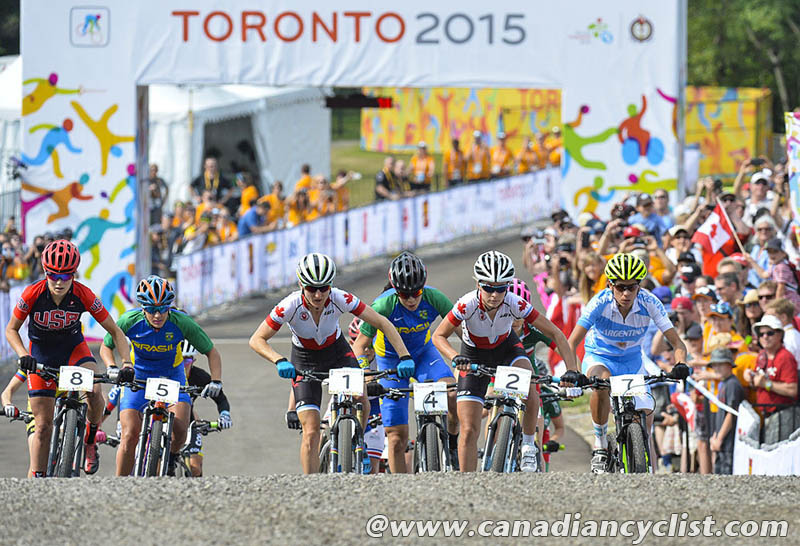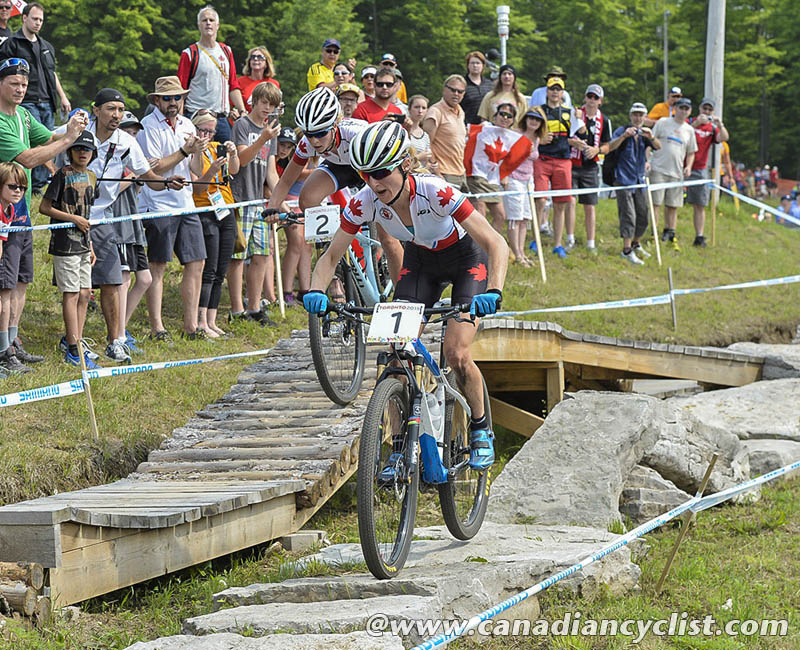 The two Canadians quickly rode Americans Erin Huck and Kate Courtney off their wheels, with Pendrel doing much of the pace-setting, in her preferred spot at the front. Batty was content to follow right behind, never looking in trouble and occasionally going to the front on the climbs. Batty looked to be stronger technically, clearing some obstacles that Pendrel struggled on, but there was no clear stronger rider.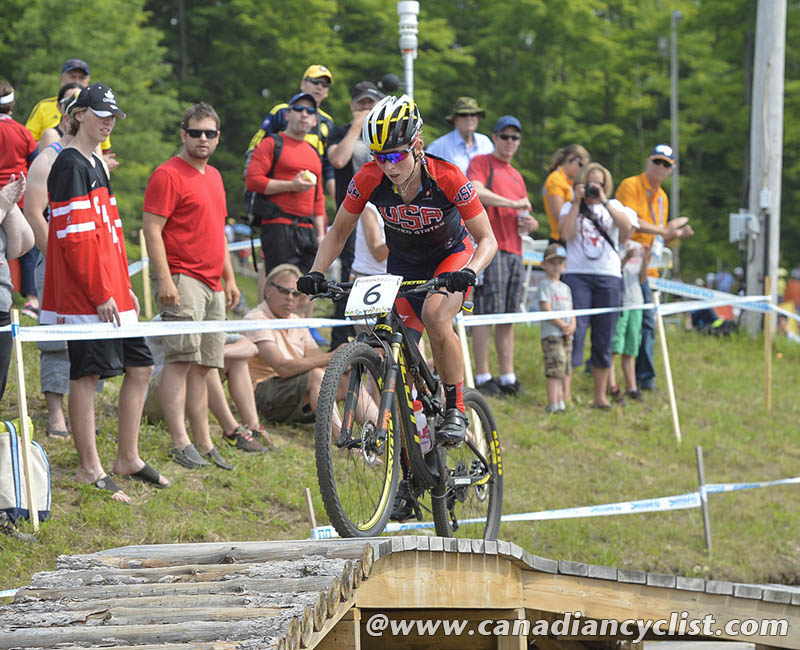 Erin Huck
Going into the last lap the two were still together, over five minutes ahead of Huck, who was solo in third after Courtney flatted on the far side of the course from the pits. Batty tried an attack after the final feedzone but Pendrel came back, so she tried again, finally opening a gap in the last kilometre of the race to solo in a mere seven seconds in front of her rival and team mate. Huck took the bronze medal.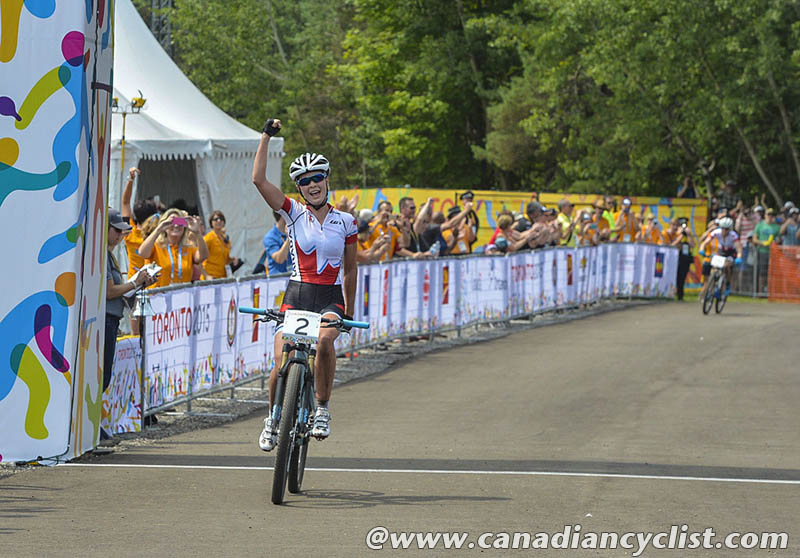 "Coming into this event, we knew we would be each others biggest competitor," explained Batty. "It came down to who went where, and whether the other could counter. Catharine's an amazing athlete and current world champion, so I knew it would not be easy. But there was definitely an extra edge being in home country with all of those fans cheering. With all those fans roaring 'Canada, Canada' ... it's an energy you can't even describe."

"I wasn't going to ride Catharine off my wheel so it really just came down to patience. Catharine would rather lead and I would rather be patient and wait, so we took a few turns, and I tried to making an attack with half a lap to go and she held me. So, I tried one more attack and it finally stuck ... I had to leave everything out there; my jaw was just dropped and I was thinking 'just 5 more minutes of suffering'."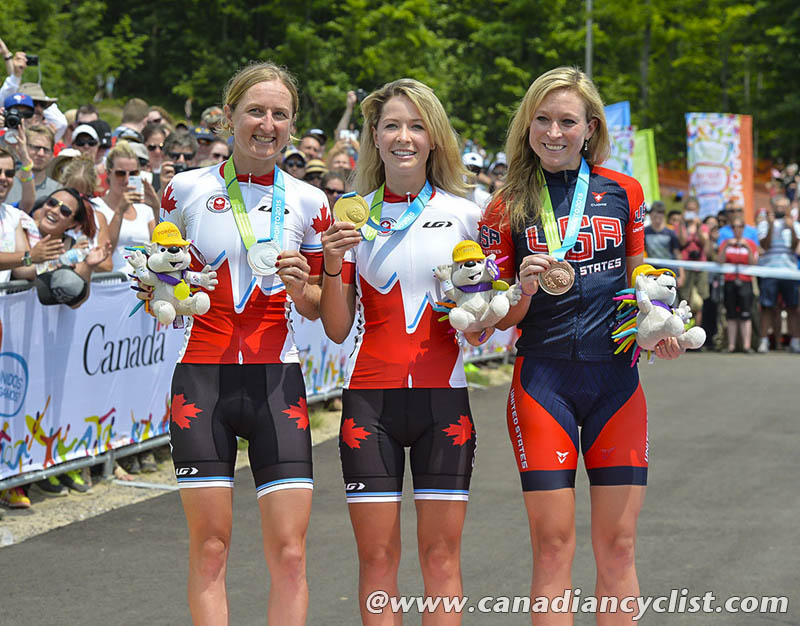 Pendrel commented "we raced here last year for Nationals [Pendrel won] and it played out pretty similarly. We were happy with the race strategy - I like to lead and Emily likes to follow. So we just set a hard pace. I was hoping for myself that it might work out like Nationals when I was able to pull away, but we stayed together all race. It came down to trying to keep position, and Emily has obviously stepped up her game. Emily is very strong on this course, and she had a lot of family and friends out there to keep her motivated. We kept fighting for position after the final feedzone, and she got [the front] position into the final stretch and after that it was just pacing."

Interviews with Emily Batty and Catharine Pendrel

The men's race did not have such clear-cut favourites, with four riders in contention - the two Canadians, Argentine Catriel Soto and American Stephen Ettinger. Soto has been the most consistent performer on the World Cup this season, but all have finished in front of each other at various times. Gagne was coming off a US Cup win (and the overall title) a couple of weeks earlier, Zandstra had won the 2013 Canadian title at Hardwood and Ettinger is the top-ranked American in the world right now.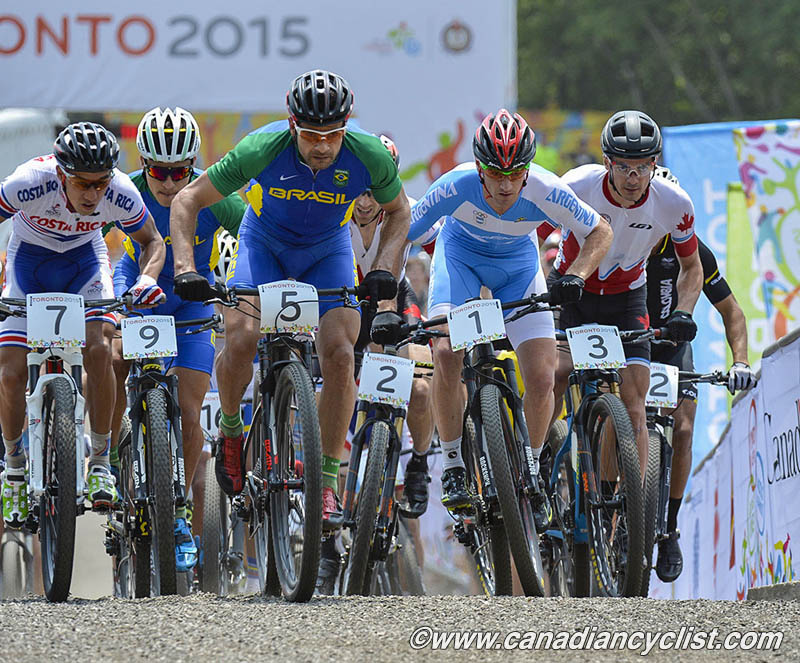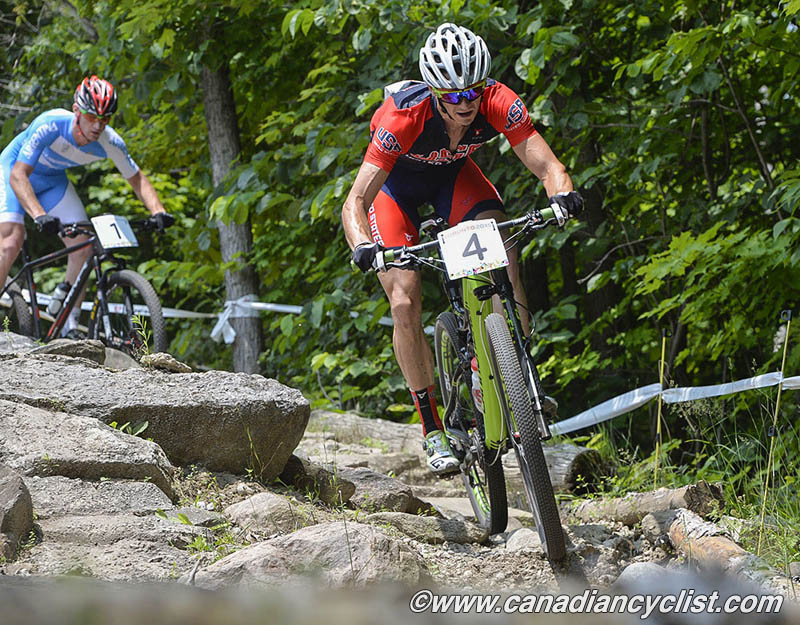 Ettinger took the lead in the first lap, with first Soto and then Gagne bridging across. Zandstra had a poor start, had to work his way through traffic to fourth, but by the time he got clear, the medal group was gone, never to be seen again. Another rider expected to be in the top-5, Spencer Paxson (USA), flatted on Lap 1, dropping out of the top-10 but fighting his way back to eventually finish sixth.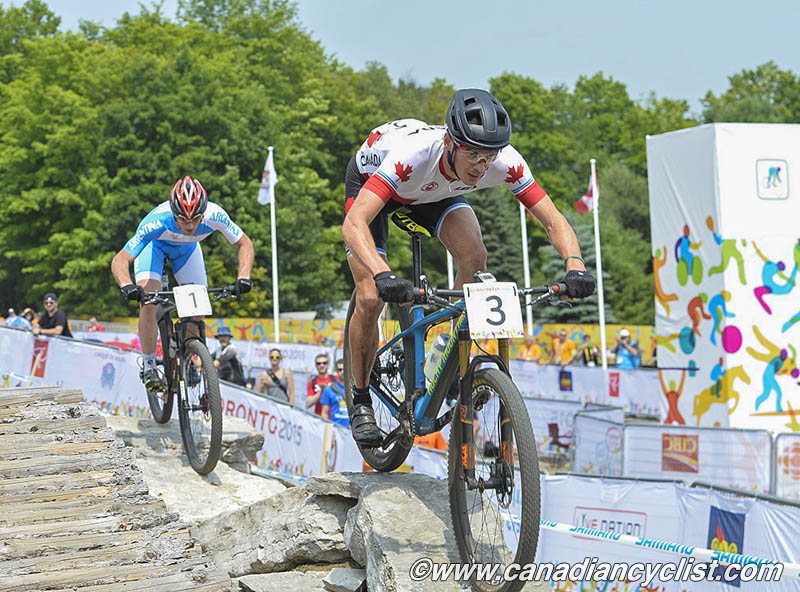 By the end of Lap 3, the midway point in the race, Ettinger had drifted off the back of the other two, unable to sustain the pace, and from that point rode to conserve his bronze medal spot. The front two rode together, with Gagne doing most of the pacesetting. As they started the final lap, Gagne gestured to Soto to take the front, but the Argentine refused - was it tactical or was he struggling?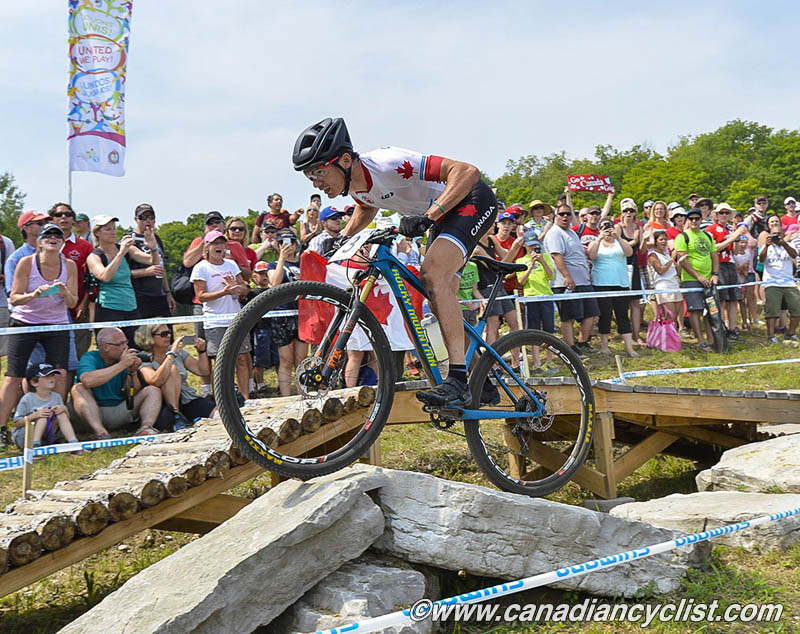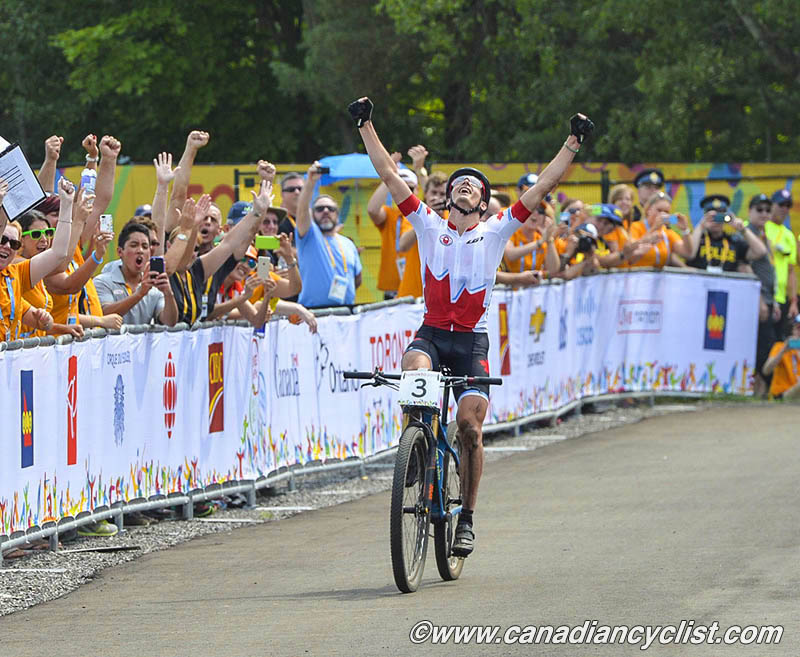 It turned out to be the latter, as Gagne pulled away to win by an impressive 50 seconds, the gap all attained in the final lap, despite crashing into a tree. Ettinger came in at 1:48 and Zandstra at 2:52.

"Soto is really strong, with good results in the World Cup," agreed Gagne. "So we were expecting him to be up there at the front. I think I rode a smart race; I paced myself well, drank and ate well, and it went in my favour. I've always been able to start strong, but sometimes my finishes weren't as good, but today I finished really, really strong. I'm happy and proud of this, to be Canadian, it is big, it is my biggest victory."
"In the last lap he pulled a five second gap on me in the first half of the lap, but I was able to close it in the Boneshaker, a descent I know pretty well. Right after I attacked him; it didn't work but a second attack worked. So the second last climb from the finish, about five minutes to go, I put the hammer down and never looked back, and I got a pretty good gap quickly."

"This is the biggest solo win of my career. I've won world championships in the Team Relay back in 2004 as a Junior, which was awesome and it's a highlight for me, but this, it's very big."

Derek Zandstra was clearly disappointed with his race. "It was a tough battle right from the gun. I got boxed in a little bit and that was the deciding moment. I got stuck behind some riders that made mistakes and I had to do some hard efforts to get around them, and had to work too hard that first lap, and that hurt me for the second lap, and that's where the race was won. To be in the front three guys was key."

Zandstra was pulling back Ettinger in the final laps - "I was getting information from my team, but it was too much of a gap at that point; 5 or 10 seconds a lap was going to cut it."

Interviews with Raphael Gagne and Derek Zandstra
Results
Fatal error
: Uncaught Error: Object of class PDO could not be converted to string in /home/canadiancyclistcom/canadiancyclist.com/public/modules/news.php:528 Stack trace: #0 /home/canadiancyclistcom/canadiancyclist.com/public/modules/news.php(517): getrelatedgallery() #1 /home/canadiancyclistcom/canadiancyclist.com/public/dailynews.php(58): getDailyNewsArticle() #2 {main} thrown in
/home/canadiancyclistcom/canadiancyclist.com/public/modules/news.php
on line
528