July 22/15 19:34 pm - Canada Wins 3 More Medals in ITT at Pan Am Games

Posted by Editor on 07/22/15

Canadian cyclists continue to add to their medal total at the Pan Am Games, with the road team now taking their turn on the podium. Hugo Houle won the men's event, with Sean MacKinnon taking bronze. Jasmin Glaesser took silver in the women's race, despite needing a wheel change for a flat tire. American Kelly Catlin took the gold medal. Laura Brown finished just three seconds off the podium in fourth. Canada now has 17 medals in cycling - 10 Gold, 4 Silver and 3 Bronze.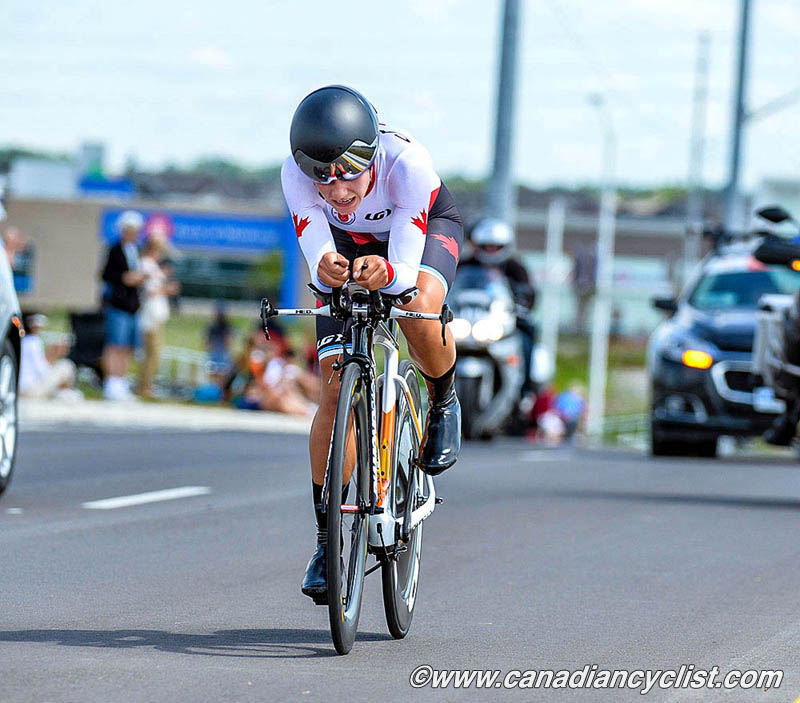 Glaesser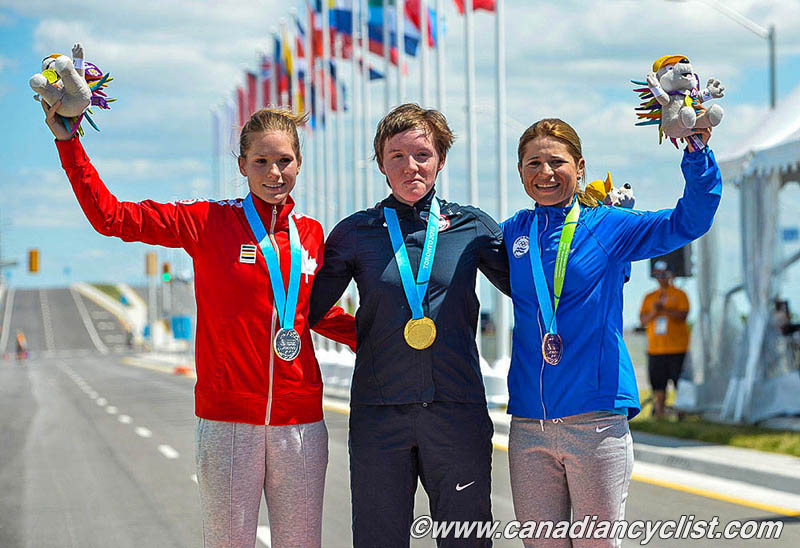 Podium
The 20 kilometre circuit is almost square and flat, except for two small rollers halfway through. Riders faced strong gusting wind, with a tailwind on the first leg, headwind on the third and cross wind on the other two. The women did one lap and the men two.

Brown, the fourth rider to start, set the first sub-28 minute time, and was third fastest for the second half of the course. She was 27 seconds faster then bronze medalist Evelyn Garcia (El Salvador) for the second half but couldn't make up the time she lost in the first half (30 seconds), where Garcia set the fastest split of the day.

Garcia held the lead until Glaesser came across the line, 19 seconds faster. Glaesser, due to her flat, had only the fourth fastest time at the first split, 25 seconds behind Catlin. The Canadian improved to second fastest for the remainder of the race, but still lost a further 11 seconds, to finish 35 seconds behind Catlin, who was the only rider to post a sub-27 minute time for the day.

Jasmin Glaesser Interview (Note: Click the Back button on your browser to return to this page after you finish listening to the interview)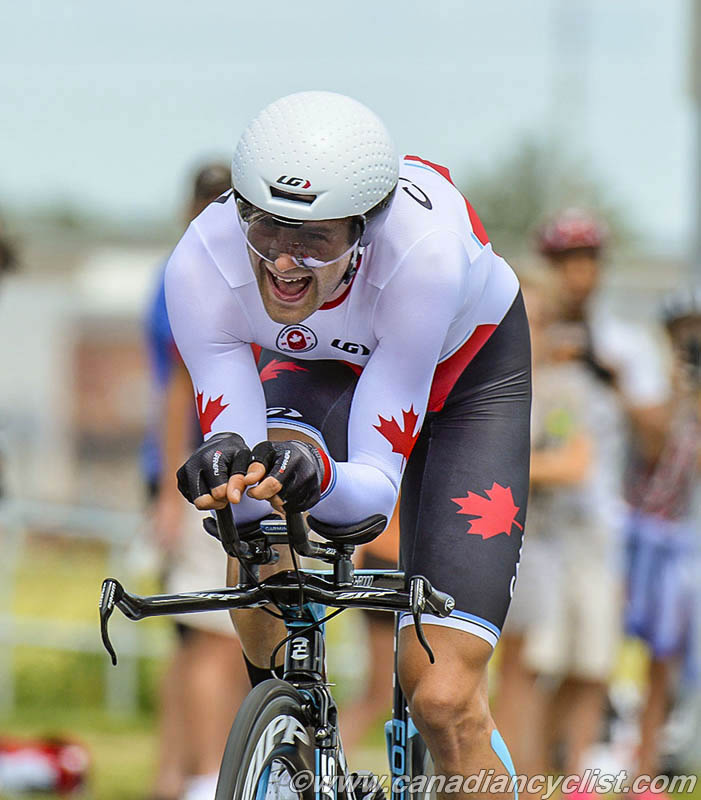 Houle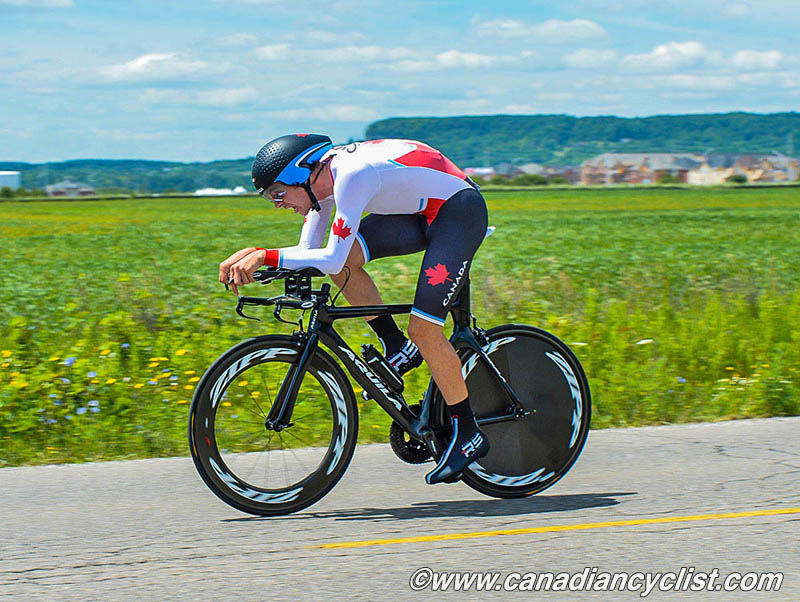 MacKinnon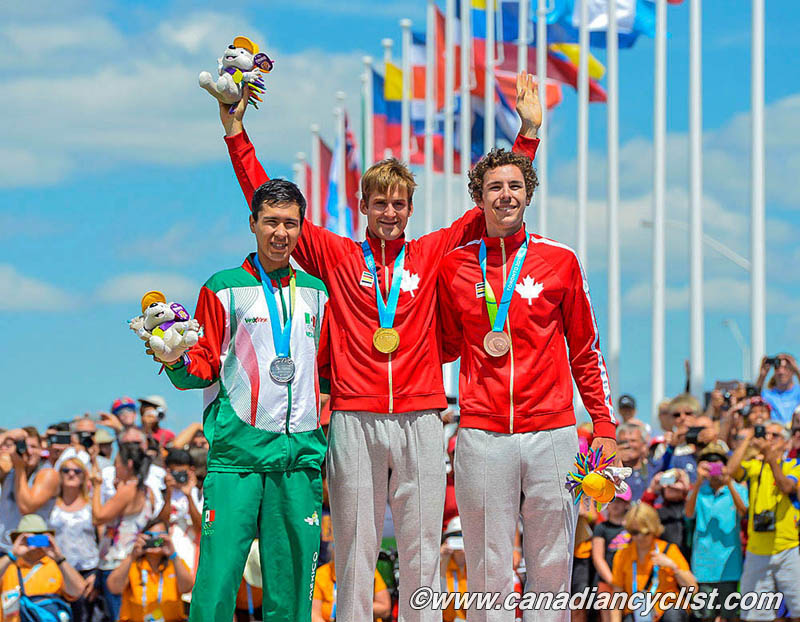 In the men's race, Houle was the prohibitive favourite, coming off his first Elite national time trial title three weeks earlier. MacKinnon was the first rider off and rode a consistently strong effort. He was ahead of eventual silver medal winner Ignacio Prado (Mexico) at the second split by five seconds, but faded in the final long crosswind section to finish 20 seconds behind the Mexican. Both Prado and MacKinnon recorded sub-47 minute times.

Houle was the fastest at every split; ten seconds ahead of Prado at Split 1, 55 seconds at Split 2 and 1:18 at the finish, with an average speed of 49.088 kilometres per hour. He was the only rider to crack the 46 minute barrier, with a time of 45:13.48 .




Results
Fatal error
: Uncaught Error: Object of class PDO could not be converted to string in /home/canadiancyclistcom/canadiancyclist.com/public/modules/news.php:528 Stack trace: #0 /home/canadiancyclistcom/canadiancyclist.com/public/modules/news.php(517): getrelatedgallery() #1 /home/canadiancyclistcom/canadiancyclist.com/public/dailynews.php(58): getDailyNewsArticle() #2 {main} thrown in
/home/canadiancyclistcom/canadiancyclist.com/public/modules/news.php
on line
528