August 17/15 7:46 am - Shimano XTR Di2 Review

Posted by Editor on 08/17/15

Our reviewer Chad Grochowina was able to try out the new electronic XTR group. Here is his review:


When I was invited to Shimano Canada in Peterborough to take the new XTR Di2 for a good test ride I jumped at the chance. I've been working with Di2 on road and cyclo-cross bikes for years now and have come to really appreciate its consistent performance and overall ease of use. I was curious to see how the Di2 faired once rocks, roots, mud and wet were thrown into the mix.

XTR 9050 is Shimano's first electronically controlled mountain bike group. Being their top tier group-set, it's aimed at people who want the absolute best performing components on the planet. When I asked Shimano's Ben Pye who the group was targeted towards, he said bike racers, people who are used to Di2 on their road bikes and are now looking to update their mountain bike, and those that just have to have the latest technology. Like past versions of XTR, there are options to tailor parts to the specific kind of terrain you'll be riding. With single, double, and triple chainring options, bikes can be made to be lightweight XC race machines or proper burly mountain bikes. XTR was designed to accommodate it all.

We were welcomed with warm and sunny weather on the day of our ride. A short drive away from the Shimano headquarters is the Harold Town Conservation Area. With mostly ideal conditions for riding, there were a few muddy spots that got the bikes dirty early on, and plenty of wet roots and sweaty rocks that keep us on our toes. The test bikes were a fleet of Santa Crux 5010's, with a mix of 2x11 and 1x11 drivetrains. My test bike was outfitted with 1x11 and the 5010 is the same frame I've been riding for the past couple of seasons so set up was quick and easy.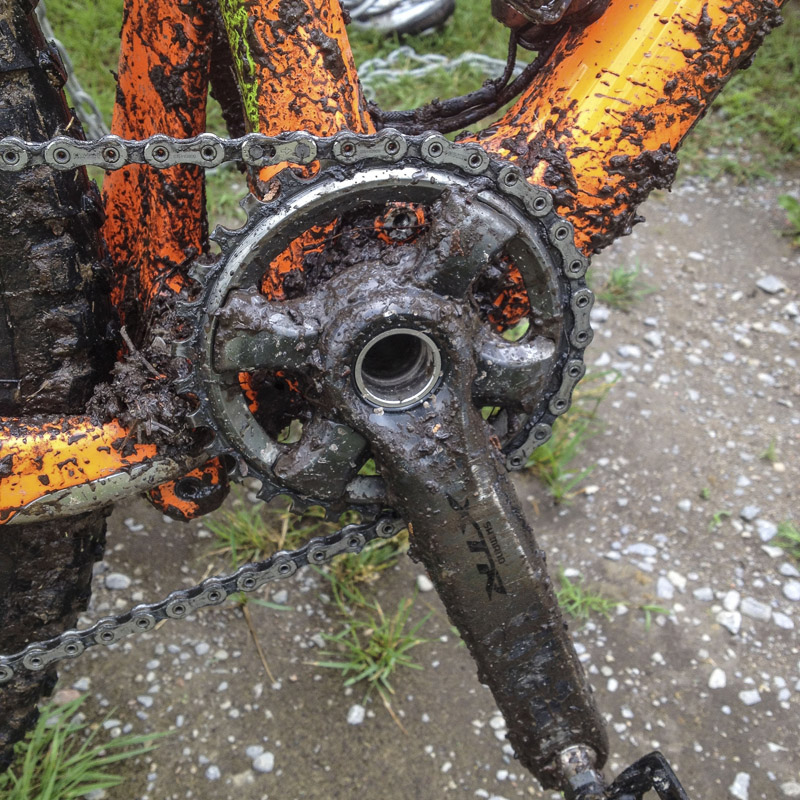 The Di2 was put through the paces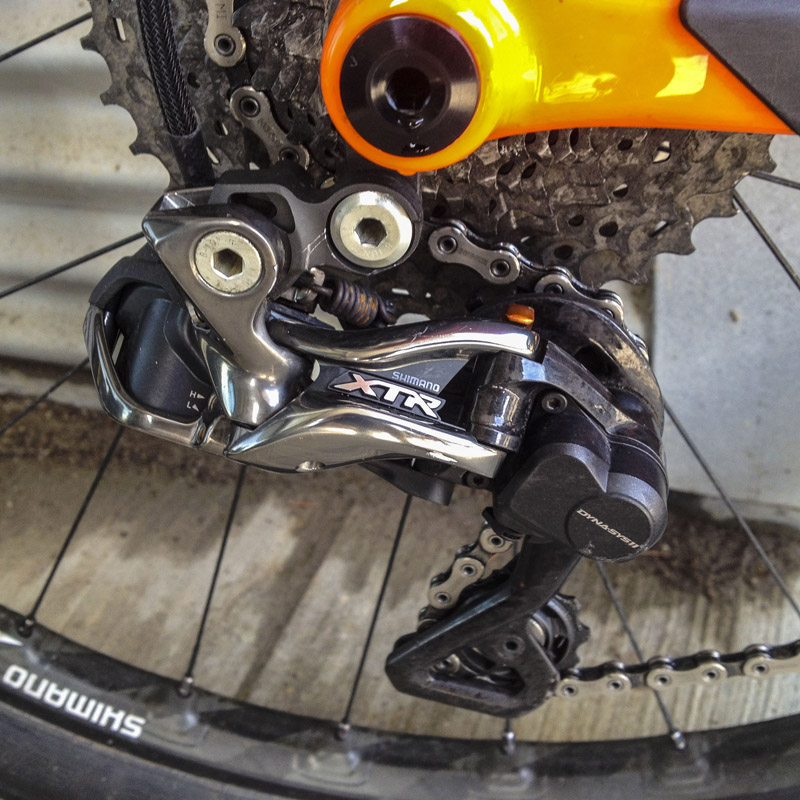 Rear Derailleur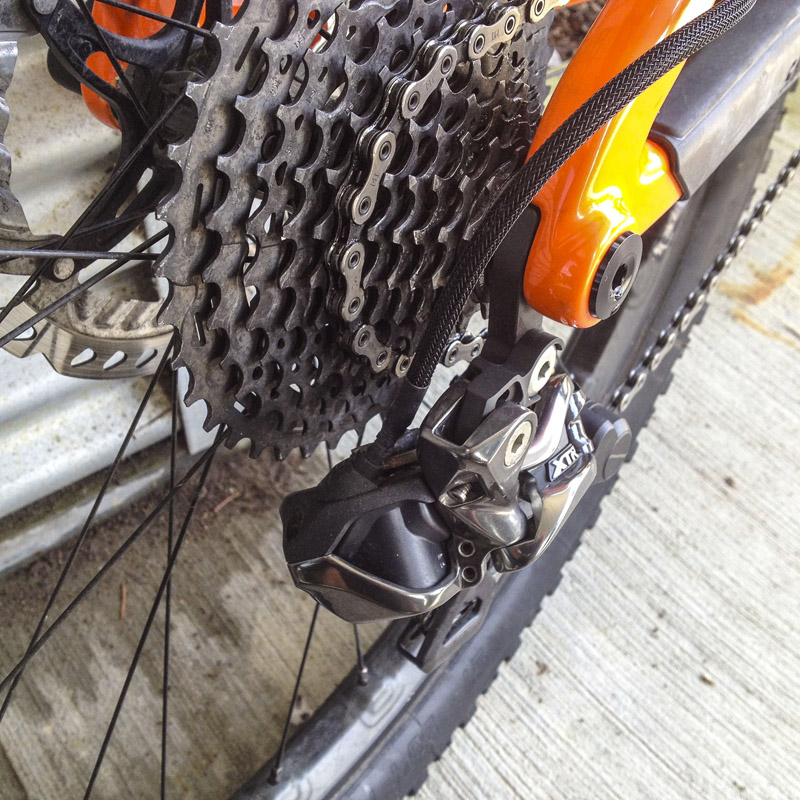 The E-tube wire is substantially bigger then what is used on the Di2 road groups.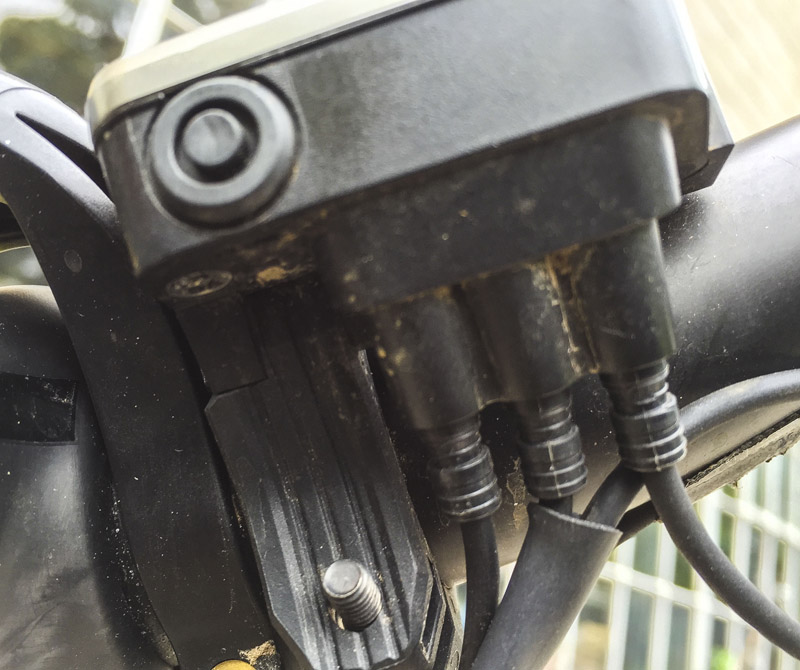 Etube wires fit nicely into the back of the display unit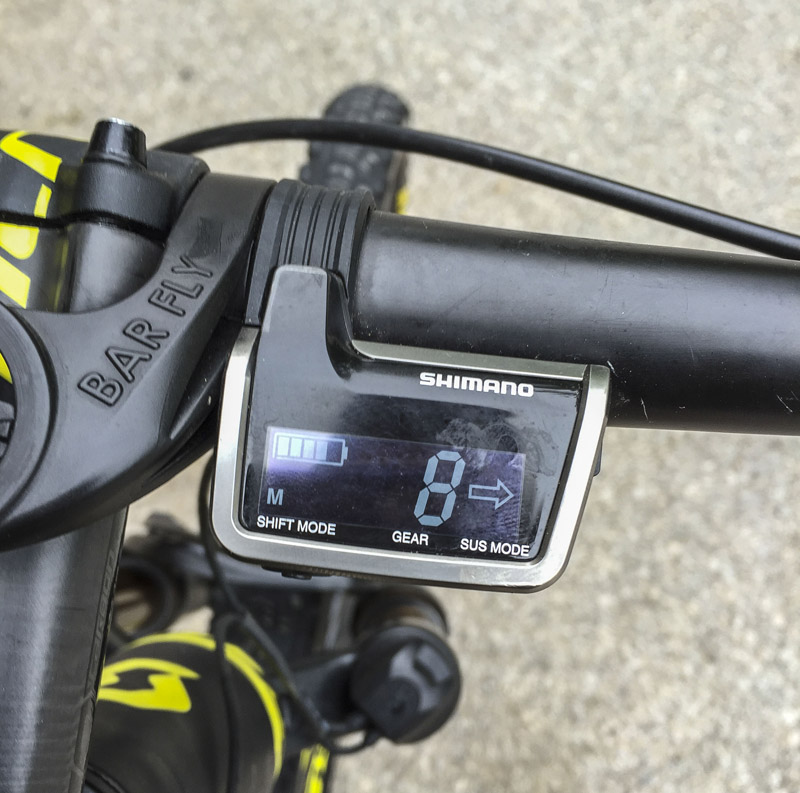 Display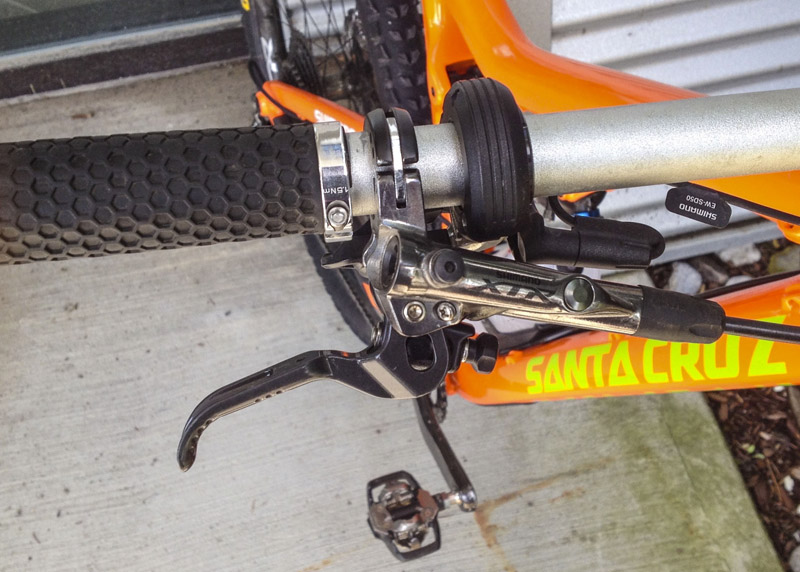 The Di2 shifters provide a firm tacktile click with every shift.
To no-one's surprise, the shifting performance was perfect. Every shift was instantaneous, precise, and consistent. The shifter, despite being a simple electronic button, has been designed to provide a solid tactile feel to indicate a gear change. One press of the larger button shifts one gear, and if you push a bit further a second shift occurs. If you press and hold either shift butt down, the derailleur will run through the entire range of the cassette.

With the single chainring setup I was using, I first found myself taking terrible line choices as an attempt to slip up the shifting or throw the chain. The anvil shaped chainring teeth did a good job hanging onto the chain and I never had an issue with it falling off.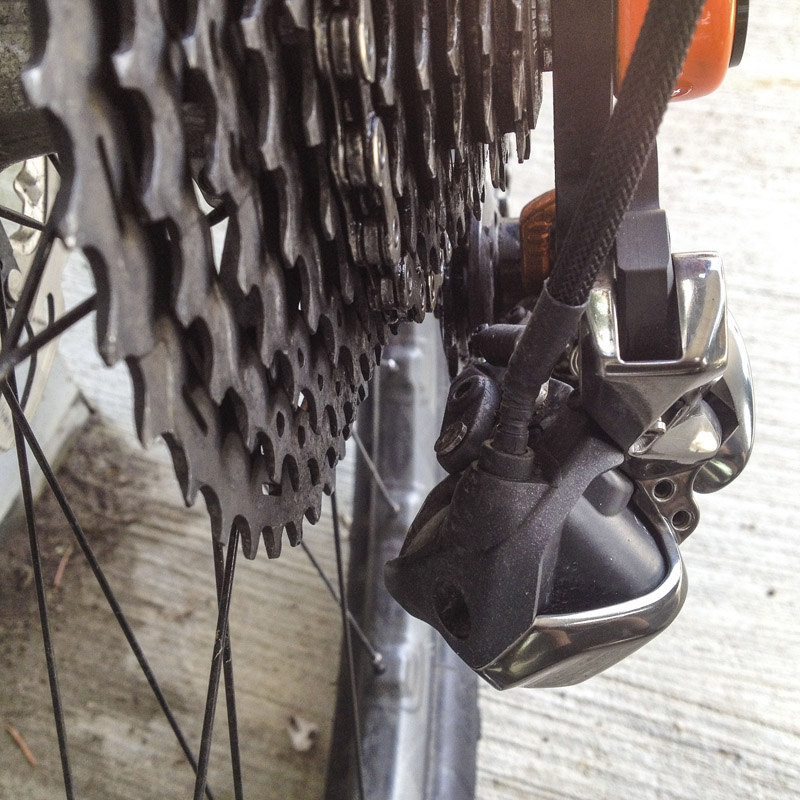 The rear derailleur tucks nicely under the cassette out of harms way. Smacking this piece off of a rock will set you back $700 and likely a few tears.
Some of the test bikes that were set up 2x11 were outfitted with just one RH shifter. Shimano calls this 'Synchro shift', as both derailleurs automatically shift as you work your way through the gears. It's been designed to always find the most optimal gear combination. One shifter can be used to control both the front and rear derailleurs, and as the rider you really only have to worry about finding the next harder or easier gear. With the front and rear derailleurs working in unison, there is roughly a 13% gear ratio change between shifts, something Shimano calls rhythm-step gearing. Even on my 1x11 setup, each shift, be it to a harder or easier gear, felt like it was the right amount of change. Never once did I feel like I was in between gears.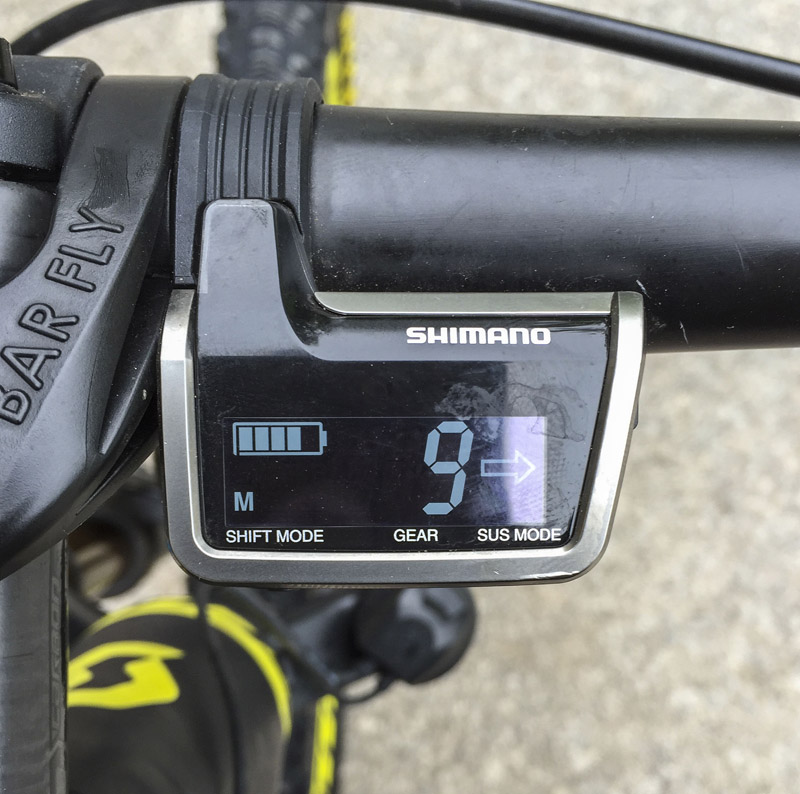 The optical gear display provides vital info like battery power, what gear you're in, what shift mode (manual or synchro), and suspension settings if your bike features electroniclly contorlled suspension
Most of the comments made from those that had spent the afternoon on a Synchro-shift set-up were positive. There was much praise as how great the shifting worked overall. The Di2 system offers a series of audible beeps that give you an indication of what gear you are in. When you approach the hardest or easiest gear, the system beeps once indicating you've reached either the top or bottom of the block. In Synchro mode, the system will beep twice, letting you know the front derailleur will be making a shift. The consensus was that without the beep, it was difficult to identify when the front derailleur actually moved. The audible beep can be silenced if you find the shifting reminder unnecessary.

Although I didn't had a chance to spend much time riding the Di2 2x11 setup, I feel that Synchro shift is the standout feature of the group. Many of us have ditched our front derailleurs for the simplified and lighter gearing setup of 1x10 or 1x11. Not having a front derailleur decluttered handlebars leaving more room for things like dropper post levers.

However, the biggest compromise to this is a lack of gears, and there have been times when I've wanted both higher and lower gears. A quick look at the recent World Cup XC race bikes would lead us to believe otherwise, as most racers have opted for a single ring setup, probably because of the weight savings. Canadian Cyclist editor Rob Jones made a comment after the recent Mount Saint Anne World Cup that 'a few riders clearly did not have appropriate gearing with a 1x11 setup (low enough to spin on the steep climb). A double would have solved that problem'.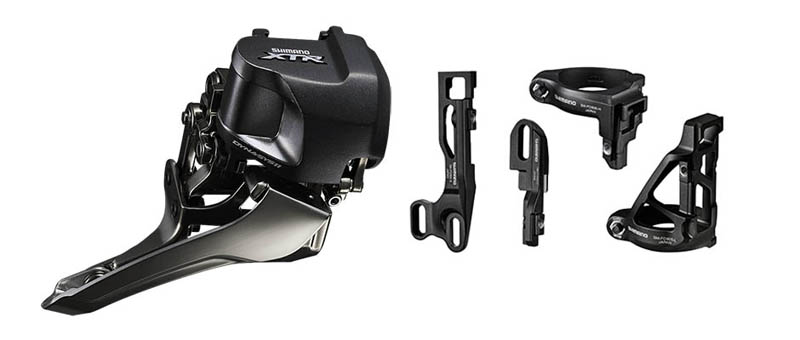 Front derailleur
Where Synchro shift truly shines is not necessarily on the XC course, where lightweight takes precedence, but rather in endurance events like BC Bike Race. For those long days in the saddle where a 1x10 isn't going to cut it on that final climb, 5 hours into your day. Elladee Brown summed up Synchro shift best "... I never had ONE mis-shift in 310 km's of technical single track. I ran my XTR Di2 in Synchro mode 2 and removed the front shifter before the event. The ability to shift my entire system from one shifter is truly next level. The new 11 speed gearing played a huge part in me staying on my bike for the steep climbs. I can't believe how many people were off their bikes walking with single ring set ups, and with so many fire roads, they were spun out on the high speed stuff. It's a double ring world here in BC, proven day after day at BC Bike Race."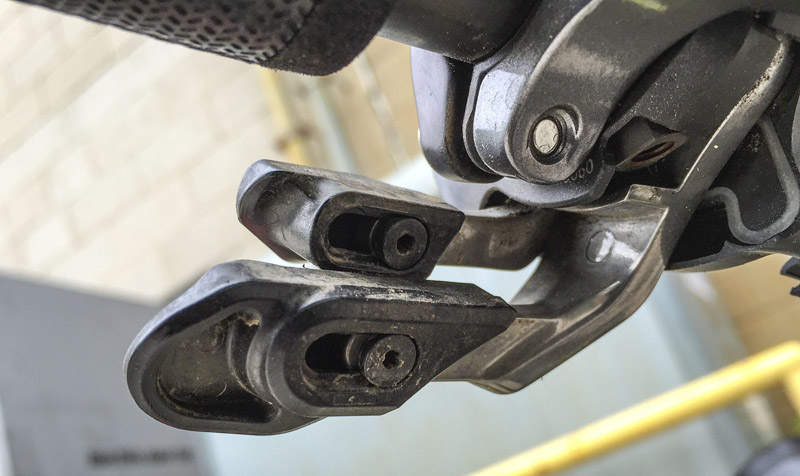 Shift lever placement can be adjusted via small set screws on the back of the shift buttons
Similar to Dura Ace and Ultegra Di2, by using Shimano's E-tube project software, XTR 9050 can be customized to suit almost everyone. For example, you can program the system to be controlled solely with the RH shifter or LH shifter, so you can reverse the shift buttons to suit your taste, for example, with the LH shifter programmed to shift the rear derailleur, the RH shifter can be made to control only up shifts while the LH shifter controls the down shifts, and the speed of the shifts can be changed. Combinations are limitless. There is one thing of note regarding the E-tube project software: it is only compatible with Windows computers.

Pricing is a premium for the system, but as history has shown with past group-sets, I imagine we'll see Di2 at the XT level (ie, more attainable) in the not so distant future. I did ask this very question and and was told that it was 'to early to tell'. XTR Di2 is available to retrofit bikes with an external harness and battery. It's also available as an internal harness for those brands that have become early adopters. After asking a few different manufacturers, prices for complete bikes will likely fall into the $10,000+ range, and If you opt for a front derailleur and shifter you'll likely add $1000 to the price.

Specs:

• Single, double, or Triple chainring options
• 11x40T cassette for XTR (the new XT has an 11x42T cassette that will work)
• Freeza rotors available in 140, 160, 180, 203mm

Di2 aftermarket MSRPs are below, with the Di2 specific items bolded, and we have put the MSRP for mechanical group equivalents beside in brackets. Non-bolded items are common to both mechanical and electronic groups. Shimano Canada says that Di2 is available now at retailers.

Front Shifter SW M9050 $274.99 [$134.99]
Rear Shifter SW M9050 $274.99 [$134.99]
Front Derailleur FD M9070 $474.99 [$134.99]
Rear Derailleur RD M9050 $699.99 [$269.99]
Cassette CS 9000 $389.99
Chain CN HG900 $66.99
Junction Box SC M9050 $159.99
Internal / External Battery $177.99 / $77.99
Race Crank FC M9000 Starting at $664.99
Trail Crank FC M9020 Starting at $664.99
Wheels WH M9000 $3499.99 (Race Tubulars)
Wheels WH 9000 $1599.99 (Race Clinchers)
Wheels WH 9020 $1599.99 (Trail Clinchers)
Pedal PD M9000 $199.99
Pedal PD M9020 $199.99
Photo gallery w. larger version on photos
Review by Chad Grochowina