August 19/15 15:49 pm - Junior Track Worlds - Day 1 Report and results

Posted by Editoress on 08/19/15

Competition at the 2015 Juniors World Track Cycling Championship began Wednesday in Astana, Kazakhstan.

The Canadian Junior national squad has spent the past two weeks in Alkmaar, Holland, where they trained at the local velodrome. Coach Cameron Jennings worked with the group of nine (3 women and 6 men), honing technical skills and getting them to top race form.

First up was qualifying for the men's Team Pursuit. The team has been training extremely well and was looking for a very low teens time. With a couple of engines, this group can fly and just needs to maintain control over the long haul to have success.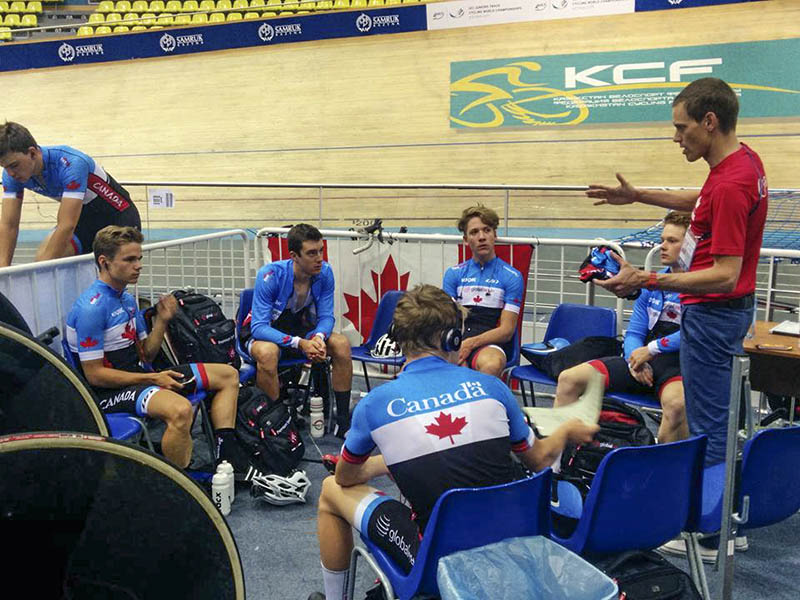 They began on a solid schedule, but just 2 laps in, Evan Burtnik flatted. He managed to pull through for 6 more laps on a very low tire before pulling off. That left the race to Bayley Simpson, Connor Byway and John Willcox. All three put in an incredibly huge effort to qualify Canada's first Junior TP ever into the next round. They will be aiming for a top time and placement tomorrow, and a possible bronze medal.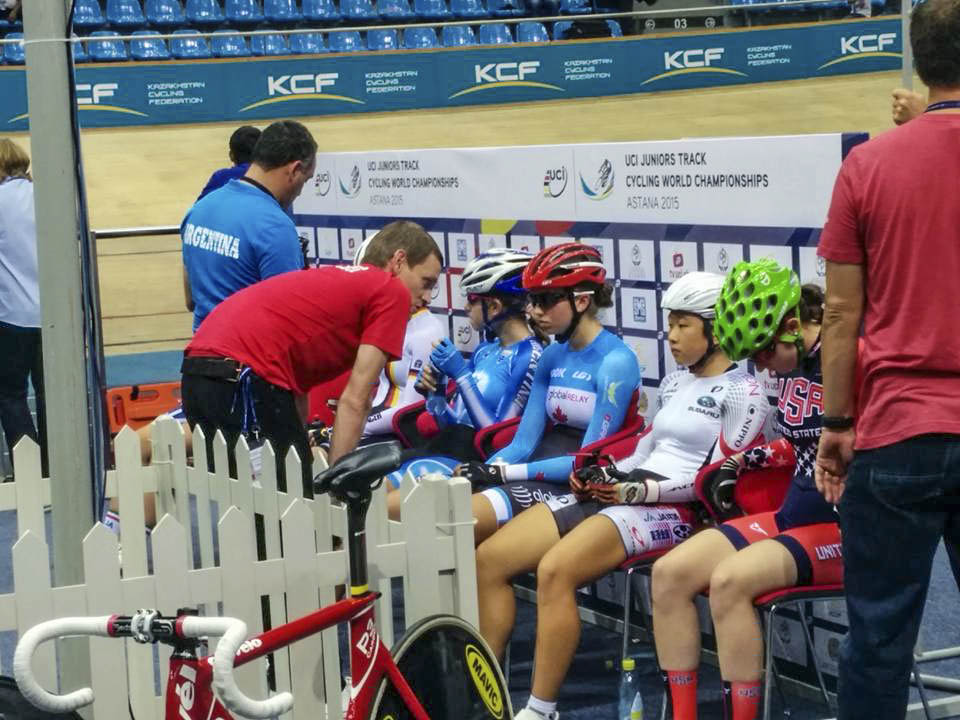 Gillian Ellsay contested the women's Points Race in the evening session. The race began with a steady pace, but after six laps Gillian launched the first attack. She took an early point, and then was crashed out approaching corner three. Always a tough competitor, Gillian rejoined the race and took 3 more points. The race became more animated with Gillian continually playing to her strengths. With six laps to go, another crash occurred, impeding Gillian's progress and she ended up finishing in 10th place. Gillian will ride the Individual Pursuit qualifier on Friday.

Courtesy Linda Berger

Results

Men Team Pursuit

Qualifying
1 Australia (Rohan Wight/James Robinson/Kelland O'brien/Alex Rendell)
4:08.343
2 Germany (Max Kanter/Moritz Malcharek/Bastian Flicke/Leo Appelt)
4:11.188
3 Switzerland (Reto Muller/Gino Mader/Robin Froidevaux/Stefan Bissegger)
4:12.465
4 Poland (Dawid Czubak/Daniel Staniszewski/Mikolaj Sojka/Szymon Krawczyk)
4:13.484
5 Ukraine (Aleksandr Moshchonskiy/Vitaliy Pidkivka/Andriy Cherniavsky/Taras Shevchuk)
4:14.356
6 Russia (Sergey Rostovtsev/Maxim Sukhov/Dmitrii Markov/Maksim Piskunov)
4:14.477
7 Canada (Bayley Simpson/Connor Byway/Evan Burtnik/John Willcox)
4:16.321
8 Japan (Keitaro Sawada/Yoshimichi Yasukawa/Takumi Tokuda/Shunsuke Imamura)
4:18.259
9 Kazakhstan (Assylkhan Turar/Sergey Shatovkin/Maxim Satlikov/Vladimir Tsoy)
4:19.081
10 Spain (Xavier Canellas/Aratz Olaizola/Alejandro Hernandez/Jose Daniel Viejo)
4:19.614
11 Italy (Stefano Moro/Nicolo Gozzi/Carloalberto Giordani/Imerio Cima)
4:20.690
12 Korea (Yongsuk Woo/Taeun Lee/Taewoo Kang/Woo-Ho Jung)
4:21.156
13 Belgium (Sasha Weemaes/Maarten Stevens/Jules Hesters/Gerben Thijssen)
4:23.919
14 Argentina (Tomas Contte/Mario Lautaro Gonzales Lujan/Nicolas Anauati/Agustin Marcelo Martinez)
4:25.717
15 United States (Nikos Hessert/Nicholas Oestreich/Luke Mullis/John Kuhfahl)
4:27.213
16 South Africa (Joshua Van Wyk/Mitchell Sparrow/Sheldon Lahner/John Vlok)
4:31.153
The eight teams recording the best times in the qualifying round will be matched in the First round as follows :
The 6th fastest team against the 7th fastest team.
The 5th fastest team against the 8th fastest team.
The 2nd fastest team against t

Women Team Pursuit

Qualifying
1 New Zealand (Bryony Botha/Holly White/Madeleine Park/Michaela Drummond)
4:35.155
2 Russia (Kristina Selina/Natalia Studenikina/Oksana Novikova/Viktoria Levchenko)
4:46.046
3 Australia (Danielle Mckinnirey/Tori Saunders/Chloe Moran/Nicola Macdonald)
4:46.347
4 Japan (Yumi Kajihara/Nao Suzuki/Yuya Hashimoto/Kie Furuyama)
4:47.812
5 Germany (Michaela Ebert/Laura Sussemilch/Lena Ostler/Katja Breitenfellner)
4:49.065
6 Kazakhstan (Rinata Akhmetcha/Zhanuya Seitova/Viktoriya Pastarnak/Tatyana Geneleva)
5:05.422
DSQ Italy (Martina Alzini/Sofia Bertizzolo/Elisa Balsamo/Rachele Barbier)
Women Points Race

1 Daria Pikulik (Poland)
23 pts
2 Yumi Kajihara (Japan)
19
3 Kristina Selina (Russia)
13
4 Karen Flores (Mexico)
11
5 Micaela Belen Barroso (Argentina)
6
6 Nadezhda Geneleva (Kazakhstan)
4
7 Ana Suarez (Ecuador)
3
8 Oksana Kliachina (Ukraine)
3
9 Michaela Ebert (Germany)
3
10 Gillian Ellsay (Canada)
3
11 Rachele Barbieri (Italy)
0
12 Ema Kankovska (Czech Republic)
0
12 Ashlyn Woods (United States)
0
DNF Michaela Drummond (New Zealand)
Men Team Sprint

Qualifying
1 Russia (Sergei Isaev/Alexandr Vasyukhno/Alexey Nosov)
44.996
2 Australia (Cameron Scott/Derek Radzikiewicz/Conor Rowley)
45.61
3 Czech Republic (Josef Junek/Jiri Janosek/Martin Cechman)
45.641
4 Poland (Mateusz Milek/Marcin Czyszczewski/Michal Lewandowski)
45.732
5 Germany (Dominique Anklam/Dirk Grottker/Moritz Meissner)
45.947
6 Malaysia (Muhammad Khairil Nizam Rasol/Muhammad Fadhil Mohd Zonis/Mohamed Shahrin Efendi Mohd Shahrin)
46.095
7 Belgium (Aidan Neirynck/Sasha Weemaes/Ayrton De Pauw)
46.516
8 Argentina (Julian Cazzola/Farid Suarez/Danilo Magnoni)
47.093
9 Mexico (Saul Gutierrez/Manuel Alejandr Resendez/Bryan Ricardo Rivera Vazquez)
47.139
10 Korea (Dongha Kim/Jeseok Oh/Minseong Kang)
47.183
11 Japan (Daichi Kajihara/Keitaro Sawada/Shota Yamane)
47.502
12 South Africa (Alroy Palm/Bradley Gouveris/Wade Theunissen)
49.336
13 United States (Nicholas Oestreich/John Kuhfahl/Samuel Fogel)
50.034
14 Kazakhstan (Sergey Ponomaryov/Maxim Nalyotov/Eduard Rozenberg)
REL
DSQ Ecuador (Marcos Dario Mora/Jhonnatan Manuel Narvaez Prado/Pablo Emilio Pacheco)
Final
Ride for Gold
1 Russia (Sergei Isaev/Alexandr Vasyukhno/Alexey Nosov)
44.767
2 Australia (Cameron Scott/Derek Radzikiewicz/Conor Rowley)
45.724
Ride for Bronze
3 Poland (Mateusz Milek/Marcin Czyszczewski/Michal Lewandowski)
45.665
4 Czech Republic (Josef Junek/Jiri Janosek/Martin Cechman)
45.743

Women Team Sprint

Qualifying
1 Germany (Emma Hinze/Pauline Sophie Grabosch)
33.962
2 New Zealand (Emma Cumming/Olivia Podmore)
34.406
3 Australia (Courtney Field/TahlayChristie)
34.499
4 Italy (Elena Bissolati/Miriam Vece)
34.874
5 Russia (Kseniya Bogoyavlenskaya/Olga Goncharova)
35.086
6 Korea (Minji Song/Soohyun Kim)
35.193
7 Poland (Julita Jagodzinska/Marlena Karwacka)
35.225
8 Japan (Nao Suzuki/Karin Okubo)
36.160
9 Czech Republic (Sara Kankovska/Natalie Srutkova)
36.315
10 Mexico (Yuli Verdugo/Mariana Valadez)
36.357
11 Kazakhstan (Zhanerke Sanakbayeva/Valeriya Tikhova)
39.568
DNS Trinidad & Tobago (Keiana Lester/Kollyn St. George)
FInal
Ride for Gold
1 Germany (Emma Hinze/Pauline Sophie Grabosch)
33.899
2 New Zealand (Emma Cumming/Olivia Podmore)
34.219
Ride for Bronze
3 Italy (Elena Bissolati/Miriam Vece)
34.815
4 Australia (Courtney Field/TahlayChristie)
34.834