September 25/15 19:43 pm - De Vos Scores Top-10 in U23 Worlds Road Race

Posted by Editor on 09/25/15

Team Canada's Adam de Vos took a strong ninth place in the Under-23 men's world championships road race on Friday, in Richmond, Virginia. Katherine Maine also had a good result earlier in the day, finishing 13th in the Junior women's race.

The 16.2 kilometre circuit took riders on a twisting ride through the streets on Richmond, with the majority of key features appearing in the final five kilometres of the lap. First the riders faced the zig-zag cobbled climb up fan-packed Libby Hill, shortly after they turned right to immediately hit the 15%-plus climb straight up 23rd Street, and then in the last kilometre a 400m 7% climb up Governor Street before turning left onto the long false-flat finishing straight.

The four lap Junior women's race broke apart on the second lap with an attack by Emma White (USA), followed by Agnieszka Skalniak (Poland) and Ksenia Tcymbaliuk (Russia). Chloe Dygert (USA), the time trial gold medalist, bridged across and then a lap later attacked solo. Skalniak chased with White on her wheel, but Dygert continued to pull away, winning by 1:23 over White, who jumped clear on the last climb to take silver ahead of Skalniak.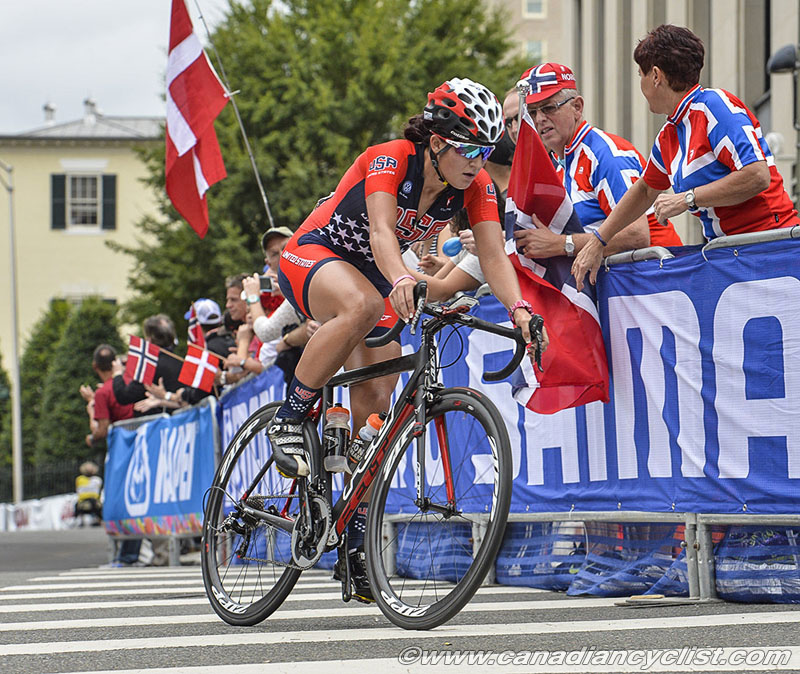 Chloe Dygert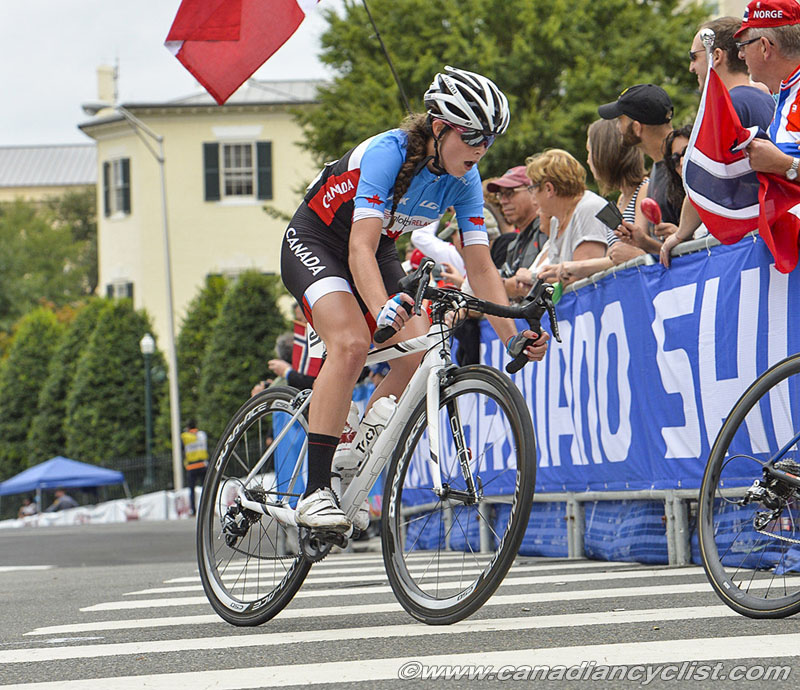 Katherine Maine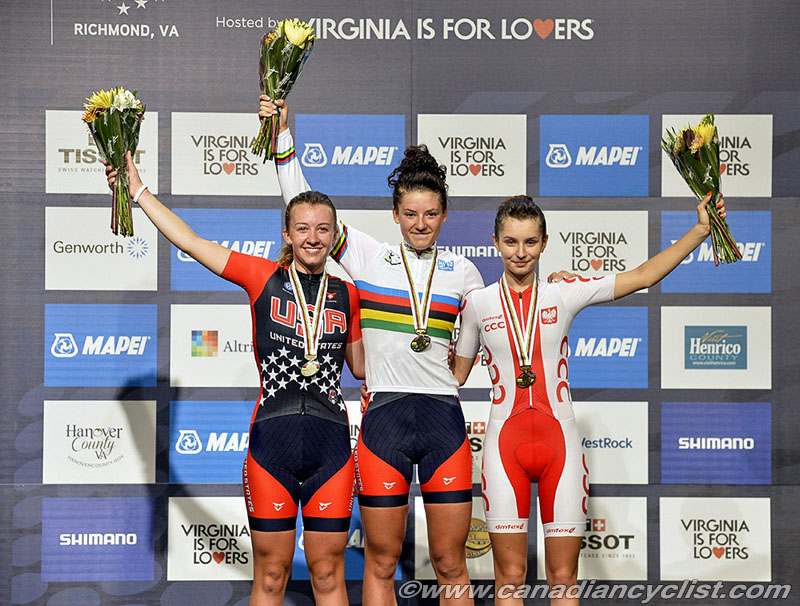 Katherine Maine finished in the chase group, jumping on the right side in the final 200m, but getting swarmed in the last 100m. Gillian Ellsay finished 42nd, Anna Gabrielle Traxler 60th and Emeliah Harvie 66th.

Maine said afterwards, "It was a hard race with lots of stuff happening throughout. It was difficult to recover. The cobbles added an extra fun element. I'm really happy with how I finished. I was focussed on moving up in the pack at all times. I was really in the moment."

The Under-23 men's race had the threat of rain all afternoon, but it held off until the final lap and a half. A flurry of attacks eventually led to five riders establishing a break - Eddie Dunbar (Ireland), Davide Martinelli (Italy), Oleg Zemlyakov (Kazakhstann), Maximillian Schachmann (Germany) and Jose Luis Rodriguez (Chile).
The break
Brits and Italians driving the chase
The break never gained much more than two minutes, and when Dunbar fell off the pace, followed by Martinelli suffering mechanical problems necessitating a bike change, the break was doomed. The French, Italians and British took charge of the chase, reeling the remaining three riders in with two laps to go.

Søren Kragh Andersen (Denmark) attacked solo, but was caught with ten kilometres to go, and then the wet conditions began to have an impact, with Nathan Van Hooydonck (Belgium) crashing mid-field, followed by Owain Doull (Great Britain) and time trial Mads Würtz Schmidt (Denmark) both going down.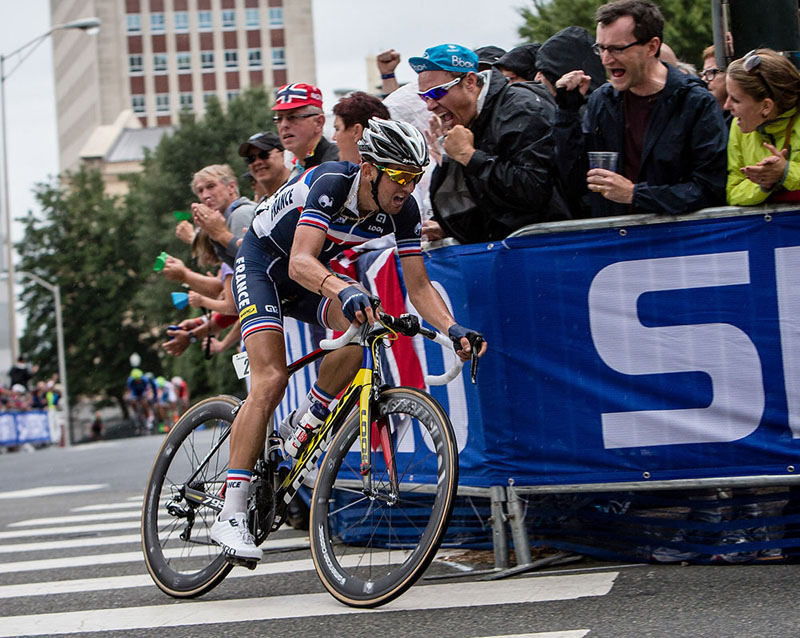 Ledanois goes through the final corner
In the chaos, Kevin Ledanois (France) attacked on the steep 23rd St climb, opening up a ten second gap on Simone Consonni (Italy), who was marked by Anthony Turgis (France). Consonni was steadily making up ground on Ledanois, but ran out of road before the finish line, holding off Turgis for silver as consolation.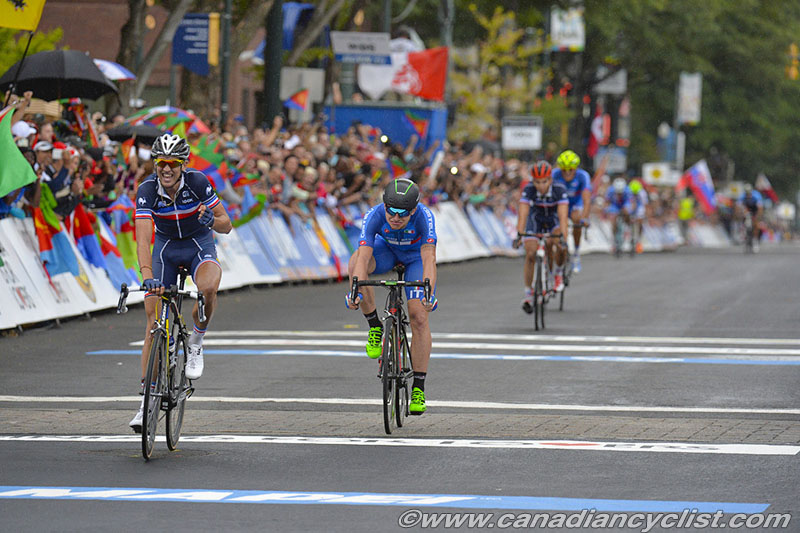 Kevin Ledanois finishing just ahead of Simone Consonni
Team Canada's de Vos and Ben Perry were both in the mix right to the final climbs, with Perry getting gapped on the second chase group, while de Vos managed to stay clear of the group sprinting for tenth. Canada's two other entrants, Alex Cataford and Nigel Ellsay, fell off the pace on lap eight, and did not finish.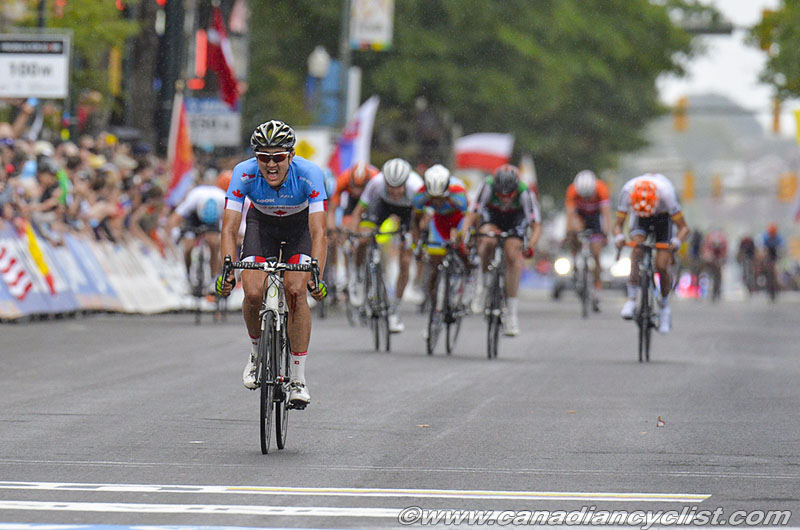 de Vos comes in solo for 9th
"Ninth was definitely beyond what I was expecting coming into the race," admitted de Vos, "so I'm really happy to end my season and also my U23 career with a ninth place at Road Worlds. That's pretty special."

"It was kind of spitting the whole race, but the last lap the water started sticking to the road and caused some havoc. There were two crashes [on Libby Hill]. The first one coming into the climb hindered me and I lost quite a few places, but the second one on the climb actually benefited me a bit and I was able to make up some ground."

"From there to the finish I was just riding through guys that were going backwards fast. I still had good legs so I was just going by them."

"This is definitely my biggest international result, and one of the ones I can be most proud of. This has been my biggest year to-date, so this is a feather in the hat and I'm really happy to do it in the national team kit, which is pretty special."
Video interviews with Ben and Adam
Results
Fatal error
: Uncaught Error: Object of class PDO could not be converted to string in /home/canadiancyclistcom/canadiancyclist.com/public/modules/news.php:528 Stack trace: #0 /home/canadiancyclistcom/canadiancyclist.com/public/modules/news.php(517): getrelatedgallery() #1 /home/canadiancyclistcom/canadiancyclist.com/public/dailynews.php(58): getDailyNewsArticle() #2 {main} thrown in
/home/canadiancyclistcom/canadiancyclist.com/public/modules/news.php
on line
528