September 27/15 20:00 pm - Antoine Duchesne Top Canadian Finisher at Worlds

Posted by Editor on 09/27/15

The 2015 Road World Championships concluded on Sunday with the 261 kilometre Elite Men's Road Race, won by Peter Sagan (Slovakia) with a brilliant last lap attack, finishing three seconds ahead of a chase group led across the line by Michael Matthews (Australia) and Ramunas Navardauskas (Lithuania). The wildly enthusiastic crowds exceeded expectations, easily topping 50,000.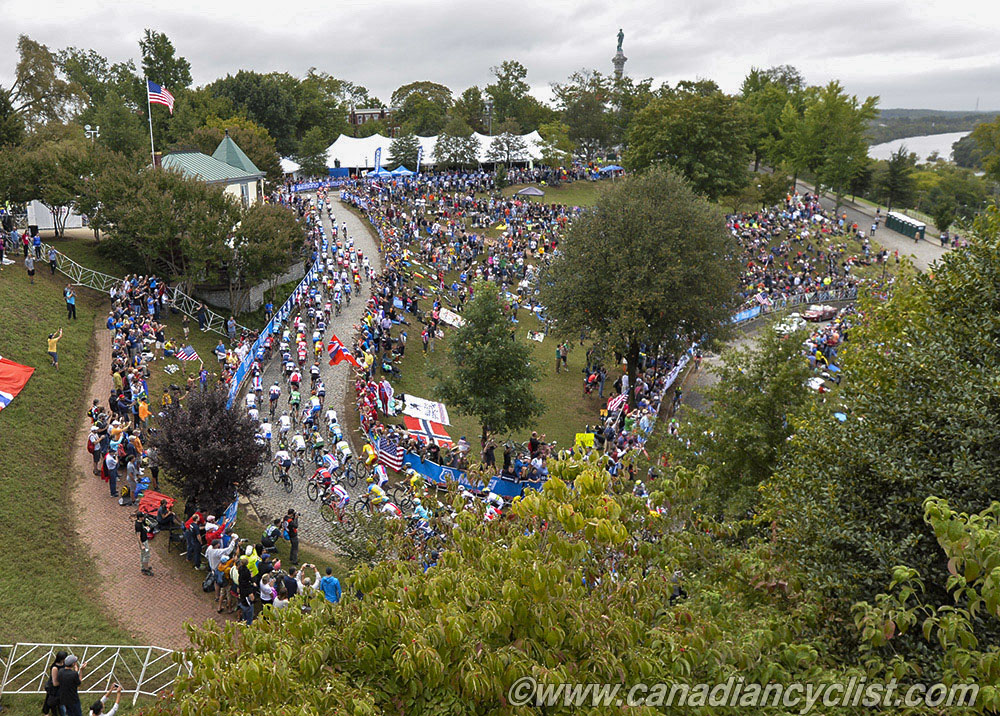 Antoine Duchesne was Canada's top finisher in 61st place, 1:50 down on Sagan. Duchesne was still with the leaders until the final few kilometres, when he could not match the pace on the climbs. Ryan Anderson was 93rd, followed by Mike Woods in 94th and Guillaume Boivin in 107th after a late race breakaway. Hugo Houle and Ryan Roth did not finish. [We have interviews with Duchesne, Anderson, Boivin and Houle Here]

The 15 lap race began with the obligatory break, powered by Ben King (USA), who was joined by Conor Dunne (Ireland), Ivan Stevic (Serbia) and Sung Park Baek (Korea). They were joined by Jesse Sergent (New Zealand), Carlos Alzate (Colombia), Andriy Khripta (Ukraine) and Serghei Tvetcov (Romania).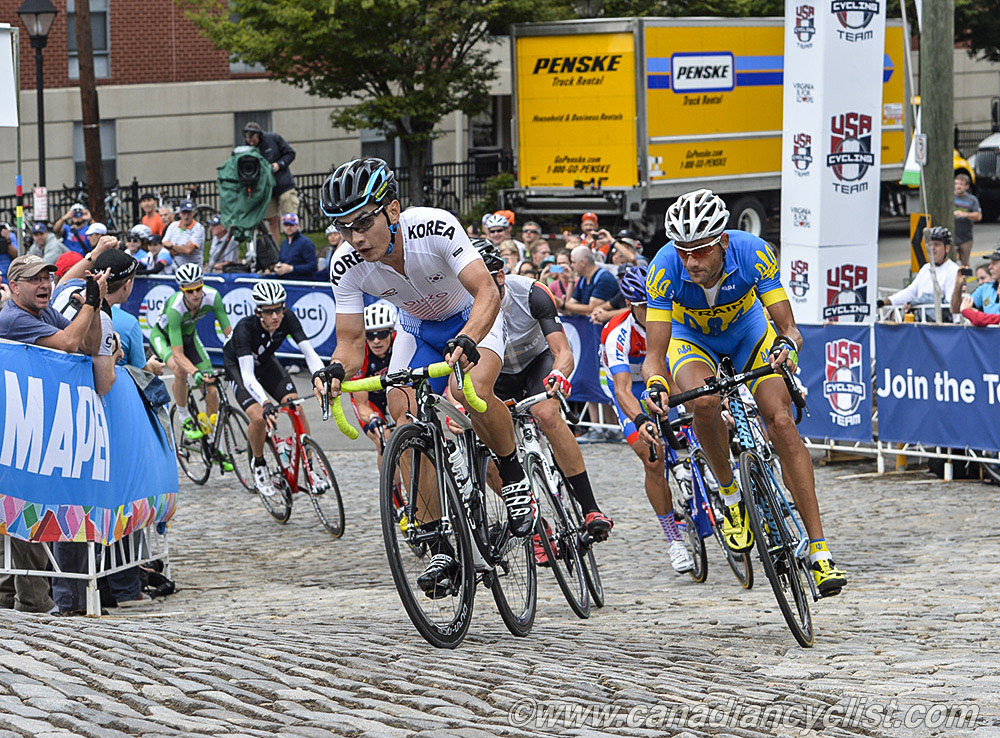 The early break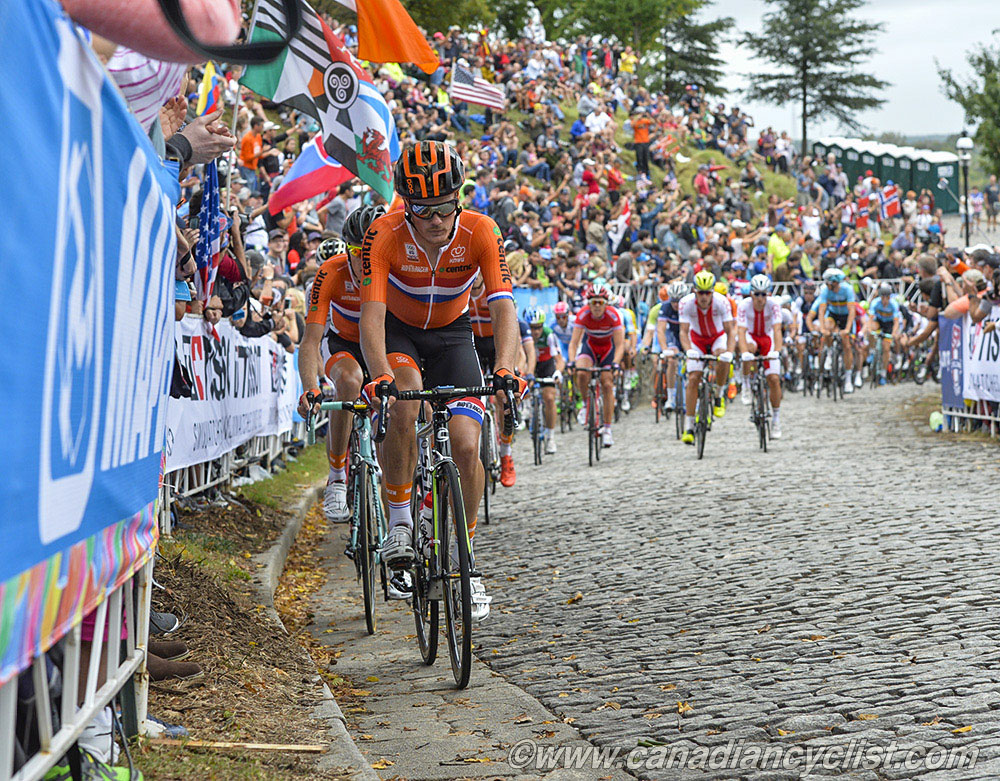 The Dutch kept a tight rein on the gap
Usually, such a break would be allowed to stretch out to 8 to 10 minutes, but the Dutch squad were keeping close reins on them, never allowing it to get much more then four minutes. The group started to shed riders with the punishing pace up the three climbs at the end of each lap, and was finally reeled in with five laps to go.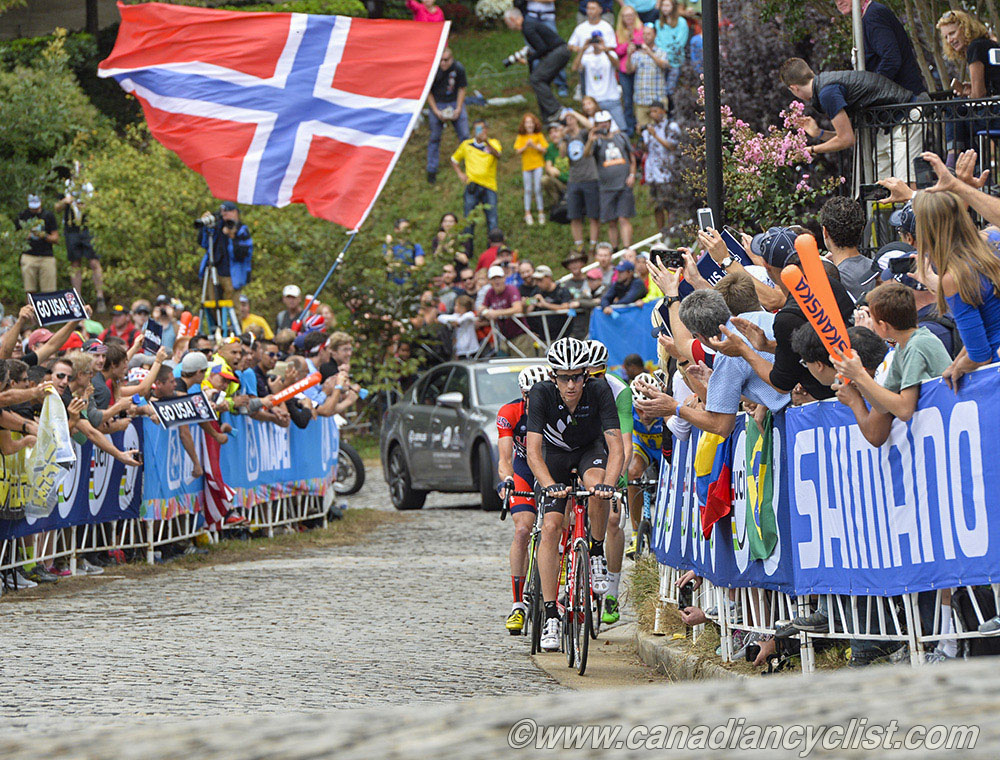 Jesse Sergent (New Zealand) leading Ben King (USA)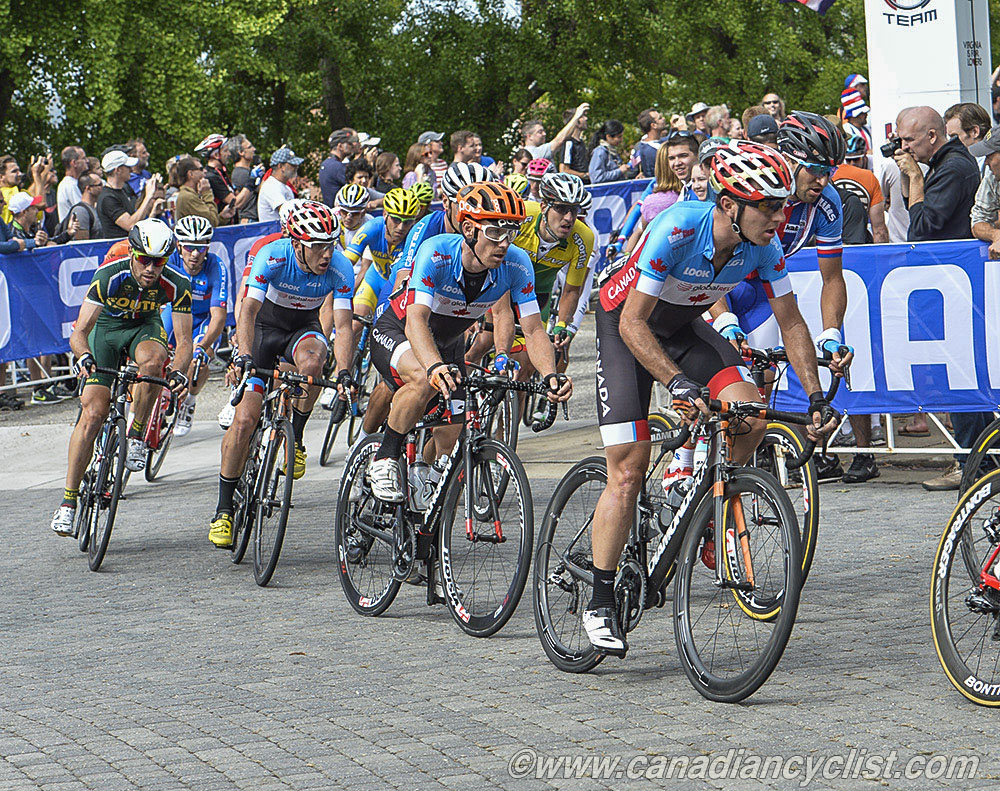 Anderson, Roth & Woods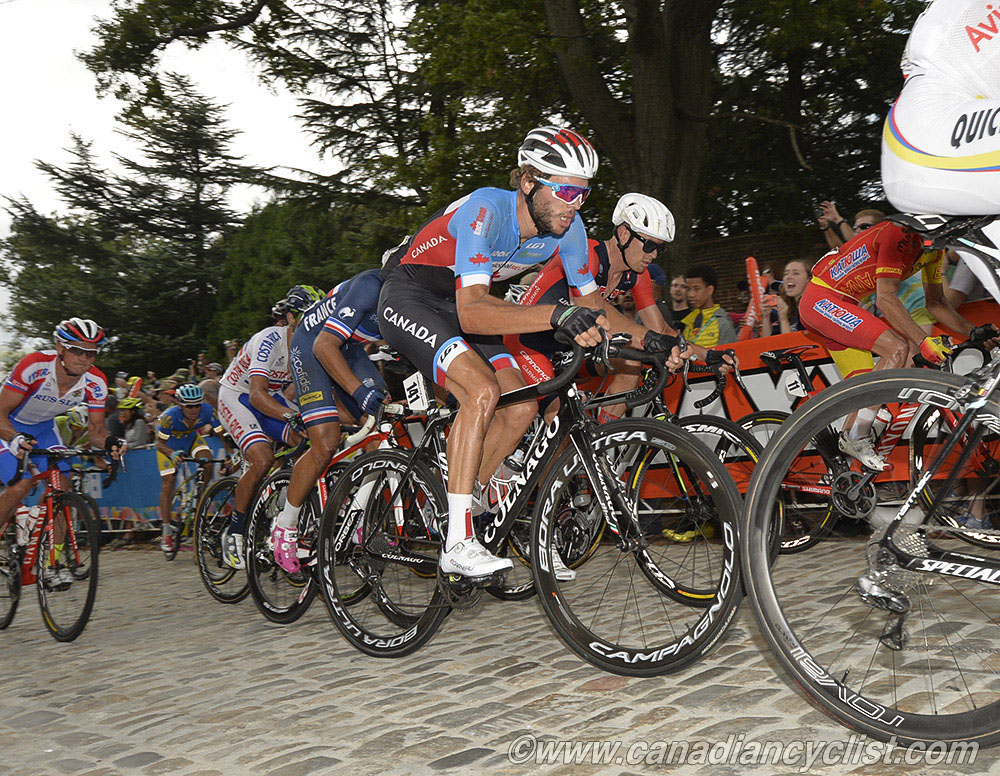 Antoine Duchesne
Taylor Phinney (USA) Guillaume Boivin, Kanstantsin Siutsou (Belarus) and Jarlinson Pantano (Colombia)
After a lap or so to regroup, Taylor Phinney (USA) attacked and was joined by Canadian champion Guillaume Boivin, Kanstantsin Siutsou (Belarus) and Jarlinson Pantano (Colombia). The Colombian was quickly dropped, but Boivin, Phinney and Siutsou took their lead out to nearly a minute before the peloton started to reel them back in, with the catch happening on the Libby Hill cobbled climb with less then a lap and a half to go.
A kilometre later Ian Stannard (Great Britain) attacked over the steep 23rd Street climb, and was joined by Bauke Mollema (Netherlands), Tom Boonen (Belgium), Andrey Amador (Costa Rica), defending champion Michal Kwiatkowski (Poland), Dani Moreno (Spain) and Elia Viviani (Italy). This was a very select group, with many of the top countries represented, and initially gained 30 seconds before Germany and Australia started a frantic chase, finally catching them with less then five kilometres remaining.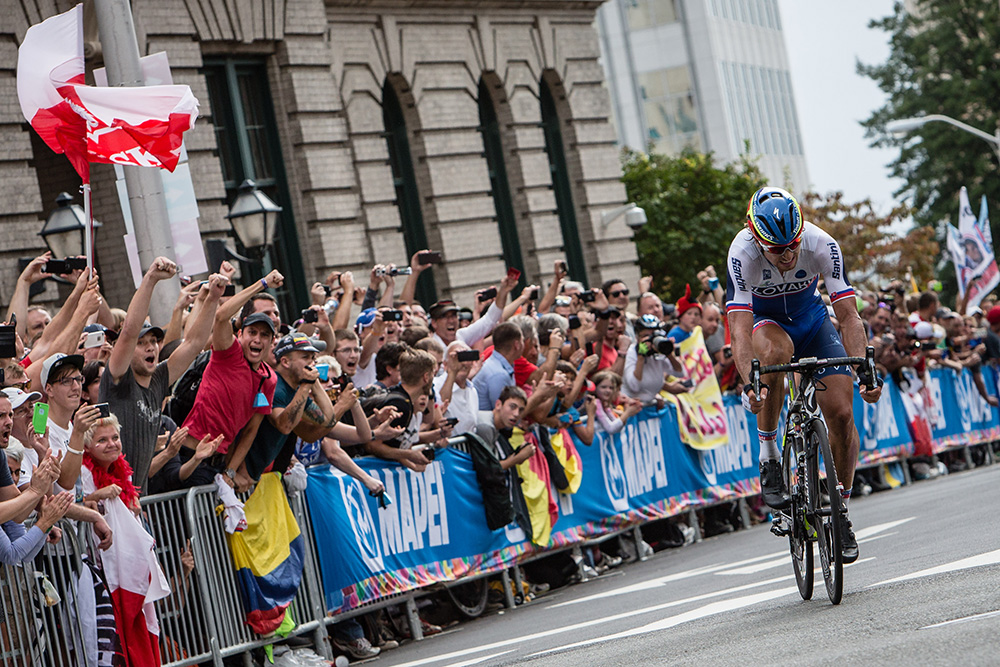 Sagan drives for the line
While everyone mentally relaxed for a moment, Sagan made a perfectly timed and explosive attack up the steep 23rd Street climb, leaving the others waiting for each other to take up the chase. On the descent to the final kilometre he went into a full tuck, then powered up the last climb into the final 600 metre false flat straightaway with a seven second lead over the chase group, led by Rigoberto Uran (Colombia).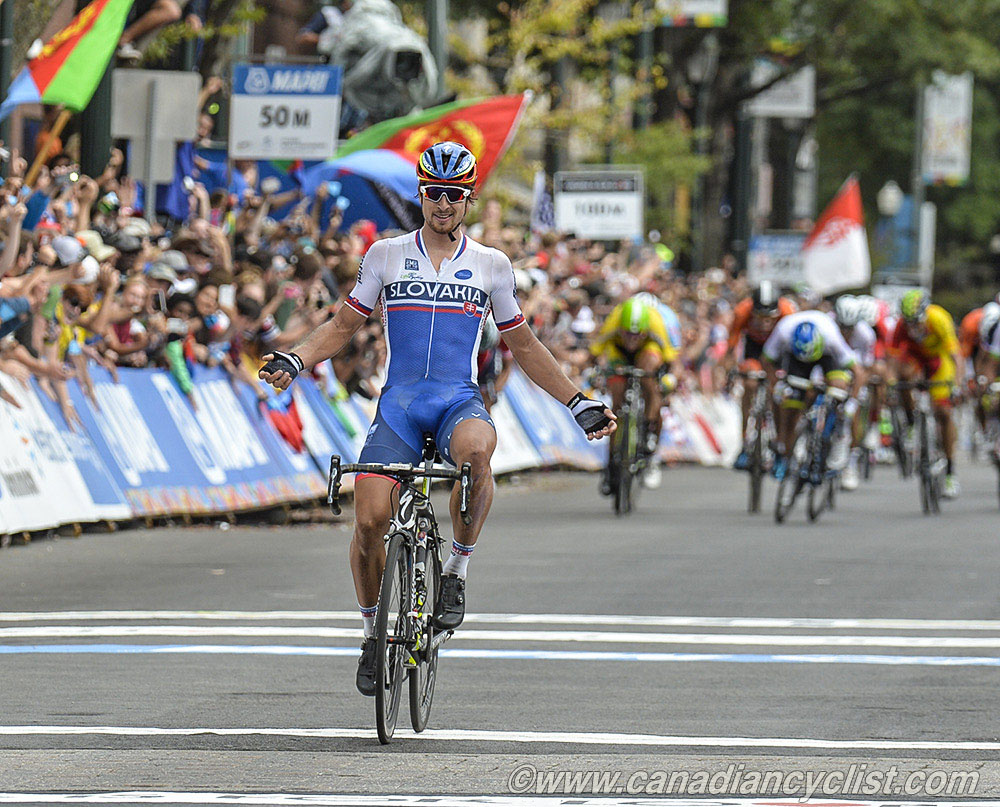 Sagan was able to sit up and cruise across the line, while Matthews led a group of 24 chasers in the sprint for silver, three seconds back.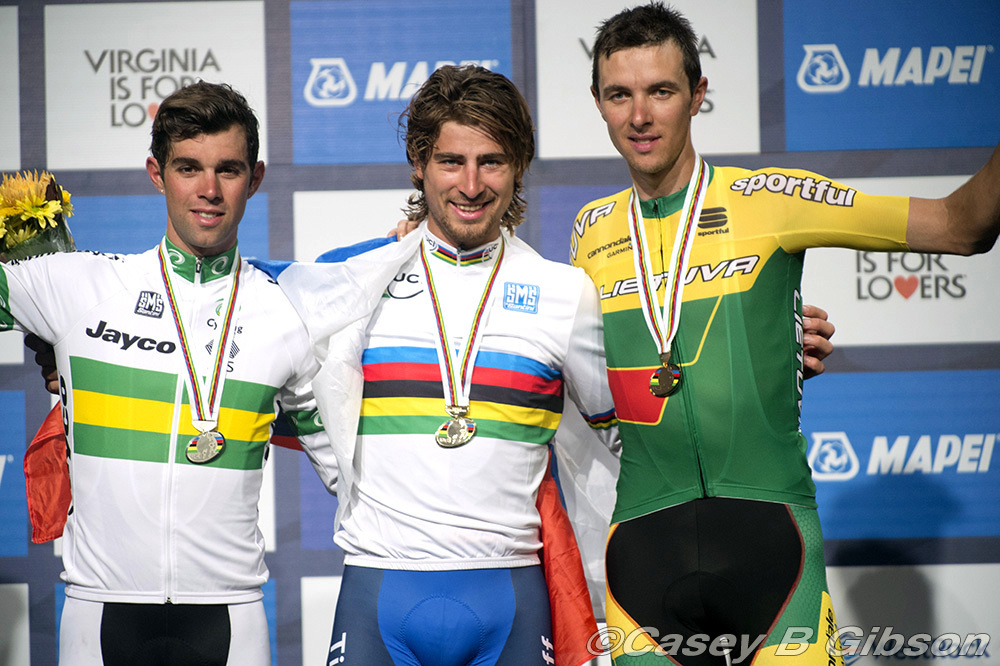 Fatal error
: Uncaught Error: Object of class PDO could not be converted to string in /home/canadiancyclistcom/canadiancyclist.com/public/modules/news.php:528 Stack trace: #0 /home/canadiancyclistcom/canadiancyclist.com/public/modules/news.php(517): getrelatedgallery() #1 /home/canadiancyclistcom/canadiancyclist.com/public/dailynews.php(58): getDailyNewsArticle() #2 {main} thrown in
/home/canadiancyclistcom/canadiancyclist.com/public/modules/news.php
on line
528