October 9/15 9:30 am - Kirchmann Moves to Liv-Plantur for 2016

Posted by Editor on 10/9/15

The Dutch-based Team Liv-Plantur has announced their final signings for next season, including Canada's Leah Kirchmann, currently with Optum. Other signings include Riejanne Markus (NED), Rozanne Slik (NED) and Carlee Taylor (AUS). All the riders have signed one-year contracts. The organization also runs the WorldTour men's team Giant-Alpecin.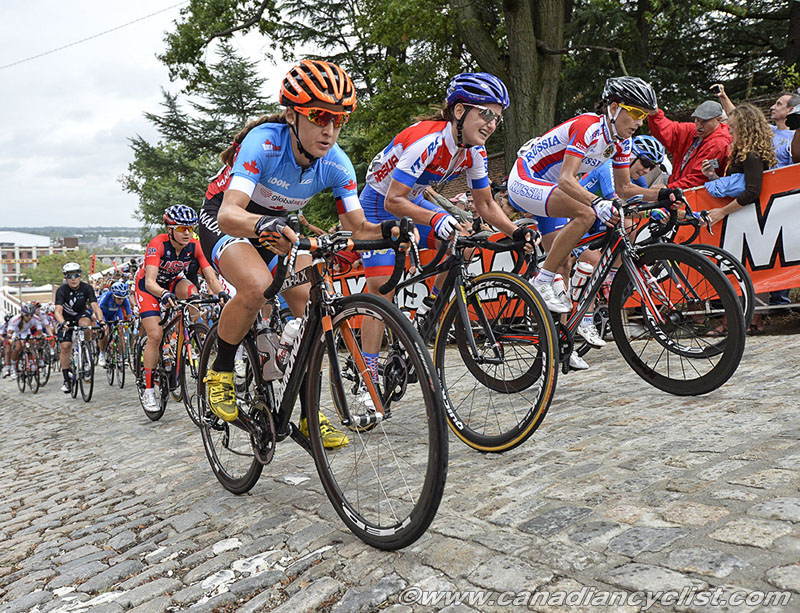 Kirchmann at the 2015 Road Worlds in Richmond
"We are happy to add these four riders to our team," said Team Liv-Plantur coach Hans Timmermans. "With these riders, development will play a central role. We offer them a leading support structure, fully integrated into the advanced Keep Challenging approach that also supports the men's program of Team Giant-Alpecin, to optimally develop their abilities and together reach a higher level. We have followed them for quite a while, made extensive analyses and have had multiple conversations to get a clear profile of the persons and the personalities behind the riders. They have also shown their capacities in the races, of course, but an important factor in making such decisions is that a potential new rider meets all the – for our team – relevant criteria: physical talent, background, work ethic and personality."

"Leah is a talented all-round rider who is good in the classics and capable of doing a good GC but also has a strong sprint, which she showed by finishing third at La Course by Le Tour last year."

CEO Iwan Spekenbrink (NED) added: "We want to become an important player in professional women's cycling. We work according to the Keep Challenging approach, with the same standards and top sports vision as the men's program, and we can build on the same solid, professional structure. Our aim is to develop talented riders, give them opportunities and help them reach their maximum potential, and these four signings are an important step in that effort."

Kirchmann commented on her contract signing: "I'm very excited to join Team Liv-Plantur for the 2016 season. This will be my sixth year racing as a pro and my first season racing full time in Europe. I share the same 'Keep Challenging' values as the team, and I'm looking for ways to be a better person and a better athlete every day. I'm confident that working with the experienced staff, riders and partners of the Team Giant-Alpecin program will help me to continue challenging myself in different ways to reach my full potential as a rider, with the Rio Olympics quickly approaching."

On her social media, Kirchmann also commented: "Huge thanks to @OPTUMpbKBS for 4 incredible years, would not be the rider I am today without their support & guidance"

Team Liv-Plantur 2016: Leah Kirchmann, Floortje Mackaij, Riejanne Markus, Sara Mustonen-Lichan, Rozanne Slik, Julia Soek, Kyara Stijns, Sabrina Stultiens, Carlee Taylor and Molly Weaver.